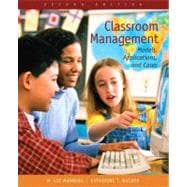 Questions About This Book?
What version or edition is this?
This is the 2nd edition with a publication date of 5/17/2006.
What is included with this book?
The Used copy of this book is not guaranteed to include any supplemental materials. Typically, only the book itself is included.
Related Products
Summary
Classroom Management: Models, Applications, and Cases offers a comprehensive overview of many classroom management models for teachers to consider as they develop their own classroom-management philosophy. Part I provides a timely assessment of the need for classroom management; Part II presents a useful survey of foundational and contemporary classroom management models and theorists; and Part III examines the application of theory to classroom practice. Through activities, case studies, and other features, teachers will develop their own classroom management philosophies and realistically plan how to incorporate them into their classroom practice. Book jacket.
Table of Contents
| | |
| --- | --- |
| | PART 1 Understanding the Need for Classroom Management |

1
(20)

| | |
| --- | --- |
| | Introducing the Concept of Classroom Management |

3
(18)
3
(1)
3
(1)
4
(1)

| | |
| --- | --- |
| | Defining Classroom Management |

4
(1)

| | |
| --- | --- |
| | Connecting Classroom Management to Philosophy and Instruction |

4
(3)

| | |
| --- | --- |
| | Classroom Management and Discipline in Contemporary Schools |

5
(1)

| | |
| --- | --- |
| | Types of Student Misbehaviors |

5
(1)

| | |
| --- | --- |
| | Extent and Effects of the Problem |

5
(1)

| | |
| --- | --- |
| | Effects on Teachers and Students |

6
(1)

| | |
| --- | --- |
| | Causes of Classroom Management Problems |

6
(1)

| | |
| --- | --- |
| | Student Diversity and Classroom Management |

7
(5)

| | |
| --- | --- |
| | Cultural, Intracultural, and Gender Differences |

7
(2)
9
(1)
10
(1)

| | |
| --- | --- |
| | Developmental Differences |

10
(1)

| | |
| --- | --- |
| | Inclusion and the Management of All Students |

10
(2)

| | |
| --- | --- |
| | Developing a Personal Classroom Management Model |

12
(6)

| | |
| --- | --- |
| | Identifying Target Behaviors to Address |

13
(1)

| | |
| --- | --- |
| | Teachers' Contributions to Behavior Problems |

14
(4)

| | |
| --- | --- |
| | Aggression, Violence, and the Safe Schools Movement |

18
(1)

| | |
| --- | --- |
| | The Problem of Aggression and Violence |

18
(1)

| | |
| --- | --- |
| | The Safe Schools Movement |

18
(1)

| | |
| --- | --- |
| | The Role of Effective Classroom Management |

18
(1)
19
(1)
19
(2)

| | |
| --- | --- |
| | PART 2 Understanding Classroom Management Models |

21
(201)

| | |
| --- | --- |
| | Building the Foundation: Skinner; Redl and Wattenberg; Glasser; and Gordon |

25
(21)
25
(1)
25
(1)
26
(1)
27
(4)
27
(1)

| | |
| --- | --- |
| | Overview of Skinner's Theories |

27
(1)

| | |
| --- | --- |
| | Contributions of Skinner's Theories |

27
(1)

| | |
| --- | --- |
| | Application of Skinner's Theories |

28
(1)

| | |
| --- | --- |
| | Critique of Skinner's Theories |

29
(2)

| | |
| --- | --- |
| | Fritz Redl and William W. Wattenberg |

31
(5)
31
(1)

| | |
| --- | --- |
| | Overview of Redl's and Wattenberg's Theories |

31
(1)

| | |
| --- | --- |
| | Contributions of Redl's and Wattenberg's Theories |

32
(1)

| | |
| --- | --- |
| | Applications of Redl's and Wattenberg's Theories |

33
(2)

| | |
| --- | --- |
| | Critique of Redl's and Wattenberg's Theories |

35
(1)
36
(3)
36
(1)

| | |
| --- | --- |
| | Overview of Glasser's Theories |

36
(1)

| | |
| --- | --- |
| | Contributions of Glasser's Theories |

37
(1)

| | |
| --- | --- |
| | Applications of Glasser's Theories |

38
(1)

| | |
| --- | --- |
| | Critique of Glasser's Theories |

39
(1)
39
(6)
39
(1)

| | |
| --- | --- |
| | Overview of Gordon's Theories |

40
(1)

| | |
| --- | --- |
| | Contributions of Gordon's Theories |

40
(2)

| | |
| --- | --- |
| | Application of Gordon's Theories |

42
(1)

| | |
| --- | --- |
| | Critique of Gordon's Theories |

43
(2)
45
(1)
45
(1)

| | |
| --- | --- |
| | Exploring the Theories of Assertive Discipline: Lee Canter and Marlene Canter |

46
(16)
46
(1)
46
(1)

| | |
| --- | --- |
| | Lee Canter and Marlene Canter: Biographical Sketch |

46
(1)

| | |
| --- | --- |
| | Overview of Assertive Discipline |

47
(1)
47
(1)

| | |
| --- | --- |
| | Philosophical and Psychological Foundations |

47
(1)

| | |
| --- | --- |
| | Teachers' Roles and Responsibilities |

48
(1)

| | |
| --- | --- |
| | Applying Assertive Discipline |

48
(7)
49
(1)
49
(1)
50
(1)

| | |
| --- | --- |
| | Rights of Students and Teachers |

51
(4)

| | |
| --- | --- |
| | Effectiveness of the Practical Applications |

55
(1)

| | |
| --- | --- |
| | Evaluating Assertive Discipline |

56
(5)

| | |
| --- | --- |
| | Potential for Addressing Student Misbehaviors |

56
(1)

| | |
| --- | --- |
| | Advantages and Disadvantages |

57
(1)

| | |
| --- | --- |
| | Imposing or Teaching Discipline? |

58
(1)
59
(2)
61
(1)
61
(1)

| | |
| --- | --- |
| | Exploring the Theories of Democratic Teaching: Rudolf Dreikurs |

62
(15)
62
(1)
62
(1)

| | |
| --- | --- |
| | Rudolf Dreikurs: Biographical Sketch |

62
(1)

| | |
| --- | --- |
| | Overview of Democratic Teaching and Management |

63
(2)
63
(1)

| | |
| --- | --- |
| | Philosophical and Psychological Foundations |

63
(1)

| | |
| --- | --- |
| | Teachers' Roles and Responsibilities |

64
(1)

| | |
| --- | --- |
| | Applying Democratic Teaching and Management |

65
(7)

| | |
| --- | --- |
| | Identifying and Addressing Mistaken Goals |

65
(4)

| | |
| --- | --- |
| | Using Logical Consequences |

69
(1)

| | |
| --- | --- |
| | Using Encouragement Rather Than Praise |

69
(1)

| | |
| --- | --- |
| | Practical Applications of Dreikurs's Theories |

70
(2)

| | |
| --- | --- |
| | Evaluating Democratic Teaching and Management |

72
(4)

| | |
| --- | --- |
| | Potential for Addressing Student Misbehaviors |

72
(1)

| | |
| --- | --- |
| | Advantages and Disadvantages |

73
(1)

| | |
| --- | --- |
| | Imposing or Teaching Discipline? |

74
(1)
74
(2)
76
(1)
76
(1)

| | |
| --- | --- |
| | Exploring the Theories of Congruent Communication: Haim Ginott |

77
(17)
77
(1)
77
(1)

| | |
| --- | --- |
| | Haim Ginott: Biographical Sketch |

77
(1)

| | |
| --- | --- |
| | Overview of Congruent Communication |

78
(1)
78
(1)

| | |
| --- | --- |
| | Philosophical and Psychological Foundations |

78
(1)

| | |
| --- | --- |
| | Teachers' Roles and Responsibilities |

79
(1)

| | |
| --- | --- |
| | Applying Congruent Communication |

79
(9)

| | |
| --- | --- |
| | Implementing Practical Applications |

79
(8)

| | |
| --- | --- |
| | Effectiveness of the Practical Applications |

87
(1)

| | |
| --- | --- |
| | Evaluating Congruent Communication in a Diverse Society |

88
(4)

| | |
| --- | --- |
| | Potential for Addressing Student Misbehaviors |

88
(1)

| | |
| --- | --- |
| | Advantages and Disadvantages of Ginott's Theories |

89
(1)

| | |
| --- | --- |
| | Imposing or Teaching Discipline? |

90
(1)
91
(1)
92
(1)
92
(2)

| | |
| --- | --- |
| | Exploring the Theories of Instructional Management: Jacob Kounin |

94
(16)
94
(1)
94
(1)

| | |
| --- | --- |
| | Jacob Kounin: Biographical Sketch |

94
(1)

| | |
| --- | --- |
| | Overview of Instructional Management |

95
(1)
95
(1)

| | |
| --- | --- |
| | Philosophical and Psychological Foundations |

95
(1)

| | |
| --- | --- |
| | Teachers' Roles and Responsibilities |

95
(1)

| | |
| --- | --- |
| | Applying Instructional Management |

96
(8)

| | |
| --- | --- |
| | Implementing Practical Applications |

96
(8)

| | |
| --- | --- |
| | Effectiveness of Practical Applications |

104
(1)

| | |
| --- | --- |
| | Evaluating Instructional Management in a Diverse Society |

104
(3)

| | |
| --- | --- |
| | Potential for Addressing Student Misbehaviors |

105
(1)

| | |
| --- | --- |
| | Advantages and Disadvantages of Kounin's Theories |

106
(1)

| | |
| --- | --- |
| | Imposing or Teaching Discipline? |

106
(1)
107
(1)
107
(1)
108
(2)

| | |
| --- | --- |
| | Exploring the Theories of Discipline with Dignity: Richard Curwin and Allen Mendler |

110
(18)
110
(1)
110
(1)

| | |
| --- | --- |
| | Richard Curwin and Allen Mendler: Biographical Sketch |

110
(1)

| | |
| --- | --- |
| | Overview of Discipline with Dignity |

111
(2)
111
(1)

| | |
| --- | --- |
| | Philosophical and Psychological Foundations |

111
(1)

| | |
| --- | --- |
| | Teachers' Roles and Responsibilities |

112
(1)

| | |
| --- | --- |
| | Applying Discipline with Dignity |

113
(11)

| | |
| --- | --- |
| | Implementing Practical Application |

113
(11)

| | |
| --- | --- |
| | Effectiveness of Practical Applications |

124
(1)

| | |
| --- | --- |
| | Evaluating Discipline with Dignity in a Diverse Society |

124
(2)

| | |
| --- | --- |
| | Potential for Addressing Student Misbehaviors |

124
(1)

| | |
| --- | --- |
| | Advantages and Disadvantages of Discipline with Dignity |

125
(1)

| | |
| --- | --- |
| | Imposing or Teaching Discipline? |

125
(1)
126
(1)
126
(1)
126
(2)

| | |
| --- | --- |
| | Exploring the Theories of Positive Classroom Management: Fredric Jones |

128
(19)
128
(1)
128
(1)

| | |
| --- | --- |
| | Fredric Jones: Biographical Sketch |

128
(1)

| | |
| --- | --- |
| | Overview of Positive Classroom Management |

129
(2)
129
(1)

| | |
| --- | --- |
| | Philosophical and Psychological Foundations |

129
(1)

| | |
| --- | --- |
| | Teachers' Roles and Responsibilities |

130
(1)

| | |
| --- | --- |
| | Applying Positive Classroom Management |

131
(11)

| | |
| --- | --- |
| | Implementing Practical Applications |

133
(9)

| | |
| --- | --- |
| | Effectiveness of the Practical Applications |

142
(1)

| | |
| --- | --- |
| | Evaluating Positive Classroom Management in a Diverse Society |

142
(3)

| | |
| --- | --- |
| | Potential for Addressing Student Misbehaviors |

142
(1)

| | |
| --- | --- |
| | Advantages and Disadvantages of Positive Discipline |

143
(1)

| | |
| --- | --- |
| | Imposing or Teaching Discipline? |

143
(2)
145
(1)
145
(1)
146
(1)

| | |
| --- | --- |
| | Exploring the Theories of Inner Discipline: Barbara Coloroso |

147
(17)
147
(1)
147
(1)

| | |
| --- | --- |
| | Barbara Coloroso: Biographical Sketch |

147
(1)

| | |
| --- | --- |
| | Overview of Inner Discipline |

148
(1)
148
(1)

| | |
| --- | --- |
| | Philosophical and Psychological Foundations |

148
(1)

| | |
| --- | --- |
| | Teachers' Roles and Responsibilities |

149
(1)

| | |
| --- | --- |
| | Applying Inner Discipline |

149
(11)

| | |
| --- | --- |
| | Implementing Practical Applications |

149
(10)

| | |
| --- | --- |
| | Effectiveness of Practical Applications |

159
(1)

| | |
| --- | --- |
| | Evaluating Inner Discipline in a Diverse Society |

160
(3)

| | |
| --- | --- |
| | Potential for Addressing Student Misbehaviors |

160
(1)

| | |
| --- | --- |
| | Advantages and Disadvantages of Inner Discipline |

161
(1)

| | |
| --- | --- |
| | Imposing or Teaching Discipline? |

161
(1)
161
(2)
163
(1)
163
(1)

| | |
| --- | --- |
| | Exploring the Theories of Consistency Management: Jerome Freiberg |

164
(15)
164
(1)
164
(1)

| | |
| --- | --- |
| | Jerome Freiberg: Biographical Sketch |

164
(1)

| | |
| --- | --- |
| | Overview of Consistency Management and Cooperative Discipline |

165
(4)
165
(1)

| | |
| --- | --- |
| | Philosophical and Psychological Foundations |

166
(2)

| | |
| --- | --- |
| | Teachers' Roles and Responsibilities |

168
(1)

| | |
| --- | --- |
| | Applying Consistency Management and Cooperative Discipline |

169
(4)

| | |
| --- | --- |
| | Implementing Practical Applications |

169
(4)

| | |
| --- | --- |
| | Effectiveness of Practical Applications |

173
(1)

| | |
| --- | --- |
| | Evaluating Consistency Management and Cooperative Discipline in a Diverse Society |

173
(4)

| | |
| --- | --- |
| | Potential for Addressing Student Misbehaviors |

173
(2)

| | |
| --- | --- |
| | Advantages and Disadvantages of CMCD |

175
(1)

| | |
| --- | --- |
| | Imposing or Teaching Discipline? |

175
(1)
176
(1)
177
(1)
178
(1)

| | |
| --- | --- |
| | Exploring the Theories of Judicious Discipline: Forrest Gathercoal |

179
(18)
179
(1)
179
(1)

| | |
| --- | --- |
| | Forrest Gathercoal: Biographical Sketch |

179
(1)

| | |
| --- | --- |
| | Overview of Judicious Discipline |

180
(1)
180
(1)

| | |
| --- | --- |
| | Philosophical and Psychological Foundations |

180
(1)

| | |
| --- | --- |
| | Teachers' Roles and Responsibilities |

181
(1)

| | |
| --- | --- |
| | Applying Judicious Discipline |

181
(10)

| | |
| --- | --- |
| | Implementing Practical Applications |

182
(9)

| | |
| --- | --- |
| | Effectiveness of the Practical Applications |

191
(1)

| | |
| --- | --- |
| | Evaluating Judicious Discipline |

191
(4)

| | |
| --- | --- |
| | Potential for Addressing Student Misbehaviors |

191
(2)

| | |
| --- | --- |
| | Advantages and Disadvantages of Judicious Discipline |

193
(1)

| | |
| --- | --- |
| | Imposing or Teaching Discipline? |

194
(1)
194
(1)
195
(1)
196
(1)

| | |
| --- | --- |
| | Introducing Additional Theorists: Albert; Evertson and Harris; Johnson and Johnson; Nelsen, Lott, and Glenn; and Kohn |

197
(25)
197
(1)
197
(1)
197
(21)

| | |
| --- | --- |
| | Linda Albert: Cooperative Discipline |

198
(4)

| | |
| --- | --- |
| | Carolyn Evertson and Alene Harris: Managing Learning Centered Classrooms |

202
(3)

| | |
| --- | --- |
| | David Johnson and Roger Johnson: Three Cs of School and Classroom Management |

205
(1)

| | |
| --- | --- |
| | Contributions of the Johnsons' Theories |

206
(3)

| | |
| --- | --- |
| | Jane Nelsen, Lynn Lott, and Stephen Glenn: Positive Discipline |

209
(4)

| | |
| --- | --- |
| | Alfie Kohn: Beyond Discipline |

213
(4)

| | |
| --- | --- |
| | Considering the Five Theories |

217
(1)
218
(1)
218
(4)

| | |
| --- | --- |
| | PART 3 Towards a Personal Classroom Management Plan |

222
(59)

| | |
| --- | --- |
| | Creating Safe Classrooms and Safe Schools |

223
(21)
223
(1)
223
(1)

| | |
| --- | --- |
| | Challenges to Safe Classrooms |

223
(4)
224
(1)

| | |
| --- | --- |
| | Causes of School Violence |

225
(1)
225
(2)

| | |
| --- | --- |
| | Classroom Prevention and Intervention Efforts: Teachers' Efforts |

227
(9)

| | |
| --- | --- |
| | Positive School and Classroom Culture |

227
(1)
228
(2)
230
(1)
231
(1)
232
(1)
233
(1)

| | |
| --- | --- |
| | Warning Signs of Violence |

233
(1)

| | |
| --- | --- |
| | Written Intervention Plans |

234
(2)

| | |
| --- | --- |
| | Creating Safe Classrooms and Schools: Educators, Students, and Parents |

236
(2)
236
(1)
236
(1)

| | |
| --- | --- |
| | Working with Parents and Community Members |

237
(1)

| | |
| --- | --- |
| | Theorists and Their Contributions to Safe Classrooms |

238
(1)

| | |
| --- | --- |
| | Peer Mediation and Conflict Resolution |

238
(2)
238
(1)
239
(1)

| | |
| --- | --- |
| | Developing Your Personal Philosophy |

240
(2)
242
(1)
242
(2)

| | |
| --- | --- |
| | Developing Your Personal Classroom Management Philosophy |

244
(18)
244
(1)
244
(1)

| | |
| --- | --- |
| | Rationale for Developing a Personal Philosophy |

245
(5)

| | |
| --- | --- |
| | Synthesis of Management Plan and Philosophical Beliefs |

245
(1)

| | |
| --- | --- |
| | The Need for a Personally Effective Plan |

246
(1)

| | |
| --- | --- |
| | The Need for a Plan that All Parties Consider Fair |

247
(1)

| | |
| --- | --- |
| | Advantages and Disadvantages of the Models |

248
(2)

| | |
| --- | --- |
| | Developing a Personal Classroom Management Philosophy |

250
(8)

| | |
| --- | --- |
| | Considering which Problems to Address |

250
(1)

| | |
| --- | --- |
| | Discipline: Imposed or Taught? |

251
(1)

| | |
| --- | --- |
| | Students' Psychological and Developmental Needs |

252
(2)

| | |
| --- | --- |
| | Considering the Challenges of Inclusion |

254
(2)

| | |
| --- | --- |
| | Developing a Personal Philosophy |

256
(2)

| | |
| --- | --- |
| | Seeking Collaborative Assistance and Advice |

258
(2)
260
(1)
261
(1)

| | |
| --- | --- |
| | Applying a Management Philosophy in Your Classroom |

262
(19)
262
(1)
262
(1)

| | |
| --- | --- |
| | Applying Your Classroom Management System |

262
(15)

| | |
| --- | --- |
| | Personalizing the Classroom Management System |

263
(1)

| | |
| --- | --- |
| | Developing Human Relations Skills |

263
(1)

| | |
| --- | --- |
| | Building the Right Climate |

264
(1)

| | |
| --- | --- |
| | Creating a Sense of Community |

265
(1)

| | |
| --- | --- |
| | Selecting Classroom Rules |

266
(3)

| | |
| --- | --- |
| | Conducting Class Meetings |

269
(1)

| | |
| --- | --- |
| | Emphasizing, Ignoring, and Addressing Issues |

270
(1)

| | |
| --- | --- |
| | Communicating with Parents |

271
(1)

| | |
| --- | --- |
| | Teaching Discipline and Cooperation |

271
(1)

| | |
| --- | --- |
| | Individual Students and Their Differences |

272
(2)

| | |
| --- | --- |
| | Inclusion and Learners with Special Needs |

274
(1)

| | |
| --- | --- |
| | Addressing Off-Task and Disruptive Behaviors |

275
(1)

| | |
| --- | --- |
| | Dealing with Violence and Violent Behaviors |

276
(1)

| | |
| --- | --- |
| | Putting Your Management Plan Together |

277
(2)
279
(1)
279
(2)
Glossary
281
(6)
References
287
(6)
Index
293