Note: Supplemental materials are not guaranteed with Rental or Used book purchases.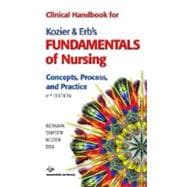 Summary
This clinical companion serves as a quick reference to the fundamentals of nursing care for students in the clinical areas. Compact and portable, this handbook helps you recall key points as you prepare to deliver safe and effective nursing care.
Table of Contents
Preface
p. viii
Introduction
p. ix
Reviewers
p. xvii
Fundamental Nursing
Components of the Nursing Process
p. 2
Aspects of Delegation
p. 4
Communication Guidelines
p. 7
Assessment and Diagnosis
Nursing Health History
p. 18
Methods of Examining
p. 24
Vital Signs
p. 26
Physical Health Examination
p. 31
Nursing Diagnoses
p. 57
Planning and Implementation
Safety Guidelines
p. 66
Clinical Guidelines
p. 72
Fluid and Electrolyte Balance
p. 72
Individualizing Care for Clients with Pain
p. 78
Respiratory Function
p. 81
Tube Feedings
p. 85
Urinary Elimination
p. 89
Fecal Elimination
p. 93
Pressure Areas
p. 96
Healing Wounds
p. 104
Postoperative Period
p. 106
Teaching and Learning Guidelines
p. 110
Medications
p. 116
Documentation and Evaluation
Charting Guidelines
p. 130
SOAP Format
p. 133
Evaluation
p. 136
Quick Reference
Standard Precautions and Infection Control Strategies
p. 140
Common Abbreviations and "Do Not Use" Abbreviations
p. 148
Medical Terminology: Root Words, Prefixes, and Suffixes
p. 152
Weight and Volume Conversions and Equivalents
p. 159
Laboratory Values
p. 161
Table A: Complete Blood Count with Clinical Implications
p. 162
Table B: Common Blood Chemistry Tests with Clinical Implications
p. 167
Table C: Serum Electrolytes
p. 174
Table D: Arterial Blood Gases
p. 177
Table E: Urine Chemistry
p. 178
Common Diagnostic Studies
p. 183
Nursing Interventions for Endoscopic Examinations
p. 135
Studies of the Gastrointestinal Tract
p. 190
Studies of the Gallbladder and Bile Ducts
p. 192
Radiographic Studies: Intravenous Pyelography, Angiography, Myelography
p. 195
Key Information about Vitamins
p. 198
Key Information about Minerals
p. 203
Key Information about Trace Minerals
p. 205
Recommended Childhood and Adolescent Immunizations, 2006
p. 208
Recommended Adult Immunization Schedule-United States, 2006-2007
p. 209
Glossary
p. 211
Index
p. 245
Table of Contents provided by Ingram. All Rights Reserved.