Note: Supplemental materials are not guaranteed with Rental or Used book purchases.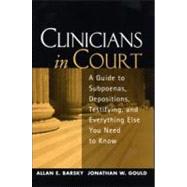 Related Products
Summary
Mental health and human service professionals are often called on to give evidence or expert testimony in a range of circumstances, including family law and child welfare trials, mental health hearings, malpractice lawsuits, criminal trials, government hearings, and private arbitration. Interacting with the legal system poses many potential challenges, but adequate preparation and a basic understanding of legal processes and terminology can make the experience a more positive one. This volume provides practical information and proven guidelines to help clinicians from any background understand their role in legal proceedings-and participate effectively, ethically, and with minimal stress. Special features include helpful checklists and samples of affidavits, retainer agreements, and other materials that can be adapted for use in the reader's own practice.
Author Biography
Allan E. Barsky, JD, MSW, PhD, is Professor of Social Work at Florida Atlantic University.

Jonathan W. Gould, PhD, is in private practice in Charlotte, North Carolina, where he is a principal in the Charlotte Psychotherapy and Consultation Group.

Table of Contents
Prologue
1
(4)
5
(19)
11
(1)

| | |
| --- | --- |
| | Court and Other Adjudicative Hearings |

12
(1)

| | |
| --- | --- |
| | Concepts of Justice and Procedural Fairness |

13
(2)
15
(2)
17
(1)
18
(1)
19
(1)
20
(1)
21
(2)
23
(1)
24
(18)

| | |
| --- | --- |
| | Experiences, Attitudes, and Triggers |

25
(1)
26
(2)

| | |
| --- | --- |
| | Commonalities, Conflicts, and Moving Beyond |

28
(13)
41
(1)
42
(29)

| | |
| --- | --- |
| | Contacted to Be a Witness or to Provide Information |

42
(7)
49
(2)
51
(2)

| | |
| --- | --- |
| | Confidentiality, Privilege, and Exceptions |

53
(16)
69
(2)

| | |
| --- | --- |
| | Preparation for Legal Proceedings |

71
(35)
72
(6)
78
(1)

| | |
| --- | --- |
| | The Decision to Call You as a Witness |

79
(2)
81
(1)
82
(18)
100
(1)
101
(5)

| | |
| --- | --- |
| | Oral Testimony at an Adjudication |

106
(26)
107
(2)
109
(9)
118
(10)

| | |
| --- | --- |
| | Hearings without Attorneys |

128
(1)

| | |
| --- | --- |
| | Technology and Providing Evidence |

128
(1)
129
(3)
132
(15)

| | |
| --- | --- |
| | The Organization of Records |

133
(4)
137
(3)
140
(1)

| | |
| --- | --- |
| | Using Records at a Hearing |

141
(2)
143
(4)
147
(41)
148
(6)

| | |
| --- | --- |
| | Admitting Expert Evidence |

154
(6)
160
(3)
163
(6)
169
(8)
177
(6)
183
(5)
188
(13)

| | |
| --- | --- |
| | Types of Documentary Evidence |

189
(3)
192
(5)
197
(1)
198
(3)

| | |
| --- | --- |
| | Claims against Clinicians |

201
(9)
202
(2)
204
(1)

| | |
| --- | --- |
| | Avoiding Malpractice Actions |

205
(2)
207
(1)
208
(1)
208
(2)

| | |
| --- | --- |
| | Alternatives to Adjudication |

210
(10)
210
(5)

| | |
| --- | --- |
| | Pretrial Settlement Conferences |

215
(1)
215
(2)
217
(1)
218
(2)
220
(3)
223
(2)
225
(6)
231
(16)

| | |
| --- | --- |
| | A. Service Agreement for an Expert Witness for Review/Rebuttal Services |

232
(1)

| | |
| --- | --- |
| | B. Fee Arrangement for an Expert Witness Who Is Called to Testify |

233
(1)

| | |
| --- | --- |
| | C. Informed Consent to Participate in a Forensic Psychological Evaluation |

234
(7)

| | |
| --- | --- |
| | D. Initial Letter to Attorneys after an Appointment Order |

241
(2)
243
(4)
References
247
(6)
Index
253