Note: Supplemental materials are not guaranteed with Rental or Used book purchases.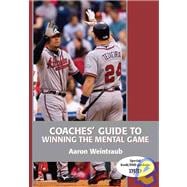 Coaches' Guide to Winning the Mental Game
ISBN13:
9781606790601
by
Weintraub, Aaron
Summary
Coaches' Guide to Winning the Mental Game gives athletes of all levels an edge over their competition. This book does a wonderful job of outlining the mental skills that peak performers need to tap into their potential and achieve their greatest success. This book will forever change the way that coaches and parents work with their athletes. Coach Weintraub is a master at conveying difficult performance-enhancing messages to coaches and athletes in a simple but effective manner. His approach and passion make his book a must-read. This book is a reflection of his knowledge and understanding. Readers will greatly appreciate this resource. Chapters include: Facing Dramatic Circumstances (Part 1), Control, Awareness, Discipline, Peak Performance, Motivation, Perspective, Respect for the Game and Intensity, Self-Talk, Confidence, Arousal Control, Enjoy Your Job, Preparation, Know Your Job, Imagery, Routines, Anchoring, Presentness, Let It Happen, Concentration and Focus, Pressure, "Do Your Job," Appropriate Adjustments, Goal Setting-The SMART+2 System, and Facing Dramatic Circumstances (Part 2) About the Companion DVD: This book includes a DVD that is designed to be a video version of the book. It is a chapter-by-chapter discussion of each specific topic that can be easily viewed one chapter/track at a time. It is not designed to be watched in one sitting like a movie. Rather, it is a lecture that can be viewed one or two chapters at a time, just as you might sit down to read the book one chapter at a time. Each discussion parallels the book and emphasizes the same points. While the text provides more detailed information, the DVD does contain some distinctions not included in the text. The DVD is a great tool to help you teach your players about winning the mental game. For example, you can show your team a particular chapter of the video to reinforce a lesson you are currently emphasizing with your players.
Author Biography
Aaron Weintraub has established himself as a successful consultant, helping athletes and coaches win the mental side of the game. After 12 years as a college baseball coach, Weintraub became a mental skills coach in 2006. Since then, his clients have included Baylor University baseball, University of Houston softball, Dallas Baptist University baseball, University of Central Arkansas baseball and softball, and University of Texas at Arlington baseball and softball. He has also been a guest instructor for many other college and high school programs in various sports and has spoken at numerous coaching conventions.Weintraub received a bachelor's degree in sociology from Emory University and a master's degree from the University of Virginia. At the University of Virginia, he studied sport psychology and motor learning under Linda Bunker.Weintraub coached college baseball from 1994 to 2006. In 2001, he helped lead the Emory University Eagles to their first ever #1 national ranking on the way to a final record of 36-9. From 2002 to 2006, Weintraub served as pitching coach at Cedar Valley Junior College in Dallas. He helped the Suns grow from a 13-38 team to a well-respected, consistent winner. The team was nationally ranked in the top 10 in 2004, 2005, and 2006. Weintraub also coached baseball at Presbyterian College, Brevard College, and the University of Virginia. Each of these programs was nationally ranked or set a school record for wins while Weintraub was there. Brevard College did both. Additionally, Weintraub has served as head coach of several select high school and collegiate summer teams. He has coached over 50 players who have gone on to play professional baseball.