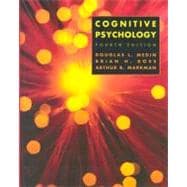 Questions About This Book?
Why should I rent this book?
Renting is easy, fast, and cheap! Renting from eCampus.com can save you hundreds of dollars compared to the cost of new or used books each semester. At the end of the semester, simply ship the book back to us with a free UPS shipping label! No need to worry about selling it back.
How do rental returns work?
Returning books is as easy as possible. As your rental due date approaches, we will email you several courtesy reminders. When you are ready to return, you can print a free UPS shipping label from our website at any time. Then, just return the book to your UPS driver or any staffed UPS location. You can even use the same box we shipped it in!
What version or edition is this?
This is the 4th edition with a publication date of 4/1/2004.
What is included with this book?
The Used copy of this book is not guaranteed to include any supplemental materials. Typically, only the book itself is included.
The Rental copy of this book is not guaranteed to include any supplemental materials. You may receive a brand new copy, but typically, only the book itself.
Summary
This coherent overview of cognitive psychology is organized in terms of themes that cut across topic areas. Written by well-known researchers, the book is completely current in describing ongoing controversies in research; it provides summaries of key experiments that distinguish between them; and it encourages the reader to think critically about current research and theories. The focus on the importance of physical and computational constraints on cognition is preserved throughout the book.
Author Biography
Douglas Medin
(Ph.D., University of South Dakota) taught at the Rockefeller University, University of Illinois, and the University of Michigan before assuming his current position as CAS Visiting Committee Research and Teaching Professor at Northwestern University. Best known for his research on concepts and categorization, his recent research interests have extended to decision making, cross-cultural studies of reasoning and categorization, and cognitive dimensions of resource use. He teaches courses in cognitive psychology, psychology of thinking and reasoning, decision making, and culture and cognition. He is the editor of the journal
Cognitive Psychology
and is a past editor of the Academic Press series,
Psychology of Learning and Motivation
.
Brian Ross received his Sc.B. in Psychology from Brown University and his M.A. from Yale University before receiving his Ph.D. from Stanford University. He teaches at the University of Illinois, where he is Professor of Psychology and also in the Beckman Institute. He teaches courses in cognitive psychology, the psychology of thinking, introductory statistics, problem solving, and mathematical models of memory. His research has examined issues in categorization, problem solving, learning and memory. He is series editor for The psychology of learning and motivation, as well as associate editor of the journal Psychonomic Bulletin & Review.
Arthur Markman received his M.A. and Ph.D. in Psychology from the University of Illinois after completing his Sc.B. in Cognitive Science at Brown University. He worked at Northwestern University and Columbia University before moving to the University of Texas at Austin, where he is now Professor of Psychology and Marketing. He teaches courses in cognitive psychology, research methods and statistics, reasoning, and decision making and knowledge representation, and he supervises the honors program. His research has explored similarity, categorization, and decision making. He served as Executive Officer of the Cognitive Science Society from 2001-2003.
Table of Contents
1
(37)

| | |
| --- | --- |
| | Possibilities, Information, and Approaches to the Study of the Mind |

3
(34)
4
(7)

| | |
| --- | --- |
| | Domain of Cognitive Psychology |

4
(1)
4
(1)
5
(3)
8
(1)
9
(1)
9
(2)
11
(1)

| | |
| --- | --- |
| | Experience and Experimentation |

11
(5)
12
(1)
13
(1)
14
(1)

| | |
| --- | --- |
| | The Challenge of Cognitive Psychology |

14
(1)
14
(2)

| | |
| --- | --- |
| | Roots of Cognitive Psychology |

16
(4)
16
(1)
17
(1)
18
(2)
20
(1)
20
(2)
22
(1)

| | |
| --- | --- |
| | The Emergence of Cognitive Science |

22
(2)
23
(1)

| | |
| --- | --- |
| | Cognitive Neuroscience Techniques |

24
(5)
24
(1)

| | |
| --- | --- |
| | Positron Emission Tomography |

25
(1)

| | |
| --- | --- |
| | Functional Magnetic Resonance Imaging (fMRI) |

26
(2)
28
(1)

| | |
| --- | --- |
| | Levels and Types of Explanations |

29
(3)
31
(1)
32
(1)
33
(1)
33
(1)
34
(1)
34
(3)

| | |
| --- | --- |
| | PART II ACQUIRING INFORMATION |

37
(98)
39
(30)
40
(1)

| | |
| --- | --- |
| | The Challenge of Learning |

40
(1)

| | |
| --- | --- |
| | The Biological Backdrop of Learning |

41
(8)

| | |
| --- | --- |
| | Fixed-Action Patterns and Releasers |

43
(1)

| | |
| --- | --- |
| | Critical Periods and Imprinting |

43
(5)
48
(1)
49
(1)
49
(12)
49
(1)
50
(6)
56
(1)

| | |
| --- | --- |
| | Trial-and-Error Learning or Instrumental Learning |

57
(2)

| | |
| --- | --- |
| | Paired-Associate Learning |

59
(2)
61
(5)

| | |
| --- | --- |
| | The Learning-Performance Distinction |

62
(1)

| | |
| --- | --- |
| | Contingency Learning and Illusory Correlation |

63
(2)

| | |
| --- | --- |
| | Contingency Learning and Casual Learning |

65
(1)
65
(1)

| | |
| --- | --- |
| | Content and Meaningful Learning |

66
(1)
67
(1)
68
(1)
68
(1)
69
(34)

| | |
| --- | --- |
| | The Problem of Perception |

69
(2)
71
(13)
72
(3)
75
(9)
84
(1)
84
(12)

| | |
| --- | --- |
| | Feature Detection Theories |

85
(2)
87
(4)

| | |
| --- | --- |
| | Template Matching and Alignment |

91
(3)

| | |
| --- | --- |
| | Face Recognition and Visual Subsystems |

94
(1)
95
(1)

| | |
| --- | --- |
| | Levels and the Integration of Information in Perceptual Context Effects |

96
(4)

| | |
| --- | --- |
| | The Word Superiority Effect |

96
(4)
100
(1)
100
(1)
101
(1)
101
(2)
103
(32)
104
(1)
105
(3)
105
(1)

| | |
| --- | --- |
| | Five Functions of Attention |

106
(2)
108
(15)

| | |
| --- | --- |
| | Focusing I: Sensory Stores |

108
(2)

| | |
| --- | --- |
| | Focusing II: Selecting Channels |

110
(2)
112
(1)

| | |
| --- | --- |
| | Location of Attentional Limits |

113
(2)
115
(2)
117
(1)
117
(2)
119
(1)
119
(4)

| | |
| --- | --- |
| | Attention in Complex Tasks |

123
(7)

| | |
| --- | --- |
| | Capacity and Automaticity |

125
(5)

| | |
| --- | --- |
| | Central Executive Functions and Action |

130
(2)

| | |
| --- | --- |
| | Attention and Action Selection |

130
(2)
132
(1)
133
(1)
133
(2)
135
(146)

| | |
| --- | --- |
| | Memory: Remembering New Information |

137
(36)
138
(2)
138
(1)
139
(1)
140
(1)
140
(10)
140
(1)

| | |
| --- | --- |
| | Characteristics of Short-Term Memory |

141
(3)
144
(6)
150
(1)
150
(21)
150
(2)
152
(5)
157
(1)

| | |
| --- | --- |
| | Encoding-Retrieval Interactions |

158
(8)
166
(5)
171
(1)
171
(1)
172
(1)
172
(1)

| | |
| --- | --- |
| | Memory Systems and Knowledge |

173
(36)
174
(1)
174
(4)

| | |
| --- | --- |
| | Characteristics of Semantic Memory |

174
(1)
175
(2)

| | |
| --- | --- |
| | Evaluation of the Hierarchical Model |

177
(1)
178
(6)

| | |
| --- | --- |
| | Are Episodic and Semantic Memory Distinct Memory Systems? |

179
(4)

| | |
| --- | --- |
| | Amnesia, Episodic, and Semantic Memory |

183
(1)

| | |
| --- | --- |
| | Procedural and Declarative Memory |

184
(1)

| | |
| --- | --- |
| | Implicit and Explicit Memory |

185
(8)

| | |
| --- | --- |
| | Implicit and Explicit Memory with Normal-Memory Adults |

186
(5)

| | |
| --- | --- |
| | Evaluation of the Implicit-Explicit Distinction |

191
(2)
193
(13)
193
(1)
193
(8)

| | |
| --- | --- |
| | A Parallel Distributed Processing Model of Memory |

201
(5)
206
(1)
206
(1)
207
(1)
207
(2)

| | |
| --- | --- |
| | Remembering New Information: Beyond Basic Effects |

209
(43)
209
(2)

| | |
| --- | --- |
| | Schemas: Understanding and Remembering Complex Situations |

211
(12)

| | |
| --- | --- |
| | Introduction and Motivation |

211
(3)
214
(1)
215
(4)
219
(3)
222
(1)
222
(1)
223
(1)
223
(4)

| | |
| --- | --- |
| | Encoding-Retrieval Interactions Revisited |

223
(1)
224
(3)
227
(1)
227
(14)
227
(1)
227
(5)
232
(4)
236
(5)
241
(1)
241
(8)
241
(1)
241
(6)
247
(2)
249
(1)
249
(1)
250
(1)
250
(2)

| | |
| --- | --- |
| | Spatial Knowledge, Imagery, and Visual Memory |

252
(29)
253
(1)
254
(3)

| | |
| --- | --- |
| | Relations Between Representations and Referents |

254
(1)
255
(2)
257
(1)
257
(5)
257
(2)

| | |
| --- | --- |
| | Hierarchical Representations of Space |

259
(2)

| | |
| --- | --- |
| | The Brain and Spatial Cognition |

261
(1)
261
(1)
262
(9)

| | |
| --- | --- |
| | Evidence for Use of Visual Imagery |

262
(4)
266
(5)
271
(1)
271
(7)
272
(3)
275
(1)

| | |
| --- | --- |
| | The Picture-Superiority Effect |

276
(2)
278
(1)
278
(1)
278
(1)
279
(1)
279
(2)

| | |
| --- | --- |
| | PART IV LANGUAGE AND UNDERSTANDING |

281
(70)
283
(34)
284
(1)

| | |
| --- | --- |
| | Language and Communication |

284
(5)

| | |
| --- | --- |
| | Principles of Communication |

286
(1)
286
(1)

| | |
| --- | --- |
| | Presupposition and Assertion |

286
(1)
287
(2)
289
(1)

| | |
| --- | --- |
| | The Productivity of Human Language |

289
(2)
289
(1)
290
(1)
291
(10)
294
(2)
296
(5)
301
(1)
301
(5)
301
(1)
302
(1)
303
(1)

| | |
| --- | --- |
| | The Psychological Reality of Syntax |

304
(2)
306
(1)
306
(4)

| | |
| --- | --- |
| | Heuristics and Strategies |

307
(1)
308
(2)
310
(5)
315
(1)
316
(1)
316
(1)

| | |
| --- | --- |
| | Concepts and Categories: Representation and Use |

317
(34)
318
(5)
318
(1)
318
(1)
319
(1)
320
(1)

| | |
| --- | --- |
| | Concepts and Misconceptions |

320
(2)
322
(1)

| | |
| --- | --- |
| | Structure of Natural Object Concepts |

323
(22)
323
(1)
324
(8)
332
(1)

| | |
| --- | --- |
| | Between-Category Structure |

333
(3)
336
(1)

| | |
| --- | --- |
| | Does Similarity Explain Categorization? |

336
(3)
339
(1)

| | |
| --- | --- |
| | Concepts as Organized by Theories |

340
(1)

| | |
| --- | --- |
| | Putting Similarity in Its Place |

341
(1)

| | |
| --- | --- |
| | Do Different Principles Apply for Different Kinds of Concepts? |

342
(2)
344
(1)

| | |
| --- | --- |
| | Use of Categories in Reasoning |

345
(4)

| | |
| --- | --- |
| | Goals and Ad Hoc Categories |

345
(1)
345
(1)
346
(3)
349
(1)
350
(1)
350
(1)
351
(126)
353
(37)
354
(1)
354
(4)
356
(1)

| | |
| --- | --- |
| | Deductive Versus Inductive Reasoning |

357
(1)
358
(1)

| | |
| --- | --- |
| | The Psychology of Deduction |

358
(8)
358
(3)

| | |
| --- | --- |
| | Conditional Reasoning in Hypothesis Testing: The Selection Task |

361
(4)
365
(1)

| | |
| --- | --- |
| | The Psychology of Inductive Reasoning |

366
(4)
366
(1)

| | |
| --- | --- |
| | Test Quality: A Case Study of Base Rates |

367
(2)
369
(1)

| | |
| --- | --- |
| | Confusing Conditional Probabilities |

370
(1)
370
(1)

| | |
| --- | --- |
| | The Importance of Content |

370
(7)
372
(3)
375
(1)
375
(2)
377
(1)

| | |
| --- | --- |
| | Mental Models and Intuitive Theories |

377
(6)
381
(2)

| | |
| --- | --- |
| | Hypothesis Testing and Scientific Reasoning |

383
(5)
388
(1)
388
(1)
388
(2)
390
(30)
391
(4)

| | |
| --- | --- |
| | Problems, Problems, Problems |

391
(1)
391
(1)
391
(1)

| | |
| --- | --- |
| | Methods for Studying Problem Solving |

392
(3)
395
(1)

| | |
| --- | --- |
| | Problem Solving as Representation and Search |

395
(16)
395
(1)

| | |
| --- | --- |
| | The Problem Space Analysis |

396
(3)

| | |
| --- | --- |
| | Problem Solving as Search |

399
(4)

| | |
| --- | --- |
| | Problem Solving as Representation |

403
(8)
411
(1)

| | |
| --- | --- |
| | Reliance on Specific Relevant Knowledge |

411
(7)
411
(1)

| | |
| --- | --- |
| | The Influence of Related Problems |

411
(7)
418
(1)
418
(1)
418
(1)
418
(2)
420
(30)
420
(1)
421
(17)
421
(1)

| | |
| --- | --- |
| | Comparing Experts and Novices |

421
(8)
429
(7)
436
(1)
437
(1)
438
(10)
438
(2)
440
(3)

| | |
| --- | --- |
| | Some Recent Views of Creativity |

443
(5)
448
(1)
448
(1)
449
(1)
449
(1)

| | |
| --- | --- |
| | Judgment and Decision Making |

450
(27)
451
(1)

| | |
| --- | --- |
| | Rational and Normative Models |

452
(3)
453
(1)
454
(1)

| | |
| --- | --- |
| | Limitations of Expected Utility and Alternatives to It |

455
(10)

| | |
| --- | --- |
| | Violations of Expected Utility |

455
(6)
461
(1)
462
(2)

| | |
| --- | --- |
| | Decision Making over Time |

464
(1)
464
(1)
465
(2)

| | |
| --- | --- |
| | Strategies for Dealing with Complexity |

465
(1)
466
(1)

| | |
| --- | --- |
| | Further Heuristics and Biases |

467
(6)
467
(2)

| | |
| --- | --- |
| | Representativeness Heuristic |

469
(1)
470
(1)
470
(1)
471
(1)
471
(1)

| | |
| --- | --- |
| | Relativity of Judgment and Use of Norms |

472
(1)
473
(1)

| | |
| --- | --- |
| | Are There Kinds of Decisions? |

473
(2)
474
(1)
475
(1)
476
(1)
476
(1)
Glossary
477
(10)
References
487
(46)
Credits
533
(6)
Author Index
539
(12)
Subject Index
551