Note: Supplemental materials are not guaranteed with Rental or Used book purchases.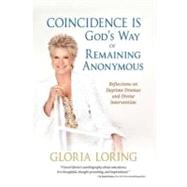 Coincidence Is God's Way of Remaining Anonymous: Reflections on Daytime Dramas and Divine Intervention
ISBN13:
9780757316487
by
Loring, Gloria
Questions About This Book?
What version or edition is this?
This is the 1st edition with a publication date of 10/1/2012.
What is included with this book?
The New copy of this book will include any supplemental materials advertised. Please check the title of the book to determine if it should include any CDs, lab manuals, study guides, etc.
Summary
"I loved Gloria's autobiography about coincidence. It is thoughtful, thought provoking, and inspirational." -Dr. Daniel Amen, New York Times bestselling author Ten million daily viewers loved her as Liz Chandler on the soap opera Days of Our Lives. Yet while the cameras rolled and the fictional plotline for Days unfolded each day, Loring was quietly wrestling with her own real-life dramas-the diagnosis of her young son's diabetes, the unraveling of her marriage, and a nagging inner voice from childhood that told her something was wrong. Coincidence Is God's Way of Remaining Anonymous is Loring's spiritual exploration of how coincidence helped her make sense of life's challenges and uncertainties. Coincidence helped her raise $1 million for diabetes research; it arrived in the form of mysterious letters during her separation and eventual divorce from actor-writer Alan Thicke; and it helped her discover and then heal from the trauma of long-forgotten childhood sexual abuse. It also brought her a chance encounter with the man she is married to today. With eloquence and humor, Loring takes readers on a quest for a deeper understanding of life's journey and the role coincidence plays in all of our lives, revealing that even the most difficult circumstances can be beneficial. Her experiences may be just the evidence readers need to begin watching more closely what they are attracting and what they are running from in their own lives. While coincidences may appear to come out of the blue, Loring suggests that we can all play a starring role in their appearance. "For years, I'd been waiting for someone else to make (my life) better. You'd have thought I was starring in "The Perils of Pauline." In truth, I wasn't a victim, I was a volunteer. . . . Coincidence gave me an experience of the lesson I needed to learn: You don't have to wait for someone to save you." From Coincidence Is God's Way of Remaining Anonymous
Author Biography
Gloria Loring is a well-known actress, singer, speaker, and spokesperson for the Juvenile Diabetes Research Foundation.
Table of Contents
Foreword
p. xv
Acknowledgments
p. xix
Introduction
p. 1
Expect a Miracle
p. 9
The Source of Coincidences
p. 25
Two Wings
p. 41
Letters from God
p. 55
The Only Way It Could Happen
p. 69
Swept Clean
p. 81
An Opening of the Heart
p. 99
Trust Your Experience
p. 119
Deep Secrets
p. 137
The Uses of Coincidence
p. 159
Listening
p. 179
Two Choices
p. 199
Chapter Quotes
p. 221
Bibliography
p. 231
Reader Questions
p. 237
About the Author
p. 239
Table of Contents provided by Ingram. All Rights Reserved.
Excerpts
one | Expect a Miracle
'Miracles do not happen in contradiction
to nature, but only in contradiction to
that which is known to us of nature.'
—St. Augustine
It was 6:00 am on a Friday at NBC Studios in beautiful downtown Burbank. I put my carry bag on the chair in my Days of Our Lives dressing room. I took out my script, makeup bag, and shoes. My scenes were being taped first that day, because I had to catch a plane to Houston to participate in the Jack Benny Memorial Tennis Classic to benefit the Juvenile Diabetes Foundation (JDF). When my scenes were completed, I rushed to my dressing room, packed my carry bag, and lifted it from the chair. On the chair was a printed business card that read, EXPECT A MIRACLE. I wondered out loud, 'It wasn't here this morning. Where'd this come from?' (It's a question that has never been answered.) The card's appearance was the next step in a journey I had begun two years earlier, a journey that was going to transform my life in more ways than I could possibly imagine.
Two years earlier, my husband, Alan, and I and our two young sons, Brennan and Robin, were driving from Toronto to a family reunion in northern Canada. Our first stop was at Alan's grandparents' home in Kirkland Lake, Ontario. Grandpa Will noticed that Brennan was drinking a lot of liquids and mentioned it to me. I thought of possible reasons: It's summer, we're traveling, it's hot.
Then Brennan began wetting the bed. He'd never done that before, but again I found reasons for it. He was off his normal sleep schedule and drinking so much liquid. Then more strange Brennan news: He was extremely fussy, not his usual sweet self, and the blue shorts that fit him a month ago were sliding down his hips. Perplexed, I weighed him on Grandpa Will's bathroom scale. At the doctor's office six weeks earlier, Brennan had weighed fifty-one pounds. Now the scale read forty-six pounds. He'd lost five pounds?
The next day, on our way to the family reunion, Brennan was sitting in the backseat of the car, staring straight ahead as if in a trance. His face was flushed deep pink. His eyes were glassy. I touched his forehead to see if he had a fever. It was cool. Something was wrong with my son. Alan and I agreed we'd take him to the doctor when we got home in a few days.
That night at the reunion, Brennan shared a room connected to ours with his older cousin Boyd. As I tucked him in, he asked for a glass of water. He drank it quickly. 'More, Mommy.' He drank a second glass, then a third. I watched in amazement. Boyd's mother, Maxine, was in the room, and knowing that she was a nurse, I asked, 'What on earth could cause a child to drink that much water?'
Her answer: 'There's only one thing I can think of—diabetes.'
I didn't know anything specific about diabetes, but I knew it was serious. I went to find Alan at the reception. I took his arm and shepherded him to the hall. I tried to tell him, 'Maxine thinks Brennan has d-d-d- . . .' I tried again, 'Maxine thinks Brennan has d-d-d- . . .'
I finally said the word diabetes, accompanied by sobs. We called Brennan's pediatrician in Los Angeles, and he suggested we collect Brennan's first urine in the morning and get some test strips at the pharmacy to see if he had sugar in his urine. That night we lay in bed holding hands, listening for Brennan. At six the next morning, we heard little feet pitter-pat to the bathroom. We intercepted him before he got to the toilet. He was too sleepy to ask why we wanted him to pee in a water glass. We dipped the test strip in. Dark blue. Sugar in the urine. Diabetes.*
The next morning, we drove to Toronto and boarded a plane for Los Angeles. Our dear friend Valerie Harper (yes, 'Rhoda') met us at the airport and took us directly to Children's Hospital Los Angeles. On our way there, Valerie, who was active in ending hunger, said, 'Gloria, if we can end world hunger, we can cure diabetes.' She planted a seed of hope in me.
*Brennan exhibited the classic symptoms of undiagnosed juvenile/type 1 diabetes: excessive thirst, excessive urination, and unexplained weight loss. The food we eat is broken down into a simple form of sugar that can be utilized by the cells. Insulin is the key that allows the sugar into the cells. When the body doesn't have enough insulin, the sugar can't get into the cells and stays in the blood. The cells are not nourished, which results in weight loss. The body tries to flush the sugar out (excessive urination), and the child drinks to make up for the water loss (excessive thirst).
©2012 Gloria Loring. All rights reserved. Reprinted from Coincidence Is God's Way of Remaining Anonymous. No part of this publication may be reproduced, stored in a retrieval system or transmitted in any form or by any means, without the written permission of the publisher. Publisher: Health Communications, Inc., 3201 SW 15th Street, Deerfield Beach, FL 33442