Note: Supplemental materials are not guaranteed with Rental or Used book purchases.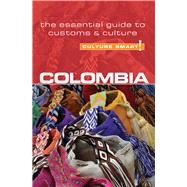 Colombia - Culture Smart! : The Essential Guide to Customs and Culture
ISBN13:
9781857335453
by
Cathey, Kate
Summary
Colombia is a magical country, full of spectacular varied landscapes, rare ecosystems, succulent tropical fruits,salsaandcumbiamusic, and kind, fun-loving people. The modern culture is a synthesis of Spanish, indigenous, and African traditions, evident in the music, the food, and Barranquillars"s famous Carnaval. The countryrs"s major cities are modern and cosmopolitan, with an international style and consumerism that makes them feel more like cities in the USA than Latin America. Yet, five minutes into the countryside, its distinct rural charms reveal a slower and more bucolic past. In the collective imagination, Colombia is exotic, lawless, and dangerous-an illegal narcotics trade and the ongoing armed conflict have contributed to its bad-boy image. But things are changing, and there is so much more than that. Entrenched social inequality has led to strife, manifest in the long-lived left- and rightwing rebel movements and a cycle of appalling violence that has saturated four decades with an undeclared civil war. And still, the Colombians are animated, lighthearted and fun-always ready to laugh and enjoy the moment. They have found strength in each other, in their families, and closest friends who are the cornerstones of their lives. Culture Smart! Colombiashows how the countryrs"s rough geography and tumultuous history have shaped modern values and attitudes. It looks at the public realm and at life at home with the family. It introduces you to Colombiars"s distinct and delicious cuisine, and reveals what people think about each other, their neighbors, and foreigners. There is advice on the safest ways to get around; on how business is done; and how Colombians communicate.Culture Smart! Colombiaexplains the intricacies of a culture that is both modern and steeped in tradition, international and regional, cosmopolitan and agrarian, very rich and very poor, and after more than four decades of undeclared civil war is happily emerging from tough times and getting ready for the future.