Note: Supplemental materials are not guaranteed with Rental or Used book purchases.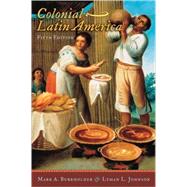 Summary
Now in its fifth edition, Colonial Latin America provides a concise study of the history of the Iberian colonies in the New World from their preconquest background to the wars of independence in the early nineteenth century. The new edition of this highly acclaimed text has been extensively revised and updated to reflect the latest scholarship, with particular emphasis on social and cultural history. Discussions of race and ethnicity, gender, family, marriage, and popular culture have been expanded and illustrated with many new pieces of art, and end-of-chapter chronologies are now included. Colonial Latin America, 5/e , is indispensable for students who wish to gain a deeper understanding of the fascinating and often colorful history of the cultures, the people, and the struggles that have played a part in shaping Latin America.
Author Biography
Lyman L. Johnson is Professor of History at the University of North Carolina at Charlotte.
Table of Contents
Acknowledgements
Iberia and America Before the Conquest
Amerindian Civilization Civilizations on the Eve of European Conquest
The Iberian World iin the Late Fifteenth Century
Exploration and the Caribbean Experiment
The Age of Conquest
The Conquest of Mexico
The Conquest of Peru
The Ebbtide of ConquestConundrums and Columbian Exchange
Ruling New World Empires
Imperial Organization and Admininistration
The Colonial Church
Population and Labor
Changes in the Colonial Population
Indian Labor
Slavery and the Slave Trade
Production, Exchange, and Defense
The Mining and Sugar Industries
International Trade and Taxation
Defense
The Colonial Economy
Living in an Empire
Securing an Income
Urban and Rural Environments
Colonial Society
Race, Culture, and Class
The Family
Daily Life in the Colonies
The Cultural Milieu
Imperial Expansion
The Spanish Colonies, 1680s to 1762
Brazil in the Age of Expanision
New Spain, Peru, and the Reforms of Charles III
Crisis and Collapse
An Era of War and Crisis for Spain and Portugal
Independence in South America
Independence in Mexico and Central America
Epilogue - A Note on Periodical Literature
Glossary
Illustration Sources and Credits
Monarchs of Spain and Portugal
Index
Table of Contents provided by Publisher. All Rights Reserved.