Note: Supplemental materials are not guaranteed with Rental or Used book purchases.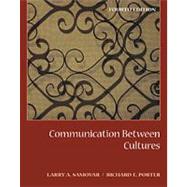 Questions About This Book?
What version or edition is this?
This is the edition with a publication date of 6/20/2000.
What is included with this book?
The New copy of this book will include any supplemental materials advertised. Please check the title of the book to determine if it should include any CDs, lab manuals, study guides, etc.
Summary
This book gives readers an understanding and appreciation of different cultures and provides them with the practical skills for improving their communication with people from other cultures. It provides excellent motivation for students through numerous compelling examples that force them to examine their own assumptions and cultural biases. The book is divided into four interrelated parts: Part I introduces the study of communication and culture, Part II focuses on the ability of culture to shape and modify our view of reality, Part III puts the theory of intercultural communication into practice, and Part IV converts knowledge into action.
Table of Contents
Preface
ix
Part 1 Communication and Culture
1
(50)

| | |
| --- | --- |
| | The Challenge of Intercultural Communication: Interaction in a Diverse World |

2
(19)

| | |
| --- | --- |
| | The Challenge of Intercultural Communication |

2
(1)

| | |
| --- | --- |
| | Intercultural Communication |

2
(1)

| | |
| --- | --- |
| | The Importance of Intercultural Communication |

3
(2)
5
(11)
5
(7)
12
(4)

| | |
| --- | --- |
| | Studying Intercultural Communication |

16
(2)
17
(1)
17
(1)
18
(1)
19
(1)

| | |
| --- | --- |
| | InfoTrac College Edition Exercises |

19
(1)
20
(1)
20
(1)

| | |
| --- | --- |
| | Communication and Culture: The Voice and the Echo |

21
(30)

| | |
| --- | --- |
| | The Importance of Communication |

22
(1)
22
(1)

| | |
| --- | --- |
| | Some Principles of Communication |

22
(9)

| | |
| --- | --- |
| | Communication Is a Dynamic Process |

23
(1)

| | |
| --- | --- |
| | Communication Is Symbolic |

24
(1)

| | |
| --- | --- |
| | Communication Is Systemic |

25
(1)

| | |
| --- | --- |
| | Communication Involves Making Inferences |

26
(1)

| | |
| --- | --- |
| | Communication Is Self-Reflective |

27
(1)

| | |
| --- | --- |
| | Communication Has a Consequence |

27
(1)
28
(3)
31
(15)

| | |
| --- | --- |
| | The Basic Functions of Culture |

32
(1)
33
(1)

| | |
| --- | --- |
| | Characteristics of Culture |

34
(12)

| | |
| --- | --- |
| | Intercultural Communication |

46
(3)

| | |
| --- | --- |
| | A Definition of Intercultural Communication |

46
(1)

| | |
| --- | --- |
| | Forms of Intercultural Communication |

46
(3)
49
(1)

| | |
| --- | --- |
| | InfoTrac College Edition Exercises |

49
(1)
50
(1)
50
(1)
Part 2 The Influence of Culture
51
(84)

| | |
| --- | --- |
| | Cultural Diversity in Perception: Alternative Views of Reality |

52
(37)
53
(1)
53
(2)
55
(1)
56
(1)
57
(1)
58
(2)

| | |
| --- | --- |
| | We Are More Than Our Culture |

58
(1)

| | |
| --- | --- |
| | Cultural Patterns Are Points on a Continuum |

59
(1)

| | |
| --- | --- |
| | Cultural Patterns Are Interrelated |

59
(1)

| | |
| --- | --- |
| | Heterogeneity Influences Cultural Patterns |

59
(1)

| | |
| --- | --- |
| | There Are Numerous Cultural Patterns in Each Culture |

59
(1)
59
(1)

| | |
| --- | --- |
| | Cultural Patterns Are Often Contradictory |

60
(1)

| | |
| --- | --- |
| | Dominant American Cultural Patterns |

60
(5)
61
(1)
62
(1)
62
(1)
63
(1)
63
(1)
64
(1)
64
(1)

| | |
| --- | --- |
| | Diverse Cultural Patterns |

65
(21)

| | |
| --- | --- |
| | Hofstede's Value Dimensions |

65
(8)
73
(1)

| | |
| --- | --- |
| | Kluckhohns and Strodbeck's Value Orientations |

73
(6)

| | |
| --- | --- |
| | Hall's High-Context and Low-Context Orientation |

79
(3)
82
(4)
86
(1)

| | |
| --- | --- |
| | InfoTrac College Edition Exercises |

87
(1)
87
(1)
88
(1)

| | |
| --- | --- |
| | The Deep Structure: Roots of Reality |

89
(46)

| | |
| --- | --- |
| | The Deep Structure of Culture |

90
(2)

| | |
| --- | --- |
| | Deep Structure Institutions Carry a Culture's Most Important Beliefs |

91
(1)

| | |
| --- | --- |
| | Deep Structure Institutions and Their Messages Endure |

91
(1)

| | |
| --- | --- |
| | Deep Structure Institutions and Their Messages Are Deeply Felt |

91
(1)

| | |
| --- | --- |
| | Deep Structure Institutions Supply Much of Our Identity |

92
(1)
92
(2)
94
(19)
96
(2)
98
(15)

| | |
| --- | --- |
| | A Comparison of World Views |

113
(2)
113
(1)
114
(1)
115
(7)

| | |
| --- | --- |
| | The Importance of Families |

116
(1)
116
(1)
116
(6)
122
(11)
124
(2)
126
(1)
127
(1)
127
(1)
128
(1)
129
(1)
130
(3)
133
(1)

| | |
| --- | --- |
| | InfoTrac College Edition Exercises |

133
(1)
133
(1)
134
(1)
Part 3 From Theory to Practice
135
(126)

| | |
| --- | --- |
| | Language and Culture: Words and Meanings |

136
(28)

| | |
| --- | --- |
| | The Importance of Language |

136
(3)
137
(2)
139
(9)
139
(2)
141
(1)
142
(1)

| | |
| --- | --- |
| | Culture and the Use of Language |

143
(5)

| | |
| --- | --- |
| | Foreign Language and Translation |

148
(6)

| | |
| --- | --- |
| | Problems of Translation and Equivalence |

149
(3)

| | |
| --- | --- |
| | Working with a Translator |

152
(2)

| | |
| --- | --- |
| | Language Diversity in the United States |

154
(7)
154
(3)

| | |
| --- | --- |
| | Co-Cultures and Language Use |

157
(4)
161
(1)

| | |
| --- | --- |
| | InfoTrac College Edition Exercises |

162
(1)
162
(1)
163
(1)

| | |
| --- | --- |
| | Nonverbal Communication: The Messages of Action, Space, Time, and Silence |

164
(32)

| | |
| --- | --- |
| | The Importance of Nonverbal Communication |

165
(2)
165
(1)
165
(1)
166
(1)
166
(1)

| | |
| --- | --- |
| | Defining Nonverbal Communication |

167
(1)

| | |
| --- | --- |
| | Functions of Nonverbal Communication |

167
(2)
168
(1)
168
(1)
168
(1)
168
(1)
168
(1)

| | |
| --- | --- |
| | Nonverbal Communication: Guidelines and Limitations |

169
(1)

| | |
| --- | --- |
| | Nonverbal Communication Is Often Ambiguous |

169
(1)

| | |
| --- | --- |
| | We Are More Than Our Culture |

169
(1)
169
(1)

| | |
| --- | --- |
| | Nonverbal Communication Seldom Operates in Isolation |

170
(1)

| | |
| --- | --- |
| | Nonverbal Communication and Culture |

170
(1)

| | |
| --- | --- |
| | Classifications of Nonverbal Communication |

171
(22)
171
(14)
185
(2)
187
(4)
191
(2)
193
(1)

| | |
| --- | --- |
| | InfoTrac College Edition Exercises |

194
(1)
194
(1)
194
(2)

| | |
| --- | --- |
| | Cultural Influences on Context: The Business Setting |

196
(22)

| | |
| --- | --- |
| | Context and Communication |

197
(1)

| | |
| --- | --- |
| | Communication Is Rule Governed |

197
(1)

| | |
| --- | --- |
| | Context Specifies Communication Rules |

197
(1)

| | |
| --- | --- |
| | Communication Rules Are Culturally Diverse |

197
(1)

| | |
| --- | --- |
| | Culture and the Business Context |

198
(2)

| | |
| --- | --- |
| | The International Business Context |

200
(12)

| | |
| --- | --- |
| | Cultural Views Toward Management and Managers |

200
(4)

| | |
| --- | --- |
| | Culture-Specific Business Practices |

204
(8)

| | |
| --- | --- |
| | The Domestic Business Context |

212
(4)

| | |
| --- | --- |
| | The Importance of Diversity in Advertising |

213
(1)

| | |
| --- | --- |
| | Cultural Conflicts in the Workforce |

213
(3)
216
(1)

| | |
| --- | --- |
| | InfoTrac College Edition Exercises |

217
(1)
217
(1)
217
(1)

| | |
| --- | --- |
| | Cultural Influences on Context: The Educational Setting |

218
(23)
218
(6)

| | |
| --- | --- |
| | Cultural Differences in Education |

220
(4)

| | |
| --- | --- |
| | Multicultural Education in the United States |

224
(11)

| | |
| --- | --- |
| | Goals of Multicultural Education |

225
(1)

| | |
| --- | --- |
| | Approaches to Multicultural Education |

226
(9)

| | |
| --- | --- |
| | Improving Communication in the Multicultural Classroom |

235
(4)

| | |
| --- | --- |
| | Multicultural Teaching Perspectives |

236
(1)

| | |
| --- | --- |
| | Multicultural Teaching Competencies |

237
(2)
239
(1)

| | |
| --- | --- |
| | InfoTrac College Edition Exercises |

239
(1)
240
(1)
240
(1)

| | |
| --- | --- |
| | Cultural Influences on Context: The Health Care Setting |

241
(20)

| | |
| --- | --- |
| | Health Care and Communication |

241
(1)

| | |
| --- | --- |
| | Causes, Treatment, and Prevention of Illness |

242
(6)
242
(2)

| | |
| --- | --- |
| | Cultural Diversity in the Causes of Illness |

244
(1)

| | |
| --- | --- |
| | Cultural Diversity in the Treatment of Illness |

245
(2)

| | |
| --- | --- |
| | Cultural Diversity in the Prevention of Illness |

247
(1)

| | |
| --- | --- |
| | Religion, Spirituality, and Health Care |

248
(1)

| | |
| --- | --- |
| | Health Care for a Diverse Population |

249
(7)
250
(2)
252
(1)
253
(1)
254
(1)
255
(1)

| | |
| --- | --- |
| | Improving Multicultural Health Care Interaction |

256
(2)
258
(1)

| | |
| --- | --- |
| | InfoTrac College Edition Exercises |

259
(1)
259
(1)
259
(2)
Part 4 Knowledge into Action
261
(44)

| | |
| --- | --- |
| | Accepting and Appreciating Similarities: A Point of View |

262
(43)
263
(2)

| | |
| --- | --- |
| | The Brain Is an Open System |

263
(1)
264
(1)

| | |
| --- | --- |
| | Communication Has a Consequence |

265
(1)

| | |
| --- | --- |
| | Potential Problems in Intercultural Communication |

265
(12)
266
(1)
266
(1)
267
(2)
269
(1)
270
(2)
272
(1)
273
(2)
275
(2)
277
(2)

| | |
| --- | --- |
| | Defining Intercultural Competence |

277
(1)

| | |
| --- | --- |
| | Approaches to the Study of Intercultural Competence |

277
(2)

| | |
| --- | --- |
| | Improving Intercultural Communication |

279
(16)
279
(3)

| | |
| --- | --- |
| | Consider the Physical and Human Settings |

282
(2)

| | |
| --- | --- |
| | Seek to Understand Diverse Message Systems |

284
(2)
286
(4)
290
(1)

| | |
| --- | --- |
| | Develop Communication Flexibility |

291
(1)

| | |
| --- | --- |
| | Learn About Cultural Adaptation |

292
(3)
295
(1)
295
(1)
295
(1)
296
(1)

| | |
| --- | --- |
| | Guidelines for an Intercultural Ethic |

296
(5)

| | |
| --- | --- |
| | Be Mindful That Communication Produces a Response |

296
(1)

| | |
| --- | --- |
| | Respect the Worth of the Individual |

297
(1)

| | |
| --- | --- |
| | Seek Commonalties Among People and Cultures |

298
(2)

| | |
| --- | --- |
| | Recognize the Validity of Differences |

300
(1)

| | |
| --- | --- |
| | Take Individual Responsibility for Your Actions |

300
(1)

| | |
| --- | --- |
| | The Future of Intercultural Communication |

301
(1)
302
(1)

| | |
| --- | --- |
| | InfoTrac College Edition Exercises |

302
(1)
303
(1)
303
(2)
Notes
305
(22)
Index
327