Note: Supplemental materials are not guaranteed with Rental or Used book purchases.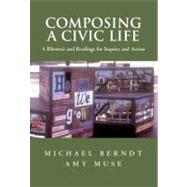 Summary
This rhetoric/reader promotes informed, active citizenship by encouraging students to write as a means of inquiry and civic participation. Promoting the "examined life" as an ideal that brings inquiry and action together, this new text addresses the critical thinking, reading, and writing skills that are central to both academic success and democratic participation. Students write to reflect on their experiences, put forward their views to academic and public audiences, shape library and field research, and go under other people's arguments, seeking to understand the values and beliefs that define differences of opinion and working towards negotiation and positive social action. The readings chapters explore common communities like family, campus, country, faith-based, planetary, and virtual. Individuals who want are interested in citizenship, community, and writing as social action.
Table of Contents
I. THINKING, READING, AND WRITING AS CIVIC SKILLS.
1. What Does It Mean to Be a Citizen?.
Getting Started: Picturing Citizenship.
First Inquiry: Assessing What You Know About Citizenship.
Continuing the Inquiry: Dictionary Definitions of Citizen and Citizenship.
Continuing the Inquiry: Official Documents.
Continuing the Inquiry: Visual Messages.
Continuing the Inquiry: Narratives.
from Autobiography, Benjamin Franklin.
Writing Style: Crafting a Persona.
Prologue to Invisible Man, Ralph Ellison.
Writing Style: Writing as a Performance Art.
America and I, Anzia Yezierska.
Writing Your Own Narratives of Citizenship.
Assessing the Progress of Our Inquiries.
Exercises for Inquiry and Action.
2. Critical Literacy: Skills for an Examined Life.
Getting Started: Critical Literacy.
First Inquiry: Critical Thinking as Examining Life.
Second Inquiry: Critical Reading as Active Conversation.
Declaration of Independence.
Third Inquiry: Using a Writer's Notebook to Connect Thinking, Reading, and Writing.
Fourth Inquiry: Finding Your Writing Process.
Final Inquiry: Critical Literacy and Citizenship.
Questions for Inquiry and Action.
3. Researching: Inquiry as ActioN.
Getting Started: Inquiring in Our Communities.
First Inquiry: Writing to Inquire and Converse with Others.
Excerpts from Thoreau's Walden, Lawrence & Lee's The Night Thoreau Spent in Jail, and Amy Belding Brown's "Thinking About Thoreau." .
Second Inquiry: Developing a Research Plan.
Third Inquiry: Inquiring Effectively Using Research Methods.
Stop & Think: Interviewing: Larry King on Asking the Good Questions.
Stop & Think: What Surveys Can Tell Us: Robert Putnam on Crafting Questions.
Stop & Think: Ethics of Field Research: Knowing Your IRB.
Weaving Together Inquiry and Action in Community–Based Service Learning.
Conclusion: Inquiry as Argument.
Questions for Inquiry and Action.
4. Argumentation: Action as Inquiry.
Getting Started: Arguing in Our Communities.
First Inquiry: What is Arguing to Inquire?
Women's Right to Vote, Susan B. Anthony.
Ten Point Plan, Black Panthers.
Second Inquiry: Developing an Arguing Mind.
Stop & Think: Deborah Tannen and the Argument Culture.
Third Inquiry: Arguing Effectively.
Stop & Think: Michael Shermer and Skepticism.
Conclusion: Argument as Inquiry.
Questions for Inquiry and Action.
5. Writing in Communities: Academic Research & Social Action.
Getting Started: Critical Literacy and Civic Participation.
First Inquiry: Writing in an Academic Community.
Second Inquiry: Writing in Civic Communities.
Questions for Inquiry and Action.
II. READINGS TO PROMOTE INQUIRY AND ACTION.
6. Negotiating Community: Living a Civic Life.
Getting Started: What does a community look like?
Readings.
Mending Wall, Robert Frost.
Enemy Evenings, Carol Bly.
From Civil Disobedience, Henry David Thoreau.
Stop & Think: Public Art: You Belong Here! The Covington Millennium Mosaic Project.
The Ones Who Walk Away from Omelas, Ursula LeGuin.
Case Study: The Columbine Shootings Make us Question Community.
Massacre at Columbine High Denver Post, Mark Obmascik.
Editorials from the San Francisco Chronicle, Orlando Sentinel.
How Could This Happen? (editorial cartoon), Lee Judge.
We Called It `Littlefun', Jeff Stark.
The Columbine High School Massacre: American Pastoral...American Berserk, David North.
Stop & Think: AOL's Online PACT to Stop Violence.
Our Greatest Need, Darrell Scott.
School Shootings and the Price of White Denial, Tim Wise.
Writing Style: Using Sarcasm (Wise).
Questions for Inquiry and Action.
7. The Family as Community.
Getting Started: How Do We See the Family?
Readings.
Beliefs About Families, Mary Pipher.
Leave Marriage Alone, William J. Bennett.
Melissa's Secret: The Name of the Father and the Making of a New American.
Family, Rolling Stone cover photograph, Mark Seliger.
Inward Christian Soldiers, New York Times Magazine cover photograph, Jeff Riedel.
A Mighty Fortress, Margaret Talbot.
Black Power, James McBride.
Moonlit Nights of Laughter, Fatima Mernissi.
Case Study: How Do We Define "Family Values?" .
Restoring Basic Values, Dan Quayle.
Stop & Think: The TV Family.
Newspaper Editorials in Response to Quayle from the Seattle Times and The Christian Science Monitor.
Writing Style: Writing Editorials and Opinion Pieces.
Why I'm Not `Pro–Family', Ellen Willis.
Daddies Matter: A Long Overdue Chat on the Family, James Carville.
Questions for Inquiry and Action.
8. The Higher Education Community.
Getting Started: Exploring Your Campus.
Readings.
Collegiate Life: An Obituary, Arthur Levine and Jeanette S. Cureton.
Engaged Pedagogy, bell hooks.
The Sandbox Experiment, Peter Sacks.
Why am I in College? Roger H. Garrison.
Case Study: Athletics vs. Academics: The University of Minnesota's Men's Basketball Scandal.
U Basketball Program Accused of Academic Fraud, George Dohrmann.
Writing Style: Writing a News Article.
Letters from Readers in response to Dohrmann.
Writing Style: Writing Letters to the Editor.
Excerpt from Report of the Special Senate Committee on Student Academic Integrity at the University of Minnesota.
Cheating, Murray Sperber.
Advertisement from Rutgers University's Alumni Magazine.
Delusions of Grandeur, Henry Louis Gates Jr.
Questions for Inquiry and Action.
9. Citizens of the World: Our Global Community.
Getting Started: Defining Global Citizenship.
Readings.
Decolonising the Mind, Ngugi wa Thiong'o.
China's Big Mac Attack, James L. Watson.
Jihad vs. McWorld, Benjamin R. Barber.
Stop & Think: The Olympic Games.
On Bad Teeth, Slavenka Drakulic.
Case Study: Thinking Globally, Acting Locally: The WTO Protests in Seattle, 1999.
From A Citizen's Guide to the World Trade Organization.
Writing Style: Creating a Pamphlet.
Mayor declares civil emergency, imposes curfew in downtown Seattle, Mike Carter.
One Morning, While Getting Dressed (New Yorker cartoon), Roz Chast.
Senseless in Seattle, Thomas L. Friedman.
This Modern World (cartoon), Tom Tomorrow.
Where Was the Color in Seattle? Elizabeth (Betita) Martinez.
Questions for Inquiry and Action.
10. Citizens of the Earth: The Planetary Community.
Getting Started: Adopting a Nonhuman Perspective.
Readings.
Snow, John Haines.
Saving Future Generations from Global Warming, David W. Orr.
Writing Style: The Problem/Solution Essay (Orr).
Activists of Color, Regina Austin and Michael Schill.
Stop & Think: The Notion of a Worldview.
From Ishmael, Daniel Quinn.
St. Roach, Muriel Rukeyser.
The Badger, John Clare.
Case Study: Measuring Our Impact on the Earth.
11. Communities of Faith.
Getting Started: Observing Worship Practices in Faith Communities.
Readings.
The Culture of Disbelief, Stephen Carter.
Why I Make Sam Go to Church, Anne Lamott.
Stop & Think: House Churches: Designing Your Own Worship.
Experience is Key, Tom Beaudoin.
Mormon Family Values: Facing the Anguish of Their Gay Son, the Hardys Became Accidental Activists, Katherine Rosman.
The Last Taboo: Why America Needs Atheism, Wendy Kaminer.
Case Study: The Role of Faith Communities in the Civil Rights Movement.
Another Day's Journey: Faith Communities Renewing American Democracy, Robert M. Franklin.
Speech at Holt Street Baptist Church, Martin Luther King, Jr.
Writing Style: Public Letters: Martin Luther King, Jr.'s Letter from Birmingham Jail.
Interview, Bernice Johnson Reagon.
Student Nonviolent Coordinating Committee Statement of Purpose, James Lawson.
Questions for Inquiry and Action.
12. Virtual Communities.
Getting Started: Imaging the Future.
Readings.
Framing Conversations About Technology, Bonnie A. Nardi and Vicki O'Day.
Refusing to Hope in a God of Technology, Jeff Dietrich.
Stop & Think: 78 Questions: A Guide to Living with Technology.
Television, The Drug of the Nation, The Disposable Heroes of Hiphoprisy.
Somehow Form a Family, Tony Earley.
Writing Style: Showing, not Telling (Earley).
Tune Out (student essay), Jake Mulholland and Adrienne Martin.
Community and Cyberculture, David Bell.
Case Study: The Netizen and Citizen Action: Does the Internet Promote Democracy?
Birth of a Digital Nation, Jon Katz.
Double Clicking on Democracy, Simon Davies and Ian Angell.
Stop & Think: The Internet and World Hunger.
Exposure to Other Viewpoints is Vital to Democracy, Cass Sunstein.
Questions for Inquiry and Action.
Bibliography.
Index.