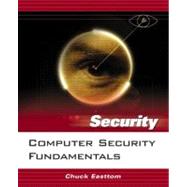 List Price: $79.00
Usually Ships in 2-3 Business Days
This item is temporarily unavailable from the publisher, but is expected in soon. Place your order now and we will ship it as soon as it arrives.
Questions About This Book?
What version or edition is this?
This is the 1st edition with a publication date of 3/3/2005.
What is included with this book?
The New copy of this book will include any supplemental materials advertised. Please check the title of the book to determine if it should include any CDs, lab manuals, study guides, etc.
The Used copy of this book is not guaranteed to inclue any supplemental materials. Typically, only the book itself is included.
Summary
KEY BENEFIT: This gateway into the world of computer security provides one-volume coverage of all the basic concepts, terminology and issues, along with practical skills essential to security. Topics covered range from those commonly found in security books such as virus attacks, buffer overflow, hacking spyware and network defense, as well as more specialized areas including cyber terrorism, industrial espionage and encryption. Providing a comprehensive introduction, this volumes examines assessing a target system, denial of service attacks, malware, basics of assessing and securing a system, encryption, Internet fraud, and cyber crime, industrial espionage, cyber terrorism and information warfare, cyber detective, security hardware and software. For system analysts network administrators, network security professionals and security audit professionals.
Table of Contents
Series Walk-Through
xiv
Preface
xvii
About the Author
xxi
Quality Assurance
xxii

| | |
| --- | --- |
| | Introduction to Cyber Crime and Security |

1
(26)
1
(2)

| | |
| --- | --- |
| | How Seriously Should You Take Threats to Network Security? |

3
(2)

| | |
| --- | --- |
| | In Practice: Assessing Your Own System |

5
(1)

| | |
| --- | --- |
| | Identifying Types of Threats |

6
(3)
6
(1)

| | |
| --- | --- |
| | Compromising System Security |

7
(1)

| | |
| --- | --- |
| | Denial of Service Attacks |

8
(1)

| | |
| --- | --- |
| | Common Attacks on Your Network |

9
(1)

| | |
| --- | --- |
| | Basic Security Terminology |

10
(4)
10
(2)
12
(1)
13
(1)

| | |
| --- | --- |
| | Network Security Paradigms |

14
(2)
14
(1)
14
(1)

| | |
| --- | --- |
| | Proactive Versus Reactive |

14
(1)
14
(2)

| | |
| --- | --- |
| | How Do Legal issues Impact Network Security? |

16
(1)

| | |
| --- | --- |
| | Online Security Resources |

17
(10)
17
(1)

| | |
| --- | --- |
| | Microsoft Security Advisor |

18
(1)
18
(1)
19
(1)
20
(1)
21
(6)

| | |
| --- | --- |
| | Networks and the Internet |

27
(27)
27
(1)
28
(1)
29
(7)

| | |
| --- | --- |
| | Media Access Control (MAC) Addresses |

29
(1)
30
(1)

| | |
| --- | --- |
| | The Physical Connection: Local Networks |

30
(3)

| | |
| --- | --- |
| | The Physical Connection: Internet |

33
(1)
34
(2)
36
(2)
36
(2)

| | |
| --- | --- |
| | In Practice: Converting Binary Numbers |

38
(4)

| | |
| --- | --- |
| | Uniform Resource Locators |

41
(1)
42
(4)
43
(2)
45
(1)
46
(1)
46
(8)
47
(1)
47
(7)
54
(31)
54
(1)
55
(3)
56
(1)
57
(1)

| | |
| --- | --- |
| | In Practice: Using VisualRoute |

58
(6)

| | |
| --- | --- |
| | Using IP Registration Information |

61
(2)
63
(1)
64
(1)
65
(1)

| | |
| --- | --- |
| | In Practice: Using NetCop |

65
(10)
73
(2)

| | |
| --- | --- |
| | Port Monitoring and Managing |

75
(10)
75
(2)
77
(1)
77
(1)
78
(1)
78
(1)
79
(1)
79
(6)

| | |
| --- | --- |
| | Denial of Service Attacks |

85
(23)
85
(1)
85
(1)

| | |
| --- | --- |
| | In Practice: Illustrating an Attack |

86
(4)

| | |
| --- | --- |
| | Common Tools Used for DoS |

88
(1)
89
(1)
90
(6)
90
(3)
93
(1)
94
(1)
94
(1)
94
(1)
95
(1)
95
(1)
95
(1)

| | |
| --- | --- |
| | Distributed Denial of Service (DDoS) |

96
(1)
97
(2)
97
(1)
98
(1)

| | |
| --- | --- |
| | How to Defend Against DoS Attacks |

99
(9)
101
(1)
101
(7)
108
(26)
108
(1)
109
(5)
109
(1)
110
(3)

| | |
| --- | --- |
| | Rules for Avoiding Viruses |

113
(1)
114
(1)

| | |
| --- | --- |
| | The Buffer Overflow Attack |

115
(1)

| | |
| --- | --- |
| | The Sasser Virus/Buffer Overflow |

116
(1)
117
(3)
117
(1)

| | |
| --- | --- |
| | How Is Spyware Delivered to a Target System? |

118
(1)

| | |
| --- | --- |
| | Obtaining Spyware Software |

118
(2)
120
(3)
121
(1)
122
(1)

| | |
| --- | --- |
| | Detecting and Eliminating Viruses and Spyware |

123
(11)
123
(1)
124
(2)
126
(1)
127
(7)

| | |
| --- | --- |
| | Basics of Assessing and Securing a System |

134
(32)
134
(1)

| | |
| --- | --- |
| | Basics of Assessing a System |

135
(1)
135
(1)
136
(1)

| | |
| --- | --- |
| | In Practice: Shutting Down a Service in Windows |

136
(3)

| | |
| --- | --- |
| | In Practice: Port Filtering in Windows |

139
(3)
142
(1)

| | |
| --- | --- |
| | In Practice: Finding a Firewall |

142
(5)
144
(2)
146
(1)
146
(1)

| | |
| --- | --- |
| | Securing Computer Systems |

147
(7)

| | |
| --- | --- |
| | Securing an Individual Workstation |

148
(2)
150
(2)
152
(2)
154
(1)

| | |
| --- | --- |
| | Getting Professional Help |

155
(11)
157
(1)
158
(8)
166
(23)
166
(1)
167
(1)
167
(4)
170
(1)

| | |
| --- | --- |
| | In Practice: Converting to ASCII Code |

171
(6)

| | |
| --- | --- |
| | Multi-Alphabet Substitution |

174
(1)
175
(2)
177
(4)

| | |
| --- | --- |
| | Single-Key (Symmetric) Encryption |

177
(1)

| | |
| --- | --- |
| | Public-Key (Asymmetric) Encryption |

178
(2)

| | |
| --- | --- |
| | Legitimate Versus Fraudulent Encryption Methods |

180
(1)
181
(8)
181
(1)
182
(1)
182
(1)
183
(1)
183
(6)

| | |
| --- | --- |
| | Internet Fraud and Cyber Crime |

189
(30)
189
(1)
190
(5)

| | |
| --- | --- |
| | Fraudulent Investment Offers |

191
(2)

| | |
| --- | --- |
| | Fraudulent Investment Advice |

193
(1)
194
(1)

| | |
| --- | --- |
| | In Practice: Handling Online Investments |

195
(3)
197
(1)

| | |
| --- | --- |
| | In Practice: Credit Card Security |

198
(1)
199
(3)

| | |
| --- | --- |
| | Laws Concerning Cyber Crime |

202
(2)

| | |
| --- | --- |
| | Protecting Yourself Against Cyber Crime |

204
(2)

| | |
| --- | --- |
| | Protecting Against Investment Fraud |

204
(1)

| | |
| --- | --- |
| | Protecting Against Auction Fraud |

204
(1)

| | |
| --- | --- |
| | Protecting Against Identity Theft |

205
(1)

| | |
| --- | --- |
| | In Practice: Securing Browser Settings for Microsoft Internet Explorer |

206
(1)

| | |
| --- | --- |
| | In Practice: Securing Browser Settings for Netscape Navigator |

207
(12)

| | |
| --- | --- |
| | Protecting Against Cyber Stalking |

209
(2)
211
(1)
211
(8)

| | |
| --- | --- |
| | Industrial Espionage in Cyberspace |

219
(22)
219
(1)

| | |
| --- | --- |
| | What Is Industrial Espionage? |

220
(1)

| | |
| --- | --- |
| | In Practice: Leaving with Sensitive Data |

221
(1)
221
(3)

| | |
| --- | --- |
| | How Does Espionage Occur? |

224
(3)

| | |
| --- | --- |
| | Low-Tech Industrial Espionage |

225
(2)

| | |
| --- | --- |
| | Spyware Used in Industrial Espionage |

227
(1)

| | |
| --- | --- |
| | Protecting Against Industrial Espionage |

227
(4)

| | |
| --- | --- |
| | Real-World Examples of Industrial Espionage |

231
(10)

| | |
| --- | --- |
| | Example 1: VIA Technology |

231
(1)

| | |
| --- | --- |
| | Example 2: General Motors |

232
(1)

| | |
| --- | --- |
| | Example 3: Interactive Television Technologies, Inc. |

232
(1)

| | |
| --- | --- |
| | Example 4: Bloomberg, Inc. |

233
(1)

| | |
| --- | --- |
| | Example 5: Avant Software |

233
(1)

| | |
| --- | --- |
| | Industrial Espionage and You |

233
(1)
234
(1)
234
(7)

| | |
| --- | --- |
| | Cyber Terrorism and Information Warfare |

241
(23)
241
(1)
242
(3)

| | |
| --- | --- |
| | Military Operations Attacks |

245
(1)
246
(1)
246
(4)
247
(1)
247
(3)
250
(1)
250
(4)
254
(3)
255
(1)
256
(1)

| | |
| --- | --- |
| | Defense Against Cyber Terrorism |

257
(7)
258
(1)
258
(6)
264
(18)
264
(2)
266
(3)

| | |
| --- | --- |
| | Court Records and Criminal Checks |

269
(5)
269
(2)
271
(1)
272
(2)
274
(8)
275
(1)
276
(6)

| | |
| --- | --- |
| | Computer Security Hardware and Software |

282
(19)
282
(1)
283
(2)

| | |
| --- | --- |
| | How Does a Virus Scanner Work? |

283
(1)

| | |
| --- | --- |
| | Virus-Scanning Techniques |

284
(1)

| | |
| --- | --- |
| | Commercial Antivirus Software |

285
(1)
285
(6)

| | |
| --- | --- |
| | Firewall Types and Components |

286
(2)

| | |
| --- | --- |
| | How Firewalls Examine Packets |

288
(1)
288
(1)

| | |
| --- | --- |
| | Commercial and Free Firewall Products |

289
(2)
291
(1)
291
(1)

| | |
| --- | --- |
| | Intrusion-Detection Software |

291
(10)
292
(1)
293
(2)
295
(1)
295
(1)
295
(6)
Appendix A: Computer Security Professionals: Education and Certifications
301
(6)
Appendix B: Resources
307
(4)
Appendix C: Sample Security Policy Documents and Checklists
311
(16)
Glossary
327
(6)
References
333
(5)
Index
338