Note: Supplemental materials are not guaranteed with Rental or Used book purchases.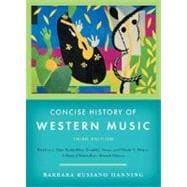 Questions About This Book?
What version or edition is this?
This is the 3rd edition with a publication date of 9/1/2006.
What is included with this book?
The Used copy of this book is not guaranteed to include any supplemental materials. Typically, only the book itself is included.
Summary
The Third Edition has been meticulously revised and reorganized to provide a more streamlined narrative that emphasizes a core repertory, social and historical context, and performance practice. This comprehensive revision features outstanding new pedagogy and multimedia resources.
Table of Contents
ix
Guide to Recordings
xi
Preface to the Third Edition
xix

| | |
| --- | --- |
| | PART ONE The Ancient and Medieval Worlds |

3
(15)

| | |
| --- | --- |
| | Music in Ancient Greece and Early Christian Rome |

18
(12)
18
(1)

| | |
| --- | --- |
| | Music in Ancient Greek Life and Thought |

19
(3)

| | |
| --- | --- |
| | Roman Music, 200B.C.E.--500 C.E. |

22
(1)

| | |
| --- | --- |
| | The Early Christian Church: Musical Thought |

23
(2)

| | |
| --- | --- |
| | The Early Christian Church: Musical Practice |

25
(3)
28
(2)

| | |
| --- | --- |
| | Chant and Secular Song in the Middle Ages |

30
(24)
30
(1)

| | |
| --- | --- |
| | Western Christian Chant and Liturgy |

31
(4)

| | |
| --- | --- |
| | Genres and Forms of Chant |

35
(9)

| | |
| --- | --- |
| | Medieval Music Theory and Practice |

44
(2)
46
(7)
53
(1)

| | |
| --- | --- |
| | Polyphony through the Thirteenth Century |

54
(17)
54
(2)
56
(2)
58
(6)
64
(3)
67
(2)
69
(1)
70
(1)

| | |
| --- | --- |
| | French and Italian Music in the Fourteenth Century |

71
(27)
71
(1)
72
(8)
80
(4)
84
(1)
85
(4)

| | |
| --- | --- |
| | PART TWO The Age of the Renaissance |

89
(9)

| | |
| --- | --- |
| | England, France, and Burgundy in the Fifteenth Century: The Beginnings of an International Style |

98
(14)
98
(2)

| | |
| --- | --- |
| | English Music and Its Influence |

100
(2)

| | |
| --- | --- |
| | Music in Burgundian Lands |

102
(8)
110
(2)

| | |
| --- | --- |
| | Music of the Low Countries |

112
(16)
112
(2)

| | |
| --- | --- |
| | The Musical Culture of the Renaissance |

114
(3)

| | |
| --- | --- |
| | Northern Composers: The Generation after Du Fay |

117
(4)

| | |
| --- | --- |
| | The Next Generation: Josquin and His Contemporaries |

121
(5)
126
(2)

| | |
| --- | --- |
| | Secular Song and the Rise of National Styles in the Sixteenth Century |

128
(18)
128
(1)

| | |
| --- | --- |
| | The Rise of National Styles: Italy |

129
(1)
130
(7)

| | |
| --- | --- |
| | The Rise of National Styles: Secular Song outside Italy |

137
(4)

| | |
| --- | --- |
| | The Rise of Instrumental Music |

141
(3)
144
(2)

| | |
| --- | --- |
| | Sacred Music in the Era of the Reformation |

146
(31)
146
(1)

| | |
| --- | --- |
| | The Music of the Reformation in Germany |

147
(2)

| | |
| --- | --- |
| | Reformation Church Music outside Germany |

149
(2)
151
(10)
161
(2)

| | |
| --- | --- |
| | PART THREE The Seventeenth Century |

163
(14)

| | |
| --- | --- |
| | Vocal Music of the Early Baroque |

177
(29)
177
(1)

| | |
| --- | --- |
| | General Characteristics of Baroque Music |

178
(5)
183
(11)
194
(5)
199
(3)
202
(3)
205
(1)

| | |
| --- | --- |
| | Instrumental Music Comes of Age |

206
(16)
206
(1)

| | |
| --- | --- |
| | Types of Instrumental Music |

207
(1)
207
(3)
210
(4)

| | |
| --- | --- |
| | Abstract Instrumental Works |

214
(6)
220
(2)

| | |
| --- | --- |
| | Opera and Vocal Music in the Late Seventeenth Century |

222
(22)
222
(1)
222
(8)
230
(5)
235
(5)
240
(2)
242
(2)

| | |
| --- | --- |
| | Instrumental Music in the Late Seventeenth Century |

244
(35)
244
(1)
245
(3)
248
(5)
253
(12)
265
(2)

| | |
| --- | --- |
| | PART FOUR The Eighteenth Century |

267
(12)

| | |
| --- | --- |
| | Music in the Early Eighteenth Century |

279
(36)
279
(1)
279
(6)

| | |
| --- | --- |
| | France: Couperin and Rameau |

285
(5)

| | |
| --- | --- |
| | Germany: Johann Sebastian Bach |

290
(15)

| | |
| --- | --- |
| | England: George Frideric Handel |

305
(8)
313
(2)

| | |
| --- | --- |
| | The Early Classical Period: Opera and Instrumental Music in the Early and Mid-Eighteenth Century |

315
(24)
315
(1)

| | |
| --- | --- |
| | General Characteristics of the New Style |

316
(3)
319
(3)
322
(3)
325
(4)

| | |
| --- | --- |
| | Instrumental Music: Sonata, Symphony, and Concerto |

329
(4)
333
(5)
338
(1)

| | |
| --- | --- |
| | The Late Eighteenth Century: Haydn and Mozart |

339
(35)
339
(2)

| | |
| --- | --- |
| | (Franz) Joseph Haydn (1732-1809) |

341
(1)

| | |
| --- | --- |
| | Haydn's Instrumental Music |

342
(9)
351
(4)

| | |
| --- | --- |
| | WolfgangAmadeus Mozart (1756-1791) |

355
(1)
355
(2)
357
(15)
372
(2)

| | |
| --- | --- |
| | Ludwig van Beethoven (1770-1827) |

374
(36)
374
(1)
375
(4)
379
(9)
388
(7)
395
(2)

| | |
| --- | --- |
| | PART FIVE The Nineteenth Century: The Age of Romanticism |

397
(13)
410
(28)
410
(2)

| | |
| --- | --- |
| | Franz Schubert (1797-1828) |

412
(8)

| | |
| --- | --- |
| | Hector Berlioz (1803-1869) |

420
(4)

| | |
| --- | --- |
| | Felix Mendelssohn (1809-1847) |

424
(5)

| | |
| --- | --- |
| | Robert Schumann (1810-1856) |

429
(3)

| | |
| --- | --- |
| | Fryderyk Chopin (1810-1849) |

432
(3)
435
(3)
438
(24)
438
(1)
439
(5)

| | |
| --- | --- |
| | Clara Schumann (1819-1896) |

444
(3)

| | |
| --- | --- |
| | Johannes Brahms (1833-1897) |

447
(6)

| | |
| --- | --- |
| | Piotr ll'yich Tchaikovsky (1840-1893) |

453
(4)

| | |
| --- | --- |
| | Antonin Dvorak (1841-1904) |

457
(2)
459
(3)

| | |
| --- | --- |
| | Opera and Music Drama in the Nineteenth Century |

462
(31)
462
(2)

| | |
| --- | --- |
| | French Grand (and Not So Grand) Opera |

464
(5)
469
(11)
480
(9)
489
(3)
492
(1)

| | |
| --- | --- |
| | The Final Bloom of Romanticism: European Music at the End of the Nineteenth Century |

493
(43)
493
(1)

| | |
| --- | --- |
| | The Austro-German Tradition |

494
(10)
504
(9)

| | |
| --- | --- |
| | New Currents in France and Italy |

513
(5)

| | |
| --- | --- |
| | Postlude: The Beethoven Legacy |

518
(3)

| | |
| --- | --- |
| | PART SIX The Twentieth Century and Today |

521
(15)

| | |
| --- | --- |
| | The European Mainstream in the Early Twentieth Century |

536
(25)
536
(1)

| | |
| --- | --- |
| | The First Modern Generation |

536
(10)

| | |
| --- | --- |
| | Tonal and Post-Tonal Music |

546
(13)
559
(2)

| | |
| --- | --- |
| | Music, Politics, and the People in the European Twentieth Century |

561
(33)
561
(1)
562
(2)
564
(2)
566
(11)
577
(6)
583
(4)
587
(5)
592
(2)
594
(36)
594
(1)

| | |
| --- | --- |
| | A Backward Glance: Music in the North American Colonies |

594
(2)

| | |
| --- | --- |
| | Diverging Trends in Nineteenth- and Early Twentieth-Century America |

596
(9)

| | |
| --- | --- |
| | The Classical Tradition through Mid-Century |

605
(8)
613
(15)
628
(2)

| | |
| --- | --- |
| | The Changing World of Music since 1945 |

630
630
(1)

| | |
| --- | --- |
| | Heirs to the Classical Tradition |

630
(6)

| | |
| --- | --- |
| | Serial and Nonserial Complexity |

636
(2)
638
(8)
646
(12)

| | |
| --- | --- |
| | The New Accessibility and Other Trends |

658
(8)
666
Further Reading
1
(6)
Glossary
7
(20)
Credits
27
(4)
Index
31