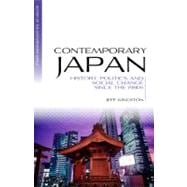 Summary
Contemporary Japan: History, Politics and Social Change since the 1980s presents a comprehensive examination of the causes of the Japanese economic bubble in the late 1980s and the socio-political consequences of the recent financial collapse. Represents the only book to examine in depth the turmoil of Japan since Emperor Hirohito died in 1989, the Cold War ended, and the economy collapsed Provides an assessment of Japan's dramatic political revolution of 2009 Analyzes how risk has increased in Japan, undermining the sense of security and causing greater disparities in society Assesses Japan's record on the environment, the consequences of neo-liberal reforms, immigration policies, the aging society, the US alliance, the Imperial family, and the 'yakuza' criminal gangs
Author Biography
Jeff Kingston is Professor of History and Director of Asian Studies at Temple University Japan. He has written widely on modern Japanese history and Japan's relations with Asia, including the books Japan in Transformation 1952-2000 (2nd edn. 2010) and Japan's Quiet Transformation: Social Change and Civil Society in the 21st century (2004).
Table of Contents
Map
p. vii
Series Editor's Preface
p. viii
Acknowledgments
p. x
Introduction
p. 1
Transformations After World War II
p. 3
The Lost Decade
p. 23
Risk and Consequences
p. 39
Defusing the Demographic Time Bomb
p. 41
Families at Risk
p. 66
Jobs at Risk
p. 84
Politics and Consequences
p. 101
Contemporary Politics
p. 103
Security and the Peace Constitution
p. 124
Environmental Issues
p. 145
Immigration
p. 166
War Memory and Responsibility
p. 185
Institutions at Risk
p. 207
The Imperial Family
p. 209
Yakuza
p. 227
Postscript
p. 253
Prospects
p. 255
Glossary
p. 261
Notes
p. 269
Further Reading
p. 283
Index
p. 291
Table of Contents provided by Ingram. All Rights Reserved.