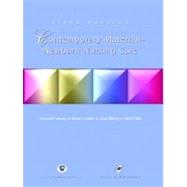 Questions About This Book?
What version or edition is this?
This is the 5th edition with a publication date of 1/1/2002.
What is included with this book?
The Used copy of this book is not guaranteed to include any supplemental materials. Typically, only the book itself is included.
Summary
Appropriate as a core text as well as a reference for a maternity nursing course. Nurses working with childbearing families today face a variety of new challenges, including shortened lengths of stay, the trend toward greater use of community-based and home care, downsizing and mergers of health care systems. The Fifth Edition, formerly titled Maternal-Newborn Nursing Care: The Nurse, the Family, and the Community, continues to emphasize the central role played by nurses working with today's childbearing families.
Table of Contents
PART ONE: BASIC CONCEPTS
1
(60)

| | |
| --- | --- |
| | Contemporary Maternal-Newborn Care |

2
(13)

| | |
| --- | --- |
| | Reproductive Anatomy and Physiology |

15
(22)

| | |
| --- | --- |
| | Conception and Fetal Development |

37
(24)
PART TWO: WOMEN: THE REPRODUCTIVE YEARS
61
(90)
62
(48)

| | |
| --- | --- |
| | Families with Special Reproductive Concerns |

110
(29)

| | |
| --- | --- |
| | Preparation for Parenthood |

139
(12)
PART THREE: PREGNANCY AND THE FAMILY
151
(200)

| | |
| --- | --- |
| | Physiological and Psychological Changes of Pregnancy |

152
(20)

| | |
| --- | --- |
| | Antepartal Nursing Assessment |

172
(26)

| | |
| --- | --- |
| | The Expectant Family: Needs and Care |

198
(29)
227
(15)
242
(20)

| | |
| --- | --- |
| | Pregnancy at Risk: Pregestational Problems |

262
(29)

| | |
| --- | --- |
| | Pregnancy at Risk: Gestational Onset |

291
(43)

| | |
| --- | --- |
| | Assessment of Fetal Well-Being |

334
(17)
PART FOUR: BIRTH AND THE FAMILY
351
(164)

| | |
| --- | --- |
| | Processes and Stages of Labor and Birth |

352
(24)

| | |
| --- | --- |
| | Intrapartal Nursing Assessment |

376
(30)

| | |
| --- | --- |
| | The Family in Childbirth: Needs and Care |

406
(33)

| | |
| --- | --- |
| | Maternal Analgesia and Anesthesia |

439
(17)
456
(38)
494
(21)
PART FIVE: THE NEWBORN
515
(212)

| | |
| --- | --- |
| | The Physiologic Responses of the Newborn to Birth |

516
(23)

| | |
| --- | --- |
| | Nursing Assessment of the Newborn |

539
(45)

| | |
| --- | --- |
| | Normal Newborn: Needs and Care |

584
(27)
611
(21)

| | |
| --- | --- |
| | The Newborn at Risk: Conditions Present at Birth |

632
(47)

| | |
| --- | --- |
| | The Newborn at Risk: Birth-Related Stressors |

679
(48)
PART SIX: POSTPARTUM
727
(100)

| | |
| --- | --- |
| | Postpartal Adaptation and Nursing Assessment |

728
(21)

| | |
| --- | --- |
| | The Postpartal Family: Needs and Care |

749
(25)

| | |
| --- | --- |
| | Home Care of the Postpartal Family |

774
(25)

| | |
| --- | --- |
| | The Postpartal Family at Risk |

799
(28)
APPENDICES
827
(20)

| | |
| --- | --- |
| | Appendix A: Common Abbreviations in Maternal-Newborn and Women's Health Nursing |

828
(2)

| | |
| --- | --- |
| | Appendix B: Conversions and Equivalents |

830
(1)

| | |
| --- | --- |
| | Appendix C: Spanish Translations of English Phrases |

831
(4)

| | |
| --- | --- |
| | Appendix D: Guidelines for Working with Deaf Clients and Interpreters |

835
(1)

| | |
| --- | --- |
| | Appendix E: Sign Language for Health Care Professionals |

836
(3)

| | |
| --- | --- |
| | Appendix F: Clinical Estimation of Gestational Age |

839
(1)

| | |
| --- | --- |
| | Appendix G: Actions and Effects of Selected Drugs during Breastfeeding |

840
(2)

| | |
| --- | --- |
| | Appendix H: Selected Maternal-Newborn Laboratory Values |

842
(1)

| | |
| --- | --- |
| | Appendix I: Suggested Answers to Critical Thinking in Practice Questions |

843
(4)
Glossary
847
(13)
Art and Photography Credits
860
(3)
Index
863