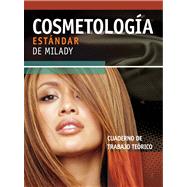 Cosmetologia estandar de Milady / Milady's Standard Cosmetology: Cuaderno de trabajo teorico / Theory Workbook
by
Barnes, Lisha
Summary
Each workbook correlates to the appropriate core textbook. This supplement contains detailed, interactive exercises, designed to reinforce learning and increase student comprehension.
Table of Contents
History and Career Options
Life Skills
Your Professional Image
Communicating for Success
Infection Control: Principles and Practices
General Anatomy and Physiology
Skin Structure and Growth
Nail Structutre and Growth
Properties of the Hair and Scalp
Basics of Chemistry
Basics of Electricity
Principles of Hair Design
Shampooing, Rinsing and Conditioning
Chemical and Texture Services
Haircoloring
Skin Diseases and Disorders
Facials
Facial Makeup
Nail Diseases and Disorders
Seeking Employment On the Job
The Salon Business
Multiple Choice Test
Multiple Choice Test
Multiple Choice Test
Anatomy Test: Multiple Choice Test
Table of Contents provided by Publisher. All Rights Reserved.