Note: Supplemental materials are not guaranteed with Rental or Used book purchases.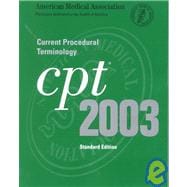 Cpt 2003: Current Procedural Terminology
ISBN13:
9781579473020
Questions About This Book?
What version or edition is this?
This is the edition with a publication date of 10/1/2002.
What is included with this book?
The New copy of this book will include any supplemental materials advertised. Please check the title of the book to determine if it should include any CDs, lab manuals, study guides, etc.
Summary
Easy to use, easy to read. The 2003 edition of the AMA's Current Procedural Terminology (CPT "RM") official coding reference contains all CPT codes, modifiers and guidelines for 2003. Our book is the only one in the market with official CPT coding rules and guidelines developed by the CPT editorial panel and used to define items that are necessary to appropriately interpret and report medical procedures and services.
The Standard Edition features an efficient two-column format and an extensive index to help locate codes by procedure, service, organ, condition, eponym and synonym, and abbreviations.
Table of Contents
Introduction
xiii
Section Numbers and Their Sequences
xiii
Instructions for Use of the CPT Book
xiii
Format of the Terminology
xiii
Requests to Update the CPT Nomenclature
xiii
Guidelines
xiv
Starred Procedures
xiv
Add-on Codes
xiv
Modifiers
xiv
Unlisted Procedure or Service
xv
Special Report
xv
Code Changes
xv
Alphabetical Reference Index
xv
CPT in Electronic Formats
xv

| | |
| --- | --- |
| | Evaluation and Management (E/M) Services Guidelines |

1
(8)

| | |
| --- | --- |
| | Evaluation and Management |

9
(22)

| | |
| --- | --- |
| | Office or Other Outpatient Services |

9
(1)

| | |
| --- | --- |
| | Hospital Observation Services |

10
(1)

| | |
| --- | --- |
| | Hospital Inpatient Services |

11
(2)
13
(4)

| | |
| --- | --- |
| | Emergency Department Services |

17
(1)

| | |
| --- | --- |
| | Pediatric Critical Care Patient Transport |

18
(1)
18
(2)

| | |
| --- | --- |
| | Neonatal and Pediatric Critical Care Services |

20
(1)
21
(1)
21
(1)

| | |
| --- | --- |
| | Intensive (Non-Critical) Low Birth Weight Services |

21
(1)

| | |
| --- | --- |
| | Nursing Facility Services |

22
(1)

| | |
| --- | --- |
| | Domiciliary, Rest Home (eg. Boarding Home), or Custodial Care Services |

23
(1)
24
(2)
26
(1)
27
(1)

| | |
| --- | --- |
| | Care Plan Oversight Services |

27
(1)

| | |
| --- | --- |
| | Preventive Medicine Services |

28
(1)
29
(1)

| | |
| --- | --- |
| | Special Evaluation and Management Services |

30
(1)

| | |
| --- | --- |
| | Other Evaluation and Management Services |

30
(1)
31
(2)
33
(8)
33
(1)
33
(1)

| | |
| --- | --- |
| | Thorax (Chest Wall and Shoulder Girdle) |

33
(1)
34
(1)
34
(1)
34
(1)
35
(1)
35
(1)
36
(1)
36
(1)
36
(1)

| | |
| --- | --- |
| | Lower Leg (Below Knee, Includes Angle and Foot) |

37
(1)
37
(1)
37
(1)
38
(1)
38
(1)

| | |
| --- | --- |
| | Burn Excisions or Debridement |

38
(1)
38
(1)
39
(2)
41
(6)
47
(170)
47
(1)
47
(14)
61
(42)
103
(8)
111
(20)

| | |
| --- | --- |
| | Hemic and Lymphatic Systems |

131
(2)

| | |
| --- | --- |
| | Mediastinum and Diaphragm |

133
(2)
135
(24)
159
(10)
169
(4)
173
(2)
175
(6)

| | |
| --- | --- |
| | Maternity Care and Delivery |

181
(4)
185
(2)
187
(16)
203
(10)
213
(2)
215
(2)

| | |
| --- | --- |
| | Radiology Guidelines (Including Nuclear Medicine and Diagnostic Ultrasound) |

217
(2)
219
(28)

| | |
| --- | --- |
| | Diagnostic Radiology (Diagnostic Imaging) |

219
(14)
233
(3)
236
(4)
240
(7)

| | |
| --- | --- |
| | Pathology and Laboratory Guidelines |

247
(2)
249
(38)

| | |
| --- | --- |
| | Organ or Disease Oriented Panels |

249
(2)
251
(1)
251
(1)

| | |
| --- | --- |
| | Evocative/Suppression Testing |

252
(1)

| | |
| --- | --- |
| | Consultations (Clinical Pathology) |

253
(1)
253
(1)
254
(12)

| | |
| --- | --- |
| | Hematology and Cogulation |

266
(3)
269
(6)
275
(1)
276
(4)
280
(1)
280
(1)
281
(1)
282
(3)

| | |
| --- | --- |
| | Transcutaneous Procedures |

285
(1)
285
(2)
287
(2)
289
(38)
289
(1)

| | |
| --- | --- |
| | Immunization Administration for Vaccines/Toxoids |

289
(1)
290
(1)

| | |
| --- | --- |
| | Therapeutic or Diagnostic Infusions (Excludes Chemotherapy) |

291
(1)

| | |
| --- | --- |
| | Therapeutic, Prophylactic or Diagnostic Injections |

292
(1)
292
(2)
294
(1)
295
(1)
296
(1)
297
(3)

| | |
| --- | --- |
| | Special Otorhinoloryngologic Services |

300
(2)
302
(7)

| | |
| --- | --- |
| | Non-Invasive Vascular Diagnostic Studies |

309
(1)
310
(2)

| | |
| --- | --- |
| | Allergy and Clinical Immunology |

312
(1)
313
(1)

| | |
| --- | --- |
| | Neurology and Neuromuscular Procedures |

313
(4)

| | |
| --- | --- |
| | Central Nervous System Assessments/Tests |

317
(1)

| | |
| --- | --- |
| | Health and Behavior Assessment/Intervention |

318
(1)

| | |
| --- | --- |
| | Chemotherapy Administration |

318
(1)
319
(1)

| | |
| --- | --- |
| | Special Dermatological Procedures |

319
(1)

| | |
| --- | --- |
| | Physical Medicine and Rehabilitation |

320
(2)

| | |
| --- | --- |
| | Medical Nutrition Therapy |

322
(1)

| | |
| --- | --- |
| | Osteopathic Manipulative Treatment |

322
(1)

| | |
| --- | --- |
| | Chiropractic Manipulative Treatment |

322
(1)

| | |
| --- | --- |
| | Special Services, Procedures and Reports |

323
(1)

| | |
| --- | --- |
| | Qualifying Circumstances for Anesthesia |

324
(1)

| | |
| --- | --- |
| | Sedation With or Without Analgesia (Conscious Sedation) |

324
(1)

| | |
| --- | --- |
| | Other Services and Procedures |

324
(1)

| | |
| --- | --- |
| | Home Health Procedures/Services |

325
(2)
Category III Codes
327
(2)
Appendix A---Modifiers
329
(5)
Appendix B---Summary of Additions, Deletions, and Revisions
334
(7)
Appendix C---Clinical Examples
341
(20)
Appendix D---Summary of CPT Add-on Codes
361
(1)
Appendix E---Summary of CPT Codes Exempt from Modifier `-51'
362
(1)
Index
363