Note: Supplemental materials are not guaranteed with Rental or Used book purchases.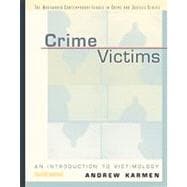 Crime Victims: An Introduction to Victimology
ISBN13:
9780534515454
by
Karmen, Andrew
Summary
CRIME VICTIMS: AN INTRODUCTION TO VICTIMOLOGY is a innovative and comprehensive guide that offers balanced coverage on this controversial subject. A must-have for anyone interested in this field!
Table of Contents
Foreword
xv
Preface
xvii

| | |
| --- | --- |
| | The Rediscovery of Crime Victims and the Rise of Victimology |

| | |
| --- | --- |
| | The Discovery, Decline, and Rediscovery of Crime Victims |

2
(6)

| | |
| --- | --- |
| | The Discovery of Crime Victims |

2
(1)

| | |
| --- | --- |
| | The Decline of Crime Victims |

2
(2)

| | |
| --- | --- |
| | The Rediscovery of Crime Victims |

4
(1)

| | |
| --- | --- |
| | Social Movements: Taking Up the Victims' Cause |

4
(3)

| | |
| --- | --- |
| | The News Media: Portraying the Victims Plight |

7
(1)

| | |
| --- | --- |
| | Businesses: Selling Products and Services to Victims |

7
(1)
8
(15)

| | |
| --- | --- |
| | The Emergence of a New Focus |

8
(2)

| | |
| --- | --- |
| | Highlights in the Brief History of Victimology and Victim Assistance |

10
(2)
12
(8)

| | |
| --- | --- |
| | Victimology Compared to Criminology |

20
(3)
23
(3)

| | |
| --- | --- |
| | Identify, Define, and Describe the Problem |

24
(1)

| | |
| --- | --- |
| | Measure the True Dimensions of the Problem |

24
(1)

| | |
| --- | --- |
| | Investigate How Victims Are Handled |

25
(1)

| | |
| --- | --- |
| | Gather Evidence to Test Hypotheses |

26
(1)

| | |
| --- | --- |
| | Victimology Contributes to the Process of Rediscovering Victims |

26
(12)

| | |
| --- | --- |
| | The Kinds of Studies Victimologisists Undertake |

27
(1)

| | |
| --- | --- |
| | Calling Attention to an Overlooked Problem |

28
(2)

| | |
| --- | --- |
| | Winning Victories, Implementing Reforms |

30
(1)

| | |
| --- | --- |
| | Emergence of an Opposition and Development of Resistance to Further Changes |

31
(1)

| | |
| --- | --- |
| | Research and Temporary Resolution of the Dispute |

32
(1)

| | |
| --- | --- |
| | The Continuing Process of Rediscovery |

32
(2)

| | |
| --- | --- |
| | Groups of Victims That Have Been Recently Rediscovered |

34
(4)
38
(1)
39
(3)

| | |
| --- | --- |
| | Digging Up the Facts About Crime Victims |

| | |
| --- | --- |
| | Crime in the Streets: The Big Picture |

42
(15)

| | |
| --- | --- |
| | The Use and Abuse of Statistics |

42
(4)

| | |
| --- | --- |
| | A Closer Look at the Two Official Sources of Victimization Data |

46
(1)
47
(2)

| | |
| --- | --- |
| | The National Crime Victimization Survey |

49
(3)

| | |
| --- | --- |
| | Comparing the UCR and the NCVS |

52
(1)

| | |
| --- | --- |
| | Using Data to Bring the Big Picture Into Focus |

53
(4)

| | |
| --- | --- |
| | Searching for Crime Waves: Detecting Victimization Trends |

57
(7)

| | |
| --- | --- |
| | Changes Over Time in Violent Crime Rates |

57
(4)

| | |
| --- | --- |
| | Checking Out Whether More Robberies Are Turning into Murders |

61
(2)

| | |
| --- | --- |
| | ``Your Money or Your Life'' |

63
(1)

| | |
| --- | --- |
| | Using the UCR to Analyze Murders |

64
(2)

| | |
| --- | --- |
| | Murderers and Their Victims |

64
(2)

| | |
| --- | --- |
| | Using the NCVS to Analyze Robberies |

66
(5)

| | |
| --- | --- |
| | Robbers and Their Victims |

66
(2)

| | |
| --- | --- |
| | Findings From the NCVS That Shed Light on Robberies |

68
(3)

| | |
| --- | --- |
| | Making International Comparisons |

71
(2)

| | |
| --- | --- |
| | Comparing the Murder Rates in Different Societies |

72
(1)

| | |
| --- | --- |
| | Assessing Comparative Risks |

73
(3)

| | |
| --- | --- |
| | Putting Crime Into Perspective |

73
(3)

| | |
| --- | --- |
| | Uncovering Victimization Patterns |

76
(5)

| | |
| --- | --- |
| | Recognizing Differential Risks |

76
(1)

| | |
| --- | --- |
| | Differential Risks of Being Murdered |

77
(2)

| | |
| --- | --- |
| | Differential Risks of Being Robbed |

79
(2)

| | |
| --- | --- |
| | Projecting Cumulative Risks |

81
(2)

| | |
| --- | --- |
| | Estimating Lifetime Likelihoods |

81
(2)
83
(1)
84
(3)

| | |
| --- | --- |
| | The Victims' Contribution to the Crime Problem |

| | |
| --- | --- |
| | The Search for Risk Factors |

87
(11)

| | |
| --- | --- |
| | The Determinants of Differential Risks |

88
(5)

| | |
| --- | --- |
| | Reducing Risks: How Safe Is Safe Enough? |

93
(1)

| | |
| --- | --- |
| | From Crime Prevention to Victimization Prevention |

94
(2)

| | |
| --- | --- |
| | Ambivalence About Risk Taking |

96
(1)

| | |
| --- | --- |
| | Deterrence Theory As Applied to Victims |

97
(1)

| | |
| --- | --- |
| | The Controversy Over Shared Responsibility |

98
(39)

| | |
| --- | --- |
| | Expressions of Support for Inquiries Into the Victim's Role |

99
(2)

| | |
| --- | --- |
| | Victim Facilitation, Precipitation, and Provocation |

101
(1)
101
(3)

| | |
| --- | --- |
| | Victim Precipitation and Provocation |

104
(2)

| | |
| --- | --- |
| | The Frequency of Shared Responsibility in Violent Crimes |

106
(1)

| | |
| --- | --- |
| | Recognizing Complete Innocence and Full Responsibility |

107
(1)

| | |
| --- | --- |
| | Typologies of Shared Responsibility |

107
(1)

| | |
| --- | --- |
| | A Typology of Auto Theft Victims |

108
(2)

| | |
| --- | --- |
| | Victim Blaming Versus Victim Defending |

110
(3)

| | |
| --- | --- |
| | Victim Facilitation and Auto Theft: Is It the Careless Who Wind Up Carless? |

113
(1)

| | |
| --- | --- |
| | Criticisms of the Notion of Shared Responsibility |

114
(3)

| | |
| --- | --- |
| | Blaming the Victim for Facilitating the Crime |

117
(1)

| | |
| --- | --- |
| | Examples of ``Motorise Blaming'' |

118
(1)

| | |
| --- | --- |
| | Victim Precipitation and Rape: Was It Somehow Her Fault? |

119
(3)
122
(2)

| | |
| --- | --- |
| | Victim-Defending Perspectives |

124
(1)

| | |
| --- | --- |
| | Victim Provocation and Murder: When Is the Slaying of a Wife Beater Justified? |

125
(2)

| | |
| --- | --- |
| | Arguments Stressing That the Brutal Men Did Not Deserve to Die |

127
(2)

| | |
| --- | --- |
| | Arguments Emphasizing That the Brutal Men Provoked the Lethal Responses |

129
(3)

| | |
| --- | --- |
| | Transcending Victim Blaming and Victim Defending |

132
(2)

| | |
| --- | --- |
| | The Legal Importance of Determining Responsibility |

134
(1)

| | |
| --- | --- |
| | Prof Calls for Crackdown on Crime Victims |

135
(2)
137
(1)
138
(2)

| | |
| --- | --- |
| | Victims and the Criminal Justice System: Cooperation and Conflict |

| | |
| --- | --- |
| | Victims Versus the Criminal Justice System |

140
(2)

| | |
| --- | --- |
| | Criticisms of the Way the Criminal Justice System Handles Victims |

141
(1)

| | |
| --- | --- |
| | What Do Victims Want: Punishment? Treatment? or Restitution? |

142
(6)

| | |
| --- | --- |
| | The System's Shortcomings From a Victim's Point of View |

143
(5)
148
(13)
148
(3)
151
(1)
152
(2)

| | |
| --- | --- |
| | Judging Complaints to Be Unfounded |

154
(2)
156
(4)

| | |
| --- | --- |
| | Recovering Stolen Property |

160
(1)
161
(10)

| | |
| --- | --- |
| | Assisting Victims and Other Witnesses for the State |

162
(2)

| | |
| --- | --- |
| | Protecting Victims Serving as Witnesses for the Prosecution |

164
(3)

| | |
| --- | --- |
| | Dismissing Charges and Rejecting Cases |

167
(2)
169
(2)

| | |
| --- | --- |
| | Victims and Defense Attorneys |

171
(3)
171
(1)

| | |
| --- | --- |
| | Cross-examining Witnesses During Trials |

172
(2)
174
(6)
174
(1)
175
(3)

| | |
| --- | --- |
| | Appealing to the Supreme Court |

178
(1)

| | |
| --- | --- |
| | Supreme Court Decisions Directly Affecting Victims |

179
(1)

| | |
| --- | --- |
| | Victims and Corrections Officials |

180
(3)
181
(2)
183
(3)

| | |
| --- | --- |
| | Recognizing ``Second-Class'' Treatment |

183
(2)

| | |
| --- | --- |
| | Which Victims Get Better Treatment? |

185
(1)
186
(1)
186
(3)

| | |
| --- | --- |
| | Special Kinds of Victims: Problems and Solutions |

189
(9)

| | |
| --- | --- |
| | Estimates of the Incidence and the Seriousness of the Problem |

190
(1)

| | |
| --- | --- |
| | Highlights of the Rediscovery of the Missing Children Problem |

191
(3)

| | |
| --- | --- |
| | How Often Are Children Kidnapped, and What Happens to Them? |

194
(1)

| | |
| --- | --- |
| | Hunting for Children Who Have Vanished |

194
(3)

| | |
| --- | --- |
| | Victimization Prevention Measures |

197
(1)

| | |
| --- | --- |
| | Physically and Sexually Abused Children |

198
(20)

| | |
| --- | --- |
| | The Rediscovery of Child Abuse |

198
(3)

| | |
| --- | --- |
| | Estimates of the Incidence, Prevalence, and Seriousness of Child Abuse |

201
(4)

| | |
| --- | --- |
| | More Controversies Surrounding Childhood Sexual Abuse |

205
(1)

| | |
| --- | --- |
| | Accusations Made During Divorce Proceedings and Custody Battles |

205
(1)

| | |
| --- | --- |
| | The Four Over Recoalling Repressed Memories of Childhood Sexual Abuse |

206
(4)

| | |
| --- | --- |
| | Strange Allegations of Ritualistic Abuse by Satanic Cults |

210
(1)

| | |
| --- | --- |
| | Abused Children and Legal Proceedings |

211
(1)

| | |
| --- | --- |
| | Taking the Best Interests of the Child Into Account |

212
(1)

| | |
| --- | --- |
| | Handling Charges of Abuse |

212
(1)
213
(4)

| | |
| --- | --- |
| | Proactive Versus Reactive Strategies |

217
(1)

| | |
| --- | --- |
| | More Casualties of Domestiv Violence |

218
(3)

| | |
| --- | --- |
| | Abuse of Adolescents by Parents |

218
(1)

| | |
| --- | --- |
| | Abuse of Parents by Adolescents |

219
(1)
219
(1)
219
(2)

| | |
| --- | --- |
| | Violence Between Intimates |

221
(18)

| | |
| --- | --- |
| | The Rediscovery of Wife Beating |

221
(3)

| | |
| --- | --- |
| | Estimates of the Incidence, Prevalence, and Seriousness of Spouse Abuse |

224
(5)

| | |
| --- | --- |
| | Aiding Victims Who Feel Trapped |

229
(2)

| | |
| --- | --- |
| | Battered Women and the Criminal Justice System: Violence Is Violence, or Is It? |

231
(2)
233
(1)

| | |
| --- | --- |
| | The Prosecutorial Response |

234
(1)
235
(1)
236
(1)

| | |
| --- | --- |
| | The Rediscovery of Other Victims of Beatings |

237
(1)

| | |
| --- | --- |
| | Battering Within Same-Sex Relationships |

237
(1)

| | |
| --- | --- |
| | The Controversy Surrounding Battered Husbands |

238
(1)

| | |
| --- | --- |
| | Victims of Sexual Assault |

239
(26)

| | |
| --- | --- |
| | The Rediscovery of the Plight of Rape Victims |

239
(1)

| | |
| --- | --- |
| | ``Real Rapes'' and ``Date Rapes'' |

240
(2)

| | |
| --- | --- |
| | The Consequences of Being Sexually Assaulted |

242
(1)

| | |
| --- | --- |
| | Estimates of the Incidence, Prevalence, and Seriousness of Rape |

243
(5)

| | |
| --- | --- |
| | The Controversy Over Date Rape on College Campuses |

248
(2)

| | |
| --- | --- |
| | How the Criminal Justice System Handles Rape Victims |

250
(1)

| | |
| --- | --- |
| | The Controversy Over Unfounded Accusations |

251
(3)

| | |
| --- | --- |
| | The Accuser Versus the Accused |

254
(1)
255
(1)
256
(1)
257
(1)

| | |
| --- | --- |
| | Arrest, Prosecution, and Adjudication |

258
(1)

| | |
| --- | --- |
| | Crisis Centers: Providing Emergency Assistance |

259
(1)

| | |
| --- | --- |
| | Unwanted Publicity and Negative Media Portrayals |

260
(2)

| | |
| --- | --- |
| | Reducing the Threat of Rape |

262
(1)

| | |
| --- | --- |
| | The Rediscovery of More Rape Victims |

263
(1)

| | |
| --- | --- |
| | Wives Raped by Their Husbands |

263
(1)
263
(2)
265
(1)
265
(3)

| | |
| --- | --- |
| | Gaining Restitution From Offenders |

268
(13)
268
(1)

| | |
| --- | --- |
| | The Rise, Fall, and Revival of Restitution |

269
(4)

| | |
| --- | --- |
| | Divergent Goals, Clashing Philosophies |

273
(1)

| | |
| --- | --- |
| | Restitution as a Means of Repaying Victims |

273
(1)

| | |
| --- | --- |
| | Restitution as a Means of Rehabilitating Offenders |

274
(1)

| | |
| --- | --- |
| | Restitution as a Means of Reconciling Offenders and Their Victims |

274
(1)

| | |
| --- | --- |
| | Restitution as a Means of Punishing Offenders |

275
(1)

| | |
| --- | --- |
| | Opportunities Versus Obstacles |

275
(5)

| | |
| --- | --- |
| | Evaluating Restitution Programs |

280
(1)

| | |
| --- | --- |
| | Winning Judgments in Civil Court |

281
(9)

| | |
| --- | --- |
| | The Revival of Interest in Civil Lawsuits |

281
(1)
282
(1)

| | |
| --- | --- |
| | Possibilities and Pitfalls |

283
(3)

| | |
| --- | --- |
| | Collecting Damages From Third Parties |

286
(1)

| | |
| --- | --- |
| | Suing Private Enterprises |

287
(1)
288
(2)

| | |
| --- | --- |
| | Collecting Insurance Reimbursements |

290
(2)
290
(1)

| | |
| --- | --- |
| | Patterns of Loss, Recovery, and Reimbursement |

291
(1)
291
(1)

| | |
| --- | --- |
| | Recovering Losses by Turning to Compensation Programs |

292
(11)

| | |
| --- | --- |
| | Reimbursement From Government Funds |

292
(1)

| | |
| --- | --- |
| | The History of Victim Compensation by Governments |

293
(1)

| | |
| --- | --- |
| | The Debate Over Compensation in the United States |

294
(3)

| | |
| --- | --- |
| | How Programs Operate: Similarities and Differences |

297
(2)

| | |
| --- | --- |
| | Monitoring and Evaluating Compensation Programs |

299
(1)

| | |
| --- | --- |
| | Uncovering How Programs Work |

299
(2)

| | |
| --- | --- |
| | Measuring the Effects of Programs |

301
(2)

| | |
| --- | --- |
| | Confiscating Profits From Notorious Criminals |

303
(1)
304
(1)
305
(3)

| | |
| --- | --- |
| | Victims in the 21st Century: Alternative Directions |

| | |
| --- | --- |
| | Toward Greater Formal Legal Rights Within the Criminal Justice System |

308
(11)

| | |
| --- | --- |
| | Rights Gained at the Expense of Offenders |

311
(2)

| | |
| --- | --- |
| | Rights Gained at the Expense of the System |

313
(1)

| | |
| --- | --- |
| | Rights Gained at the Expanse of Either Offenders of the System or Both |

313
(6)

| | |
| --- | --- |
| | Toward Restorative Justice |

319
(11)
319
(5)

| | |
| --- | --- |
| | How Reconciliation Programs Work |

324
(2)

| | |
| --- | --- |
| | Evaluating Efforts at Reconciliation |

326
(1)

| | |
| --- | --- |
| | Pros and Cons From the Victim's Point of View |

327
(3)

| | |
| --- | --- |
| | Toward Retaliatory Justice |

330
(14)

| | |
| --- | --- |
| | Vigilantism's Frontier Origins |

331
(2)

| | |
| --- | --- |
| | Vigilantism's Versus Legitimate Use of Force in Self-defense |

333
(1)

| | |
| --- | --- |
| | Would Potential Victims Be Better Off If They Were Armed? |

334
(4)

| | |
| --- | --- |
| | The Drift Back Toward Retaliatory Violence |

338
(6)
344
(1)
345
(2)
References
347
(42)
Appendix
389
(4)
Name Index
393
(8)
Subject Index
401