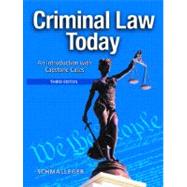 Questions About This Book?
What version or edition is this?
This is the 3rd edition with a publication date of 1/1/2006.
What is included with this book?
The New copy of this book will include any supplemental materials advertised. Please check the title of the book to determine if it should include any CDs, lab manuals, study guides, etc.
The Used copy of this book is not guaranteed to include any supplemental materials. Typically, only the book itself is included.
Summary
This book is designed to introduce readers to the fundamental nature of law, to give them an overview of general legal principles, and to help them develop a special understanding of the historical development of criminal law and its contemporary form and function in today's American society. Real stories and photographs of contemporary situations and issues bring the content to life, and Capstone Cases provide insights into the everyday workings of American jurisprudence and illustrate the logic by which appellate decisions are made.This volume provides complete coverage of the nature and history of criminal law, criminal liability and the essence of crime, the concept of crime, justifications as defenses, excuses as defenses, the defense of insanity, legal and social dimensions of homicide, assault, battery, and other personal crimes, property and computer crimes, offenses against public order and the administration of justice, offenses against public morality, victims and the law, and punishment and sentencing.For individuals interested in criminal law and its function in society.
Table of Contents
Preface
xvii
Acknowledgments
xix
About the Author
xxi

| | |
| --- | --- |
| | The Nature and History of Criminal Law |

2
(42)
3
(1)
3
(6)
5
(2)
7
(2)
9
(6)
10
(1)
11
(1)
12
(3)

| | |
| --- | --- |
| | Historical Sources of Today's Law |

15
(10)
15
(3)
18
(2)
20
(3)
23
(2)
25
(1)
26
(1)
27
(1)
28
(1)

| | |
| --- | --- |
| | Legal Resources on the World Wide Web |

28
(2)

| | |
| --- | --- |
| | Suggested Readings and Classic Works |

30
(1)
31
(13)

| | |
| --- | --- |
| | Criminal Liability and the Essence of Crime |

44
(42)
45
(1)
46
(5)
47
(3)
50
(1)

| | |
| --- | --- |
| | The Legal Essence of Criminal Conduct |

51
(13)
52
(4)
56
(8)
64
(1)
64
(1)
65
(1)

| | |
| --- | --- |
| | Legal Resources on the World Wide Web |

65
(1)

| | |
| --- | --- |
| | Suggested Readings and Classic Works |

66
(1)
67
(19)

| | |
| --- | --- |
| | Expanding the Concept of Crime |

86
(22)
87
(1)
88
(2)

| | |
| --- | --- |
| | Additional Elements of Crime |

90
(8)
90
(2)
92
(2)

| | |
| --- | --- |
| | The Principle of Legality |

94
(2)

| | |
| --- | --- |
| | Necessary Attendant Circumstances |

96
(2)
98
(1)
99
(1)

| | |
| --- | --- |
| | Legal Resources on the World Wide Web |

99
(1)

| | |
| --- | --- |
| | Suggested Readings and Classic Works |

100
(1)
100
(8)

| | |
| --- | --- |
| | Extending Criminal Liability: Inchoate Offenses and Parties to Crime |

108
(54)
109
(1)
110
(8)
112
(1)
112
(3)
115
(2)
117
(1)
117
(1)
118
(6)
119
(1)
120
(1)
120
(1)
121
(1)
122
(1)
122
(2)
124
(2)
126
(10)

| | |
| --- | --- |
| | Relationship of Complicity |

127
(1)
127
(1)
128
(2)

| | |
| --- | --- |
| | The Criminal Liability of Corporations |

130
(5)
135
(1)
136
(1)
137
(1)

| | |
| --- | --- |
| | Legal Resources on the World Wide Web |

138
(1)

| | |
| --- | --- |
| | Suggested Readings and Classic Works |

138
(1)
139
(23)

| | |
| --- | --- |
| | Justifications as Defenses |

162
(34)
163
(1)
164
(1)
165
(1)

| | |
| --- | --- |
| | Justification as a Defense |

166
(15)
166
(2)
168
(4)
172
(3)

| | |
| --- | --- |
| | Defense of Home and Property |

175
(3)

| | |
| --- | --- |
| | Resisting Unlawful Arrest |

178
(2)
180
(1)
181
(1)
182
(1)

| | |
| --- | --- |
| | Legal Resources on the World Wide Web |

183
(1)

| | |
| --- | --- |
| | Suggested Readings and Classic Works |

183
(1)
183
(13)
196
(54)
197
(1)
198
(1)
199
(23)
200
(1)
201
(3)
204
(6)
210
(2)
212
(2)

| | |
| --- | --- |
| | Syndrome-Based Defense Enhancements |

214
(8)
222
(1)
223
(1)

| | |
| --- | --- |
| | Legal Resources on the World Wide Web |

223
(1)

| | |
| --- | --- |
| | Suggested Readings and Classic Works |

224
(1)
224
(26)
250
(38)
251
(1)

| | |
| --- | --- |
| | Competency to Stand Trial |

252
(8)

| | |
| --- | --- |
| | Purpose of the Insanity Defense |

260
(2)

| | |
| --- | --- |
| | The Insanity Defense---A Common Misunderstanding |

262
(1)
263
(1)

| | |
| --- | --- |
| | History of the Insanity Defense |

264
(10)

| | |
| --- | --- |
| | The M'Naughten Rule---Knowing Right from Wrong |

265
(3)

| | |
| --- | --- |
| | Control Rules---The Irresistible Impulse Test |

268
(3)

| | |
| --- | --- |
| | The Durham Rule---Crime as a Product of Mental Disease |

271
(1)

| | |
| --- | --- |
| | The ALI Test---Substantial Capacity |

271
(1)

| | |
| --- | --- |
| | Guilty but Mentally III (GBMI) |

272
(1)

| | |
| --- | --- |
| | The Doctrine of Settled Insanity |

273
(1)
274
(2)

| | |
| --- | --- |
| | How Widely Used is the Insanity Defense? |

276
(1)

| | |
| --- | --- |
| | Consequences of an Insanity Finding |

277
(1)

| | |
| --- | --- |
| | Abolishing the Insanity Defense |

278
(1)
279
(1)
280
(1)

| | |
| --- | --- |
| | Legal Resources on the World Wide Web |

280
(1)

| | |
| --- | --- |
| | Suggested Readings and Classic Works |

281
(1)
282
(6)

| | |
| --- | --- |
| | Legal and Social Dimensions of Personal Crime: Homicide |

288
(42)
289
(1)
290
(7)
291
(1)
291
(2)
293
(2)
295
(1)

| | |
| --- | --- |
| | Proximate Cause and Homicide |

296
(1)
297
(5)
297
(2)
299
(2)
301
(1)
302
(4)
302
(2)
304
(2)
306
(1)
307
(1)
307
(9)
316
(1)
317
(1)

| | |
| --- | --- |
| | Legal Resources on the World Wide Web |

317
(1)

| | |
| --- | --- |
| | Suggested Readings and Classic Works |

317
(1)
318
(12)

| | |
| --- | --- |
| | Legal and Social Dimensions of Personal Crime: Assault, Battery, and Other Personal Crimes |

330
(48)
331
(1)

| | |
| --- | --- |
| | Assault, Battery, and Mayhem |

332
(11)
332
(2)
334
(1)
334
(1)
334
(1)
335
(1)
335
(2)
337
(2)
339
(1)
340
(3)
343
(8)
343
(3)
346
(1)
347
(1)
348
(3)

| | |
| --- | --- |
| | Kidnapping and False Imprisonment |

351
(3)
351
(2)
353
(1)
354
(5)
354
(3)
357
(2)
359
(1)
359
(1)

| | |
| --- | --- |
| | Legal Resources on the World Wide Web |

360
(1)

| | |
| --- | --- |
| | Suggested Readings and Classic Works |

360
(1)
361
(17)

| | |
| --- | --- |
| | Legal and Social Dimensions of Property and Computer Crimes |

378
(64)
379
(1)
380
(19)
381
(6)
387
(1)
388
(1)
389
(2)

| | |
| --- | --- |
| | Receiving Stolen Property |

391
(1)
392
(2)
394
(2)

| | |
| --- | --- |
| | Identity Theft---A New Type of Theft |

396
(3)

| | |
| --- | --- |
| | Consolidation of Theft Crimes |

399
(1)
400
(5)
405
(2)

| | |
| --- | --- |
| | Computer and High-Technology Crimes |

407
(15)

| | |
| --- | --- |
| | Early Computer Crime Cases |

409
(1)
410
(7)
417
(2)

| | |
| --- | --- |
| | Federal Cybercrime Enforcement Agencies |

419
(1)
419
(3)
422
(1)
423
(1)

| | |
| --- | --- |
| | Legal Resources on the World Wide Web |

424
(1)

| | |
| --- | --- |
| | Suggested Readings and Classic Works |

424
(1)
425
(17)

| | |
| --- | --- |
| | Offenses Against Public Order and the Administration of Justice |

442
(56)
443
(2)

| | |
| --- | --- |
| | Crimes Against Public Order |

445
(23)

| | |
| --- | --- |
| | Breach of Peace and Disorderly Conduct |

445
(7)
452
(1)
453
(1)
454
(1)

| | |
| --- | --- |
| | Riot and Unlawful Assembly |

455
(2)
457
(2)
459
(1)
460
(7)

| | |
| --- | --- |
| | Illegal Entry into the United States |

467
(1)

| | |
| --- | --- |
| | Crimes Against the Administration of Government |

468
(7)
468
(2)
470
(1)
471
(2)
473
(1)

| | |
| --- | --- |
| | Misconduct in Office and Bribery |

474
(1)
475
(1)
476
(1)

| | |
| --- | --- |
| | Legal Resources on the World Wide Web |

476
(2)

| | |
| --- | --- |
| | Suggested Readings and Classic Works |

478
(1)
478
(20)

| | |
| --- | --- |
| | Offenses Against Public Morality |

498
(48)
499
(1)

| | |
| --- | --- |
| | Crimes Against Public Decency and Morality |

500
(21)
501
(2)

| | |
| --- | --- |
| | Pornography, Obscenity, and Lewdness |

503
(3)

| | |
| --- | --- |
| | Other Consensual Sex Offenses |

506
(4)
510
(2)
512
(8)

| | |
| --- | --- |
| | A Critique of Laws Regulating Public Morality |

520
(1)
521
(1)
522
(1)

| | |
| --- | --- |
| | Legal Resources on the World Wide Web |

522
(1)

| | |
| --- | --- |
| | Suggested Readings and Classic Works |

523
(1)
523
(23)
546
(38)
547
(1)
548
(1)

| | |
| --- | --- |
| | A Short History of the Victim |

549
(3)

| | |
| --- | --- |
| | The Philosophy of Victim Compensation |

550
(1)

| | |
| --- | --- |
| | Victims' Assistance Programs Today |

551
(1)

| | |
| --- | --- |
| | Victims' Rights Legislation |

552
(10)

| | |
| --- | --- |
| | The Growth of Victims' Rights |

554
(4)
558
(2)
560
(2)
562
(8)

| | |
| --- | --- |
| | The National Crime Victimization Survey |

563
(1)
564
(1)
565
(2)
567
(1)

| | |
| --- | --- |
| | The Uniform Crime Reports |

568
(2)
570
(2)
571
(1)
572
(1)
573
(1)

| | |
| --- | --- |
| | Legal Resources on the World Wide Web |

573
(1)

| | |
| --- | --- |
| | Suggested Readings and Classic Works |

574
(1)
574
(10)

| | |
| --- | --- |
| | Punishment and Sentencing |

584
(47)
585
(2)
587
(11)
588
(1)
589
(1)
589
(2)
591
(1)
592
(6)

| | |
| --- | --- |
| | Imposing Criminal Sanctions |

598
(6)

| | |
| --- | --- |
| | Federal Sentencing Practices |

600
(2)

| | |
| --- | --- |
| | The Role of the Jury in Sentencing Enhancements |

602
(1)
603
(1)
604
(1)

| | |
| --- | --- |
| | Traditional Sentencing Options |

605
(1)
606
(4)
610
(6)

| | |
| --- | --- |
| | The Courts and Capital Punishment |

611
(2)

| | |
| --- | --- |
| | Limits on Death Row Appeals |

613
(1)

| | |
| --- | --- |
| | Cruel and Unusual Punishments |

614
(2)
616
(1)
617
(1)
618
(1)

| | |
| --- | --- |
| | Legal Resources on the World Wide Web |

619
(1)

| | |
| --- | --- |
| | Suggested Readings and Classic Works |

619
(1)
620
(11)
Appendix A: Constitution of the United States of America
631
(15)
Appendix B: Model Penal Code Excerpts
646
(53)
Glossary
699
(24)
Table of Cases
723
(8)
Subject Index
731