Note: Supplemental materials are not guaranteed with Rental or Used book purchases.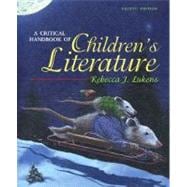 Questions About This Book?
What version or edition is this?
This is the 8th edition with a publication date of 5/31/2006.
What is included with this book?
The Used copy of this book is not guaranteed to include any supplemental materials. Typically, only the book itself is included.
Related Products
Summary
Now in its Eighth Edition, this highly regarded book helps teachers, librarians, and other media specialists select quality childrenrs"s literature. Unlike an anthology, which includes only selected chapters and text summaries, A Critical Handbook of Childrenrs"s Literature uses examples of childrenrs"s books to explain critical principles and standards, as well as special issues in evaluating books for children. Taking readers through the definitions of literary terms such as plot, character, theme, setting, point of view, style, and tone, Rebecca Lukens provides sound criteria for assessing the merit of children's books. Throughout the book, Lukens addresses a variety of issues in childrenrs"s literature. Thoroughly updated with new examples of literature from all genres, A Critical Handbook of Childrenrs"s Literature continues to be the best resource available for helping anyone who works with children select the best childrenrs"s literature for the classroom, library, or home.
Table of Contents
To the Instructor
xi
To the Student
xvii
A Lifetime of Reading
xxiii
3
(10)
9
(1)
10
(3)
10
(1)

| | |
| --- | --- |
| | Recommended Books Cited in This Chapter |

10
(3)

| | |
| --- | --- |
| | Genre in Children's Literature |

13
(26)
15
(3)
15
(1)
16
(1)
17
(1)
18
(1)
18
(2)
18
(1)
19
(1)
19
(1)
20
(3)
20
(1)
21
(1)
22
(1)
23
(4)
24
(1)
24
(2)
26
(1)
27
(1)
27
(1)
27
(1)
28
(1)
29
(1)
29
(1)

| | |
| --- | --- |
| | Table 2.1: Genre in Children's Literature |

30
(5)
35
(4)
35
(1)

| | |
| --- | --- |
| | Recommended Books Cited in This Chapter |

36
(3)
39
(36)

| | |
| --- | --- |
| | The Illustrative Elements of the Picture Book |

41
(7)
41
(3)

| | |
| --- | --- |
| | Picturing Figurative Language |

44
(1)
44
(1)
45
(3)

| | |
| --- | --- |
| | The Literary Elements of the Picture Book |

48
(14)
49
(1)
50
(3)
53
(3)
56
(1)
57
(1)
58
(1)
59
(3)
62
(4)
66
(3)
69
(6)
69
(1)

| | |
| --- | --- |
| | Recommended Books Cited in This Chapter |

70
(5)
75
(24)
76
(2)
77
(1)
77
(1)
78
(1)
78
(1)
78
(1)

| | |
| --- | --- |
| | Unity of Character and Action |

78
(4)
82
(3)
82
(2)
84
(1)
85
(4)

| | |
| --- | --- |
| | Special Issues of Character in Children's Literature |

89
(6)
90
(1)
91
(1)
92
(2)
94
(1)
95
(4)
96
(1)

| | |
| --- | --- |
| | Recommended Books Cited in This Chapter |

96
(3)
99
(32)
100
(3)
100
(1)

| | |
| --- | --- |
| | Variations in Narrative Order |

100
(2)
102
(1)
103
(6)
103
(2)
105
(1)
106
(2)
108
(1)
109
(11)
111
(3)
114
(1)
114
(2)
116
(1)
116
(2)
118
(2)
120
(1)
120
(2)

| | |
| --- | --- |
| | Special Issues of Plot in Children's Literature |

122
(4)
122
(1)
123
(3)
126
(1)
126
(5)
127
(1)

| | |
| --- | --- |
| | Recommended Books Cited in This Chapter |

127
(4)
131
(18)
131
(1)
132
(4)
132
(1)
133
(2)

| | |
| --- | --- |
| | Multiple and Secondary Themes |

135
(1)

| | |
| --- | --- |
| | Special Issues of Theme in Children's Literature |

136
(10)
136
(2)
138
(3)
141
(1)

| | |
| --- | --- |
| | Mature Themes in Children's Stories |

142
(4)
146
(3)
146
(1)

| | |
| --- | --- |
| | Recommended Books Cited in This Chapter |

146
(3)
149
(20)
150
(5)
151
(1)
152
(1)

| | |
| --- | --- |
| | Setting in Charlotte's Web |

153
(2)
155
(7)

| | |
| --- | --- |
| | Setting That Clarifies Conflict |

155
(2)
157
(1)

| | |
| --- | --- |
| | Setting That Illuminates Character |

158
(2)
160
(1)
161
(1)

| | |
| --- | --- |
| | Special Issues of Setting in Children's Literature |

162
(3)
163
(1)

| | |
| --- | --- |
| | Fantasy and Science Fiction |

164
(1)
165
(4)
166
(1)

| | |
| --- | --- |
| | Recommended Books Cited in This Chapter |

166
(3)
169
(20)
170
(10)

| | |
| --- | --- |
| | First-Person Point of View |

170
(5)
175
(1)

| | |
| --- | --- |
| | Limited Omniscient Point of View |

176
(2)

| | |
| --- | --- |
| | Objective (Dramatic) Point of View |

178
(1)

| | |
| --- | --- |
| | Variations in Point of View |

179
(1)

| | |
| --- | --- |
| | Special Issues of Point of View in Children's Literature |

180
(5)
181
(1)
181
(2)
183
(1)

| | |
| --- | --- |
| | Stories of Various Cultures |

184
(1)
185
(4)

| | |
| --- | --- |
| | Recommended Books Cited in This Chapter |

185
(4)
189
(22)
191
(7)
191
(1)
192
(1)
193
(1)
194
(1)
195
(1)
196
(1)
197
(1)
197
(1)
198
(2)
198
(1)
198
(1)
198
(1)
198
(1)
199
(1)

| | |
| --- | --- |
| | Special Issues of Style in Children's Literature |

200
(7)
200
(2)

| | |
| --- | --- |
| | Retellings and Translations |

202
(3)

| | |
| --- | --- |
| | Stories of Other Periods and Places |

205
(2)
207
(1)
207
(4)
207
(1)

| | |
| --- | --- |
| | Recommended Books Cited in This Chapter |

208
(3)
211
(28)
213
(1)
214
(5)
219
(1)
219
(2)

| | |
| --- | --- |
| | Tone Related to the Author's Choice of Materials |

221
(4)

| | |
| --- | --- |
| | Special Issues of Tone in Children's Literature |

225
(10)
225
(1)
226
(3)
229
(1)
230
(1)
231
(1)
232
(3)
235
(4)
235
(1)

| | |
| --- | --- |
| | Recommended Books Cited in This Chapter |

236
(3)
239
(32)
239
(4)
240
(1)
241
(2)
243
(3)
244
(1)
244
(2)
246
(20)
247
(1)
248
(2)
250
(2)
252
(3)
255
(1)
256
(5)
261
(2)
263
(1)

| | |
| --- | --- |
| | Negative Qualities in Poetry |

264
(2)
266
(5)
267
(1)

| | |
| --- | --- |
| | Books Containing Poems Cited in This Chapter |

267
(4)
271
(16)
271
(13)
272
(3)
275
(1)
276
(4)
280
(4)
284
(3)
284
(1)

| | |
| --- | --- |
| | Recommended Books Cited in This Chapter |

285
(2)
287
(24)
288
(2)
289
(1)
290
(10)
290
(3)
293
(3)
296
(3)
299
(1)

| | |
| --- | --- |
| | Special Issues in Nonfiction in Children's Literature |

300
(7)
300
(4)

| | |
| --- | --- |
| | Didacticism and Propaganda |

304
(2)
306
(1)
307
(4)
308
(1)

| | |
| --- | --- |
| | Recommended Books Cited in This Chapter |

308
(3)
Appendix A: Children's Book Awards
311
(38)
Appendix B: Selected Children's Magazines
349
(2)
Appendix C: Selected Reviewing Media for Children's Books
351
(2)
Appendix D: Selected Websites about Children's Literature
353
(2)
Glossary of Literary Terms
355
(4)
Credits
359
(6)
Index
365