Note: Supplemental materials are not guaranteed with Rental or Used book purchases.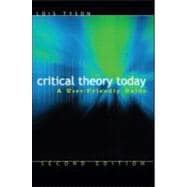 Critical Theory Today : A User-Friendly Guide
ISBN13:
9780415974103
by
Tyson
;
Lois
Summary
This new edition of the classic guide offers a thorough and accessible introduction to contemporary critical theory. It provides in-depth coverage of the most common approaches to literary analysis today: feminism, psychoanalysis, Marxism, reader-response theory, new criticism, structuralism and semiotics, deconstruction, new historicism, cultural criticism, lesbian/gay/queer theory, African-American criticism, and postcolonial criticism. The chapters provide an extended explanation of each theory, using examples from everyday life, popular culture, and literary texts; a list of specific questions critics who use that theory ask about literary texts; an interpretation of F. Scott Fitzgerald'sThe Great Gatsbythrough the lens of each theory; a list of questions for further practice to guide readers in applying each theory to different literary works; and a bibliography of primary and secondary works for further reading. This book can be used as the only text in a course or as a precursor to the studyof primary theoretical works. It motivates readers by showing them what critical theory can offer in terms of their practical understanding of literary texts and in terms of their personal understanding of themselves and the world in which they live. Both engaging and rigorous, it is a "how-to" book for undergraduate and graduate students new to critical theory and for college professors who want to broaden their repertoire of critical approaches to literature.
Table of Contents
Psychoanalytic Criticism The Unconscious and the Defenses
Dreams
Dream Symbols
Death and Sexuality
Psychoanalysis and Literature
A Psychoanalytic Reading of The Great Gatsby
Marxist Criticism Marxist Premises
Ideology and Human Behavior
Marxism and Literature
A Marxist Reading of The Great Gatsby
Feminist Criticism Feminist Premises
Multicultural Feminism
Feminism and Literature
A Feminist Reading of The Great Gatsby
New Criticism "The Text Itself": Literary Language and Organic Unity
A Close Reading of Lucille Clifton's "There Is a Girl Inside"
Objective Criticism and the "Single Best Reading"
A New Critical Reading of The Great Gatsby
Reader-Response Criticism Transactional, Subjective, Psychological, and Social Theories
Affective Stylistics
Defining Readers
A Reader-Response Analysis of The Great Gatsby
Structuralist Criticism Structural Linguistics and Anthropology
Semiotic Theory
Structuralist Approaches to Literature
A Structuralist Reading of The Great Gatsby
Deconstructive Criticism Deconstructing Language and Human Identity
Deconstructing Literature
Deconstructing Frost's "Mending Wall"
A Deconstructive Reading of The Great Gatsby
New Historical and Cultural Criticism New Historicism: History, Subjectivity, and Discourse
Cultural Criticism: Politics, Power, and Popular Culture
New Historicism
Cultural Criticism, and Literature
A New Historical Reading of The Great Gatsby
Lesbian, Gay, and Queer Criticism The Marginalization of Lesbians and Gay Men
Lesbian Criticism/Gay Criticism/Queer Criticism
Shared Features of Lesbian Gay, and Queer Criticism
A Queer Reading of The Great Gatsby
Postcolonial and African American Criticism Postcolonial Identity, Debates, and Approaches to Literature
African American Literary History, Tradition, and Current Trends
Shared Features of Postcolonial and African American Criticism
A Postcolonial Reading of The Great Gatsby
Courses for Adoption Critical Theory
Literary Criticism/Theory, Literature and Philosophy
Table of Contents provided by Publisher. All Rights Reserved.