Note: Supplemental materials are not guaranteed with Rental or Used book purchases.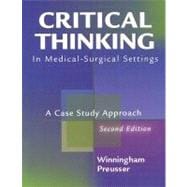 Critical Thinking in Medical - Surgical Settings: A Case Study Approach
ISBN13:
9780323011549
by
Winningham, Mary L.
Elsevier Science Health Science div
Summary
CRITICAL THINKING IN THE MEDICAL-SURGICAL SETTING helps students, through the use of case studies, bridge the gap between knowledge and clinical practice. Each case tests the students' content knowledge and helps them practice thinking critically before they face the realities of the workplace. This valuable book is organized into eleven units each focusing on specific body system disorders. Cases are drawn from actual clinical experiences and written by nurses who are experts in a specific area.
Table of Contents
Introduction
xi

| | |
| --- | --- |
| | Critical Thinking and Case Studies: Getting Started |

1
(562)
35
(6)
41
(6)
47
(4)
51
(6)
57
(4)
61
(6)
67
(6)
73
(6)
79
(4)
83
(6)
89
(4)
93
(6)
99
(6)
105
(4)
109
(6)
115
(6)
121
(4)
125
(4)
129
(4)
133
(4)
137
(4)
141
(4)
145
(4)
149
(4)
153
(4)
157
(4)
161
(4)
165
(4)
169
(4)
173
(6)
179
(6)
185
(4)
189
(4)
193
(4)

| | |
| --- | --- |
| | Musculoskeletal Disorders |

197
(4)
201
(4)
205
(2)
207
(4)
211
(4)
215
(4)
219
(2)
221
(4)
225
(4)
229
(4)
233
(4)
237
(4)
241
(4)

| | |
| --- | --- |
| | Gastrointestinal Disorders |

245
(4)
249
(4)
253
(4)
257
(4)
261
(4)
265
(6)
271
(4)
275
(4)
279
(4)
283
(4)
287
(4)
291
(4)
295
(4)
299
(4)
303
(4)
307
(4)
311
(4)
315
(2)
317
(4)
321
(2)
323
(4)
327
(4)
331
(4)
335
(4)
339
(4)
343
(4)
347
(4)
351
(4)
355
(4)
359
(4)
363
(4)
367
(4)
371
(4)
375
(4)
379
(4)
383
(4)
387
(4)
391
(4)
395
(6)
401
(4)
405
(4)
409
(4)
413
(4)
417
(4)
421
(4)
425
(4)
429
(4)
433
(4)
437
(4)
441
(4)
445
(4)
449
(4)
453
(4)
457
(4)

| | |
| --- | --- |
| | Oncologic/Hematologic Disorders |

461
(4)
465
(4)
469
(4)
473
(4)
477
(4)
481
(4)
485
(4)
489
(6)
495
(4)

| | |
| --- | --- |
| | Multiple System Disorders |

499
(4)
503
(4)
507
(4)
511
(4)
515
(2)
517
(4)
521
(4)
525
(4)
529
(4)
533
(4)
537
(2)
539
(4)
543
(4)
547
(2)
549
(4)
553
(2)
555
(4)
559
(4)
Appendix A: Pointers for Students---How to Look Like You Know What You're Doing
563
(6)
Appendix B: Case Study Worksheet---Preparation and Self-Correction
569
(4)
Appendix C: Self-Correction---Process Worksheet
573