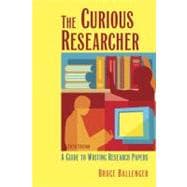 Questions About This Book?
What version or edition is this?
This is the 6th edition with a publication date of 1/1/2009.
What is included with this book?
The Used copy of this book is not guaranteed to include any supplemental materials. Typically, only the book itself is included.
Summary
Featuring an engaging, direct writing style and inquiry-based approach, The Curious Researcher stresses that curiosity is the best reason for investigating ideas and information. KEY BENEFIT: Offering a wide variety of examples from writers, this popular guide shows that good research and lively writing do not have to be mutually exclusive. Readers are encouraged to find ways to bring their writing to life, even though they are writing with "facts." Full explanations of the technical aspects of writing and documenting source-based papers help students develop sound research and analysis skills. Topics include information on selecting a research topic, the latest information on Internet research, advice on structuring a research paper, and full treatment of MLA and APA citation formats. Research, General Interest.
Table of Contents
Contents by Subject
xxi
Preface
xxvii
Introduction: Rethinking the Research Paper
1
(26)

| | |
| --- | --- |
| | EXERCISE 1 Collecting Golf Balls on Driving Ranges and Other Reflections |

1
(3)
4
(1)
4
(3)
4
(1)
5
(1)

| | |
| --- | --- |
| | Alternatives to the Five-Week Plan |

6
(1)

| | |
| --- | --- |
| | The Research Paper and the Research Report |

7
(1)
7
(1)
8
(2)

| | |
| --- | --- |
| | When "Bad" Writing Is Good |

9
(1)

| | |
| --- | --- |
| | Thinking Like an Academic Writer |

10
(1)
10
(2)

| | |
| --- | --- |
| | The Research Essay and Academic Writing |

12
(2)

| | |
| --- | --- |
| | Becoming an Authority by Using Authorities |

14
(1)
15
(1)
15
(12)

| | |
| --- | --- |
| | EXERCISE 2 Reflecting on "The Bothersome Beauty of Pigeons" by Bruce Ballenger |

16
(9)
25
(2)
Chapter 1 The First Week
27
(36)

| | |
| --- | --- |
| | The Importance of Getting Curious |

27
(11)
27
(1)
28
(4)

| | |
| --- | --- |
| | EXERCISE 1.1 Building an Interest Inventory |

29
(3)

| | |
| --- | --- |
| | Other Ways to Find a Topic |

32
(2)
34
(2)

| | |
| --- | --- |
| | Checking Out Your Tentative Topic |

35
(1)

| | |
| --- | --- |
| | Making the Most of an Assigned Topic |

36
(12)

| | |
| --- | --- |
| | EXERCISE 1.2 The Myth of the Boring Topic |

36
(2)

| | |
| --- | --- |
| | Developing a Working Knowledge |

38
(10)

| | |
| --- | --- |
| | EXERCISE 1.3 Getting a Lay of the Land |

39
(1)

| | |
| --- | --- |
| | The Reference Librarian: A Living Source |

40
(1)

| | |
| --- | --- |
| | The Library of Congress Subject Headings: Your Topic in the Larger Landscape |

40
(2)

| | |
| --- | --- |
| | Encyclopedias and Surveying the Landscape |

42
(2)

| | |
| --- | --- |
| | Surveying the Electronic Landscape |

44
(1)
44
(4)
48
(7)
50
(1)

| | |
| --- | --- |
| | From Landscape Shots to Close-Ups |

51
(7)

| | |
| --- | --- |
| | EXERCISE 1.4 Finding the Questions |

51
(2)

| | |
| --- | --- |
| | EXERCISE 1.5 Finding the Focusing Question |

53
(1)

| | |
| --- | --- |
| | EXERCISE 1.6 Finding the Relationship |

53
(2)

| | |
| --- | --- |
| | Possible Purposes for a Research Assignment |

55
(3)

| | |
| --- | --- |
| | EXERCISE 1.7 Research Proposal |

57
(1)
58
(5)

| | |
| --- | --- |
| | EXERCISE 1.8 Ways of Reading to Write |

58
(5)
58
(2)
60
(1)
61
(2)
Chapter 2 The Second Week
63
(52)

| | |
| --- | --- |
| | Developing a Research Strategy |

63
(14)

| | |
| --- | --- |
| | The Internet Itch: Should You Scratch It First? |

64
(1)

| | |
| --- | --- |
| | Library Research Strategy |

64
(4)

| | |
| --- | --- |
| | Moving from General to Specific |

65
(1)

| | |
| --- | --- |
| | Evaluating Library Sources |

65
(8)

| | |
| --- | --- |
| | Why Journal Articles Are Better Than Magazine Articles |

66
(1)

| | |
| --- | --- |
| | Look for Often-Cited Authors |

67
(1)

| | |
| --- | --- |
| | Primary over Secondary Sources |

67
(1)
67
(1)

| | |
| --- | --- |
| | Internet Research Strategy |

68
(1)

| | |
| --- | --- |
| | Three Drawbacks of Internet Research |

69
(1)

| | |
| --- | --- |
| | Three Reasons to Use the Internet for Research |

70
(1)
71
(6)

| | |
| --- | --- |
| | Evaluating Online Sources |

73
(11)

| | |
| --- | --- |
| | Key to Evaluating Internet Sources |

74
(3)

| | |
| --- | --- |
| | Search Languages: Words That Open Doors |

77
(5)

| | |
| --- | --- |
| | Controlled Language Searches |

78
(1)
78
(2)

| | |
| --- | --- |
| | Magic Words on the World Wide Web |

80
(2)

| | |
| --- | --- |
| | Developing Deep Knowledge |

82
(2)

| | |
| --- | --- |
| | Library Research Techniques |

84
(9)
84
(1)

| | |
| --- | --- |
| | Understanding Call Numbers |

85
(8)

| | |
| --- | --- |
| | EXERCISE 2.1 Library Investigations |

86
(2)
88
(1)
88
(1)
88
(1)

| | |
| --- | --- |
| | Finding Magazine and Journal Articles |

89
(3)
92
(1)

| | |
| --- | --- |
| | Internet Research Techniques |

93
(4)
94
(3)

| | |
| --- | --- |
| | EXERCISE 2.2 Investigating the Internet |

95
(2)

| | |
| --- | --- |
| | Living Sources: Interviews and Surveys |

97
(18)
97
(9)
98
(1)
99
(1)
100
(1)
100
(3)
101
(1)
101
(1)
102
(1)
103
(1)
103
(3)

| | |
| --- | --- |
| | Finding People on the Internet |

103
(1)
104
(1)
105
(1)
105
(1)

| | |
| --- | --- |
| | Finding a Group on Your Topic |

106
(1)

| | |
| --- | --- |
| | Planning Informal Surveys |

106
(5)

| | |
| --- | --- |
| | Defining Goals and Audience |

106
(1)
107
(1)
108
(3)
108
(1)
108
(2)

| | |
| --- | --- |
| | Drawbacks of Open-Ended Questions |

110
(1)

| | |
| --- | --- |
| | Designing Your Multiple-Choice Questions |

110
(1)
110
(1)

| | |
| --- | --- |
| | Planning for Distribution |

111
(1)
111
(4)
111
(1)
112
(3)
Chapter 3 The Third Week
115
(50)
115
(22)

| | |
| --- | --- |
| | Becoming an Activist Notetaker |

116
(4)

| | |
| --- | --- |
| | EXERCISE 3.1 Getting a Word in Edgewise |

117
(3)

| | |
| --- | --- |
| | EXERCISE 3.2 "Say Back" to a Source |

120
(1)
120
(1)

| | |
| --- | --- |
| | I Read What You Said and Borrowed It, Okay? |

120
(3)
123
(1)

| | |
| --- | --- |
| | Sources Are from Mars, Notetakers Are from Venus |

123
(9)
124
(2)

| | |
| --- | --- |
| | EXERCISE 3.3 Paraphrase Practice |

125
(1)
126
(2)
128
(20)
128
(2)
130
(1)

| | |
| --- | --- |
| | EXERCISE 3.4 How Your Notes Can Make Music |

130
(2)

| | |
| --- | --- |
| | "Self-Assured, Stressed, and Straight," by Kathleen Phalen |

132
(5)
137
(11)
140
(8)

| | |
| --- | --- |
| | Other Notetaking Techniques |

148
(7)

| | |
| --- | --- |
| | The Research Log: A Jay Leno Approach |

148
(3)
151
(4)

| | |
| --- | --- |
| | First Layer: Story the Source |

151
(1)

| | |
| --- | --- |
| | Second Layer: Rapid Summary |

151
(3)

| | |
| --- | --- |
| | Third Layer: Narrative of Thought |

154
(1)

| | |
| --- | --- |
| | Digging Deeper for Information: Advanced Searching Techniques |

155
(10)
155
(1)
155
(5)

| | |
| --- | --- |
| | Essays and Articles Buried in Books |

157
(1)
158
(1)

| | |
| --- | --- |
| | Unpublished Scholarly Papers |

158
(1)

| | |
| --- | --- |
| | Searching the Invisible Web |

159
(1)

| | |
| --- | --- |
| | Using Specialized Search Engines |

159
(1)
160
(1)
160
(5)
160
(1)
160
(1)
160
(1)
161
(1)
161
(1)
161
(1)
161
(4)
162
(1)
162
(1)
162
(1)
163
(2)
Chapter 4 The Fourth Week
165
(48)
165
(42)

| | |
| --- | --- |
| | When the Experts Disagree |

166
(10)

| | |
| --- | --- |
| | Evaluating Conflicting Claims |

167
(16)

| | |
| --- | --- |
| | EXERCISE 4.1 Grade Inflation: Myth or Reality? |

167
(1)

| | |
| --- | --- |
| | First Claim: Grading Has Become More Lenient |

168
(1)

| | |
| --- | --- |
| | Opposing Claim: No Substantial Grade Inflation |

173
(3)
176
(1)

| | |
| --- | --- |
| | EXERCISE 4.2 Reclaiming Your Topic |

176
(1)
177
(5)

| | |
| --- | --- |
| | Deciding Whether to Say I |

182
(1)

| | |
| --- | --- |
| | Getting Personal without Being Personal |

183
(1)

| | |
| --- | --- |
| | Beginning at the Beginning |

183
(6)

| | |
| --- | --- |
| | Flashlights or Floodlights? |

184
(2)
186
(3)

| | |
| --- | --- |
| | EXERCISE 4.3 Three Ways In |

187
(2)
189
(3)

| | |
| --- | --- |
| | Considering Purpose, Audience, Subject, and Who You Are |

189
(3)

| | |
| --- | --- |
| | The Differing Voices of Research |

190
(2)

| | |
| --- | --- |
| | Writing for Reader Interest |

192
(7)

| | |
| --- | --- |
| | Working the Common Ground |

192
(3)

| | |
| --- | --- |
| | Topics for Which Common Ground Is Hard to Find |

194
(1)

| | |
| --- | --- |
| | Putting People on the Page |

195
(1)
195
(1)
195
(1)
196
(2)
196
(2)
198
(1)

| | |
| --- | --- |
| | Considering Patterns of Development |

199
(1)

| | |
| --- | --- |
| | The Exploratory Research Essay |

199
(3)

| | |
| --- | --- |
| | The Argumentative Research Paper |

202
(1)
202
(5)

| | |
| --- | --- |
| | Blending Kinds of Writing and Sources |

203
(4)
204
(1)

| | |
| --- | --- |
| | Handling Interview Material |

205
(2)
207
(1)
207
(6)

| | |
| --- | --- |
| | An Alternative to Colliding Footnotes |

207
(1)

| | |
| --- | --- |
| | I Hate These Theses to Pieces |

208
(2)

| | |
| --- | --- |
| | Driving Through the First Draft |

210
(3)

| | |
| --- | --- |
| | A Draft Is Something the Wind Blows Through |

210
(3)
Chapter 5 The Fifth Week
213
(34)
213
(13)

| | |
| --- | --- |
| | EXERCISE 5.1 Wrestling with the Draft |

214
(2)

| | |
| --- | --- |
| | The Thesis as a Tool for Revision |

216
(5)

| | |
| --- | --- |
| | EXERCISE 5.2 Dissecting the Fish |

220
(1)
221
(2)

| | |
| --- | --- |
| | What You Need from a Reader |

221
(4)

| | |
| --- | --- |
| | EXERCISE 5.3 Directing the Reader's Response |

222
(1)
223
(3)

| | |
| --- | --- |
| | EXERCISE 5.4 Cut-and-Paste Revision |

223
(2)
225
(1)
226
(1)
226
(1)
227
(11)
227
(2)
229
(1)

| | |
| --- | --- |
| | How to Control Information |

229
(3)
232
(1)

| | |
| --- | --- |
| | How Well Do You Integrate Sources? |

232
(1)

| | |
| --- | --- |
| | Is Each Paragraph Unified? |

232
(1)
232
(5)
232
(2)
234
(1)
234
(2)
236
(2)

| | |
| --- | --- |
| | EXERCISE 5.5 Cutting Clutter |

237
(1)

| | |
| --- | --- |
| | Stock Phrases in Research Papers |

237
(1)

| | |
| --- | --- |
| | Preparing the Final Manuscript |

238
(8)

| | |
| --- | --- |
| | Considering "Reader-Friendly" Design |

239
(1)

| | |
| --- | --- |
| | Following MLA Conventions |

240
(1)
240
(9)

| | |
| --- | --- |
| | Proofreading on a Computer |

240
(1)
241
(1)

| | |
| --- | --- |
| | EXERCISE 5.6 Picking Off the Lint |

241
(1)
242
(2)

| | |
| --- | --- |
| | Using the "Find" Function |

244
(1)
245
(1)

| | |
| --- | --- |
| | Looking Back and Moving On |

246
(1)
Appendix A Guide to MLA Style
247
(58)

| | |
| --- | --- |
| | Part One: Citing Sources in Your Essay |

249
(10)
249
(1)

| | |
| --- | --- |
| | The Common Knowledge Exception |

249
(1)

| | |
| --- | --- |
| | 1.2 The MLA Author/Page System |

249
(10)

| | |
| --- | --- |
| | The Basics of Using Parenthetical Citation |

250
(7)

| | |
| --- | --- |
| | 1.2.1 Placement of Citations |

251
(2)

| | |
| --- | --- |
| | 1.2.2 When You Mention the Author's Name |

253
(1)

| | |
| --- | --- |
| | 1.2.3 When There Is No Author |

253
(1)

| | |
| --- | --- |
| | 1.2.4 Works by the Same Author |

254
(1)
255
(1)

| | |
| --- | --- |
| | 1.2.6 Personal Interviews |

256
(1)

| | |
| --- | --- |
| | 1.2.7 Several Sources in a Single Citation |

256
(1)

| | |
| --- | --- |
| | Sample Parenthetical References for Other Sources |

257
(2)
257
(1)

| | |
| --- | --- |
| | 1.2.9 A Volume of a Multivolume Work |

257
(1)

| | |
| --- | --- |
| | 1.2.10 Several Sources for a Single Passage |

257
(1)
257
(1)
258
(1)
259
(4)
259
(4)
259
(1)

| | |
| --- | --- |
| | 2.1.2 Margins and Spacing |

259
(1)
260
(1)
260
(1)

| | |
| --- | --- |
| | 2.1.5 Placement of Tables, Charts, and Illustrations |

260
(1)
261
(1)

| | |
| --- | --- |
| | 2.1.7 Italics and Underlinings |

262
(1)
262
(1)
262
(1)
262
(1)
262
(1)

| | |
| --- | --- |
| | Part Three: Preparing the "Works Cited" Page |

263
(29)
264
(1)
264
(1)
264
(1)
265
(7)
266
(1)
266
(1)

| | |
| --- | --- |
| | Publication Place, Publisher, and Date |

266
(1)
266
(1)
267
(1)

| | |
| --- | --- |
| | 3.2.1 A Book by One Author |

267
(1)

| | |
| --- | --- |
| | 3.2.2 A Book by Two Authors |

267
(1)

| | |
| --- | --- |
| | 3.2.3 A Book with More Than Three Authors |

267
(1)

| | |
| --- | --- |
| | 3.2.4 Several Books by the Same Author |

267
(1)

| | |
| --- | --- |
| | 3.2.5 A Collection or Anthology |

268
(1)

| | |
| --- | --- |
| | 3.2.6 A Work in a Collection or Anthology |

268
(1)

| | |
| --- | --- |
| | 3.2.7 An Introduction, Preface, Foreword, or Prologue |

268
(1)

| | |
| --- | --- |
| | 3.2.8 A Book with No Author |

269
(1)
269
(1)

| | |
| --- | --- |
| | 3.2.10 A Book with an Institutional Author |

269
(1)

| | |
| --- | --- |
| | 3.2.11 A Book with Multiple Volumes |

269
(1)

| | |
| --- | --- |
| | 3.2.12 A Book That Is Not a First Edition |

270
(1)

| | |
| --- | --- |
| | 3.2.13 A Book Published Before 1900 |

270
(1)
270
(1)

| | |
| --- | --- |
| | 3.2.15 Government Documents |

270
(1)

| | |
| --- | --- |
| | 3.2.16 A Book That Was Republished |

271
(1)
271
(1)
272
(5)
272
(1)
272
(1)
272
(1)
272
(1)
273
(1)
273
(1)

| | |
| --- | --- |
| | Sample Periodical Citations |

273
(1)
273
(1)
274
(1)

| | |
| --- | --- |
| | 3.3.3 A Newspaper Article |

274
(1)

| | |
| --- | --- |
| | 3.3.4 An Article with No Author |

275
(1)
275
(1)

| | |
| --- | --- |
| | 3.3.6 A Letter to the Editor |

276
(1)
276
(1)
276
(1)

| | |
| --- | --- |
| | 3.4 Citing Nonprint and Other Sources |

277
(4)
277
(1)

| | |
| --- | --- |
| | 3.4.2 Surveys, Questionnaires, and Case Studies |

278
(1)
278
(1)

| | |
| --- | --- |
| | 3.4.4 Television and Radio Programs |

279
(1)

| | |
| --- | --- |
| | 3.4.5 Films, Videotapes, and DVD |

279
(1)
280
(1)
280
(1)

| | |
| --- | --- |
| | 3.4.8 Lectures and Speeches |

280
(1)
281
(1)

| | |
| --- | --- |
| | 3.5 Citing CD-Roms and Other "Portable" Databases |

281
(2)

| | |
| --- | --- |
| | 3.5.1 A Nonperiodical Database |

281
(1)

| | |
| --- | --- |
| | 3.5.2 A Periodical Database |

282
(1)

| | |
| --- | --- |
| | 3.6 Citing Online Databases |

283
(9)

| | |
| --- | --- |
| | Other Recent Changes by the MLA |

284
(1)
284
(1)

| | |
| --- | --- |
| | Address Mistakes Are Fatal |

285
(1)
286
(1)
286
(1)

| | |
| --- | --- |
| | 3.6.2 An Article or Abstract in a Library Database |

286
(1)
287
(3)

| | |
| --- | --- |
| | 3.6.4 A Personal or Professional Web Site |

290
(1)
290
(1)
291
(1)
291
(1)
292
(1)

| | |
| --- | --- |
| | 3.6.9 Synchronous Communication (MOOS, MUDS, IRCS) |

292
(1)

| | |
| --- | --- |
| | Part Four: Student Essay in MLA Style |

292
(13)

| | |
| --- | --- |
| | "Big Picture Dreams" by Carolyn Thorne |

294
(11)
Appendix B Guide to APA Style
305
(38)

| | |
| --- | --- |
| | Part One: How the Essay Should Look |

308
(6)
308
(6)
308
(1)
308
(1)
309
(1)
309
(2)

| | |
| --- | --- |
| | 1.1.5 Handling Quoted Material |

311
(1)
312
(1)
312
(1)
312
(1)
313
(1)

| | |
| --- | --- |
| | 1.1.10 Language and Style |

313
(1)

| | |
| --- | --- |
| | Part Two: Citing Sources in Your Essay |

314
(4)

| | |
| --- | --- |
| | 2.1 The APA Author/Page System |

314
(4)

| | |
| --- | --- |
| | 2.1.1 When the Author Is Mentioned in the Text |

314
(1)

| | |
| --- | --- |
| | 2.1.2 When the Author Isn't Mentioned in the Text |

314
(1)

| | |
| --- | --- |
| | 2.1.3 When to Cite Page Numbers |

314
(1)

| | |
| --- | --- |
| | 2.1.4 A Single Work by Two or More Authors |

315
(1)

| | |
| --- | --- |
| | 2.1.5 A Work with No Author |

315
(1)

| | |
| --- | --- |
| | 2.1.6 Two or More Works by the Same Author |

315
(1)

| | |
| --- | --- |
| | 2.1.7 An Institutional Author |

316
(1)

| | |
| --- | --- |
| | 2.1.8 Multiple Works in the Same Parentheses |

316
(1)

| | |
| --- | --- |
| | 2.1.9 Interviews, E-Mail, and Letters |

317
(1)

| | |
| --- | --- |
| | 2.1.10 New Editions of Old Works |

317
(1)
317
(1)

| | |
| --- | --- |
| | Part Three: Preparing the "References" List |

318
(13)
318
(1)
318
(2)
318
(1)
319
(1)
319
(1)

| | |
| --- | --- |
| | Periodical Title and Publication Information |

319
(1)
320
(6)
320
(1)

| | |
| --- | --- |
| | 3.3.2 A Journal Article Not Paginated Continuously |

320
(1)
320
(1)

| | |
| --- | --- |
| | 3.3.4 A Newspaper Article |

321
(1)
321
(1)

| | |
| --- | --- |
| | 3.3.6 A Book or Article with More Than One Author |

321
(1)

| | |
| --- | --- |
| | 3.3.7 A Book or Article with an Unknown Author |

321
(1)

| | |
| --- | --- |
| | 3.3.8 An Encyclopedia Entry |

322
(1)

| | |
| --- | --- |
| | 3.3.9 A Book with an Institutional Author |

322
(1)

| | |
| --- | --- |
| | 3.3.10 A Book with an Editor |

322
(1)

| | |
| --- | --- |
| | 3.3.11 A Selection in a Book with an Editor |

323
(1)

| | |
| --- | --- |
| | 3.3.12 A Republished Work |

323
(1)
323
(1)

| | |
| --- | --- |
| | 3.3.14 A Source Mentioned by Another Source |

324
(1)
324
(1)

| | |
| --- | --- |
| | 3.3.16 A Government Document |

324
(1)

| | |
| --- | --- |
| | 3.3.17 A Letter to the Editor |

324
(1)

| | |
| --- | --- |
| | 3.3.18 A Published Interview |

325
(1)

| | |
| --- | --- |
| | 3.3.19 A Film or Videotape |

325
(1)

| | |
| --- | --- |
| | 3.3.20 A Television Program |

325
(1)

| | |
| --- | --- |
| | 3.3.21 A Musical Recording |

326
(1)

| | |
| --- | --- |
| | 3.3.22 A Computer Program |

326
(1)

| | |
| --- | --- |
| | 3.4 Citing Electronic Sources |

326
(5)

| | |
| --- | --- |
| | 3.4.1 An Electronic Version of an Article Also in Print |

326
(1)

| | |
| --- | --- |
| | 3.4.2 An Article Only on the Internet |

327
(1)
327
(1)

| | |
| --- | --- |
| | 3.4.4 An Article or Abstract from a Library Database |

328
(1)
328
(1)
329
(1)

| | |
| --- | --- |
| | 3.4.7 A Newspaper Article |

329
(1)
329
(1)
330
(1)
331
(1)

| | |
| --- | --- |
| | 3.4.11 CD-ROM Databases and Encyclopedias |

331
(1)

| | |
| --- | --- |
| | Part Four: Sample Paper in APA Style |

331
(12)

| | |
| --- | --- |
| | "What's Love Got to Do with It? Compatability and Marital Success" by Jennifer Suittor |

333
(10)
Appendix C Tips for Researching and Writing Papers on Literary Topics
343
(24)
343
(1)
344
(3)
345
(1)
345
(1)
345
(1)
346
(1)

| | |
| --- | --- |
| | Researching the Genre or Tradition |

346
(1)

| | |
| --- | --- |
| | Sample Essay: Personal Response |

347
(12)

| | |
| --- | --- |
| | "I Can Relate to It" Is Only a Start |

348
(1)

| | |
| --- | --- |
| | "Breaking the 'Utter Silence': A Response to Orwell's 'Marrakech'," by Kazuko Kuramoto |

349
(10)

| | |
| --- | --- |
| | Sample Critical Essay: Formal Response |

359
(8)

| | |
| --- | --- |
| | "Nature as Being: Landscape in Silko's 'Lullaby'," by Julie Bird |

360
(7)
Index
367