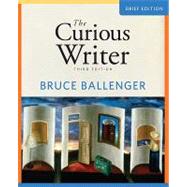 Questions About This Book?
Why should I rent this book?
Renting is easy, fast, and cheap! Renting from eCampus.com can save you hundreds of dollars compared to the cost of new or used books each semester. At the end of the semester, simply ship the book back to us with a free UPS shipping label! No need to worry about selling it back.
How do rental returns work?
Returning books is as easy as possible. As your rental due date approaches, we will email you several courtesy reminders. When you are ready to return, you can print a free UPS shipping label from our website at any time. Then, just return the book to your UPS driver or any staffed UPS location. You can even use the same box we shipped it in!
What version or edition is this?
This is the 3rd edition with a publication date of 1/5/2010.
What is included with this book?
The Used copy of this book is not guaranteed to include any supplemental materials. Typically, only the book itself is included.
The Rental copy of this book is not guaranteed to include any supplemental materials. You may receive a brand new copy, but typically, only the book itself.
Summary
The Curious Writer is an assignment-oriented reader-rhetoric that stresses the connections between personal and academic writing. Offering a unique, entertaining, and personal author voice, The Curious Writer is sure to grab the reader's interest and motivates them to write. Also distinctive is The Curious Writerrs"s emphasis on inquiry as both a driving force behind the writing process and a method of discovery and learning. The book operates on the principle that writers who begin with questions, rather than answers, achieve better results in their work. It treats research, revision, and critical reading skills (of both texts and visuals) as organic components of every writing process. Each of the eight writing assignment chapters offers integrated coverage of these three key activities and also provides special attention to the Web as a resource for invention and research.
Table of Contents
Preface xxxi
Acknowledgments xxxviii
PART1
THE SPIRIT OF INQUIRY 1
CHAPTER 1 WRITING AS INQUIRY 3
Motives for Writing 4
Beliefs About Writing 5
EXERCISE 1.1 What Do You Believe? 5
ONE STUDENT'S RESPONSE Bernice's Journal 6
INQUIRING INTO THE DETAILS Journals 7
Unlearning Unhelpful Beliefs 7
The Beliefs of This Book 8
INQUIRING INTO THE DETAILS Portfolios 9
Writing Situations and Rhetorical Choices 9
Habits of Mind 11
Start with Questions, Not Answers 11
Suspend Judgment 12
Search for Surprise 14
EXERCISE 1.2 A Roomful of Details 14
ONE STUDENT'S RESPONSE Bernice's Journal 15
INQUIRING INTO THE DETAILS Invention Strategies 16
Writing as a Process 17
EXERCISE 1.3 What Is Your Process? 18
Thinking About Your Process 22
EXERCISE 1.4 Literacy Narrative Collage 22
Writing Creatively, Writing Critically: A Process of Writing 23
EXERCISE 1.5 Alternating Currents of Thought: Generating and Judging 25
Thinking and Writing Dialectically 26
INQUIRING INTO THE DETAILS Organizing Your Computer Files 27
Opening Questions 29
Questions, Creativity, and Critical Thinking: A Strategy for Inquiry 30
EXERCISE 1.6 Writing with the Wrong Hand and Other Ways of Thinking About Yourself as a Writer 32
THEWRITING PROCESS 35
Inquiry Project: The Writing Literacy Memoir 35
SAMPLE STUDENT ESSAY Bernice Olivas, Writing a New path 36
EXERCISE 1.7 Taking a Reflective Turn 38
Using What You Have Learned 39
CHAPTER 2 READING AS INQUIRY 41
Motives for Reading 42
Beliefs About Reading 43
EXERCISE 2.1 What Do You Believe? 43
ONE STUDENT'S RESPONSE Briana's Journal 44
Reading Situations and Rhetorical Choices 45
ONE STUDENT'S RESPONSE Briana's Journal 47
EXERCISE 2.2 Reading Autobiography 50
Reading as a Process 51
Reading to Write 51
Goal-Directed Reading 53
EXERCISE 2.3 What Do You Know and When Did You Know It? 55
ONE STUDENT'S RESPONSE Briana's Journal 56
Inquiry Questions for Reading to Write 56
INQUIRING INTO THE DETAILS Reading Perspectives 57
Reading Dialectically 61
INQUIRING INTO THE DETAILS Visual Literacy: Reading Photographs 64
EXERCISE 2.4 Reading Creatively, Reading Critically 64
READINGS Bruce Ballenger, "The Importance of Writing Badly" 65
ONE STUDENT'S RESPONSE Briana's Journal 67
Read to Write and Write to Read 69
THE WRITING PROCESS 70
Inquiry Project: The Reading Literacy Memoir 70
STUDENT ESSAY Briana Duquette-Shackley, Reading Literacy Memoir 71
INQUIRING INTO THE DETAILS The Double-Entry Journal 73
INQUIRING INTO THE DETAILS Encountering Unfamiliar Genres 74
Using What You Have Learned 75
PART2
INQUIRY PROJECTS 77
CHAPTER 3 WRITING A PERSONAL ESSAY 79
Writing About Experience 79
Motives for Writing a Personal Essay 80
The Personal Essay and Academic Writing 81
Features of the Form 82
READINGS83
PERSONAL ESSAY 1 Scott Russell Sanders, "Buckeye" 83
Inquiring into the Essay 88
PERSONAL ESSAY 2 Laura Zazulak, "Every Morning for Five Years" 89
Inquiring into the Essay 90
PERSONAL ESSAY 3 Judith Ortiz Cofer, "One More Lesson" 91
Inquiring into the Essay 94
SEEING THE FORM Nautilus Shell 95
WRITING IN THE DISCIPLINES The Personal Academic Essay 96
WRITING IN YOUR LIFE Essaying "This I Belive" 97
THE WRITING PROCESS 98
Inquiry Project: Writing a Personal Essay 98
Thinking About Subjects 98
Generating Ideas 98
ONE STUDENT'S RESPONSE Margaret's Journal 99
Listing Prompts 99
Fastwriting Prompts 99
Visual Prompts 100
Research Prompts 101
INQUIRING INTO THE DETAILS Clustering or Mapping 101
Judging What You Have 103
What's Promising Material and What Isn't? 103
Questions About Purpose and Audience 103
Questions for Reflection 103
Writing the Sketch 104
STUDENT SKETCH Amanda Stewart, "Earning a Sense of Place" 105
Moving from Sketch to Draft 106
Evaluating Your Own Sketch 106
Questions for Peer Review 107
Reflecting on What You've Learned 107
Research and Other Strategies: Gathering More Information 107
Composing the Draft 108
INQUIRING INTO THE DETAILS More than One Way to Tell a Story 109
Methods of Development 110
Using Evidence 111
Workshopping the Draft 111
Reflecting on the Draft 111
Questions for Readers 111
Revising the Draft 112
Polishing the Draft 113
STUDENT ESSAY Julia C. Arredondo, "Beet Field Dreams" 114
Evaluating the Essay 116
Using What You Have Learned 117
CHAPTER 4 WRITING A PROFILE 119
Writing About People 119
Motives for Writing a Profile 120
The Profile and Academic Writing 121
Features of the Form 122
READINGS123
PROFILE 1 Sonja Livingston, "Thumb-Sucking Girl" 123
Inquiring into the Essay 123
PROFILE 2 Anonymous, "Soup" 124
Inquiring into the Essay 126
PROFILE 3 Timothy Egan, "Alfalfa Bill" 128
Inquiring into the Essay 130
PROFILE 4 Gib Akin, "Learning About Work from Joe Cool" 131
Inquiring into the Essay 135
SEEING THE FORM Roy Takeno Reading Paper in Front of Office by Ansel Adams 136
THE WRITING PROCESS 137
Inquiry Project: Representative Profile 137
Thinking About Subjects 137
Generating Ideas 137
Listing Prompts 138
ONE STUDENT'S RESPONSE Jennifer's Journal 138
Fastwriting Prompts 139
Visual Prompts 139
Research Prompts 140
ONE STUDENT'S RESPONSE Bruce's Journal 140
Judging What You Have 140
What's Promising Material and What Isn't? 141
Questions About Audience and Purpose 141
Interviewing 142
Making Contact 142
WRITING IN YOUR LIFE Digital Profiles 143
Conducting the Interview 145
INQUIRING INTO THE DETAILS Recording Interviews 146
Listening and Watching 146
INTERVIEW NOTES Margaret Parker, "Medical Student" 147
Writing the Sketch 149
Moving from Sketch to Draft 149
Evaluating Your Own Sketch 150
Questions for Peer Review 150
Reflecting on What You've Learned 150
Research and Other Strategies: Gathering More Information 151
Composing the Draft 151
WRITING IN THE DISCIPLINES Giving History a Face and a
Voice 151
Methods of Development 152
Using Evidence 152
Workshopping the Draft 152
Reflecting on the Draft 153
Questions for Readers 153
Revising the Draft 153
Polishing the Draft 154
STUDENT ESSAY Margaret Parker, "Medical Student" 156
Evaluating the Essay 158
Using What You Have Learned 159
CHAPTER 5 WRITING A REVIEW 161
Writing That Evaluates 161
Motives for Writing a Review 162
The Review and Academic Writing 163
WRITING IN THE DISCIPLINES Evaluation Across the Disciplines 163
Features of the Form 164
READINGS166
REVIEW 1 Mark Kermode, "Pirates of the Caribbean: Dead Man's
Chest" 166
Inquiring into the Essay 168
REVIEW 2 Ezra Dyer, "A Ton (Just Barely) of Fun" 170
Inquiring into the Essay 172
REVIEW 3 Seth Schiesel, "Grand Theft Auto Takes on New York" 173
Inquiring into the Essay 176
SEEING THE FORM Choosing the Best Picture 176
THE WRITING PROCESS 178
Inquiry Project: Writing a Review 178
Thinking About Subjects 178
Generating Ideas 178
Listing Prompts 178
Fastwriting Prompts 179
Visual Prompts 179
Research Prompts 179
Judging What You Have 180
WRITING IN YOUR LIFE Online Product Reviews 180
What's Promising Material and What Isn't? 181
Questions About Audience and Purpose 182
EXERCISE 5.1 From Jury to Judgment 182
ONE STUDENT'S RESPONSE Sam's Journal 184
Thinking About Criteria 184
INQUIRING INTO THE DETAILS Collaborating on Criteria 185
Writing the Sketch 186
STUDENT SKETCH Sam Battey, "River Birch: A Diamond in the
Rough" 186
Moving from Sketch to Draft 188
Evaluating Your Own Sketch 188
Questions for Peer Review 189
Reflecting on What You've Learned 189
Research and Other Strategies: Gathering More Information 189
Re-Experience 189
Interview 189
Read 190
Composing the Draft 190
Methods of Development 191
Using Evidence 191
Workshopping the Draft 191
Reflecting on the Draft 191
ONE STUDENT'S RESPONSE Christy's Journal 192
Questions for Readers 192
Revising the Draft 193
Polishing the Draft 193
STUDENT ESSAY Sam Battey, "River Birch: A Diamond in the
Rough" 195
Evaluating the Essay 197
Using What You Have Learned 197
CHAPTER 6 WRITING A PROPOSAL 199
Writing About Problems and Solutions 199
Problems of Consequence 200
Problems of Scale 201
Motives for Writing a Proposal 202
The Proposal and Academic Writing 202
Features of the Form 203
READINGS205
PROPOSAL 1 David S. Johnston, "Housing and Our Military" 205
Inquiring into the Essay 207
PROPOSAL 2 UC Santa Cruz Dining Services, "Green Dining" 208
Inquiring into the Essay 210
PROPOSAL 3 Michael Pollan, "Why Bother?" 211
Inquiring into the Essay 216
WRITING IN THE DISCIPLINES Writing a Research Proposal 216
SEEING THE FORM A Problem in Pictures: "No Space for Bikes" 217
THE WRITING PROCESS 219
Inquiry Project: Writing a Proposal 219
Thinking About Subjects 219
Generating Ideas 219
Listing Prompts 219
ONE STUDENT'S RESPONSE Caesar's Journal 220
Fastwriting Prompts 220
ONE STUDENT'S RESPONSE Gina's Journal 221
Visual Prompts 222
INQUIRING INTO THE DETAILS Causation 222
Research Prompts 223
Judging What You Have 223
What's Promising Material and What Isn't? 223
Questions About Audience and Purpose 224
Questions of Form 224
Research Considerations 224
Writing the Sketch 225
STUDENT SKETCH Gina Sinisi, "Clothing Optional" 226
Moving from Sketch to Draft 227
Evaluating Your Own Sketch 227
ONE STUDENT'S RESPONSE Gina's Journal 227
Questions for Peer Review 228
Reflecting on What You Learned 228
Research and Other Strategies: Gathering More Information 228
WRITING IN YOUR LIFE Grant Proposals and Group Ethos 229
Composing the Draft 230
Methods of Development 230
Using Evidence 231
INQUIRING INTO THE DETAILS Evidence–A Case Study 232
Workshopping the Draft 232
Reflecting on the Draft 232
Questions for Readers 233
Revising the Draft 233
Polishing the Draft 235
STUDENT ESSAY Gina Sinisi, "Clothing Optional" 235
Evaluating the Essay 238
Using What You Have Learned 238
CHAPTER 7 WRITING AN ARGUMENT 241
Writing to Persuade People 241
What Is Argument? 242
Two Sides to Every Argument? 243
Argument and Inquiry 246
Suspending Judgment 246
Making Judgments 246
Analyzing Argument 247
Using Toulmin 249
Using Logical Fallacies 251
INQUIRING INTO THE DETAILS Common Logical Fallacies 251
Motives for Writing an Argument 252
The Argument and Academic Writing 253
Features of the Form 254
WRITING IN YOUR LIFE Public Argument in a Digital Age 256
READINGS257
ARGUMENT 1 Khalid Sheikh Mohammed, "The Language of War Is
Killing" 257
Inquiring into the Essay 258
INQUIRING INTO THE DETAILS Some Basic Argument Strategies 259
ARGUMENT 2 Jeff Jacoby, "A Teacher with Faith and Reason" 260
Inquiring into the Essay 261
ARGUMENT 3 Loye Young, "Is Humiliation an Ethically Appropriate
Response to Plagiarism?" 263
Inquiring into the Essay 264
SEEING THE FORM The "Imagetext" as Argument 265
THE WRITING PROCESS 266
Inquiry Project: Writing a Public Argument 266
Thinking About Subjects 266
Generating Ideas 267
Listing Prompts 267
Fastwriting Prompts 267
Visual Prompts 268
ONE STUDENT'S RESPONSE Ben's Journal 268
Research Prompts 269
Judging What You Have 270
What's Promising Material and What Isn't? 270
Questions About Audience and Purpose 271
Research Considerations 271
Narrowing the Question 273
Writing the Sketch 273
STUDENT SKETCH Ben Bloom, "How to Really Rock the Vote" 274
Moving from Sketch to Draft 275
Evaluating Your Own Sketch 275
Questions for Peer Review 275
Reflecting on What You've Learned 276
Research and Other Strategies: Gathering More Information 276
Composing the Draft 278
Methods of Development 279
Using Evidence 280
INQUIRING INTO THE DETAILS What Evidence Can Do 280
Workshopping the Draft 281
Reflecting on the Draft 281
Questions for Readers 281
Revising the Draft 281
WRITING IN THE DISCIPLINES Argument in Academic Disciplines 282
Polishing the Draft 283
STUDENT ESSAY Kelly Sundberg, "I Am Not a Savage" 284
Evaluating the Essay 286
Using What You Have Learned 286
CHAPTER 8 WRITING A CRITICAL ESSAY 289
Writing About Literature 289
Motives for Writing a Critical Essay 290
The Critical Essay and Academic Writing 291
Features of the Form 292
READINGS293
SHORT STORY 1 Ursula Le Guin, "The Ones Who Walk Away from
Omelas" 293
Inquiring into the Story 298
ONE STUDENT'S RESPONSE Bernice's Double-Entry Journal 298
SHORT STORY 2 Leslie Marmon Silko, "Lullaby" 300
Inquiring into the Story 307
ONE STUDENT'S RESPONSE Noel's Journal 308
WRITING IN THE DISCIPLINES Why Literary Theory Is Not a Sleep Aid 308
ESSAY Sarah Vowell, "Shooting Dad" 310
INQUIRING INTO THE DETAILS How to Read Nonfiction 315
Inquiring into the Essay 316
SEEING THE FORM Christina's World by Andrew Wyeth 316
THE WRITING PROCESS 319
Inquiry Project: Writing a Critical Essay 319
Thinking About Subjects 319
Generating Ideas 320
Listing Prompts 320
Fastwriting Prompts 320
Visual Prompts 321
Research Prompts 321
INQUIRING INTO THE DETAILS Common Literary Devices 322
Judging What You Have 323
What's Promising Material and What Isn't? 323
Questions About Audience and Purpose 324
INQUIRING INTO THE DETAILS What Is a "Strong Reading"? 325
Writing the Sketch 326
STUDENT SKETCH Bernice Olivas, "Who Are 'The Ones Who Walk Away
from Omelas'?" 327
Moving from Sketch to Draft 328
Evaluating Your Own Sketch 328
Questions for Peer Review 328
Reflecting on What You've Learned 328
Research and Other Strategies: Gathering More Information 329
Composing the Draft 329
INQUIRING INTO THE DETAILS Literature on the Web 330
Methods of Development 331
Using Evidence 331
Workshopping the Draft 331
WRITING IN YOUR LIFE Book Groups 332
Reflecting on the Draft 332
Questions for Readers 332
Revising the Draft 333
Polishing the Draft 333
STUDENT ESSAY Bernice Olivas, "Can You Really Walk Away?" 335
Evaluating the Essay 337
Using What You Have Learned 337
CHAPTER 9 WRITING AN ETHNOGRAPHIC ESSAY 339
Writing About Culture 339
Motives for Writing Ethnography 340
Ethnography and Academic Writing 340
Features of the Form 341
READINGS343
ETHNOGRAPHIC ESSAY 1 Judith Ortiz Cofer, "The Myth of the Latin
Woman: Just Met a Girl Named Maria" 344
Inquiring into the Essay 348
ETHNOGRAPHIC ESSAY 2 Patricia Leigh Brown, "For the Muslim Prom
Queen, There are no Kings Allowed" 350
Inquiring into the Essay 353
ETHNOGRAPHIC ESSAY 3 Rebekah Nathan, "My Freshman Year:
Worldliness and Worldview" 354
Inquiring into the Essay 357
SEEING THE FORM Mrs. Smith's Kitchen Table and Vanity the Day After
She Died 358
THE WRITING PROCESS 359
Inquiry Project: Writing an Ethnographic Essay 359
Thinking About Subjects 359
WRITING IN YOUR LIFE Commercial Ethnography 360
Generating Ideas 360
Listing Prompts 360
Fastwriting Prompts 361
Visual Prompts 362
Research Prompts 362
INQUIRING INTO THE DETAILS Researching Trends and Subcultures on
the Web 363
Judging What You Have 363
What's Promising Material and What Isn't? 363
Questions About Audience and purpose 364
Research Considerations 365
INQUIRING INTO THE DETAILS Questions Ethnographers Ask 365
INQUIRING INTO THE DETAILS Ethnography and Ethics 366
FIELD NOTES Rita Guerra, "Field Notes on Friday Afternoon at Emerald
Lanes" 368
Writing the Sketch 370
Moving from Sketch to Draft 371
Evaluating Your Own Sketch 371
Questions for Peer Review 371
Reflecting on What You've Learned 371
Research and Other Strategies: Gathering More Information 372
INQUIRING INTO THE DETAILS Useful Library Databases for
Ethnography 372
Composing the Draft 373
Methods of Development 373
WRITING IN THE DISCIPLINES Digital Ethnography 373
Using Evidence 374
Workshopping the Draft 375
Reflecting on the Draft 375
Questions for Readers 375
Revising the Draft 375
Polishing the Draft 377
STUDENT ESSAY Kersti Harter, "Beyond 'Gaydar': How Gay Males
Identify Other Gay Males" 378
Evaluating the Essay 388
Using What You Have Learned 388
PART3
INQUIRING DEEPER 389
CHAPTER 10 WRITING A RESEARCH ESSAY 391
Writing with Research 391
Research Essays, Research Papers, and Research Reports 392
Motives for Writing a Research Essay 393
The Research Essay and Academic Writing 394
Features of the Form 395
READINGS397
UNDOCUMENTED RESEARCH ESSAY Brian Doyle, "Joyas Voladoras" 397
Inquiring into the Essay 399
DOCUMENTED RESEARCH ESSAY Beth Bailey, "The Worth of a
Date" 400
Inquiring into the Essay 404
INQUIRING INTO THE DETAILS Reading Academic Research Essays 404
DOCUMENTED RESEARCH PAPER Tracy Lambert, Arnold Kahn, and
Kevin Apple, "Pluralistic Ignorance and Hooking Up" 405
Inquiring into the Essay 414
SEEING THE FORM Idaho State Penitentiary, Women's Prison 415
THE WRITING PROCESS 417
Inquiry Project: Write a Research Essay 417
Thinking About Subjects 417
Generating Ideas 418
Listing Prompts 418
Fastwriting Prompts 418
ONE STUDENT'S RESPONSE Julian's Journal 419
Visual Prompts 419
Research Prompts 419
Judging What You Have 420
What's Promising Material and What Isn't? 421
Is It a Researchable Question? 421
Questions About Audience and Purpose 422
INQUIRING INTO THE DETAILS Finding the Focusing Question 423
ONE STUDENT'S RESPONSE Julian's Journal 424
Writing the Sketch 424
STUDENT SKETCH Amy Garrett-Brown, "Why Do People Tan?" 425
Moving from Sketch to Draft 426
Evaluating Your Own Sketch 426
Questions for Peer Review 427
Reflecting on What You've Learned 427
Research and Other Strategies: Gathering More Information 427
Composing the Draft 428
Methods of Development 429
Using Evidence 430
Workshopping the Draft 431
Reflecting on the Draft 432
WRITING IN THE DISCIPLINES Being a Stranger in the Village 432
Questions for Readers 433
Revising the Draft 433
WRITING IN YOUR LIFE Everyday Research 435
Polishing the Draft 436
STUDENT ESSAY Gordon E. Seirup, "College Dating" 437
Evaluating the Essay 447
Using What You Have Learned 447
CHAPTER 11 RESEARCH TECHNIQUES 449
Methods of Collecting 449
Research in the Electronic Age 449
Magic Words That Open Doors 451
INQUIRING INTO THE DETAILS The Big Red Books (Online) 451
Google Your Boole 452
Developing Working Knowledge 456
A Strategy for Developing Working Knowledge 458
Developing Focused Knowledge 459
A Strategy for Developing Focused Knowledge 460
Library Research 460
Web Research 462
INQUIRING INTO THE DETAILS Full-Text Articles and the
Convenience Trap 464
INQUIRING INTO THE DETAILS Methods of Recording Information 465
INQUIRING INTO THE DETAILS The Working Bibliography 465
Evaluating Library Sources 466
Evaluating Web Sources 467
Writing in the Middle: Synthesizing Source Information and Your Own
Ideas 470
INQUIRING INTO THE DETAILS How to Annotate a Book 470
Double-Entry Journal 471
Research Log 471
ONE STUDENT'S RESPONSE Claude's Research Log 472
Interviews 474
Arranging Interviews 474
Conducting the Interview 475
Using the Interview in Your Writing 477
Surveys 478
Defining a Survey's Goals and Audience 478
Types of Survey Questions 478
Crafting Survey Questions 479
INQUIRING INTO THE DETAILS Types of Survey Questions 480
Conducting a Survey 481
Using Survey Results in Your Writing 482
Using What You Have Learned 483
CHAPTER 12 USING AND CITING SOURCES 485
Controlling Information 485
Using Sources 486
Summarizing 487
Paraphrasing 488
Quoting 489
Citing Sources 491
Avoiding Plagiarism 493
EXERCISE 12.1 The Accidental Plagiarist 494
MLA Documentation Guidelines 496
INQUIRING INTO THE DETAILS The Common Knowledge Exception 496
Citing Sources 497
Where to Put Citations 498
INQUIRING INTO THE DETAILS Citations That Go with the Flow 498
When You Mention the Author's Name 499
When There Is No Author 499
Works by the Same Author 500
When One Source Quotes Another 501
Personal Interviews 501
Several Sources in a Single Citation 501
Sample Parenthetical References for Other Sources 502
Format 504
The Layout 504
Preparing the Works Cited Page 507
Format 508
Citing Books 509
Sample Book Citations 511
Citing Periodicals 514
Sample Periodical Citations 516
Citing Nonprint and Other Sources 518
A Sample Paper in MLA Style 522
APA Documentation Guidelines 522
How the Essay Should Look 522
Page Format 522
Title Page 523
Abstract 523
Body of the Paper 523
References Page 526
Appendix 526
Notes 526
Tables and Figures 526
Language and Style 527
Citing Sources in Your Essay 527
When the Author Is Mentioned in the Text 527
When the Author Isn't Mentioned in the Text 527
When to Cite Page Numbers 528
A Single Work by Two or More Authors 528
A Work with No Author 528
Two or More Works by the Same Author 528
An Institutional Author 529
Multiple Works in the Same Parentheses 529
Interviews, E-Mail, and Letters 529
New Editions of Old Works 530
A Web Site 530
Preparing the References List 530
Order of Sources 530
Order of Information 530
Sample References: Articles 533
Sample References: Books 534
Sample References: Other 538
A Sample Paper in APA Style 541
Using What You Have Learned 541
PART4
RE-INQUIRING 543
CHAPTER 13 REVISION STRATEGIES 545
Re-seeing Your Topic 545
Divorcing the Draft 546
Strategies for Divorcing the Draft 547
Photography as a Metaphor for Revision 548
Five Categories of Revision 550
Problems of Purpose 551
Revision Strategy 13.1: The Motive Statement 552
Revision Strategy 13.2: What Do You Want to Know About What You
Learned? 553
ONE STUDENT'S RESPONSE Julia's Draft 554
Revision Strategy 13.3: Finding the Focusing Question 554
Revision Strategy 13.4: What's the Relationship? 556
Problems with Meaning 557
Where Does Meaning Come From? 557
Methods for Discovering Your Thesis 558
Revision Strategy 13.5: Find the "Instructive Line" 558
Revision Strategy 13.6: Looping Toward a Thesis 559
Revision Strategy 13.7: Reclaiming Your Topic 560
Revision Strategy 13.8: Believing and Doubting 561
Methods for Refining Your Thesis 562
Revision Strategy 13.9: Questions as Knives 562
Revision Strategy 13.10: Qualifying Your Claim 564
Problems with Information 564
Revision Strategy 13.11: Explode a Moment 565
Revision Strategy 13.12: Beyond Examples 566
Revision Strategy 13.13: Research 567
Revision Strategy 13.14: Backing up Your Assumptions 568
Problems with Structure 568
Formal Academic Structure 569
Revision Strategy 13.15: Beginnings, Middles, Ends, and the Work They Do 570
Revision Strategy 13.16: Reorganizing Around Thesis and Support 571
Revision Strategy 13.17: Multiple Leads 573
INQUIRING INTO THE DETAILS Types of Leads 574
Revision Strategy 13.18: The Frankenstein Draft 574
Revision Strategy 13.19: Make a PowerPoint Outline 576
Problems of Clarity and Style 577
Solving Problems of Clarity 578
Revision Strategy 13.20: The Three Most Important Sentences 578
The First Sentence 578
The Last Line of the first Paragraph 578
The Last line of the Essay 579
Revision Strategy 13.21: Untangling Paragraphs 579
Revision Strategy 13.22: Cutting Clutter 581
INQUIRING INTO THE DETAILS Transition Flags 582
Revision Strategy 13.23: The Actor and the Action Next Door 583
Improving Style 584
Revision Strategy 13.24: Actors and Actions 584
Revision Strategy 13.25: Smoothing the Choppiness 585
Revision Strategy 13.26: Fresh Ways to Say Things 586
Using What You Have Learned 587
CHAPTER 14 THE WRITER'S WORKSHOP 589
Making the Most of Peer Review 589
Being Read 589
Divorcing the Draft 590
Instructive Talk 591
Models for Writing Workshops 592
Full-Class Workshops 592
Small-Group Workshops 593
One-on-One Peer Review 594
The Writer's Responsibilities 594
The Reader's Responsibilities 595
What Can Go Wrong and What to Do About It 596
INQUIRING INTO THE DETAILS Finding a Role 596
EXERCISE 14.1 Group Problem Solving 597
ONE STUDENT'S RESPONSE Amy's Perspective on Workshops 598
Methods of Responding 599
Experiential and Directive Responses 599
Response Formats 599
The No-Response Workshop 600
The Initial-Response Workshop 600
The Narrative-of-Thought Workshop 601
The Instructive-Lines Workshop 602
The Purpose Workshop 602
The Graphing Reader Interest Workshop 603
The Sum-of-the-Parts Workshop 604
The Thesis Workshop 605
The Editing Workshop 606
Reflecting on the Workshop 608
Using What You Have Learned 608
APPENDIX A The Writing Portfolio 609
What Is a Portfolio? 609
Types of Portfolios 610
Unevaluated Portfolios 610
Evaluated Portfolio 611
Why Require a Portfolio? 612
Organizing Portfolios 613
Writing a Reflective Letter or Essay 614
Final Preparations 616
APPENDIX B The Literature Review 617
What Is a Literature Review? 617
How to Write the Literature Review 618
Gathering Materials 618
Reading Strategies 619
Organizing 620
APPENDIX C The Annotated Bibliography 623
What Is an Annotated Bibliography? 623
How to Write an Annotated Bibliography 624
Gathering Materials 625
Reading Strategies 625
Writing the Annotated Bibliography 626
Sample Student Annotated Bibliography 626
APPENDIX D The Essay Exam 631
How to Write Essay Exams 633
Gathering Materials 633
Anticipating the Exam 633
Analyzing Essay Questions 634
Planning and Drafting 637
Credits
Index