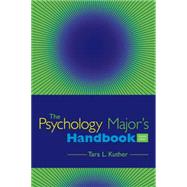 Custom Enrichment Module: The Psychology Majorís Handbook
by
Kuther, Tara L.
Questions About This Book?
What version or edition is this?
This is the 2nd edition with a publication date of 7/5/2005.
What is included with this book?
The Used copy of this book is not guaranteed to include any supplemental materials. Typically, only the book itself is included.
Related Products
Summary
The information you need to make informed decisions about whether to pursue psychology as a major and career is found in this handbook--as are useful tips that will help you succeed in their psychology course. The first chapter introduces you to the scope of psychology and the subspecialties within psychology. Subsequent chapters help you assess your skills, abilities, and interests. Career opportunities are presented so you can decide whether psychology is an appropriate major for you.
Author Biography
Tara L. Kuther is an assistant professor of developmental psychology at Western Connecticut State University, where she teaches courses in child, adolescent, and adult development
Table of Contents
Preface
xix
Acknowledgments
xxi
Dear Student
xxii
Chapter 1 What Is Psychology?
1
(12)
1
(1)
2
(5)
3
(1)
4
(1)
4
(1)
4
(1)
5
(1)
5
(1)
5
(1)
5
(1)

| | |
| --- | --- |
| | Industrial-Organizational Psychology |

6
(1)
6
(1)

| | |
| --- | --- |
| | Psychometrics and Quantitative Psychology |

6
(1)
6
(1)
7
(1)

| | |
| --- | --- |
| | Differences Among Psychologists, Psychiatrists, Social Workers, and Counselors |

7
(1)
7
(1)
8
(1)
8
(1)
8
(1)
8
(1)

| | |
| --- | --- |
| | Overview of The Psychology Major's Handbook |

9
(2)

| | |
| --- | --- |
| | Exercise 1.1: Psychology in the Media |

10
(1)

| | |
| --- | --- |
| | Exercise 1.2: Internet Scavenger Hunt |

10
(1)
11
(1)
11
(1)

| | |
| --- | --- |
| | American Psychological Association |

11
(1)
11
(1)

| | |
| --- | --- |
| | Psychology: Scientific Problem Solvers...Carvers for the 21st Century |

11
(1)
12
(1)

| | |
| --- | --- |
| | Classics in the History of Psychology |

12
(1)

| | |
| --- | --- |
| | Psi Chi: The National Honor Society in Psychology |

12
(1)
Chapter 2 Choosing a Major: Is Psychology for You?
13
(18)
13
(1)

| | |
| --- | --- |
| | Writing and Self-Awareness |

14
(2)
15
(1)
16
(1)

| | |
| --- | --- |
| | What Should You Write About? |

16
(1)
17
(1)
17
(10)

| | |
| --- | --- |
| | Assess Your Personality and Attitudinal Traits |

18
(5)

| | |
| --- | --- |
| | Exercise 2.1: Assessing Your Personality Traits |

18
(5)

| | |
| --- | --- |
| | Assess Your Skills and Abilities |

23
(1)

| | |
| --- | --- |
| | Exercise 2.2: Assess Your Skills |

23
(1)
24
(1)
25
(1)
25
(3)

| | |
| --- | --- |
| | CHECKLIST 2.1: Steps in Choosing a Major |

26
(1)
27
(1)
28
(1)
28
(1)
28
(1)
28
(1)
28
(1)
29
(1)
29
(1)
29
(2)
29
(1)
29
(1)
29
(1)
30
(1)
Chapter 3 Take an Active Role in Your Education
31
(26)
31
(1)

| | |
| --- | --- |
| | Consider Your Goal: What Are You Really Learning in College? |

32
(4)
32
(1)
33
(1)

| | |
| --- | --- |
| | Listening and Note-Taking Skills |

33
(1)

| | |
| --- | --- |
| | Memory, Critical Thinking, and Problem-Solving Skills |

33
(1)

| | |
| --- | --- |
| | Organizational and Time Management Skills |

34
(1)
34
(1)
35
(1)

| | |
| --- | --- |
| | Develop Professional Relationships with Faculty |

36
(7)
36
(3)

| | |
| --- | --- |
| | Quiz 3.1: Do You Display Appropriate In- and Out-of-Class Behavior? |

36
(2)

| | |
| --- | --- |
| | CHECKLIST 3.1: What Not to Do: Behaviors That Most Faculty Abhor |

38
(1)
39
(1)

| | |
| --- | --- |
| | CHECKLIST 3.2: Advising Checklist |

39
(1)

| | |
| --- | --- |
| | The Importance of a Mentor |

40
(3)

| | |
| --- | --- |
| | CHECKLIST 3.3: Choosing an Effective Mentor |

42
(1)

| | |
| --- | --- |
| | Active Learning Outside the Classroom |

43
(11)
43
(9)

| | |
| --- | --- |
| | CHECKLIST 3.4: Checklist for Preparing Effective Paper Presentations |

46
(1)

| | |
| --- | --- |
| | CHECKLIST 3.5: Tips for Preparing Effective Poster Presentations |

47
(5)

| | |
| --- | --- |
| | Field Experience: Internships and Practica |

52
(1)

| | |
| --- | --- |
| | Involvement in Organizations |

53
(1)
54
(1)
55
(1)
55
(1)
55
(1)

| | |
| --- | --- |
| | Becoming an Active Learner |

55
(1)
55
(2)
55
(1)

| | |
| --- | --- |
| | Relationships With Faculty |

56
(1)
56
(1)
56
(1)
Chapter 4 Study Tips: Tools for Academic Success
57
(25)
57
(2)

| | |
| --- | --- |
| | Self-Awareness: The Key to Success |

59
(2)

| | |
| --- | --- |
| | Exercise 4.1: Study Skills Assessment |

59
(2)
61
(6)

| | |
| --- | --- |
| | Quiz 4.1: Time Management Quiz |

61
(1)

| | |
| --- | --- |
| | Benefits of Time Management |

62
(2)

| | |
| --- | --- |
| | Take Control of Your Time |

64
(3)

| | |
| --- | --- |
| | Reading: Tips for Improving Comprehension and Efficiency |

67
(3)
67
(1)
68
(1)
69
(1)

| | |
| --- | --- |
| | Getting the Most Out of Lectures: Note-Taking Tips |

70
(2)
70
(1)

| | |
| --- | --- |
| | Determine the Main Points |

70
(1)

| | |
| --- | --- |
| | Prepare for Listening and Learning |

71
(1)
71
(1)
72
(4)
72
(2)

| | |
| --- | --- |
| | Quiz 4.2: Study Environment Quiz |

73
(1)
74
(1)
74
(2)
76
(3)

| | |
| --- | --- |
| | Preview Your Test: Read Everything |

76
(1)
76
(1)
77
(1)
78
(1)

| | |
| --- | --- |
| | Learn From Returned Tests |

79
(1)
79
(1)
80
(1)
80
(1)
80
(1)
80
(1)

| | |
| --- | --- |
| | Learning Strategies: Maximizing Your Academic Experience |

80
(1)
80
(2)
80
(1)
81
(1)
81
(1)

| | |
| --- | --- |
| | Evaluating Time Management Strategies |

81
(1)
Chapter 5 Writing a Literature Review
82
(24)
82
(1)

| | |
| --- | --- |
| | What Is a Literature Review? |

83
(1)
84
(9)
84
(3)
87
(3)

| | |
| --- | --- |
| | Choose an Interesting Topic |

90
(1)

| | |
| --- | --- |
| | Choose an Appropriate Match to Your Abilities |

91
(1)
91
(2)

| | |
| --- | --- |
| | Exercise 5.1: Using PsychINFO |

92
(1)
93
(3)
93
(1)
94
(2)

| | |
| --- | --- |
| | Recording Your Research: Take Notes |

96
(4)
96
(1)
97
(3)

| | |
| --- | --- |
| | Exercise 5.2: Understanding and Avoiding Plagiarism |

99
(1)
100
(4)
100
(1)
100
(1)
101
(1)
102
(2)

| | |
| --- | --- |
| | CHECKLIST 5.1: Literature Review Checklist |

103
(1)
104
(1)
104
(1)
104
(1)

| | |
| --- | --- |
| | Writing a Review Article for Psychological Bulletin |

104
(1)

| | |
| --- | --- |
| | Writing a Psychology Literature Review |

104
(1)
104
(1)
104
(1)
105
(1)
105
(1)
105
(1)
105
(1)
105
(1)
Chapter 6 Writing an Empirical Paper
106
(18)
106
(1)

| | |
| --- | --- |
| | APA Style: The Publication Manual of the American Psychological Association |

107
(1)

| | |
| --- | --- |
| | Structure of an Empirical Paper |

108
(7)
108
(1)
109
(1)
109
(2)
111
(1)
112
(1)
112
(1)
113
(2)
115
(1)

| | |
| --- | --- |
| | Exercise 6.1: Understanding Journal Articles |

115
(1)
116
(1)
116
(1)
116
(1)

| | |
| --- | --- |
| | Writing the Empirical Journal Article |

116
(1)
117
(1)

| | |
| --- | --- |
| | How to Write a Research Report in Psychology |

117
(1)

| | |
| --- | --- |
| | APA Style Guide Resources |

117
(1)
117
(1)
117
(1)
117
(1)
117
(1)

| | |
| --- | --- |
| | If I Could Do It All Over |

117
(1)

| | |
| --- | --- |
| | Chapter 6 Appendix: Sample Paper |

118
(6)
Chapter 7 What Can I Do With a Bachelor's Degree in Psychology?
124
(20)
124
(1)

| | |
| --- | --- |
| | Goals of an Undergraduate Education in Psychology |

125
(3)

| | |
| --- | --- |
| | Skills and Abilities Sought by Employers |

128
(3)

| | |
| --- | --- |
| | Jobs for Psychology Majors |

131
(7)

| | |
| --- | --- |
| | Positions in Business Settings |

132
(2)

| | |
| --- | --- |
| | Positions in Social Service Settings |

134
(3)
137
(1)
138
(1)

| | |
| --- | --- |
| | Acquire Useful Skills and Enhance Your Employability |

138
(3)

| | |
| --- | --- |
| | Exercise 7.1: Career Research Exercise |

140
(1)

| | |
| --- | --- |
| | Exercise 7.2: Planning for Your Future |

141
(1)
141
(1)
142
(1)

| | |
| --- | --- |
| | Occupational Outlook Handbook |

142
(1)

| | |
| --- | --- |
| | Occupational Information Network Resource Center |

142
(1)

| | |
| --- | --- |
| | Psychology Careers for the 21st Century |

142
(1)
142
(1)

| | |
| --- | --- |
| | Pursuing Psychology Career Page |

142
(1)

| | |
| --- | --- |
| | Psi Chi: The National Honor Society in Psychology |

142
(1)
143
(1)
143
(1)

| | |
| --- | --- |
| | My Strengths and Weaknesses |

143
(1)
Chapter 8 Finding a Job With Your Bachelor's Degree
144
(18)
144
(1)
145
(1)

| | |
| --- | --- |
| | Completing Job Applications |

145
(1)
146
(5)

| | |
| --- | --- |
| | CHECKLIST 8.1: Skills and Qualities That Employers Seek |

146
(1)
147
(4)
151
(1)
151
(1)

| | |
| --- | --- |
| | CHECKLIST 8.2: Rťsumť Checklist |

151
(1)
152
(3)

| | |
| --- | --- |
| | CHECKLIST 8.3: Cover Letter Checklist |

154
(1)
155
(4)
155
(2)
157
(1)
158
(1)
158
(1)

| | |
| --- | --- |
| | Thinking About a Job Offer |

159
(1)
159
(1)
160
(1)
160
(1)
160
(1)
160
(1)
160
(1)
160
(1)
160
(2)
160
(1)
161
(1)
161
(1)
Chapter 9 What Can I Do With a Graduate Degree in Psychology?
162
(29)
162
(1)

| | |
| --- | --- |
| | Reasons for Pursuing a Graduate Degree: Skills Obtained Through Graduate Study |

163
(3)

| | |
| --- | --- |
| | Specialized Knowledge of Psychology and Appreciation of Multiple Perspectives |

164
(1)

| | |
| --- | --- |
| | Thinking and Problem-Finding, Problem Definition, and Problem-Solving Skills |

164
(1)

| | |
| --- | --- |
| | Information Acquisition, Management, and Synthesis |

165
(1)

| | |
| --- | --- |
| | Methodological and Quantitative Skills |

165
(1)

| | |
| --- | --- |
| | Planning and Leadership Skills |

165
(1)

| | |
| --- | --- |
| | Interpersonal and Intrapersonal Awareness and Agility |

165
(1)

| | |
| --- | --- |
| | Reading, Writing, and Communication Skills |

166
(1)
166
(1)
166
(1)

| | |
| --- | --- |
| | Graduate-Level Careers in Psychology |

166
(5)

| | |
| --- | --- |
| | Exercise 9.1: Exploring Psychology Specializations |

167
(1)
167
(1)
168
(1)
168
(3)
171
(9)

| | |
| --- | --- |
| | Exercise 9.2: Practicing With a Master's Degree |

173
(1)

| | |
| --- | --- |
| | Why Seek a Master's Degree? |

173
(1)

| | |
| --- | --- |
| | Master's Degrees in Psychology |

174
(1)

| | |
| --- | --- |
| | Master's Degrees in Related Fields |

175
(3)

| | |
| --- | --- |
| | Job Outlook for Holders of Master's Degrees in Psychology and Related Fields |

178
(1)

| | |
| --- | --- |
| | Where Are Holders of Master's Degrees Employed? |

178
(1)

| | |
| --- | --- |
| | Are Master's Degree Recipients Satisfied With Their Positions? |

178
(1)

| | |
| --- | --- |
| | How Useful Was Graduate Training? |

179
(1)

| | |
| --- | --- |
| | What Can You Expect to Earn With a Master's Degree? |

179
(1)
180
(4)

| | |
| --- | --- |
| | Doctoral Degrees: PhD, PsyD, and EdD |

181
(3)

| | |
| --- | --- |
| | Employment Outlook for Doctoral-Level Psychologists |

184
(5)

| | |
| --- | --- |
| | Where Are New Psychologists employed? |

184
(1)

| | |
| --- | --- |
| | Are Doctoral Degree Recipients Satisfied With Their Positions? |

184
(1)

| | |
| --- | --- |
| | How Useful Is Graduate Training? |

185
(1)

| | |
| --- | --- |
| | What Can You Expect to Earn With a Doctoral Degree? |

185
(1)

| | |
| --- | --- |
| | Cautions for Clinicians: The Changing Roles of Psychologists |

186
(3)
189
(1)
189
(1)

| | |
| --- | --- |
| | Interesting Careers in Psychology |

189
(1)
189
(1)

| | |
| --- | --- |
| | Early Career Psychologists |

190
(1)

| | |
| --- | --- |
| | Psychology Careers for the 21st Century |

190
(1)
190
(1)
190
(1)

| | |
| --- | --- |
| | Is Graduate School Necessary? |

190
(1)
190
(1)
Chapter 10 Applying to Graduate School in Psychology
191
(37)
191
(1)

| | |
| --- | --- |
| | Should You Go to Graduate School? |

192
(4)

| | |
| --- | --- |
| | ē Quiz 10.1: Is Graduate School for You? |

196
(1)
197
(1)

| | |
| --- | --- |
| | Keys to Graduate School Admission Success |

197
(1)

| | |
| --- | --- |
| | Choosing Graduate Programs |

198
(8)
198
(1)

| | |
| --- | --- |
| | Clinical vs. Counseling Psychology |

199
(3)

| | |
| --- | --- |
| | Quiz 10.2: Do You Really Want to Work With People? |

200
(2)

| | |
| --- | --- |
| | Training Models 201 Consider Your Priorities |

202
(1)

| | |
| --- | --- |
| | Gather Program Information |

202
(1)
203
(8)

| | |
| --- | --- |
| | CHECKLIST 10.1: Characteristics of a Quality PhD Program |

204
(2)

| | |
| --- | --- |
| | What Do Graduate Programs Want? |

206
(1)
207
(4)

| | |
| --- | --- |
| | The Graduate Record Exam General Test |

211
(5)
211
(1)

| | |
| --- | --- |
| | Verbal Section of the GRE |

212
(1)

| | |
| --- | --- |
| | Quantitative Section of the GRE |

213
(1)

| | |
| --- | --- |
| | Analytic Writing Section of the GRE |

213
(1)

| | |
| --- | --- |
| | Preparing for the GRE General Test |

214
(2)
216
(1)

| | |
| --- | --- |
| | Admissions Essays and Personal Statements |

217
(4)
217
(1)
218
(1)
219
(2)

| | |
| --- | --- |
| | Letters of Recommendation |

221
(1)
221
(1)
222
(1)
222
(1)
222
(1)
223
(1)
224
(1)
225
(1)
226
(1)
226
(1)

| | |
| --- | --- |
| | Applying to Graduate School |

226
(1)
226
(1)

| | |
| --- | --- |
| | Psychology Graduate School Portal |

226
(1)

| | |
| --- | --- |
| | Applying to Psychology Graduate School Programs: The Application Process |

227
(1)
227
(1)
227
(1)
227
(1)
References
228
(7)
Index
235