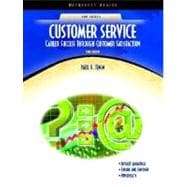 Customer Service: Career Success Through Customer Satisfaction (NetEffect Series)
by
Timm, Paul R.
List Price: $43.60
Usually Ships in 2-3 Business Days

180 day subscription
Questions About This Book?
What version or edition is this?
This is the 3rd edition with a publication date of 1/1/2005.
What is included with this book?
The Used copy of this book is not guaranteed to inclue any supplemental materials. Typically, only the book itself is included.
Summary
KET BENEFIT: This book ties together the best information from trade books and textbooks, and then adds a clear and usable process for developing the kinds of skills, attitudes, and thinking patterns needed to win customer loyalty. The coverage includes positive attitude, customer turnoffs, dissatisfied customers, customer expectations, customer loyalty, winning telephone techniques, and more. This book is for employees and managers of customer service departments and human resource training departments.
Table of Contents
Preface
vii

| | |
| --- | --- |
| | 1 Foster Positive Attitudes |

| | |
| --- | --- |
| | Recognizing the Role of Customer Service in Your Success |

| | |
| --- | --- |
| | Understand That No One Succeeds Without Customer Satisfaction |

3
(1)

| | |
| --- | --- |
| | Recognize All the Players: Customers by Any Other Name... |

4
(1)

| | |
| --- | --- |
| | Strive to Create Customer Partnerships |

4
(2)
6
(1)

| | |
| --- | --- |
| | Recognize the Good News and Bad News About Customer Service |

7
(1)

| | |
| --- | --- |
| | Calculate the Terrible Cost of the Lost Customer |

7
(4)

| | |
| --- | --- |
| | Recognize the Challenge of Translating Slogans and Good Intentions into a Strategy |

11
(1)

| | |
| --- | --- |
| | Know Why Service Is Important to You-Yes, You! |

12
(1)

| | |
| --- | --- |
| | Strive for the Ultimate Coal: Customers for life |

13
(3)
16
(1)
16
(1)
17
(1)
17
(1)
18
(2)

| | |
| --- | --- |
| | 2 Recognize and Deal with Customer Turnoffs |

| | |
| --- | --- |
| | Be Aware That Everyone Has Pet Peeves About Service |

20
(2)

| | |
| --- | --- |
| | Recognize That the Little Things Mean Everything |

22
(2)

| | |
| --- | --- |
| | Identify Three Categories of Customer Turnoffs |

24
(5)

| | |
| --- | --- |
| | Get Your Customers Beyond the "Zone of Indifference" |

29
(1)
30
(1)

| | |
| --- | --- |
| | Recognize the Emotional Element in Service Excellence |

31
(1)

| | |
| --- | --- |
| | Loyalty Comes from Customers' Awareness That Service Is Your Business |

32
(1)

| | |
| --- | --- |
| | Earn Your Customer's Loyalty |

32
(1)

| | |
| --- | --- |
| | Recognize and Eliminate Your Customer's Turnoffs |

32
(6)
38
(1)
39
(1)
40
(1)
40
(1)
40
(4)

| | |
| --- | --- |
| | 3 Deal with Dissatisfied Customers |

| | |
| --- | --- |
| | Here's an Opportunity for You |

| | |
| --- | --- |
| | Maintain a Healthy Customer Retention Attitude |

44
(2)

| | |
| --- | --- |
| | Develop Your Recovery Skills |

46
(2)

| | |
| --- | --- |
| | Understand What Happens if the Customer Is Still Not Satisfied |

48
(1)

| | |
| --- | --- |
| | Look Back and Learn from Each Situation |

49
(1)

| | |
| --- | --- |
| | Handle the Occasional Customer from Hell |

49
(3)

| | |
| --- | --- |
| | Handle a Nasty Complaint Letter |

52
(1)

| | |
| --- | --- |
| | Use the 3 F's (Feel, Felt, Found) to Disarm the Upset Customer |

52
(1)

| | |
| --- | --- |
| | Use Human Relations Skills to Convey Appropriate Tone |

53
(5)

| | |
| --- | --- |
| | Understand That Assertive Behavior Is Not Aggressive Behavior |

58
(3)
61
(1)
61
(1)
61
(1)
62
(1)
62
(6)

| | |
| --- | --- |
| | 4 Exceed Customer Expectations |

| | |
| --- | --- |
| | The Master Key Called A-Plus |

| | |
| --- | --- |
| | Stay Close to Your Customers |

68
(1)

| | |
| --- | --- |
| | Understand Why Customers Do What They Do |

69
(5)

| | |
| --- | --- |
| | Understand Why A-Plus Leads to Customer Retention |

74
(2)

| | |
| --- | --- |
| | Recognize the Positive Side of Equity Theory |

76
(1)

| | |
| --- | --- |
| | Learn to Understand What Customers Anticipate |

77
(1)

| | |
| --- | --- |
| | Strive to Exceed Customer Expectations |

78
(1)

| | |
| --- | --- |
| | Innovate with the Six A-Plus Opportunities: VISPAC |

79
(8)

| | |
| --- | --- |
| | Recognize Where Good A-Plus Ideas Come From |

87
(1)
88
(1)
88
(1)
89
(1)
89
(1)
89
(9)

| | |
| --- | --- |
| | 5 Use Behaviors that Win Customer Loyalty |

| | |
| --- | --- |
| | Recognize That Anything Can Convey a Message |

98
(1)

| | |
| --- | --- |
| | Understand Behavior and Personality Factors That A-Plus Customers |

99
(1)

| | |
| --- | --- |
| | Know Which Individual Behaviors Can Convey Personality |

99
(11)

| | |
| --- | --- |
| | Recognize Organizational Behaviors That Convey the Culture |

110
(8)
118
(1)
118
(1)
119
(1)
119
(1)
119
(5)

| | |
| --- | --- |
| | 6 Apply Winning Telephone Techniques |

| | |
| --- | --- |
| | Use Phone Responsiveness to Create Customer Loyalty |

| | |
| --- | --- |
| | Know the Benefits and Drawbacks of Telephone Communication |

124
(2)

| | |
| --- | --- |
| | Apply These Action Tips for Better Telephone Usage |

126
(15)
141
(1)
141
(1)
141
(1)
141
(1)
141
(5)

| | |
| --- | --- |
| | 7 Use Web Sites to Build Customer Loyalty |

| | |
| --- | --- |
| | Tap Into the Miracle of the Internet |

| | |
| --- | --- |
| | What Is Web-Based Customer Service? |

146
(1)

| | |
| --- | --- |
| | Understand the Categories of Web-Enabled Customer Service |

147
(2)

| | |
| --- | --- |
| | Recognize the Business Case for "Webifying" Customer Service |

149
(2)

| | |
| --- | --- |
| | Apply the Top 10 Action Tips for Avoiding e-Service Problems |

151
(6)
157
(1)
158
(1)
158
(1)
159
(1)
159
(4)

| | |
| --- | --- |
| | 8 Use Written Messages to Boost Customer Satisfaction and Loyalty |

| | |
| --- | --- |
| | Writing Can Create Valuable Ties |

| | |
| --- | --- |
| | Apply These Action Tips When Using Goodwill Messages |

163
(1)

| | |
| --- | --- |
| | Use Sales Follow-up Letters and E-mails |

164
(2)

| | |
| --- | --- |
| | Use Routine Informative Messages |

166
(2)

| | |
| --- | --- |
| | Follow Three General Guidelines for Routine Messages |

168
(1)

| | |
| --- | --- |
| | Write Appreciation Messages |

168
(1)

| | |
| --- | --- |
| | Write Congratulations or Recognition Messages |

169
(1)

| | |
| --- | --- |
| | Express Sympathy or Condolences in Writing |

169
(1)

| | |
| --- | --- |
| | Adhere to a General Pattern in Goodwill Messages |

170
(1)

| | |
| --- | --- |
| | Create Goodwill for the Organization Through News Releases |

170
(2)
172
(1)
173
(1)
173
(1)
173
(1)
174
(2)

| | |
| --- | --- |
| | 9 Get Others to Give Great Service |

| | |
| --- | --- |
| | Roles of the Supervisor, Manager, or Leader |

| | |
| --- | --- |
| | Do the Work of Management |

176
(1)

| | |
| --- | --- |
| | Understand the Key Functions of Management |

176
(2)

| | |
| --- | --- |
| | Recognize How Good Management Requires Good Communication |

178
(1)

| | |
| --- | --- |
| | Recognize That Customers Like Organizations That Communicate Well |

179
(1)

| | |
| --- | --- |
| | Remember That the Customer Determines Communication Success |

180
(1)

| | |
| --- | --- |
| | Employ Specific Management Functions for Customer Service |

181
(6)
187
(1)

| | |
| --- | --- |
| | Spend Time to Instruct and Motivate Employees |

188
(1)

| | |
| --- | --- |
| | Express Approval to Create Worker Motivation |

188
(1)

| | |
| --- | --- |
| | Use the Psychology of Change |

188
(2)

| | |
| --- | --- |
| | Use Appropriate Praise and Criticism |

190
(1)
190
(3)

| | |
| --- | --- |
| | Initiate and Sustain an A-Plus Customer Loyalty Strategy |

193
(4)
197
(1)
197
(1)
198
(1)
198
(1)
198
(5)
10 Understand the Future of Customer Loyalty

| | |
| --- | --- |
| | Changing Conventions in Customer Service |

| | |
| --- | --- |
| | Understand the Technology Shifts for the New Future |

203
(2)

| | |
| --- | --- |
| | Recognize Emerging Trends in Customer Service Technology |

205
(5)

| | |
| --- | --- |
| | Recognize the Social and Economic Shifts for the New Future |

210
(1)

| | |
| --- | --- |
| | Use the New Media for a One-to-One Future |

210
(1)

| | |
| --- | --- |
| | Explore Customer Relationship Management (CRM) and Customer Strategy Solutions |

211
(1)

| | |
| --- | --- |
| | Employ a Customer Strategy |

212
(1)

| | |
| --- | --- |
| | Use Contact Management Systems |

212
(1)

| | |
| --- | --- |
| | Use Interactivity Options Now Available |

213
(1)

| | |
| --- | --- |
| | Use Media Breakthroughs to Allow Better One-to-One Communication |

214
(1)

| | |
| --- | --- |
| | Apply Relationship Marketing: The Only Way to Survive in the Future |

214
(2)

| | |
| --- | --- |
| | Cain Customer Share, Not Market Share |

216
(1)
217
(1)
218
(1)
218
(1)
219
(1)
219
(2)
Appendix: How to Lead or Participate in an A-Plus Idea-Generating Meeting
221
(7)
Index
228