Note: Supplemental materials are not guaranteed with Rental or Used book purchases.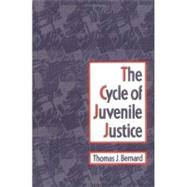 Summary
An analysis of the history of juvenile justice over the last two hundred years, this innovative study shows how juvenile justice policy has gone through cycles of reform advocating either lenient treatments for juvenile offenders or policies supporting a "toughening up" process, bothapproaches resulting in little or no improvement in the treatment of delinquency. Bernard stresses the importance of breaking this repetitive cycle and makes recommendations for a stable juvenile justice policy, one that would not be continuously reformed in the never-ending search for a solution.Analyzing the "best" and "worst" aspects of various policies, as well as the state of the present system, this book will provide an controversial and challenging look at the issues involved in juvenile justice.
Table of Contents
Overview Of The Cycle And Its Origin
Ideas In History, Philosophy, And Law
Ideas in Philosophy
Ideas in Law
The History of Juvenile Delinquency and Juvenile Justice
What Stays The Same In History?
The Behavior of Youths, Especially Young Males
Special Laws for Juveniles
Mitigation of Punishments for Juveniles
Views of Adults About the Behavior of Youth
Belief That Juvenile Justice Policy Increases Crime
The Cycle of Juvenile Justice
The Origin Of Juvenile Delinquency
Juvenile Delinquency as a Modern Phenomenon
Juvenile Delinquency as a Modern Idea
Juvenile Delinquency: An Idea and a Phenomenon
The Origin Of Juvenile Justice - The First Juvenile Institution
Historic Context: New York City Around 1820
The Society for the Prevention of Pauperism
The New York House of Refuge
Legal Issues Related to Juvenile Institutions
The Lessons of History
The Origin Of Juvenile Justice - The First Juvenile Court
Historic Context: Chicago at the Turn of the Century
The First Juvenile Court
Characteristics of the Original Juvenile Court
Legal Issues Concerning the Juvenile Court
The Lessons of History
Juvenile Justice Today - Good Intentions
The Case of Morris Kent
The Case of Gerald Gault
The Case of Samuel Winship
The Case of Joseph McKeiver
The Case of Gary Jones
The Lessons of History
Juvenile Justice Today - Actual Practice
Did the Adjudication Hearing Change in Actual Practice?
Did the Disposition Hearing Change in Actual Practice
The Lessons of History
The Lessons Of History
Predictions: The Cycle Continues
Prescriptions: The Best and the Worst of Each Policy
Breaking the Cycle of Juvenile Justice
An Idea of Juvenile Delinquency: Naive Risk-Taking
An Idea of Juvenile Justice: Communication
Reforming Juvenile Justice
Would These Ideas Sell?
The End Of Juvenile Delinquency
Table of Contents provided by Publisher. All Rights Reserved.