Note: Supplemental materials are not guaranteed with Rental or Used book purchases.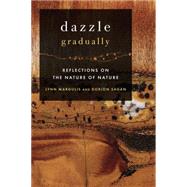 Dazzle Gradually : Reflections on the Nature of Nature
ISBN13:
9781933392318
by
Margulis, Lynn
Summary
The sometimes-dry topics of evolution and ecology come alive in this new collection of essays—many never before anthologized. Learn how technology may be a sort of second nature," how the systemic human fungus Candida albicans can lead to cravings for carrot cake and beer, how the presence of life may be why there's water on Earth, and many other fascinating facts. The essay Metametazoa" presents perspectives on biology in a philosophical context, demonstrating how the intellectual librarian, pornographer, and political agitator Georges Bataille was deeply influenced by Russian mineralogist Vladimir Vernadsky and how Bataille's take on Vernadsky's ideas led to his notion of the absence of meaning in the face of the sun—which later influenced Jacques Derrida, thereby establishing a causal chain of influence from the hard sciences to topics as abstract as deconstruction, postmodernism and continental philosophy. In Spirochetes Awake" the bizarre connections between syphilis, genius, and madness are traced in the lives of Nietzsche, Lincoln, and Mozart among others; and fascinating new evidence suggests that AIDs is not caused by HIV at all, but may rather be an ancient disease caused by microbes that may also have laid the evolutionary framework for the human brain.
Author Biography
Lynn Margulis is Distinguished University Professor in the Department of Geosciences at the University of Massachusetts, Amherst.
Table of Contents
Foreword
p. xi
Acknowledgments
p. xv
Mnemosyne
p. 1
Red Shoe Conundrum
p. 3
Truth of My Father
p. 8
The Uncut Self
p. 16
Chimera
p. 27
Power to the Protoctists
p. 29
Prejudice and Bacterial Consciousness
p. 36
All for One
p. 42
Speculation on Speculation
p. 48
Spirochetes Awake: Syphilis and Nietzsche's Mad Genius
p. 57
From Kefir to Death
p. 70
Welcome to the Machine
p. 76
The Transhumans Are Coming
p. 89
Alien Enlightenment: Michael Persinger and the Neuropsychology of God
p. 101
Eros
p. 109
The Riddle of Sex
p. 112
An Evolutionary Striptease
p. 121
Vive la Difference
p. 140
Candidiasis and the Origin of Clowns
p. 146
Gaea
p. 153
The Atmosphere, Gaia's Circulatory System
p. 157
Gaia and Philosophy
p. 172
The Global Sulfur Cycle and Emiliania huxleyi
p. 185
Descartes, Dualism, and Beyond
p. 195
What Narcissus Saw: The Oceanic "Eye"
p. 208
The Pleasures of Change
p. 223
Readings
p. 238
Figure and table list
p. 245
Index
p. 246
Table of Contents provided by Ingram. All Rights Reserved.