Note: Supplemental materials are not guaranteed with Rental or Used book purchases.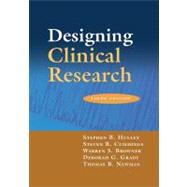 Questions About This Book?
What version or edition is this?
This is the 3rd edition with a publication date of 11/27/2006.
What is included with this book?
The Used copy of this book is not guaranteed to include any supplemental materials. Typically, only the book itself is included.
Summary
Designing Clinical Research sets the standard for providing a practical guide to planning, tabulating, formulating, and implementing clinical research, with an easy-to-read, uncomplicated presentation. This edition incorporates current research methodology--including molecular and genetic clinical research--and offers an updated syllabus for conducting a clinical research workshop. Emphasis is on common sense as the main ingredient of good science. The book explains how to choose well-focused research questions and details the steps through all the elements of study design, data collection, quality assurance, and basic grant-writing. All chapters have been thoroughly revised, updated, and made more user-friendly.
Table of Contents
Contributing Authors
xi
Introduction
xiii
Acknowledgments
xv

| | |
| --- | --- |
| | Section I: Basic Ingredients |

| | |
| --- | --- |
| | Getting Started: The Anatomy and Physiology of Clinical Research |

3
(14)

| | |
| --- | --- |
| | Anatomy of Research: What It's Made Of |

3
(5)

| | |
| --- | --- |
| | Physiology of Research: How It Works |

8
(5)
13
(1)
14
(1)

| | |
| --- | --- |
| | Appendix 1.1: Outline of a Study |

15
(1)
15
(2)

| | |
| --- | --- |
| | Conceiving the Research Question |

17
(10)

| | |
| --- | --- |
| | Origins of a Research Question |

18
(1)

| | |
| --- | --- |
| | Characteristics of a Good Research Question |

19
(3)

| | |
| --- | --- |
| | Developing the Research Question and Study Plan |

22
(1)
23
(2)
25
(1)
25
(2)

| | |
| --- | --- |
| | Choosing the Study Subjects: Specification, Sampling, and Recruitment |

27
(10)
28
(1)
29
(3)
32
(1)
33
(2)
35
(1)

| | |
| --- | --- |
| | Appendix 3.1: Selecting a Random Sample from a Table of Random Numbers |

36
(1)
36
(1)

| | |
| --- | --- |
| | Planning the Measurements: Precision and Accuracy |

37
(14)
38
(1)
39
(2)
41
(4)

| | |
| --- | --- |
| | Other Features of Measurement Approaches |

45
(1)

| | |
| --- | --- |
| | Measurements on Stored Materials |

46
(1)
47
(1)
47
(1)

| | |
| --- | --- |
| | Appendix 4.1: Operations Manual: Operational Definition of a Measurement of Grip Strength |

48
(1)
49
(2)

| | |
| --- | --- |
| | Getting Ready to Estimate Sample Size: Hypotheses and Underlying Principles |

51
(14)
51
(3)

| | |
| --- | --- |
| | Underlying Statistical Principles |

54
(5)
59
(3)
62
(1)
63
(2)

| | |
| --- | --- |
| | Estimating Sample Size and Power: Applications and Examples |

65
(32)

| | |
| --- | --- |
| | Sample Size Techniques for Analytic Studies and Experiments |

65
(6)

| | |
| --- | --- |
| | Other Considerations and Special Issues |

71
(2)

| | |
| --- | --- |
| | Sample Size Techniques for Descriptive Studies |

73
(2)

| | |
| --- | --- |
| | What to do When Sample Size is Fixed |

75
(1)

| | |
| --- | --- |
| | Strategies for Minimizing Sample Size and Maximizing Power |

76
(5)

| | |
| --- | --- |
| | How to Estimate Sample Size When there is Insufficient Information |

81
(1)
82
(1)
83
(1)

| | |
| --- | --- |
| | Appendix 6A: Sample Size Required per Group When Using the t Test to Compare Means of Continuous Variables |

84
(2)

| | |
| --- | --- |
| | Appendix 6B: Sample Size Required per Group When Using the Chi-Squared Statistic or Z Test to Compare Proportions of Dichotomous Variables |

86
(3)

| | |
| --- | --- |
| | Appendix 6C: Total Sample Size Required When Using the Correlation Coefficient (r) |

89
(1)

| | |
| --- | --- |
| | Appendix 6D: Sample Size for a Descriptive Study of a Continuous Variable |

90
(1)

| | |
| --- | --- |
| | Appendix 6E: Sample Size for a Descriptive Study of a Dichotomous Variable |

91
(1)

| | |
| --- | --- |
| | Appendix 6F: Use and Misuse of t Tests |

92
(1)
93
(4)

| | |
| --- | --- |
| | Section II: Study Designs |

97
(12)

| | |
| --- | --- |
| | Prospective Cohort Studies |

97
(2)

| | |
| --- | --- |
| | Retrospective Cohort Studies |

99
(1)

| | |
| --- | --- |
| | Nested Case--Control and Case--Cohort Studies |

100
(3)

| | |
| --- | --- |
| | Multiple-Cohort Studies and External Controls |

103
(1)

| | |
| --- | --- |
| | Other Cohort Study Issues |

104
(2)
106
(1)
106
(3)

| | |
| --- | --- |
| | Designing Cross-Sectional and Case-Control Studies |

109
(18)
109
(3)
112
(9)

| | |
| --- | --- |
| | Choosing Among Observational Designs |

121
(1)
121
(1)

| | |
| --- | --- |
| | Appendix 8A: Calculating Measures of Association |

122
(1)

| | |
| --- | --- |
| | Appendix 8B: Why the Odds Ratio Can Be Used as an Estimate for Relative Risk in a Case-Control Study |

123
(2)
125
(2)

| | |
| --- | --- |
| | Enhancing Causal Inference in Observational Studies |

127
(20)
127
(4)

| | |
| --- | --- |
| | Real Associations Other than Cause-Effect |

131
(1)

| | |
| --- | --- |
| | Coping With Confounders in the Design Phase |

132
(5)

| | |
| --- | --- |
| | Coping with Confounders in the Analysis Phase |

137
(4)

| | |
| --- | --- |
| | Underestimation of Causal Effects |

141
(1)
141
(2)
143
(1)

| | |
| --- | --- |
| | Appendix 9A: Hypothetical Example of Confounding and Interaction |

144
(1)

| | |
| --- | --- |
| | Appendix 9B: A Simplified Example of Adjustment |

145
(1)
146
(1)

| | |
| --- | --- |
| | Designing a Randomized Blinded Trial |

147
(16)

| | |
| --- | --- |
| | Selecting the Intervention and Control Conditions |

147
(3)

| | |
| --- | --- |
| | Choosing Outcome Measurements |

150
(2)

| | |
| --- | --- |
| | Selecting the Participants |

152
(2)

| | |
| --- | --- |
| | Measuring Baseline Variables |

154
(1)
155
(4)
159
(1)
160
(3)

| | |
| --- | --- |
| | Alternative Trial Designs and Implementation Issues |

163
(20)

| | |
| --- | --- |
| | Alternative Clinical Trial Designs |

163
(7)

| | |
| --- | --- |
| | Conducting a Clinical Trial |

170
(9)
179
(1)

| | |
| --- | --- |
| | Appendix 11.1: Interim Monitoring of Trial Outcomes |

180
(1)
181
(2)

| | |
| --- | --- |
| | Designing Studies of Medical Tests |

183
(24)

| | |
| --- | --- |
| | Determining Whether a Test is Useful |

183
(3)

| | |
| --- | --- |
| | Studies of Test Reproducibility |

186
(2)

| | |
| --- | --- |
| | Studies of the Accuracy of Tests |

188
(4)

| | |
| --- | --- |
| | Studies of the Effect of Test Results on Clinical Decisions |

192
(1)

| | |
| --- | --- |
| | Studies of Feasibility, Costs, and Risks of Tests |

193
(1)

| | |
| --- | --- |
| | Studies of the Effect of Testing on Outcomes |

194
(2)

| | |
| --- | --- |
| | Pitfalls in the Design or Analysis of Diagnostic Test Studies |

196
(3)
199
(1)

| | |
| --- | --- |
| | Appendix 12A: Calculation of Kappa to Measure Interobserver Agreement |

200
(2)

| | |
| --- | --- |
| | Appendix 12B: Numerical Example of Verification Bias: 1 |

202
(1)

| | |
| --- | --- |
| | Appendix 12C: Numerical Example of Verification Bias: 2 |

203
(1)
204
(3)

| | |
| --- | --- |
| | Utilizing Existing Databases |

207
(18)

| | |
| --- | --- |
| | Advantages and Disadvantages |

207
(1)
208
(3)
211
(2)
213
(5)
218
(1)

| | |
| --- | --- |
| | Appendix 13.1: Statistical Methods for Meta-Analysis |

219
(1)
220
(5)

| | |
| --- | --- |
| | Section III: Implementation |

| | |
| --- | --- |
| | Addressing Ethical Issues |

225
(16)
225
(1)

| | |
| --- | --- |
| | Federal Regulations for Research on Human Subjects |

226
(5)

| | |
| --- | --- |
| | Research Participants who Require Additional Protections |

231
(1)

| | |
| --- | --- |
| | Responsibilities of Investigators |

232
(3)

| | |
| --- | --- |
| | Ethical Issues Specific to Certain Types of Research |

235
(1)
236
(1)
237
(1)
237
(4)

| | |
| --- | --- |
| | Designing Questionnaires and Interviews |

241
(16)

| | |
| --- | --- |
| | Designing Good Instruments |

241
(9)

| | |
| --- | --- |
| | Steps in Assembling the Instruments for the Study |

250
(2)

| | |
| --- | --- |
| | Administering the Instruments |

252
(1)
253
(1)

| | |
| --- | --- |
| | Appendix 15.1: An Example of a Questionnaire about Smoking |

254
(1)
255
(2)
257
(14)
257
(4)
261
(5)

| | |
| --- | --- |
| | Extracting Data (Queries) |

266
(1)

| | |
| --- | --- |
| | Identifying and Correcting Errors in the Data |

267
(1)
268
(1)

| | |
| --- | --- |
| | Confidentiality and Security |

268
(1)
269
(1)
269
(2)

| | |
| --- | --- |
| | Implementing the Study and Quality Control |

271
(20)
272
(4)
276
(3)

| | |
| --- | --- |
| | Quality Control During the Study |

279
(7)
286
(1)

| | |
| --- | --- |
| | Appendix 17.1: Example of an Operations Manual Table of Contents |

286
(1)

| | |
| --- | --- |
| | Appendix 17.2: Quality Control Tables and Checklists |

287
(2)
289
(2)

| | |
| --- | --- |
| | Community and International Studies |

291
(10)

| | |
| --- | --- |
| | Why Community and International Research? |

291
(2)
293
(1)
294
(5)
299
(1)
299
(2)

| | |
| --- | --- |
| | Writing and Funding a Research Proposal |

301
(16)
301
(2)
303
(6)

| | |
| --- | --- |
| | Characteristics of Good Proposals |

309
(1)

| | |
| --- | --- |
| | Finding Support for Research |

310
(5)
315
(1)
316
(1)
Exercises
317
(14)
Answers to Exercises
331
(22)
Subject Index
353