Note: Supplemental materials are not guaranteed with Rental or Used book purchases.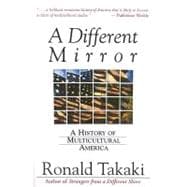 Different Mirror : A History of Multicultural America
ISBN13:
9780316831116
by
Takaki, Ronald
Questions About This Book?
What version or edition is this?
This is the Revised edition with a publication date of 6/1/1994.
What is included with this book?
The Used copy of this book is not guaranteed to include any supplemental materials. Typically, only the book itself is included.
Summary
A dramatic retelling of our nation's past by today's preeminent multiculturalism scholar, Ronald Takaki, this book examines America's history in "a different mirror"-from the perspective of the minority peoples themselves. Beginning with the colonization of the "New World" and ending with the Los Angeles riots of 1992, this book recounts the history of America in the voices of the non-Anglo peoples of the United States-Native Americans, African Americans, Jews, Irish Americans, Asian Americans, Latinos, and others-groups who helped create this country's rich mosaic culture. In this significant work of scholarship, Professor Takaki grapples with the raw truth of American history and examines the ultimate question of what it means to be an American.
Author Biography
Ronald Takaki is a professor in the Ethnic Studies Department at the University of California, Berkeley, and the author of six books, including Strangers from a Different Shore. He lives in Berkeley, California.
Table of Contents
Author's Note
v
1
(20)
PART ONE: BOUNDLESSNESS
21
(58)
Before Columbus: Vinland
21
(3)

| | |
| --- | --- |
| | 2 The "Tempest" in the Wilderness: The Racialization of Savagery |

24
(27)

| | |
| --- | --- |
| | Shakespeare's Dream about America |

25
(19)

| | |
| --- | --- |
| | A World Turned Upside Down |

44
(7)

| | |
| --- | --- |
| | 3 The "Giddy Multitude": The Hidden Origins of Slavery |

51
(28)

| | |
| --- | --- |
| | A View from the Cabins: White and Black Laborers in Early Virginia |

52
(9)

| | |
| --- | --- |
| | "English and Negroes in Armes" |

61
(7)
68
(11)
PART TWO: BORDERS
79
(146)
Prospero Unbound: The Market Revolution
79
(5)

| | |
| --- | --- |
| | 4 Toward the Stony Mountains: From Removal to Reservation |

84
(22)

| | |
| --- | --- |
| | Andrew Jackson: Symbol for an Age |

84
(4)

| | |
| --- | --- |
| | The Land-Allotment Strategy: The Choctaw Experience |

88
(5)

| | |
| --- | --- |
| | The Treaty Strategy: The Cherokees' Trail of Tears |

93
(5)

| | |
| --- | --- |
| | Where the Buffalo No Longer Roam |

98
(8)

| | |
| --- | --- |
| | 5 No More Peck o'Corn: Slavery and Its Discontents |

106
(33)

| | |
| --- | --- |
| | Racial Borders in the Free States |

107
(3)
110
(12)
122
(4)

| | |
| --- | --- |
| | Black Nationalism: Nostalgia in the Niger |

126
(5)

| | |
| --- | --- |
| | "Tell Linkum Dat We Wants Land" |

131
(8)

| | |
| --- | --- |
| | 6 Emigrants from Erin: Ethnicity and Class within White America |

139
(27)
139
(7)

| | |
| --- | --- |
| | An "Immortal Irish Brigade" of Workers |

146
(8)

| | |
| --- | --- |
| | The Irish Maid in America |

154
(6)

| | |
| --- | --- |
| | The Irish "Ethnic" Strategy |

160
(6)

| | |
| --- | --- |
| | 7 Foreigners in Their Native Land: Manifest Destiny in the Southwest |

166
(25)

| | |
| --- | --- |
| | "In the Hands of an Enterprising People" |

166
(11)
177
(7)

| | |
| --- | --- |
| | The Making of a Mexican Proletariat |

184
(7)

| | |
| --- | --- |
| | 8 Searching for Gold Mountain: Strangers from a Pacific Shore |

191
(34)
192
(12)

| | |
| --- | --- |
| | Chinese Calibans: The Borders of Exclusion |

204
(5)

| | |
| --- | --- |
| | Twice a Minority: Chinese Women in America |

209
(6)
215
(10)
PART THREE: DISTANCES
225
(148)
The End of the Frontier
225
(3)

| | |
| --- | --- |
| | 9 The "Indian Question": From Reservation to Reorganization |

228
(18)

| | |
| --- | --- |
| | Wounded Knee: The Significance of the Frontier in Indian History |

228
(3)

| | |
| --- | --- |
| | The Father of the Reservation System |

231
(3)

| | |
| --- | --- |
| | Allotment and Assimilation |

234
(4)

| | |
| --- | --- |
| | The Indian New Deal: The Remaking of Native America |

238
(8)

| | |
| --- | --- |
| | 10 Pacific Crossings: Seeking the Land of Money Trees |

246
(31)

| | |
| --- | --- |
| | Picture Brides in America |

247
(4)
251
(15)

| | |
| --- | --- |
| | Transforming the Land: From Deserts to Farms |

266
(11)

| | |
| --- | --- |
| | 11 Between "Two Endless Days": The Continuous Journey to the Promised Land |

277
(34)
277
(6)
283
(5)

| | |
| --- | --- |
| | In the Sweatshops: An Army of Garment Workers |

288
(5)
293
(5)

| | |
| --- | --- |
| | Up from Greenhorns: Crossing Delancey Street |

298
(13)

| | |
| --- | --- |
| | 12 El Norte: The Borderland of Chicano America |

311
(29)
312
(5)

| | |
| --- | --- |
| | A Reserve Army of Chicano Labor |

317
(9)

| | |
| --- | --- |
| | The Internal Borders of Exclusion |

326
(8)

| | |
| --- | --- |
| | The Barrio: Community in the Colony |

334
(6)

| | |
| --- | --- |
| | 13 To the Promised Land: Blacks in the Urban North |

340
(33)
341
(6)
347
(8)

| | |
| --- | --- |
| | Yearning for Blackness in Urban America |

355
(11)

| | |
| --- | --- |
| | "But a Few Pegs to Fall": The Great Depression |

366
(7)
PART FOUR: CROSSINGS
373
(56)
The Ashes at Dachau
373
(5)

| | |
| --- | --- |
| | 14 Through a Glass Darkly: Toward the Twenty-first Century |

378
(51)

| | |
| --- | --- |
| | A War for Democracy: Fighting as One People |

378
(21)
399
(30)
A Note of Appreciation
429
(1)
Notes
430
(65)
Index
495
(13)
About the Author
508