Note: Supplemental materials are not guaranteed with Rental or Used book purchases.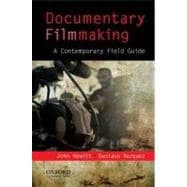 Summary
Documentary Filmmaking: A Contemporary Field Guide is a skills-oriented, step-by-step portable guide to creating documentary films, from the initial idea phase to postproduction processes and distribution. An indispensable resource on site or in the studio, this compact handbook offers something for all types of students: documentary recommendations (for the film buff); illustrations and examples from working documentary makers, producers, editors, and distributors (for the more grounded, visual learner); the latest trends in Internet video and other forms of new media (for the more "techie" documentarian); and even practical financial tips, fundraising ideas, and legal considerations (for the more idealistic--and not always realistic--visionary). Organized by the chronological structure of documentary film creation, the book opens with ideas, motives, access, and preproduction questions. It then moves on to research, crew considerations, legal issues, production planning, film shoots, and interviewing issues, before wrapping up with postproduction organization, publicity, distribution, and festivals. Offering a strong focus on practical advice and ethics, Documentary Filmmaking is an ideal text for undergraduate- and graduate-level documentary film courses. FEATURES Step-by-step information for producing documentaries, including many useful checklists Detailed hands-on advice and class-tested instructional organization backed by the authors' combined forty years of teaching experience--and by their combined sixty years of independent documentary work An up-to-date and careful look at the latest distribution market structure and innovative media for distribution Brief structure and compact size that encourages portability Unique chapters covering Internet video, the use of music, and publicity and distribution
Author Biography

John Hewitt is Professor Emeritus in the Department of Broadcast and Electronic Communication Arts at San Francisco State University.
Gustavo Vazquez is Assistant Professor in the Department of Film and Digital Media at the University of California, Santa Cruz.

Table of Contents
Getting Started
Developing Your Idea and Doing the Research
The Role of the Producer Testing the Waters Narrative Structures Doing the Research Gaining Access to Sources
The Long-term Project and You
Building Characters and the Visual Story
The Interplay of Characters and Sequences Subjects as Personalities Capturing Visual Sequences
Visual Style Decisions Ethics and Visuals
Preparing for Collaboration Friendly Collaboration
Participants Outside Collaborators Choosing Collaborators Contracts
Proposals, Budgets, and Fundraising Preparing for Fundraising Sources of Money
Grants Co-productions and Pre-sales Proposals and Budgets Sample Treatment
Preproduction
Preparation for the Long Haul Office
Needs Access Problems Shooting Abroad Scripting in Advance
Legal Issues Equipment and Crews
Production
Planning for Interviews Priorities
The Art of Conversational Inquiry Planning a Visual Style At the Interview
Location During the Interview
Sound Considerations The Value of Good Audio
The Sound Recordist
The Types of Location Sound
The Cinematographer Alone Audio Basics Legal Issues
Natural or Portable Lighting Light and Cameras
Using Natural Light Light Basics Portable Lights Safety Issues
Production: Shooting the Documentary
The Art of Cinematography
The Director and the Cinematographer Production Crews Visual Grammar Framing Shots with Intention
Schedules and Preparation Selecting Additional Equipment
Internet and Small Screen Video
The Internet's Promise Trailers and Web Buzz
User Generated Sites Aesthetics of the Small Screen Copyrights and Pirating
Postproduction
Using Music in Your Documentary Choosing the Music Pre-recorded Music and Licenses Original Music
The Producer's Search for Structure Overall
Organizing Strategies Finding the Story in the Edit Room Structural Models
Paper Edit Scripts Writing for the Ear
Practicing the Editor's Art
The Relationship of the Producer and Editor Finding Structure
Preparation for the Edit Process Beginning
Post With and Without Scripts
The Timeline of Editing
Exposure, Publicity, Distribution, and Festivals Publicity
Exposure and Deals Deliverables, Screeners, and Press Kits
Website Types Rights Film Festivals and Film markets
Broadcast and Educational Markets Screenings and Local Display Appendix
Documentaries to See
Table of Contents provided by Publisher. All Rights Reserved.