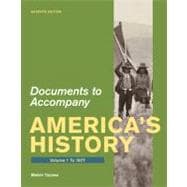 Questions About This Book?
What version or edition is this?
This is the 7th edition with a publication date of 1/10/2011.
What is included with this book?
The New copy of this book will include any supplemental materials advertised. Please check the title of the book to determine if it should include any CDs, lab manuals, study guides, etc.
Customer Reviews
very enjoyable
March 12, 2011
by





I purchased this book from here and I think it is one of the best books documenting American history. I normally sell my books back, but this textbook is full of information and incidents that I wanted to keep. It is very helpful in developing an AP American History course. It's so much more interesting than any other textbook in the same field.

Flag Review
---
Documents for America's History, Volume I: To 1877

:
stars based on
1
user reviews.
Summary
Designed to accompany America's History, Seventh Edition, this primary-source reader offers a chorus of voices from the past to enrich the study of U.S. history. Document selections written by both celebrated historical figures and ordinary people demonstrate the diverse history of America while putting a human face on historical experience. A broad range of documents, from speeches and petitions to personal letters and diary entries, paints a vivid picture of the social and political lives of Americans, encouraging student engagement with the textbook material. Brief introductions place each document in historical context, and questions for analysis help link the individual primary sources to larger historical themes.
Author Biography
Melvin Yazawa is Professor of History at the University of New Mexico, where he has taught since 1984. He has been the recipient of a Presidential Lectureship, the Snead-Wertheim Lectureship, a Faculty Recognition Award, and the Graduate Students' Teaching Award. A specialist on the American Revolution and the early Republic, he has written Representative Government and the Revolution: The Maryland Constitutional Crisis of 1789 (1975); From Colonies to Commonwealth: Familial Ideology and the Beginnings of the American Republic (1985); The Diary and Life of Samuel Sewall (1998); and numerous journal articles and book chapters.  He is currently working on a book on the politics of union and disunion in America, 1776-1815.
Kevin J. Fernlund is Professor of History and Education at the University of Missouri-St. Louis, the Executive Director of the Western History Association, and a Fulbright Scholar.  He is the author of the biographies Lyndon B. Johnson and Modern America (2009) and William Henry Holmes and the Rediscovery of the American West (2000), as well as editor of The Cold War American West, 1945 to 1989 (1998).  His research and teaching interests include the American West and Big History. Fernlund has edited the fifth, sixth, and seventh editions of Bedford/St. Martin's Selected Historical Documents to Accompany America's History, Volume 2: Since 1865.

Table of Contents
Preface
PART ONE The Creation of American Society, 1450-1763

Chapter 1. The New Global World, 1400-1620
The Native American Experience
 1-1 Indian and Non-Indian Population Charts (1492-1980)
 1-2 Bernal Díaz del Castillo, The Discovery and Conquest of Mexico (1517-1521)
 1-3 Hernán Cortés, Cortés and the Requerimiento (1519-1521)
 1-4 Pierre de Charlevoix, The Role of Women in Huron Society (1721)
Tradition-Bound Europe
 1-5 Sir Thomas More, Utopia (1516)
 1-6 John Hales, Objections Against Enclosure (1548)
Europeans Create a Global World, 1450-1600
 1-7 Bartolomé de las Casas, Columbus's Landfall (1552)
 1-8 Father Pierre Biard, Indian Populations of New France (1611)
 1-9 Paul Le Jeune, On the Means of Converting the Savages (1634)
 1-10 Gomes Eannes de Azurara, Prince Henry and the Slave Trade (1444)
The Rise of Protestant England, 1500-1620
 1-11 Thomas Harriot, A Briefe and True Report of the New Found Land of Virginia    (1588)
 1-12 John White and Theodor de Bry, Images of Native Americans from Roanoke Island (1585, 1590)
Chapter 2. The Invasion and Settlement of North America, 1550-1700
Rival Imperial Models: Spain, France, and Holland
 2-1 Bartolomé de las Casas, History of the Indies (1552)
 2-2 John Smith, A True Relation of Virginia (1608)
 2-3 Pocahontas and John Smith (1624)
The English Arrive in the Chesapeake
 2-4 Bound for America (1635)
 2-5 Notes on Indentured Servitude in Virginia (1640)
Puritan New England
 2-6 Puritan Family Law: The Case of John Porter, Jr. ((1646, 1664)
 2-7 The Examination of Anne Hutchinson (1637)
 2-8 Last Will and Testament of Robert Keayne (1653)
 2-9 Cotton Mather, A Colonial Family's Ordeal (1713)
The Eastern Indians' New World
 2-10 John Winthrop, But What Warrant Have We to Take that Land? (1629)
 2-11 John Underhill, Puritan Attack on the Pequots at Mystic River (1637)
 
Chapter 3. Creating a British Empire in America, 1660-1750
The Politics of Empire, 1660-1713
 3-1 The Navigation Act of 1660
 3-2 Thomas Danforth, The Glorious Revolution in Massachusetts (1689)
The Imperial Slave Economy
 3-3 Thomas Phillips, A Journal of a Voyage Made in the Hannibal (1693-1694)
 3-4 Slavery and Prejudice: An Act for the Better Order and Government of Negroes and Slaves, South Carolina (1712)
 3-5 Conflicts between Masters and Slaves: Maryland in the Mid-Seventeenth Century (1658)
 3-6 Robert Beverley, Servants and Slaves in Virginia (1705)
 3-7 William Byrd II, The Secret Diary of William Byrd II (1709-1711)
 3-8 Ayubah Suleiman Diallo, An Early Slave Narrative (1734)
The New Politics of Empire, 1713-1750
 3-9 Martin Bladen, A Plantation Parliament (1739)
 3-10 Stono Rebellion in South Carolina (1739)
Chapter 4. Growth and Crisis in Colonial Society, 1720-1765
New England's Freehold Society
 4-1 Nicholas Dudley, A New Hampshire Will (1763)
 4-2 Benjamin Wadsworth, The Obligations of a Wife (1712)
Toward a New Society: The Middle Colonies, 1720-1765
 4-3 J. Hector St. John de Crèvecoeur, What Is An American? (1782)
 4-4 Daniel Horsmanden, New York Slave Conspiracy Trials (1741)
 4-5 Job Johnson, Letter from a Scots-Irish Immigrant (1767)
 4-6 An Abolitionist in Pennsylvania in the 1730s
The Enlightenment and the Great Awakening, 1720-1765
 4-7 Benjamin Franklin, On Education During the American Enlightenment (1749)
 4-8 Jonathan Edwards, Sinners in the Hands of an Angry God (1741)
 4-9 Charles Woodmason, Fighting Revivalism in the Carolina Backcountry (1768)
The Midcentury Challenge: War, Trade, and Social Conflict, 1750-1765
 4-10 Christian Frederick Post, Negotiating Peace with the Ohio Indians (1758)
 4-11 Olaudah Equiano, Middle Passage (c. 1754)
PART  TWO The New Republic, 1763-1820 
Chapter 5. Toward Independence: Years of Decision, 1763-1776
Imperial Reform, 1763-1765
 5-1 James Otis, Jr., Rights of the Colonies Asserted and Proved (1764)
 5-2 Thomas Whatley, Virtual Representation (1765)
 5-3 Declarations of the Stamp Act Congress (1765)
The Dynamics of Rebellion, 1765-1770
 5-4 Francis Bernard, The Stamp Act Riot (1765)
 5-5 The Examination of Benjamin Franklin (1766)
 5-6 John Dickinson, Letter VII from a Farmer (1768)
 5-7 The Boycott Agreements of Women in Boston (1770)
 5-8 Peter Oliver, Origin and Progress of the American Rebellion (1780s)
 5-9 Captain Thomas Preston, An Account of the Boston Massacre (1770)
The Road to Independence, 1771-1776
 5-10 George R. T. Hewes, An Account of the Boston Tea Party of 1773
 5-11 Philip Dawe, A British View of Rebellion in Boston (1774)
 5-12 Thomas Jefferson, A Summary View of the Rights of British America (1774)
 5-13 Two Perspectives on Female Patriotism (1774 and 1775)
 5-14 Joseph Galloway, A Plan of Union (1774)
 5-15 On the Disturbances in America (1775)
Chapter 6. Making War and Republican Governments, 1776-1789
The Trials of War, 1776-1778
 6-1 Governeur Morris, The Poor Reptiles (1774)
 6-2 Lord Dunmore, A Proclamation (1775)
 6-3 Samuel Johnson, On Liberty and Slavery (1775)
 6-4 Continental Congress to the Iroquois Confederacy (1775)
 6-5 Thomas Paine, The American Crisis, Number I (December 1776)
The Path to Victory, 1778-1783
 6-6 Joseph Plumb Martin, Mutiny in the Continental Army (1780)
 6-7 Sarah Osborn, An Account of Life with the Army (1780-1783)
 6-8 Boston King, Memoirs of a Black Loyalist (1798)
 6-9 Jacob Francis, An African American Recounts His War Service (1775-1777)
 6-10 British Perceptions of the War of Independence (1776, 1778)
Creating Republican Institutions, 1776-1787
 6-11 The Virginia Declaration of Rights (1776)
 6-12 Virginia Statute of Religious Freedom (1786)
 6-13 Abigail Adams, Boston Women Support Price Control (1777)
 6-14 John Heckewelder, Pachgantschihilas Warns About the Long Knives (1781)
 6-15 Proslavery Petitions in Virginia (1785)
The Constitution of 1787
 6-16 James Madison, Vices of the Political System of the United States (1787)
 6-17 James Madison, The Federalist, No. 10 (1787)
 6-18 James Madison, The Federalist, No. 54 (1787)
Chapter 7. Politics and Society in the New Republic, 1787-1820
The Political Crisis of the 1790s
 7-1 Alexander Hamilton, Report on Public Credit (1790)
 7-2 George Washington, Farewell Address (1796)
 7-3 Alexander Lawson, David Edwin, George Washington as a Symbol for America (1799, 1800)
 7-4 The Sedition Act (1798)
 7-5 Margaret Bayard Smith, The Election of 1800 (1801)
 7-6 Thomas Jefferson, First Inaugural Address (1801)
The Westward Movement and the Jeffersonian Revolution
 7-7 Congressional Resolution on Western Lands (1800)
 7-8 Thomas Jefferson, Message to Congress (January 18, 1803)
 7-9 Jane Stevenson, A Pioneer Woman in Post-Revolutionary Kentucky (1840s)
The War of 1812 and the Transformation of Politics
 7-10 John Marshall, Decision in Marbury v. Madison (1803)
 7-11 Thomas Jefferson in Caricature (1809)
 7-12 William Henry Harrison, Speech to Tecumseh and the Prophet (1811) and Report to the Secretary of War (1814)
 7-13 Hartford Convention Resolutions (1814)
Chapter 8. Creating A Republican Culture, 1790-1820
The Capitalist Commonwealth
 8-1 John Marshall, Decision in Fletcher v. Peck (1810)
 8-2 John Marshall, Decision in McCulloch v. Maryland (1819)
Toward a Democratic Republican Culture
 8-3 Pierre Charles L'Enfant, The Plan of the City of Washington (1791)
 8-4 Hugh Henry Brackenridge, Modern Chivalry (1792)
 8-5 Unidentified Artist, Congressional Pugilists (1798)
 8-6 Benjamin Rush, The Education of Republican Women (1798)
Aristocratic Republicanism and Slavery
 8-7 James Madison, Original Intent and Slavery (1819)
 8-8 Ferdinando Fairfax, A Slave Owner's Plan for Gradual Emancipation (1790)
 8-9 Benjamin Banneker to Thomas Jefferson (1791)
 8-10 James Madison and the American Colonization Society (1819)
Protestant Christianity as a Social Force
 8-11 Reverend George Baxter, Defending the Revival at Cane Ridge, Kentucky (1802)
 8-12 Alexis de Tocqueville, What Makes Religion Powerful in America? (1831)
PART THREE Overlapping Revolutions, 1820-1860
Chapter 9. Economic Transformation, 1820-1860
The American Industrial Revolution
 9-1 Niles' Weekly Register, Calculating the Value of Children's Labor (1816)
 9-2 A Mill Worker Describes Her Work and Life (1844)
 9-3 Harriet Martineau, Morals of Manufactures (1837)
 9-4 The "Factory Girls" (1844, 1845)
 9-5 Joseph Whitworth, The American System of Manufactures (1854)
The Market Revolution
 9-6 Michel Chevalier, Everybody Is Speculating (1836)
 9-7 Daniel Webster, A Fellow Laborer of Immense Power (1836) 
 9-8 Freeman Hunt, Advice for Businessmen (1836)
New Social Classes and Cultures
 9-9 Orestes A. Brownson, The Laboring Classes (1840)
 9-10 Alexis de Tocqueville, The Rise of an Industrial Aristocracy (1831)
 9-11 The American Whig Review, Influence of the Trading Spirit on Social and Moral    Life (1845)
 
Chapter 10. A Democratic Revolution, 1820-1844
The Rise of Popular Politics, 1820-1828
 10-1 James Kent, An Argument Against Universal Suffrage (1821)
 10-2 Henry Clay, Speech on the Tariff (March 30-31, 1824)
 10-3 Alexis de Tocqueville, The Tyranny of the Majority (1831)
 10-4 Horace Mann, Necessity of Education in a Republic (1837)
 10-5 James Fenimore Cooper, The American Democrat (1838)
The Jacksonian Presidency, 1829-1837
 10-6 Margaret Bayard Smith, The Inauguration of Andrew Jackson (March 4, 1829)
 10-7 Andrew Jackson, Elias Boudinot, On Indian Removal (1829)
 10-8 John Marshall, Decision in Cherokee Nation v. Georgia (1831)
 10-9 South Carolina Ordinance of Nullification (1832)
Class, Culture, and the Second Party System
 10-10 The Presidential Election of 1836
 10-11 Francis P. Blair, Protecting Domestic Industry (1842)
Chapter 11. Religion and Reform, 1820-1860
Individualism: The Ethic of the Middle Class
 11-1 Francis Wayland, Obedience (1831)
 11-2 Henry David Thoreau, Walden (1854)
Rural Communalism and Urban Popular Culture
 11-3 Rebecca Cox Jackson, The Shakers (1850)
 11-4 John Humphrey Noyes, Male Continence (1872)
 11-5 Edward Williams Clay, Satirizing Free Blacks (1829)
Abolitionsim
 11-6 William Lloyd Garrison, Commencement of The Liberator (1831)
 11-7 Frederick Douglass, What to the Slave Is the Fourth of July? (1852)
 11-8 Frederick Law Olmsted, Southerners and Uncle Tom's Cabin (1856)
 11-9 Slavery as It Exists (1850)
The Women's Rights Movement
 11-10 Angelina E. Grimké, Breaking Out of Women's Separate Sphere (1838)
 11-11 Elizabeth Cady Stanton, Declaration of Sentiments and Resolutions (1848)
Chapter 12. The South Expands: Slavery and Society, 1800-1860
Creating the Cotton South
 12-1 The Alabama Slave Code of 1852: Slave Patrols
 12-2 William Chambers, Slave Auction in Richmond, Virginia (1854)
 12-3 Frederick Law Olmsted, Slave Management on a Mississippi Plantation (1852)
 12-4 James Coles Bruce, Inventory of Slave Property (1849)
 12-5 Edmund Ruffin Defends Slavery (1853)
The African American World
 12-6 Moncure Conway, The Bitter Consciousness of Being a Slave (c. 1840s)
 12-7 Memories of a Slave Childhood
 12-8 Frances Anne Kemble, The Plight of Female Slaves (1839)
 12-9 Nat Turner, Religion in the Quarters (1832)
 12-10 John Thompson, A Slave Named Ben (c. 1826)
 12-11 The Enslavement of Solomon Northrup (1841)
PART FOUR Creating and Preserving a Continental Nation, 1844-1877
Chapter 13. Expansion, War, and Sectional Crisis, 1844-1860
Manifest Destiny: South and North
 13-1 John L. O'Sullivan, Texas, California, and Manifest Destiny (1845)
 13-2 The Great Prize Fight (1844)
War, Expansion, and Slavery, 1846-1850
 13-3 José Enrique de la Peña, Davy Crockett and the Alamo-Another View (c. 1836)
 13-4 Salmon P. Chase, Defining the Constitutional Limits of Slavery (1850)
 13-5 John C. Calhoun, A Discourse on the Constitution (1850)
 13-6 Frederick Grimké, The Right of Secession (1856)
The End of the Second Party System, 1850-1858
 13-7 The Baltimore Sun, Runaway Slave Advertisements (1844)
 13-8 What's Sauce for the Goose Is Sauce for the Gander (1851)
 13-9 Opposing Accounts of the Rescue of a Fugitive (1851)
 13-10 Charles Sumner, The Crime Against Kansas (1856)
 13-11 The Dred Scott Decision (1857)
Abraham Lincoln and the Republican Triumph, 1858-1860
 13-12 The Lincoln-Douglas Debates (1858)
 13-13 The Trial of John Brown (1859)
 13-14 John A. Copeland, Jr., Letter to His Parents (1859)
 13-15 Presidential Election of 1860
Chapter 14. Two Societies at War, 1861-1865
Secession and Military Stalemate, 1861-1862 and Toward Total War
 14-1 Constitution of the Confederate States (1861)
 14-2 Abraham Lincoln, First Inaugural Address (1861)
 14-3 Frederick Douglass, On the Inaugural Address (April 1861)
 14-4 Mary Boykin Chesnut, The Crisis at Fort Sumter (April 1861)
The Turning Point: 1863
 14-5 Slave Runaways in South Carolina (1861)
 14-6 Charlotte Forten, A Northern Black Woman Teaches Contrabands in South    Carolina (1862)
 14-7 Anna Elizabeth Dickinson, The New York City Draft Riots (July 1863)
 14-8 Carl Schurz Remembers Gettysburg (July 4, 1863)
 14-9 Abraham Lincoln, The Gettysburg Address (1863)
The Union Victorious, 1864-1865
 14-10 Confederates Debate Emancipation (1863-1864)
 14-11 Abraham Lincoln to James C. Conkling (August 26, 1863)
 14-12 Weekly Anglo-African, Letters to the Editor (1864)
 14-13 Lincoln versus McClellan, 1864
 14-14 Abraham Lincoln, Second Inaugural Address (1865)

Chapter 15.  Reconstruction, 1865-1877
The Struggle for National Reconstruction
 15-1 Andrew Johnson, Plan of Reconstruction (1865)
 15-2 Carl Schurz, Report on Conditions in the South (1865)
 15-3 The Mississippi Black Codes (1865)
 15-4 An Interview with Andrew Johnson (1866)
 15-5 The Civil Rights Act of 1866
The Meaning of Freedom
 15-6 Frederick Douglass, What the Black Man Wants (1865)
 15-7 Thaddeus Stevens, Black Suffrage and Land Redistribution (1867)
 15-8 The Fourteenth Amendment and Woman Suffrage (1873, 1875)
The Undoing of Reconstruction
 15-9 Thomas Nast, The Rise and Fall of Northern Support for Reconstruction (1868,    1874)
 15-10 President Grant Refuses to Aid Republicans in Mississippi (1875)
 15-11 The Slaughterhouse Cases (1873)
 15-12 Susan Myrick Interviews Ex-Slave Catherine Beale (1929)