Note: Supplemental materials are not guaranteed with Rental or Used book purchases.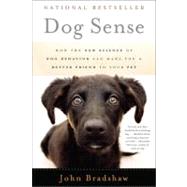 Dog Sense: How the New Science of Dog Behavior Can Make You a Better Friend to Your Pet
ISBN13:
9780465030033
by
Bradshaw, John
Summary
Dogs have been "man's best friend" for tens of thousands of years. A century ago most dogs worked for their living, and were bred to be healthy and hard-working, as well as companionable. But in the course of a few decades, many of those carefully selected attributes became obsolete, and nowadays we breed dogs more for their looks than for their health or suitability as pets. What's more, we too often treat dogs like wolves or, just as hazardously, like furry humans. The truth is, dogs are neither--and our misunderstanding has put them in a state of crisis. In Dog Sense, renowned anthrozoologist John Bradshaw seeks to rescue dogs from this crisis by reminding us of their rights, gripes, and specific needs. He uses groundbreaking research into human-animal interactions to show us the world from a dog's perspective, teaching us how to live in harmony with--not just dominion over--our four-legged friends. Debunking a range of popular, dominance-based training theories and offering extraordinary insight into the question of how we really ought to treat our dogs, Dog Senseis a must-read for any dog lover.
Author Biography
John Bradshaw is Foundation Director of the Anthrozoology Institute at the University of Bristol, where he was previously the University Research Theme Leader for Animal Welfare and Behaviour. He lives in Southampton, England.
Table of Contents
Preface
p. ix
Acknowledgments
p. xiii
Introduction
p. xvii
Where Dogs Came From
p. 1
How Wolves Became Dogs
p. 29
Why Dogs Were-Unfortunately-Turned Back into Wolves
p. 67
Sticks or Carrots? The Science of Dog Training
p. 95
How Puppies Become Pets
p. 122
Does Your Dog Love You?
p. 148
Canine Brainpower
p. 181
Emotional (Un)sophistication
p. 211
A World of Smells
p. 225
Problems with Pedigrees
p. 252
Dogs and the Future
p. 277
Notes
p. 293
Further Reading
p. 311
Index
p. 313
Table of Contents provided by Ingram. All Rights Reserved.