Note: Supplemental materials are not guaranteed with Rental or Used book purchases.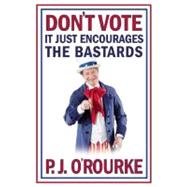 Don't Vote It Just Encourages the Bastards
ISBN13:
9780802119605
by
O'Rourke, P. J.
Customer Reviews
Don't Vote, Get This Book
April 4, 2011
by





I just happened to buy this textbook at the airport yesterday before a 4 hour flight. I recognized O'Rourke's name, picked it up, read a couple of paragraphs and decided to plop down the $25 cover price. I had every intention of reading it later in the week, as I was too tired and needed to nap on the plane. Well, I couldn't put it down! I read the entire textbook! He is witty, incredibly intelligent and even charming in his criticism of our political system and the state of disarray it's in. I may start referring to this as "the new Libertarian manifesto!" Read the chapter on Global Climate Change (where O'Rourke challenges you to go tell 1.2 billion Chinese people that they can't have a car, old stove or fireplace because we think it might be causing the Earth to get warmer) and, if you're anything like me, you'll be hooked!

Flag Review
---
Don't Vote It Just Encourages the Bastards

:
stars based on
1
user reviews.
Summary
"The free market is a bathroom scale. We may not like what we see when we step on the bathroom scale, but we can't pass a law making ourselves weigh 165. Liberals and leftists think we can."
Table of Contents
Acknowledgements
p. ix
Apologia Pro !%@& Sua
p. xxi
The Sex, Death, and Boredom Theory of Politics
Kill Fuck Marry
p. 5
Politics Makes Us Free-And We're Worth It
p. 9
A Digression on Happiness
p. 25
The Happy Realization That All Freedoms Are Economic Freedoms (And Failure Is an Option)
p. 35
The Murderous Perverted Nuptial Bliss Method of Establishing Political Principles
p. 49
The Purgatory of Freedom and the Hell of Politics
p. 63
Morality in Politics-And What's It Doing in There?
p. 83
Taxes
p. 97
More Taxes
p. 103
Being Penny-Wise
p. 107
What is to be Done?
The U.S.S. Thresher Bailout and the Washing-Machine-for-Her-Birthday Stimulus Plan
p. 117
And While We're at It...
p. 125
Generation Vex
p. 129
Health Care Reform
p. 133
Climate Change
p. 149
The End of the American Automobile Industry
p. 151
The Trade Imbalance
p. 159
Gun Control
p. 165
Campaign Finance Reform
p. 169
Terrorism
p. 177
Foreign Policy
p. 185
Foreign Policy, Part Two-It Keeps Getting More Foreign
p. 191
Putting our Big, Fat Political Ass on a Diet
Why I'm Right
p. 205
Where the Right Went Wrong
p. 219
A Digression on Shouting at Each Other
p. 233
The Next Big Stink
p. 243
The Fix Is In
p. 251
All Hands on Deck
p. 269
Table of Contents provided by Ingram. All Rights Reserved.