Note: Supplemental materials are not guaranteed with Rental or Used book purchases.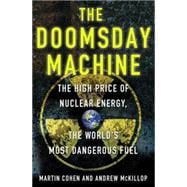 Summary
Today, there are over one hundred nuclear reactors operating in our backyards, from Indian Point in New York to Diablo Canyon in California. Proponents claim that nuclear power is the only viable alternative to fossil fuels, given rising energy consumption and the looming threat of global warming, and are pushing for an even greater investment. Here, energy economist Andrew McKillop and social scientist Martin Cohen argue that the nuclear power dream being sold to us is pure fantasy. Debunking the multilayered myth that nuclear energy is cheap, clean, and safe, they demonstrate how landscapes are ravaged in search of the elusive yellowcake to fuel the reactors, and how energy companies and politicians rarely discuss the true costs of nuclear power plants--from the subsidies that build the infrastructure to the unspoken guarantee that the public will pick up the cleanup cost in the event of a meltdown, which can easily top $100 billion dollars. In the wake of the meltdown at Japan's Fukushima power plant, the future of nuclear energy is again uncertain. This is a timely and hard-hitting look at why its costs are simply too high for humanity.
Author Biography
Martin Cohen is a philosopher of social science and the author of several books, translated into over twenty languages, including Mind Games and Philosophy for Dummies. A respected environmentalist, he wrote an influential series of articles in the Times Higher (London) about the politics of the climate change debate. He has written discussion papers on environmental concerns for the European Parliament and been invited by the Chinese government to discuss ecological rights and indigenous communities.
Andrew McKillop has worked for thirty years as an energy economist and consultant. He is involved in plans to redraw the energy map of Europe and is the former chief policy analyst for the European Commission's Energy Directorate. McKillop has been published in The Ecologist, New Scientist, and International Journal of Energy Research, among others. He has spoken at conferences across the country, including Petrocollapse in New York and EcoCity in San Francisco, and he is a founding member of the International Association for Energy Economics, which holds an annual conference in the United States. McKillop currently runs an energy consultancy and lives in Vannes, France.
Table of Contents
"Intensively researched…The authors deliver a convincing account of the partnership between industry and government to build wildly expensive generators whose electricity remains uncompetitive without more subsidies. A persuasive if discouraging argument that nuclear power offers different but no less nasty environmental problems than burning hydrocarbons."—Kirkus Reviews
"How refreshing to read such a well-reasoned and thoughtful perspective on the real costs of nuclear power. The only way to become informed is to be read books like The Doomsday Machine. Martin Cohen and Andrew McKillop's newest book contains so much important information that it completely rips the curtain aside for us all to see, at last, the real cost of nuclear power. Truly a must read."--Graham Nash, of Crosby, Stills, Nash & Young
"Nuclear power is humankind's most expensive technological failure, with the price tag skyrocketing after each new mega-disaster. Its prime accomplishment has been to irradiate large swaths of the planet while delaying the essential transition to a green-powered future based on renewables and efficiency.  With uncommon wit and brilliance, the Dooms Day Machine makes it clear why this horrific technology has left us a financial, ecological and health disaster only a Strangelove could love."--Harvey Wasserman, author of Solartopia