Note: Supplemental materials are not guaranteed with Rental or Used book purchases.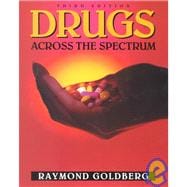 Questions About This Book?
What version or edition is this?
This is the edition with a publication date of 1/18/2000.
What is included with this book?
The New copy of this book will include any supplemental materials advertised. Please check the title of the book to determine if it should include any CDs, lab manuals, study guides, etc.
Summary
Considered the most comprehensive drug text on the market, Goldberg's four-color text encourages readers to examine the motivation for drug use, social implications of drug use, legal ramifications, and factors affecting how drugs interact with the human body. It provides a look at the history and culture surrounding drug use and abuse, key information regarding specific types of drugs, and a review of drug treatment, education, and prevention approaches and programs. DRUGS ACROSS THE SPECTRUM, FIFTH EDITION also includes a number of resources to support active learning, both in and out of the classroom. From the JoinIn on TurningPoint in-class lecture tool to the support of critical thinking with the new "Fact or Fiction" boxes and popular "Thinking Critically" boxes, students are engaged and educated about the topics and issues related to drugs in society.
Table of Contents
An Overall Perspective
3
(22)
4
(1)
4
(1)
5
(1)

| | |
| --- | --- |
| | The Prevalence of Drug Use |

5
(1)

| | |
| --- | --- |
| | The Impact of Drug Use and Abuse |

6
(2)

| | |
| --- | --- |
| | An Historical Perspective of Drug Use |

8
(11)
8
(2)
10
(1)
11
(2)
13
(1)
13
(1)
14
(1)
14
(2)
16
(1)
17
(2)
19
(6)

| | |
| --- | --- |
| | Drugs in Contemporary Society |

25
(26)

| | |
| --- | --- |
| | Drugs From a Social Perspective |

26
(5)
26
(2)
28
(3)

| | |
| --- | --- |
| | Drug Abuse By Older Adults |

31
(2)
33
(3)

| | |
| --- | --- |
| | Employee Assistance Programs (EAP) |

33
(1)
34
(2)
36
(1)
37
(1)

| | |
| --- | --- |
| | Drugs and Deviant Behavior |

37
(2)

| | |
| --- | --- |
| | Drugs, Education, and Employment |

38
(1)
39
(1)

| | |
| --- | --- |
| | Drug Abuse Warning Network (DAWN) |

39
(2)
41
(1)
41
(1)
41
(1)

| | |
| --- | --- |
| | Look-alike and Sound-alike Drugs |

42
(1)
42
(2)
44
(7)
51
(22)
51
(4)
52
(1)

| | |
| --- | --- |
| | Pleasure/Escape From Boredom |

52
(1)
52
(1)
53
(1)
54
(1)
54
(1)
54
(1)

| | |
| --- | --- |
| | Drug Dependency Versus Drug Addiction |

55
(2)

| | |
| --- | --- |
| | Theories of Drug Addiction |

57
(2)
57
(1)
58
(1)
58
(1)
59
(1)
59
(3)
59
(2)
61
(1)
61
(1)
61
(1)
62
(1)
62
(5)
63
(1)

| | |
| --- | --- |
| | Human Growth Hormones and Erythropoietin |

64
(1)
64
(1)
64
(1)
65
(1)
66
(1)
66
(1)
67
(6)
73
(22)
73
(1)
74
(7)

| | |
| --- | --- |
| | Pure Food and Drug Act of 1906 |

74
(1)
75
(1)

| | |
| --- | --- |
| | Marijuana Tax Act of 1937 |

76
(1)

| | |
| --- | --- |
| | Food, Drug, and Cosmetic Act of 1938 |

77
(1)

| | |
| --- | --- |
| | Kefauver-Harris Amendments |

78
(1)

| | |
| --- | --- |
| | Comprehensive Drug Abuse Prevention and Control Act of 1970 |

78
(1)
79
(2)
81
(9)
81
(1)
81
(1)
82
(3)
85
(2)
87
(1)

| | |
| --- | --- |
| | Racism and Drug Enforcement |

88
(1)

| | |
| --- | --- |
| | Mandatory Minimum Drug Sentencing |

89
(1)
90
(5)

| | |
| --- | --- |
| | The Pharmacology and Physiology of Drug Use |

95
(24)
95
(1)
96
(1)
96
(1)
97
(3)
98
(1)
98
(1)

| | |
| --- | --- |
| | Gamma-aminobutyric Acid (GABA) |

99
(1)
99
(1)
100
(1)

| | |
| --- | --- |
| | The Central Nervous System (CNS) |

100
(3)

| | |
| --- | --- |
| | Reticular Activating System |

100
(1)
101
(1)
102
(1)
102
(1)
102
(1)
102
(1)
103
(1)
103
(1)

| | |
| --- | --- |
| | The Peripheral Nervous System (PNS) |

103
(1)
104
(1)
104
(1)

| | |
| --- | --- |
| | Drugs and Major Body Systems |

104
(2)
104
(1)
105
(1)
105
(1)
105
(1)

| | |
| --- | --- |
| | Factors Influencing the Effects of Drugs |

106
(4)
106
(1)
106
(1)
107
(1)
107
(1)
108
(1)
109
(1)
110
(1)

| | |
| --- | --- |
| | Methods of Administration |

110
(2)
110
(1)
111
(1)
112
(1)
112
(1)
112
(7)
II Categories of Drugs
119
(26)

| | |
| --- | --- |
| | History of Alcohol Use in the United States |

120
(5)
120
(1)
120
(2)
122
(1)
123
(2)
125
(1)
126
(1)
127
(4)
127
(1)
128
(1)

| | |
| --- | --- |
| | Alcohol and the Gastrointestinal Tract |

129
(1)

| | |
| --- | --- |
| | Alcohol and the Cardiovascular System |

129
(1)

| | |
| --- | --- |
| | Alcohol and the Immune System |

130
(1)
130
(1)
130
(1)
130
(1)
131
(2)
131
(1)
132
(1)
132
(1)
133
(1)
133
(2)
133
(1)
134
(1)
135
(1)
135
(3)
135
(1)
136
(1)
137
(1)
137
(1)
137
(1)
138
(7)
145
(20)
147
(2)
147
(2)
149
(1)

| | |
| --- | --- |
| | Characteristics of Narcotics |

149
(2)
149
(1)
150
(1)
150
(1)
150
(1)

| | |
| --- | --- |
| | Physical and Psychological Effects |

151
(3)
152
(1)

| | |
| --- | --- |
| | Emotional and Social Effects |

153
(1)

| | |
| --- | --- |
| | Needle-Exchange Programs (NEP) |

154
(1)
155
(1)
156
(1)
156
(1)
156
(1)

| | |
| --- | --- |
| | Gastrointestinal Difficulties |

156
(1)
156
(1)

| | |
| --- | --- |
| | Treatment and Support Groups |

157
(2)
157
(1)
157
(1)

| | |
| --- | --- |
| | Methadone and Other Treatments |

158
(1)
159
(1)
159
(6)
165
(14)
165
(3)
166
(1)
166
(1)
167
(1)
167
(1)
168
(1)
168
(1)
168
(1)
168
(1)
168
(1)
169
(1)
169
(1)
169
(1)
170
(2)
170
(1)
171
(1)
172
(2)
173
(1)
173
(1)
174
(1)
174
(5)
179
(14)

| | |
| --- | --- |
| | Understanding Mental Illness |

179
(2)

| | |
| --- | --- |
| | Mental Illness and Medicine |

180
(1)
180
(1)

| | |
| --- | --- |
| | Treatment of Mental Illness Prior to 1950 |

181
(1)

| | |
| --- | --- |
| | Demographics of Drugs and Mental Disorders |

181
(1)
182
(2)

| | |
| --- | --- |
| | Monoamine Oxidase Inhibitors |

182
(1)

| | |
| --- | --- |
| | Tricyclic Antidepressants |

183
(1)
184
(1)
185
(1)
185
(1)
185
(1)
186
(1)
186
(1)
186
(2)
187
(1)
187
(1)
188
(5)

| | |
| --- | --- |
| | Stimulants: Cocaine, Amphetamines, and Caffeine |

193
(20)
193
(9)
193
(1)
194
(1)
195
(1)
195
(3)
198
(1)
198
(1)
199
(1)
200
(1)
201
(1)
201
(1)
202
(5)
202
(1)
202
(1)
203
(1)

| | |
| --- | --- |
| | Consequences of Amphetamine Use |

203
(1)
204
(2)
206
(1)
206
(1)
207
(2)
207
(1)
208
(1)
208
(1)
208
(1)
209
(1)
209
(4)
213
(24)
214
(1)

| | |
| --- | --- |
| | Tobacco in the U. S. Colonies |

214
(1)

| | |
| --- | --- |
| | Mechanization and Marketing |

214
(1)

| | |
| --- | --- |
| | Opposition and Escalation |

215
(1)
215
(1)
215
(3)
216
(1)
216
(1)

| | |
| --- | --- |
| | Tobacco Use in Other Countries |

217
(1)
218
(1)
218
(1)

| | |
| --- | --- |
| | Characteristics of Smoking and Smokers |

218
(4)
219
(1)

| | |
| --- | --- |
| | Tobacco Use by Young People |

219
(2)

| | |
| --- | --- |
| | Nicotine Tolerance and Dependence |

221
(1)
221
(1)
222
(1)

| | |
| --- | --- |
| | Physical Effects on the Individual |

222
(3)

| | |
| --- | --- |
| | Heart Disease and Strokes |

223
(1)
224
(1)
224
(1)
224
(1)

| | |
| --- | --- |
| | Tobacco and Physical Activity |

224
(1)
225
(3)
226
(1)

| | |
| --- | --- |
| | Effects on Children of Smokers |

226
(1)

| | |
| --- | --- |
| | Rights of Smokers Versus Nonsmokers |

226
(1)
226
(1)

| | |
| --- | --- |
| | Liability and Tobacco-Related Illnesses |

227
(1)
228
(2)
228
(1)
229
(1)
229
(1)
229
(1)
229
(1)
229
(1)
230
(1)
230
(1)
230
(7)
237
(16)
237
(1)
238
(2)
239
(1)
239
(1)

| | |
| --- | --- |
| | Pharmacology of Marijuana |

240
(5)
240
(1)
241
(1)
241
(1)
242
(1)
242
(1)
242
(1)
242
(1)
243
(1)
243
(1)
243
(2)
245
(1)
245
(1)
245
(1)
245
(1)
246
(1)

| | |
| --- | --- |
| | Decriminalization and Legalization |

246
(2)

| | |
| --- | --- |
| | Medical Uses of Marijuana |

247
(1)
247
(1)
248
(1)
248
(5)
253
(16)
253
(1)

| | |
| --- | --- |
| | The Origin of Hallucinogens |

254
(1)

| | |
| --- | --- |
| | The Search for Hallucinogens |

254
(1)
254
(1)
254
(1)
255
(2)
255
(1)
256
(1)

| | |
| --- | --- |
| | LSD and Government Experiments |

256
(1)

| | |
| --- | --- |
| | LSD and the U. S. Culture |

257
(1)

| | |
| --- | --- |
| | Review of Major Hallucinogens |

257
(4)
257
(2)
259
(1)
260
(1)

| | |
| --- | --- |
| | Anticholinergic Hallucinogens |

261
(3)
261
(1)
261
(1)
262
(1)
262
(1)
262
(1)
263
(1)
264
(1)
264
(5)
269
(16)

| | |
| --- | --- |
| | Over-the-Counter Drug Market |

269
(1)

| | |
| --- | --- |
| | Regulating Over-the-Counter Drugs |

270
(1)

| | |
| --- | --- |
| | Categories of Over-the-Counter Drugs |

270
(1)
270
(4)
271
(1)
272
(1)
273
(1)

| | |
| --- | --- |
| | Naproxen Sodium and Ketoprofen |

274
(1)
274
(2)
274
(1)
275
(1)
275
(1)
276
(1)
276
(1)
276
(1)

| | |
| --- | --- |
| | Salts of Magnesium and Aluminum |

276
(1)
277
(1)
277
(1)
277
(1)
278
(1)
278
(1)
278
(1)
278
(1)
279
(6)
III Treatment and Prevention

| | |
| --- | --- |
| | Substance Abuse Treatment |

285
(22)

| | |
| --- | --- |
| | Underlying Causes of Drug Abuse |

285
(1)
286
(1)

| | |
| --- | --- |
| | Profile of the Drug Abuser |

287
(1)
288
(1)
289
(1)

| | |
| --- | --- |
| | Voluntary Versus Compulsory Treatment |

289
(1)

| | |
| --- | --- |
| | Matching Patients and Treatments |

289
(1)

| | |
| --- | --- |
| | Treating Adolescent Drug Abusers |

289
(1)
289
(1)

| | |
| --- | --- |
| | Problems Associated With Treatment |

290
(2)

| | |
| --- | --- |
| | Client Resistance to Treatment |

290
(1)
290
(1)
290
(1)
291
(1)

| | |
| --- | --- |
| | Personnel Recruitment and Retention |

292
(1)
292
(3)
292
(1)
293
(1)
294
(1)
294
(1)
294
(1)
295
(4)
296
(2)
298
(1)
299
(1)
299
(1)
299
(8)

| | |
| --- | --- |
| | Drug Prevention and Education |

307
(18)
307
(1)

| | |
| --- | --- |
| | Changes in Drug Prevention |

308
(1)

| | |
| --- | --- |
| | Drug Prevention in Retrospect |

308
(1)

| | |
| --- | --- |
| | Effectiveness of Prevention Programs |

308
(1)
309
(1)

| | |
| --- | --- |
| | Levels of Drug Prevention |

309
(2)
310
(1)
310
(1)
310
(1)

| | |
| --- | --- |
| | Identifying High-Risk Youths |

311
(2)
311
(1)
311
(2)

| | |
| --- | --- |
| | Preventing High-Risk Behavior |

313
(1)
313
(1)
313
(1)
313
(1)
314
(2)

| | |
| --- | --- |
| | The Evolution in Drug Education |

314
(1)

| | |
| --- | --- |
| | Limitations of Drug Education |

315
(1)
315
(1)

| | |
| --- | --- |
| | One-Size-Fits-All Drug Education |

316
(1)

| | |
| --- | --- |
| | Current Approaches to Drug Education |

316
(2)

| | |
| --- | --- |
| | Personal and Social Skills Training |

316
(1)

| | |
| --- | --- |
| | Resistance Skills Training |

317
(1)
317
(1)

| | |
| --- | --- |
| | Drug Abuse Resistance Education (DARE) |

317
(1)
318
(1)

| | |
| --- | --- |
| | Effectiveness of Drug Education |

318
(1)
318
(1)
319
(1)
319
(6)
Bibliography
325
(2)
Answers
327
(2)
Glossary
329
(8)
Index
337