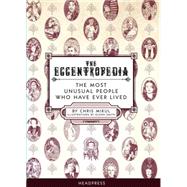 Questions About This Book?
What version or edition is this?
This is the edition with a publication date of 6/25/2012.
What is included with this book?
The New copy of this book will include any supplemental materials advertised. Please check the title of the book to determine if it should include any CDs, lab manuals, study guides, etc.
Summary
Info to followThe contrarian is the individual who probably springs most often to mind when people hear the word 'eccentric'. Contrarians are the people who do not give a fig for social conventions and determinedly go their own way, whether it's in their clothing, habits, beliefs, hobbies or living arrangements. Their spiritual father is Diogenes, and they have absolutely no doubt that they are the sensible ones and it is the rest of the world that is out of step. Contrarians, especially in England, are often associated with the aristocracy (who after all, do often have the time and money to be able to live exactly as they please), yet they may come from all walks of life, and indeed, some of the most notable have literally lived on the streets, becoming in the process well-known and often well-loved individuals. It is the contrarians that John Stuart Mill was thinking of when he wrote in On Liberty, 'That so few now dare to be eccentric marks the chief danger of the time.' Mill understood that conformity in a society breeds stagnation. By rejecting conventions, eccentrics demonstrate new ways of thinking and living. Of course, what may seem outrageous or crazy to an eccentric's contemporaries may be judged as eminently reasonable and sensible by later generations (Charles Waterton's early conservation efforts and Victoria Woodhull's tilt at the White House being but two of many examples that could be given).
Excerpts
INTRODUCTION:The word 'eccentric', which derives from the Greek 'ekkentros' or 'out of centre', first gained currency in England in the last decades of the eighteenth century. Eccentricity was originally conceived as a specifically English quality, as noted by both the English themselves and foreign travelers to Britain. The Russian Nikolai Karamzin, who arrived there in 1789, wrote, 'Other European countries are like well-laid out gardens where the trees are all of the same size, the paths straight, and everything uniform. The English, on the other hand, grow up, morally, like wild oaks, according to the will of fate. Though they are of one stock, they are all different.' That the concept of eccentricity was being defined during the same period as the French Revolution was not a coincidence, for there was a political dimension to it as well. The prevalence of English eccentrics was a seen as by-product of the stability of British society, its representative system of government, and the unique liberties that the British were said to enjoy. For conservatives, eccentricity was a sort of social safety valve that would help to ensure that Britain would never have a revolution of its own. In Englishness Identified, historian Paul Langford notes that that the various types of eccentric represent exaggerations of traits which are universally accepted as typically English. Thus the Englishman's awkwardness when confronted with the opposite sex finds its purest expression in the figure of Henry Cavendish, who had a second staircase built in his house to avoid the possibility of encountering one of his female servants. The fashion for eccentrics, which only increased during the Victorian era, saw many magazine articles and compilations of the lives of eccentrics published, while eccentric characters became staples in plays and novels. The definition of eccentricity was, however, rather broader at first than it later became. In James Caulfield's Portraits, Memoirs and Characters of Remarkable Persons (1819), figures we immediately recognise as eccentric today, like John Bigg, the Dinton Hermit, rub shoulders with people born with physical deformities and famous criminals like Dick Turpin the highwayman. Criminals could hardly be held up as exemplars of liberty, however, and it soon became integral to the concept of eccentricity that eccentrics are essentially amiable individuals, immersed in the own peculiar pursuits but incapable of malice or of hurting others. A