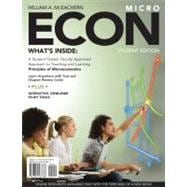 ECON for Microeconomics (with Premium Web Site Printed Access Card)
by
McEachern, William A.
South-Western College Pub
Summary
ECON FOR MICROECONOMICS, a unique book for your principles of microeconomics course, began with YOU. We asked you, the students, through conversations, focus groups, surveys, and interviews, how you learn best. Based on your answers and on input from faculty, we took your suggestions -- online graphing practice, quizzing and review cards -- and built it into the most innovative approach to teaching and learning principles of microeconomics today. This student-tested, faculty-approved streamlined text and suite of multimedia learning aids is designed to accommodate the busy and diverse lifestyles of today's learners. With ECON FOR MICROECONOMICS, you'll find everything you need to prepare efficiently and succeed in your principles of microeconomics course.
Table of Contents
Introduction To Economics
The Art and Science of Economic Analysis
Economic Tools and Economic Systems
Economic Decision Makers
Demand, Supply, and Markets
Introduction to the Market System
Elasticity of Demand and Supply
Consumer Choice and Demand
Production and Cost in the Firm
Market Structure and Pricing
Perfect Competition
Monopoly
Monopolistic Competition and Oligopoly
Resource Markets
Resource Markets
Labor Markets and Labor Unions
Capital, Interest, and Corporate Finance
Transaction Costs, Imperfect Information, and Market Behavior
Market Failure and Public Policy
Economic Regulation and Antitrust Policy
Public Goods and Public Choice
Externalities and the Environment
Income Distribution and Poverty
International Economics
International Trade
International Finance
Developing and Transitional Economies
Table of Contents provided by Publisher. All Rights Reserved.