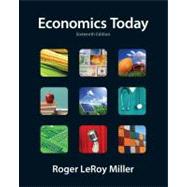 Economics Today plus NEW MyEconLab with Pearson eText (2-semester access) -- Access Card Package
by
Miller, Roger LeRoy
Questions About This Book?
What version or edition is this?
This is the 16th edition with a publication date of 11/21/2011.
What is included with this book?
The Used copy of this book is not guaranteed to include any supplemental materials. Typically, only the book itself is included.
Summary
Miller's Economics Todayremains committed to providing readers with discussion and coverage of the most current issues and events. Given the immense changes in our economy, this sixteenth edition of Economics Todayaddresses what has occurred and discusses the importance of today's major economic issues.
Author Biography
Roger LeRoy Miller is currently affiliated with the Institute for University Studies in Arlington, Texas. Prior to this affiliation, he has held faculty appointments at the University of Washington at Seattle, the University of Hawaii, Clemson University, and the University of Miami, where he co-founded the Law and Economics Center.
Miller has authored and co-authored a myriad of articles and textbooks. He is the sole author of the best-selling Economics Today text and a co-author of the highly successful Economics of Public Issues. In addition to his work in academia, Miller has been invited to give talks and lectures across America, Guatemala, Costa Rica, and France. He has also served as a consultant to several law firms and numerous state and federal agencies.
Table of Contents
Miller, Economics Today 16e
Brief Table of Contents
PART I Introduction
1 The Nature of Economics
2 Scarcity and the World of Trade-Offs
3 Demand and Supply
4 Extensions of Demand and Supply Analysis
5 Public Spending and Public Choice
6 Funding the Public Sector
PART 2 Introduction to Macroeconomics and Economic Growth
7 The Macroeconomy: Unemployment, Inflation and Deflation
8 Measuring the Economy's Performance
9 Global Economic Growth and Development
PART 3 Real GDP Determination and Fiscal Policy
10 Real GDP and the Price Level in the Long Run
11 Classical and Keynesian Macro Analyses
12 Consumption, Real GDP, and the Multiplier
13 Fiscal Policy
14 Deficit Spending and the Public Debt
PART 4 Money, Stabilization, and Growth
15 Money, Banking, and Central Banking
16 Domestic and International Dimensions of Monetary Policy
17 Stabilization in an Integrated World Economy
18 Policies and Prospects for Global Economic Growth
PART 5 Dimensions of Microeconomics
19 Demand and Supply Elasticity
20 Consumer Choice
21 Rents, Profits, and the Financial Environment of Business
PART 6 Market Structure, Resource Allocation, and Regulation
22 The Firm: Cost and Output Determination
23 Perfect Competition
24 Monopoly
25 Monopolistic Competition
26 Oligopoly and Strategic Behavior
27 Regulation and Antitrust Policy in a Globalized Economy
PART 7 Labor Resources and the Environment
28 The Labor Market: Demand, Supply, and Outsourcing
29 Unions and Labor Market Monopoly Power
30 Income, Poverty, and Health Care
31 Environmental Economics
PART 8 Global Economics
32 Comparative Advantage and the Open Economy
33 Exchange Rates and the Balance of Payments