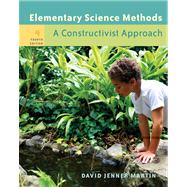 Questions About This Book?
Why should I rent this book?
Renting is easy, fast, and cheap! Renting from eCampus.com can save you hundreds of dollars compared to the cost of new or used books each semester. At the end of the semester, simply ship the book back to us with a free UPS shipping label! No need to worry about selling it back.
How do rental returns work?
Returning books is as easy as possible. As your rental due date approaches, we will email you several courtesy reminders. When you are ready to return, you can print a free UPS shipping label from our website at any time. Then, just return the book to your UPS driver or any staffed UPS location. You can even use the same box we shipped it in!
What version or edition is this?
This is the 4th edition with a publication date of 7/22/2005.
What is included with this book?
The Used copy of this book is not guaranteed to include any supplemental materials. Typically, only the book itself is included.
The Rental copy of this book is not guaranteed to include any supplemental materials. You may receive a brand new copy, but typically, only the book itself.
Summary
In this pioneering text, Martin uses a constructivist approach to guide students in learning how to teach in a constructivist manner. Grounded in the belief that it is more important for children to learn how to do science than it is for them to learn about science, this text is predicated on the reality that teachers of elementary science do not need to know a great deal of science to be good science teachers, but need to be co-inquirers with their students. To facilitate your students' learning, this text features a wealth of exercises: for teacher candidates, the book includes open-ended inquiry activities that help them to construct their own personal conceptualizations about science content and teaching science in the elementary school; and, it contains over 170 process-oriented, open-ended activities that teachers can use to encourage children to develop and perform their own investigations. The Book Companion CD-ROM, included with each new copy, provides tools and resources, such as additional activities and video, which students can use both in their college course and later in elementary science classrooms. All activities are linked to National Science Education Standards for content, professional development, assessment, and teaching, and the activities contain suggestions of appropriate children's literature.
Table of Contents
| | |
| --- | --- |
| | PART 1 Constructing the Elementary Science Program |

1
(380)

| | |
| --- | --- |
| | The Science Education Imperative |

3
(36)

| | |
| --- | --- |
| | How Much Science Does the Elementary Science Teacher Need to Know? |

5
(8)

| | |
| --- | --- |
| | Amount of Science Known Today |

6
(1)

| | |
| --- | --- |
| | Obsolescence of Scientific Knowledge |

7
(1)

| | |
| --- | --- |
| | Changing Scientific Knowledge |

7
(4)

| | |
| --- | --- |
| | How Much Science Does the Elementary Science Teacher Need to Know? |

11
(2)
13
(6)

| | |
| --- | --- |
| | Recognizing the Unexpected |

14
(2)
16
(2)
18
(1)
19
(6)

| | |
| --- | --- |
| | Using the Processes of Science |

20
(1)

| | |
| --- | --- |
| | History of the Process Approach to Science Education |

21
(4)

| | |
| --- | --- |
| | Ownership of Knowledge and Thought |

25
(6)
25
(2)
27
(1)

| | |
| --- | --- |
| | Valuing Children's Thinking |

27
(4)

| | |
| --- | --- |
| | Attitudes about Science and Attitudes about Science Teaching |

31
(4)
31
(4)
35
(1)
36
(1)

| | |
| --- | --- |
| | Research in Science Education |

37
(1)
37
(1)

| | |
| --- | --- |
| | Additional Questions for Discussion |

37
(1)
38
(1)
39
(28)
40
(15)

| | |
| --- | --- |
| | Characteristics of the Scientific Enterprise |

40
(3)
43
(11)

| | |
| --- | --- |
| | Interdisciplinary Nature of Science |

54
(1)

| | |
| --- | --- |
| | Goals of Elementary Science Education |

55
(9)

| | |
| --- | --- |
| | National Science Teachers Association |

55
(1)

| | |
| --- | --- |
| | American Association for the Advancement of Science |

56
(1)

| | |
| --- | --- |
| | National Science Education Standards |

57
(3)
60
(2)

| | |
| --- | --- |
| | Goals 2000: Educate America Act |

62
(2)

| | |
| --- | --- |
| | National Association for the Education of Young Children |

64
(1)
64
(1)

| | |
| --- | --- |
| | Additional Questions for Discussion |

65
(1)
66
(1)
67
(110)
69
(13)
82
(19)
101
(29)
101
(2)
103
(2)
105
(1)
106
(2)
108
(1)

| | |
| --- | --- |
| | Metric versus Conventional Units |

109
(21)

| | |
| --- | --- |
| | Interrelationships among the Basic Processes |

130
(1)
130
(1)
131
(6)

| | |
| --- | --- |
| | Identifying and Controlling Variables |

137
(5)

| | |
| --- | --- |
| | Formulating and Testing Hypotheses |

142
(8)
150
(8)
158
(4)
162
(4)
166
(7)

| | |
| --- | --- |
| | The Process-Oriented Objective |

173
(1)
174
(1)

| | |
| --- | --- |
| | Additional Questions for Discussion |

174
(1)
175
(2)

| | |
| --- | --- |
| | Constructivism in Elementary Science Education |

177
(40)
180
(8)
182
(1)
183
(1)

| | |
| --- | --- |
| | Cognitive Disequilibration |

184
(2)

| | |
| --- | --- |
| | Validity of Self-Constructed Conceptualizations |

186
(2)
188
(3)

| | |
| --- | --- |
| | Constructivism and Science Learning |

189
(2)

| | |
| --- | --- |
| | Piaget, the Constructivist |

191
(4)

| | |
| --- | --- |
| | Mechanism of Constructing Knowledge |

191
(3)

| | |
| --- | --- |
| | Brain Research and the Construction of Knowledge |

194
(1)

| | |
| --- | --- |
| | Vygotsky, the Social Constructivist |

195
(1)

| | |
| --- | --- |
| | Characteristics of Constructivist Teaching |

196
(1)

| | |
| --- | --- |
| | Stages of Cognitive Development |

197
(12)
197
(1)
198
(1)

| | |
| --- | --- |
| | Concrete Operational Stage |

199
(7)
206
(3)
209
(1)

| | |
| --- | --- |
| | Dinosaurs and the Solar System |

209
(7)
216
(1)

| | |
| --- | --- |
| | Additional Questions for Discussion |

216
(1)
216
(1)
217
(36)

| | |
| --- | --- |
| | The Expository-Discovery Continuum |

218
(14)
219
(1)

| | |
| --- | --- |
| | Free-Discovery Methodology |

219
(4)

| | |
| --- | --- |
| | Guided-Inquiry Methodology |

223
(3)
226
(1)

| | |
| --- | --- |
| | Ausubel's Instructional Model |

227
(2)

| | |
| --- | --- |
| | The Expository-Free Discovery Continuum Revisited |

229
(3)
232
(2)

| | |
| --- | --- |
| | The Guided-Inquiry Lesson Plan |

234
(6)
240
(2)

| | |
| --- | --- |
| | Is Learning Taking Place? |

242
(6)
242
(1)

| | |
| --- | --- |
| | Deductive versus Inductive Teaching Styles |

243
(1)
244
(4)

| | |
| --- | --- |
| | A Different Kind of Bloom |

248
(3)
251
(1)

| | |
| --- | --- |
| | Additional Questions for Discussion |

251
(1)
251
(2)
253
(42)

| | |
| --- | --- |
| | Some Differences in the Ways Children Learn |

255
(1)
255
(17)

| | |
| --- | --- |
| | Visual, Auditory, and Tactile/Kinesthetic Learning Modalities |

256
(9)
265
(3)

| | |
| --- | --- |
| | Field Dependence/Field Independence |

268
(3)

| | |
| --- | --- |
| | Teachers' Learning Styles |

271
(1)
272
(3)
275
(2)

| | |
| --- | --- |
| | Science Education for Children with Disabilities |

277
(3)
280
(1)

| | |
| --- | --- |
| | Science Education for Language-Minority Children |

281
(3)

| | |
| --- | --- |
| | Science Education for Gifted and Talented Children |

284
(2)
286
(7)

| | |
| --- | --- |
| | Attitude in Multicultural Education |

286
(1)

| | |
| --- | --- |
| | Multicultural Methodology |

287
(2)
289
(4)
293
(1)

| | |
| --- | --- |
| | Additional Questions for Discussion |

293
(1)
294
(1)
295
(44)
297
(2)

| | |
| --- | --- |
| | What Is Assessed in Elementary Science Education? |

299
(14)

| | |
| --- | --- |
| | Assessment of Process Skills |

299
(7)
306
(4)
310
(2)
312
(1)

| | |
| --- | --- |
| | Additional Authentic Assessment Techniques |

313
(11)
313
(2)
315
(1)
316
(6)

| | |
| --- | --- |
| | Assessment Techniques that Support Learner Differences |

322
(2)
324
(2)

| | |
| --- | --- |
| | High-Stakes Testing and the Standardized Achievement Test |

326
(4)

| | |
| --- | --- |
| | Assessment of the Elementary Science Teacher and Program |

330
(5)
335
(2)
337
(1)

| | |
| --- | --- |
| | Additional Questions for Discussion |

337
(1)
337
(2)

| | |
| --- | --- |
| | The Elementary Science Classroom |

339
(42)
340
(7)

| | |
| --- | --- |
| | Strategies for Successful Science Activities |

347
(1)

| | |
| --- | --- |
| | Safety in the Elementary Science Classroom |

348
(6)
354
(1)

| | |
| --- | --- |
| | Animals and Plants in the Classroom |

355
(2)
357
(4)
361
(1)

| | |
| --- | --- |
| | Cooperative Teaching and Cooperative Learning |

361
(2)
363
(1)
364
(2)
366
(2)
368
(3)

| | |
| --- | --- |
| | Science Outside the Classroom |

371
(7)
371
(5)

| | |
| --- | --- |
| | Nontraditional Science Settings |

376
(2)
378
(1)
379
(1)

| | |
| --- | --- |
| | Additional Questions for Discussion |

379
(1)
379
(2)

| | |
| --- | --- |
| | PART 2 Beyond the Science Classroom |

381
(124)

| | |
| --- | --- |
| | Reading, Writing, and Interdisciplinary Approaches |

383
(42)

| | |
| --- | --- |
| | Reading, Writing, and Literature |

385
(26)

| | |
| --- | --- |
| | Integrating Children's Literature and Science |

387
(14)
401
(8)

| | |
| --- | --- |
| | The Role of Reading and Writing in Elementary Science |

409
(2)

| | |
| --- | --- |
| | Interdisciplinary Approaches |

411
(6)

| | |
| --- | --- |
| | Two Interdisciplinary Models |

413
(4)
417
(5)

| | |
| --- | --- |
| | Science, Technology, and Society |

419
(2)

| | |
| --- | --- |
| | Personal Bias in STS Projects |

421
(1)
422
(1)

| | |
| --- | --- |
| | Additional Questions for Discussion |

422
(1)
423
(2)

| | |
| --- | --- |
| | Technology in Elementary Science Education |

425
(42)

| | |
| --- | --- |
| | Why Use Advanced Technology in Elementary Science Education? |

429
(2)

| | |
| --- | --- |
| | Widespread Use of Computer Technology |

429
(1)

| | |
| --- | --- |
| | Familiarity with Advanced Technology |

429
(1)

| | |
| --- | --- |
| | Technological Access to Information |

429
(1)

| | |
| --- | --- |
| | Computer Support in Inquiry Investigations |

430
(1)

| | |
| --- | --- |
| | Support of Learning Differences through Technology |

430
(1)

| | |
| --- | --- |
| | Use of Computer Technology by Scientists |

431
(1)

| | |
| --- | --- |
| | Computers in the Elementary Science Classroom |

431
(1)

| | |
| --- | --- |
| | A Technology Inquiry Continuum |

432
(1)

| | |
| --- | --- |
| | Tutoring Uses of Computers |

433
(1)

| | |
| --- | --- |
| | Interactive Uses of Computers |

434
(9)

| | |
| --- | --- |
| | Word Processing and Desktop Publishing Applications |

434
(1)

| | |
| --- | --- |
| | Spreadsheet, Database, and Graphing Applications |

435
(6)

| | |
| --- | --- |
| | Presentation Applications |

441
(1)

| | |
| --- | --- |
| | Graphic Organizer Software |

441
(1)

| | |
| --- | --- |
| | Simulation and Animation Applications |

441
(1)

| | |
| --- | --- |
| | CD-ROM Information Base Applications |

442
(1)

| | |
| --- | --- |
| | Experimenting Uses of Computers |

443
(2)

| | |
| --- | --- |
| | Evaluating Computer Software |

445
(2)

| | |
| --- | --- |
| | Sources of Computer Software |

445
(2)
447
(3)

| | |
| --- | --- |
| | Using the Internet in the Elementary Science Classroom |

450
(4)
450
(1)

| | |
| --- | --- |
| | School and Class Web Sites |

451
(1)
452
(1)

| | |
| --- | --- |
| | Bringing the World into the Classroom |

452
(1)
453
(1)
453
(1)

| | |
| --- | --- |
| | Video in the Elementary Science Classroom |

454
(1)
455
(1)
455
(2)
457
(4)
461
(3)
464
(1)

| | |
| --- | --- |
| | Additional Questions for Discussion |

464
(1)
465
(2)

| | |
| --- | --- |
| | Concept Mapping in Elementary Science |

467
(18)

| | |
| --- | --- |
| | Exploring Concept Mapping |

468
(7)

| | |
| --- | --- |
| | Concept Mapping Technique |

475
(2)

| | |
| --- | --- |
| | Uses of Concept Maps in Elementary Science Education |

477
(5)

| | |
| --- | --- |
| | Using Concept Maps for Lesson Planning |

478
(1)

| | |
| --- | --- |
| | Using Concept Maps in Instruction |

479
(2)

| | |
| --- | --- |
| | Using Concept Maps for Assessment |

481
(1)

| | |
| --- | --- |
| | Uses of Concept Maps by Children |

482
(1)
482
(2)
484
(1)

| | |
| --- | --- |
| | Additional Questions for Discussion |

484
(1)

| | |
| --- | --- |
| | The Elementary Science Education Professional |

485
(20)

| | |
| --- | --- |
| | Decisions about Methodology |

487
(1)

| | |
| --- | --- |
| | Decisions about Curriculum |

488
(4)

| | |
| --- | --- |
| | The Elementary Science Teacher as Researcher |

492
(4)

| | |
| --- | --- |
| | Professional Organizations |

496
(3)

| | |
| --- | --- |
| | Science Education Organizations |

497
(2)

| | |
| --- | --- |
| | Early Childhood Education Organizations |

499
(1)

| | |
| --- | --- |
| | Professional Workshops and Seminars |

499
(1)
500
(2)

| | |
| --- | --- |
| | Excellence in Science Teaching |

502
(1)
503
(1)

| | |
| --- | --- |
| | Additional Questions for Discussion |

503
(1)
504
(1)

| | |
| --- | --- |
| | PART 3 Back to the Future |

505
(18)

| | |
| --- | --- |
| | A Model of Teaching By Listening |

507
(16)

| | |
| --- | --- |
| | The Need for a Different Model |

509
(1)

| | |
| --- | --- |
| | A Model of Teaching by Listening |

510
(10)
511
(3)
514
(1)
515
(2)
517
(1)
517
(3)
520
(1)
520
(2)
522
(1)
Appendix A Activities Cross-Referenced to Basic Scientific Concepts and Principles
523
(3)
Appendix B Listing of Children's Literature
526
(4)
Glossary
530
(5)
References
535
(28)
Index
563