Note: Supplemental materials are not guaranteed with Rental or Used book purchases.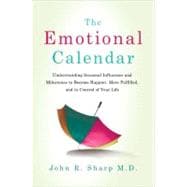 The Emotional Calendar Understanding Seasonal Influences and Milestones to Become Happier, More Fulfilled, and in Control of Your Life
ISBN13:
9780805091304
by
Sharp, John R.
Summary
A leading Harvard psychiatrist reveals how our emotional lives are profoundly shaped by the seasons, and how to recognize our own seasonal patterns and milestonesIn two decades of psychiatry practice, John R. Sharp has worked with many people who experienced the same emotional distresses at specific times of the year--a young woman who became depressed before Thanksgiving, a middle-aged man who felt anxious about making his summer travel plans, people who made uncharacteristically extreme decisions as spring approached.InThe Emotional Calendar, Sharp reveals how environmental, psychological, and cultural forces profoundly affect the way we feel, and how the enduring effects of personal anniversaries can influence our moods and behavior year after year. Sharp also illustrates a wide range of individual responses to cultural phenomena: some people feel anxious at the start of a new school year or are undone by the prospect of tax season while others are buoyed by the start of a sports season.Sharp shows us how to recognize the milestones on our own emotional calendars, providing guidance for how to break stifling patterns and remedy destructive moods. This empathetic and deeply resonant book will help readers reach an emotional balance for the years ahead.
Author Biography
John R. Sharp, M.D., is a psychiatrist and neuropsychiatrist who serves on the medical staff at the Beth Israel Deaconess Medical Center in Boston. He is on the faculty at Harvard Medical School and at the David Geffen School of Medicine at UCLA, and he divides his time between Boston and Los Angeles.
Table of Contents
Author's Note
p. xi
Introduction
p. 1
The Emotional Calendar
p. 7
The Four Seasons (You Thought You Knew)
Supercharged Summer
p. 39
The Reality of Winter
p. 51
The Wide Hand of Winter
p. 63
Spring: What Do You Want?
p. 75
The Environmental Factors
Running Cold and Hot
p. 99
Living in Light and Dark
p. 110
Wind and Storm: The Weather of Catastrophe
p. 129
Emotional Hotspots: It's That Time of Year Again
Emotional Memory
p. 153
The Cultural Calendar
p. 164
Your Personal Calendar
p. 182
Awareness
Looking Outward, Looking Inward
p. 201
Seasonal Embrace
p. 243
Notes
p. 249
Acknowledgments
p. 259
Index
p. 263
Table of Contents provided by Ingram. All Rights Reserved.
Excerpts
1
 
The Emotional Calendar
 
Spring passes and one remembers one's innocence.
Summer passes and one remembers one's exuberance.
Autumn passes and one remembers one's reverence.
Winter passes and one remembers one's perseverance.
YOKO ONO, "Season of Glass"

 
TO UNDERSTAND YOUR emotional calendar you probably have to start thinking differently about your life than you do now—not as a steady drumbeat of days, weeks, months, and years, but as a succession of periods of time of varying lengths, each one with a different combination of influences coming into play. Our emotional calendars are far less structured than our daily planners are—sometimes more subtle in their effect and sometimes more dramatic, but often far less predictable. They're harder to manage and can cause us trouble, but they are also rich in emotion and meaning.
We have become accustomed to thinking of the year as a regular cycle of days and seasons, because we have to do this to keep ourselves organized and functioning and to help us make sense of the world and our lives. So, for example, in the United States and most Western countries, we agree that the year "begins" on January 1. Over the millennia, we have designated a number of religious holidays that punctuate the year—with Christmas a prominent exclamation mark in many societies—and secular ones as well. We live by such social conventions as birthdays and anniversaries. We follow the habit of thinking of the four seasons as if they were well defined, beginning and ending promptly on the appointed calendar date.
These dates and times and milestones tick by each year, giving us structure and a sense of stability. Believe me, I live by my Outlook, my pocket planner, and my BlackBerry. I have patients who expect to find me in my office when they show up for a session. I have two daughters who just may want to spend time with me during their school breaks. I teach a class at Harvard that lasts for fourteen weeks in the fall. We usually try to spend part of the holidays with my wife's family. Our wedding anniversary is an important date. And on and on. So I am as driven as anyone is by the "paper" calendar.
But I also know that the paper calendar doesn't come close to capturing all of the events that I will be living through in the weeks ahead, nor does it have any way to mark the important milestones that will have an effect on me. This is true for most of us, as I have learned from my patients. For example, many people consider the real start of the year to be the first day of school, not January 1, and their lives revolve around that day. We also know that each season varies quite substantially from year to year and, what's more, there can be many seasons within each season. In the Northeast, we may get lucky enough to have a fall that starts in September with crisp air and sparkling light and marches resolutely toward a first December snowfall. The snow may accumulate steadily to a high point in February and then begin to melt away until the first crocus appears. But the seasons rarely proceed in such a predictable fashion. Summer may drift for weeks into September, and we've had heavy snowstorms in May. Each season may feel like a year unto itself.
But these fluctuations and vicissitudes often pale in comparison to the intensity of occasions filled with tremendous personal meaning and rich associations. These can relate to extended periods of your life, such as a time spent living in a certain place or a period marked by an important relationship with a lover, perhaps, or a mentor. They may also be more distinct days or even moments, such as the day you received great news or, as one of the people in this book relates, the minutes spent watching in horror as the World Trade Center was attacked.
There is so much coming at us as we travel along our paths!
How do you come to understand your emotional calendar? How do you recognize the hotspots and difficult times? How do you ameliorate their effects? How do you learn to live with the anxious times with more ease and grace?
In order to make a start on the answers to these questions, let me introduce you to Emma, a wonderfully intelligent and funny young woman, who has been my patient for six years. To meet her, you might not suspect how much she struggles with her emotional calendar. The seasons, especially fall and winter, are particularly tough for her. Her story demonstrates how complex and unique our emotional calendars are; it also shows how the elements of everyone's calendar are very much the same.
Emma: Going Through the Motions
Emma is twenty-one years old and a junior at a prestigious New England liberal arts college where she majors in psychology. She first came to see me when she was fifteen and having a very bad year. She had been attending a prep school outside of Boston, well known for its stringent academics and pressure-cooker environment.
"I think I've had depression since about fourth grade," Emma recalls. "But it got really bad in the middle of my ninth-grade year, and then it just went totally downhill." Emma became seriously depressed and could not continue at the school. She took some time off, did a stint in the hospital, and then transferred to another school that was better able to help with her emotional and psychological issues.
What was going on? It took some time for us to work through the many issues involved, and we're still doing so. To begin with, Emma has always had problems with school. "I can't really remember when I was little very well," she says, "but I've never liked school that much. It's always been very stressful for me. School is always something I just dreaded. I could never really manage it—I was so stressed all the time. Even in preschool, I only went about two days a week. In kindergarten the only reason I made it through was because they bribed me with stickers. I had a very nice collection by the end!"
Emma began to associate her difficulties with school with the change of the season from summer to fall. "It starts around September or late August when I know that it's starting to change into fall," she says. "I notice it's starting to get darker. It's not necessarily a feeling of hopelessness, but more like an absolute dread that I know that this time of year is approaching and I'm not going to feel as happy. My mood is going to go down."
Emma's dread of the school season seems to be magnified by the environmental conditions around her. "I know it sounds kind of weird, but I don't like it when there aren't leaves on the trees," she says. "The angles of the light, the trees are bare, and everything looks so ugly and dead. You can see all the skeletons of the trees. And there's something about it that's just incredibly depressing. It just looks like death. You know, it's horrible."
Emma is exquisitely sensitive to her surroundings and starts to withdraw in the early part of the fall. "Sometimes I wish I could just hibernate through the winter. Actually, that's almost what I do. So on a typical day I'll wake up, I'll get ready for school, I'll go to school, I'll say hi to people. It's like I go through the motions. Maybe it snows and I say, 'Oh hey! I'll have a hot chocolate.' But compared to the summer it's totally different. It's like I'm not really living."
The grimness of the fall is made all the more difficult for Emma to deal with because she loves spring and summer so much. "Spring is a great time of year," she says. "I love it when the green leaves are out and you can see the light filtering through them. I don't like direct sunlight. I find that harsh light to be hard to deal with. But when it's filtered through the leaves, it's very pleasant and that makes me feel good." Summer, too, is a beautiful time for Emma. "During the summer I actually live," she says. "And it feels so good to be alive. You can just exist in summer and you don't even have to do anything necessarily to really enjoy it. The weather invites you to take part in life."
Sensitivity to light, particularly the despondency that sets in during the darker days of fall and winter, is one of the symptoms of seasonal affective disorder (SAD). Emma was diagnosed with the condition some years before we met, and she had already begun using a sunlamp to help alleviate those effects. Indeed, one of the main reasons that Emma first came to see me was that she was convinced that her SAD was at the root of most of her problems, and she was concerned that the sunlamp wasn't enough to keep her depression and morbid thoughts at bay. It took a while for the two of us to unpack all of the deeper issues contributing to her emotional state.
Emma's dislike of winter and love of spring and summer go back a long way. She remembers a favorite book from her childhood calledThe Journey Home.1 "It's about these two kids," she says. "They go to different places in the world. They go through a hole in their sandbox and visit different mystical creatures. They eat different foods and stay in different beds. I like that book a lot. But, you know, it takes place in the spring. They visit Santa Claus in the winter, but I kind of skip over that part."
So Emma's troubles with fall and winter stem partly from her school problems and partly from her physical responses to the light and look of things, and they have been present since childhood. But there are other issues she contends with as well. She has a particular difficulty with Christmas, not because of the usual holiday issues but because of an emotionally devastating event that took place on that day.
"I was in an abusive relationship with a boyfriend," Emma says. "I didn't really realize it was abusive at the time, but it was. And he broke up with me on Christmas Day. He said that he had been using me for the past three years—that he had never loved me and he was just using me for sex." Emma believes she has gotten over that guy, and she now has a new boyfriend in her life. But the way she talks about the experience suggests that her feelings during winter months are still affected by that painful breakup.
Emma's emotional calendar may sound like a particularly complicated one, and she has certainly had her share of serious emotional difficulties. However, her situation is not uncommon. The fact is that most people—between 70 and 90 percent of us—experience at least one significant trauma during our lifetimes,2 and there's a good chance that it will have an effect on our emotional calendars. What's more, about 26 percent of people in the United States suffer from a diagnosable mental disorder of some kind.3 So Emma's emotional calendar is probably more complex than yours or mine, but she is far from alone in her travails. Keep in mind, however, that the emotional calendar is not fundamentally about mental illness or severe depression. Rather, Emma's story illustrates how intensely the seasons and their associations can affect all of us.
These days, Emma is more aware than most of us about the cyclical repercussions of a personal emotional calendar. Most of us focus more on factors that seem to affect us immediately or powerfully while underestimating or ignoring the subtler underlying issues: the events in our past that continue to haunt us years later; the common weather occurrences that don't seem to bother anyone else; the calendar events that we try to enjoy because it seems like we should.
As was the case for Emma, it can take a good deal of introspection and work to recognize the multifaceted and overlapping nature of the dates on your emotional calendar, and even more to understand the way these interact to affect you both physically and emotionally.
So let's pull apart the emotional calendar a little bit. There are two main aspects that compose it: our need forhomeostasis, or physical stability, and theemotional hotspotsthat are individual to each one of us.
Homeostasis: The Need for Physical Stability and the Factors That Disrupt It
Homeostasis is a scientific term that refers to the tendency of a system—usually, a living system—to regulate its internal environment in order to maintain a stable, constant condition. The need for physical stability is the most fundamental of human requirements. The term comes from scientific articles published by Walter Bradford Cannon during the 1920s, and scientists have been refining it ever since. Today, it is understood that factors ranging from temperature and insulin to emotional distress can all impact homeostasis.4
The term "dynamic equilibrium" is also often used to describe the body when it achieves balance. I like this phrase because it suggests both balance and constant motion, like the currents beneath an apparently calm lake. Because the world around us is constantly changing as we eat and work and sleep, our bodies are always making dozens of minute changes in our system to keep us in balance.
A good deal of our energy is expended each day just trying to keep ourselves at or near a condition of homeostasis. Maintaining homeostasis is the never-ending task of a regulatory system that is managed by the brain. This remarkable and essential system is not unlike a home thermostat, although a great deal more complicated. When the temperature inside your house gets uncomfortably low, the thermostat communicates the information to your heating system. It is activated and warms the house in response. Once the desired temperature has been reached, the thermostat communicates with the heating system to turn off. In the case of human beings, the thermostat is the brain. More specifically, it is the section of the brain called the hypothalamus, which sits just inside the two tracts of the optic nerve and just above the pituitary gland—that is, behind our eyes.
Achieving and maintaining homeostasis is no easy thing, because it is constantly being disrupted by environmental factors around us. Depending on where we live and our own unique biology, these powerful "physical destabilizers" can threaten our body's homeostasis. They include factors such as sunlight, temperature, and humidity; the presence of pollen and other allergens; barometric pressure; and, some suggest, even the cycle of the moon.
Physical destabilizers impact our health, our comfort, and our sense of balance and well-being. Seasonal affective disorder is one of the most well-known manifestations of the destabilizing influence of the environment, but it is a comparatively rare condition. All of us, however, experience a range of physical and emotional responses to even the most everyday conditions. Shifts in weather and climate affect all of our physical systems, including our pulmonary, gastrointestinal, and reproductive systems, our immune functions, hormone secretion, and more. People exhibit recurring variations in blood pressure, sexual activity, and menstrual cycles depending on the time of year. Births, deaths, suicides—all tend to fall into cyclical or seasonal patterns.
For our purposes, the most important of the destabilizers to homeostasis are light and dark, hot and cold, wind and storms. These are often associated with particular seasons, but they are not completely defined by or contained within any one, and these specific factors can affect us more than the generality of any one season. Although we're all aware of the shifts in the seasons and changes in environmental conditions, most of us are far less cognizant of how those physical shifts affect our emotions and behaviors.
Surprisingly, psychiatrists and scientists have not thoroughly explored the hard links between physical factors and the emotional reactions they cause. As Louis J. Battan, a former professor of atmospheric science at the University of Arizona, writes in his bookWeather in Your Life, "The psychological effects of the atmosphere are even more difficult to understand than are the physiological ones. The correlation of temperature, pressure, and humidity with certain physical ailments can be examined in controlled laboratory experiments. But the role of the weather in influencing human behavior requires observations of how people respond to preceding or coincident environmental events."5
Although this is not a book about weather, per se, weather is certainly an important factor in our emotional calendars. Weather conditions can influence our behaviors, just as the onset of winter affects Emma physically and emotionally.
Emotional Hotspots: Times of Intensity and Anxiety
Emotional hotspots are those times and events that we accumulate as memories over the years and that become associated with particular physical conditions or with specific periods or seasons on the paper calendar.
These hotspots can be formed in a variety of ways. Some of them are associated with events or periods that take place in the world around you, such as holidays, the school year, or a sports season. Others are much more particular to you and have to do with times of your life, such as a love affair or a time spent living in a different place, or a specific event, such as the death of someone close to you or the day you received your diploma.
Hotspots may be positive or negative; often they are complicated, with both pleasurable and distressing aspects. Above all, when they flare up they are capable of producing intense emotions. Christmas had become a particularly powerful hotspot for Emma, a day when her difficulty with school, hatred of wintry days, and memory of her terrible breakup with her boyfriend all converged.
SEASONALITIES: THE PAPER CALENDAR
Every community has a cycle of shared events and seasonalities that play a role in everyone's emotional calendar. Seasonalities are seasonally related trends that are widespread among a large number of people in the general population. These are usually related to specific and tangible cultural events, including holidays and well-defined time periods, such as the school season. Although you may never have thought about it, your own psychological state is almost certainly linked to seasonal cultural markers, whether you feel a growing dread as Hanukkah approaches or a nostalgia for summers past every Memorial Day and Labor Day. For Emma, the start of the school year is always a difficult time, as is Christmas; while the cause of her trouble is unique to her own experiences, many people have similar anxieties at those times of year.
One of the reasons that whole cultures can get caught up in similar emotions during a particular season is that, as social creatures, we are well adapted to living in groups. Humans take note of and are influenced by the behaviors of others. Social contagion—the tendency to adopt the responses of those around us—is widespread. We tend to feel better when we find ourselves in like-minded company. Even counterculturalists tend to find one another and form their own group subcultures. Participating in seasonal traditions is, therefore, generally comforting.
Seasonalities are not always linked to holidays or specific events; they can also be related to social, cultural, or other kinds of man-made seasons. The various periods of the academic calendar (back to school, exam time, spring break, graduation) are some of the most obvious and significant seasonalities that are not linked completely with one of the natural seasons—although they are certainly associated with and influenced by them. Sports seasons, too, have widespread importance. There are the busy and slow seasons in various professions, the seasonal hobbies that we look forward to, and the seasons we dread, such as tax season and college application time. For some people, these cultural seasonalities are more significant than the traditional seasons themselves.
In addition to those relatively well-known and well-recognized markers, there is also a vast and startlingly diverse number of other kinds of seasonalities: patterns and events that recur at various intervals throughout the year. There is, for example, an alcohol seasonality—more people try alcohol for the first time in December and January than during any other months of the year.6 There is a sexuality seasonality: more couples have unprotected sex in the summer than at any other time of year.7 And there are seasonalities that are only obliquely related to actual seasons: travel seasons, fashion seasons, television and movie seasons, and so on.
Different types of crime, too, seem to occur in predictable seasonal patterns. Researchers at Carnegie Mellon University have demonstrated that, in cities, crimes against property (such as burglary and theft) peak during the fall and winter, while crimes of aggression (including assaults, homicides, and rape) rise in the summer and decline in January.8
Similarly, the rise and fall of violence in Iraq during the war has been linked to the seasons. Kevin Drum, writing for CBS News, found that violence tended to peak in spring, decline during summer, spike again in autumn, and fall during the winter months. The peaks may have been overemphasized due to the increased violence and casualties in April and November of 2004 but, even without that, the seasonality pattern was quite distinct and traceable. Casualties in July were approximately 40 percent lower than their April peak.9
PERSONAL MEMORIES AND MILESTONES
Personal milestones are our own individual associations with specific times of the year. Each of us has a lifetime of memories and experiences upon which our current reality is shaped. The anniversary of a loss or significant life change; birthdays and family events; the resonance of childhood memories at any time of year; and any episode in your life that leaves a lasting impression might all be personal milestones.
When we reconnect to a feeling from the past, we actually relive it, often with undiminished intensity. Any of our senses—sight, hearing, smell, touch, taste—may provoke a recollection, a reconnection that takes us back to a moment when something affected us powerfully. A bit of sensory input from the present, when cross-referenced by the brain's hippocampal formation—our encyclopedia of emotional connections based on past experience—can trigger a powerful reaction in the present, instantly preparing us for a replay of our earlier physiological response and mind-set.
Our memories are closely linked to our emotions. This is why emotionally powerful events, such as the death of a relative, moving to a new location, holidays, and celebrations, tend to form the framework of our childhood memories. Fear is recorded as the emotion most associated with remembered experiences; joy ranks second, anger is third, wonder and curiosity is fourth, sorrow and disappointment is fifth, and pain and shame/guilt are tied for sixth.10
Take a moment and look outside. Do any of the seasonal details—the view of icicles melting, perhaps, or the smell of fresh-mowed grass or the sound of crunching leaves—trigger a childhood memory for you? Let yourself follow this feeling in order to see more clearly and in more detail where you were when you felt this way before. Can you see it in your mind's eye? Can you describe the textures of the experience? Try to shake it off and think of another trigger in the season and then follow that one back. The memories abound.
Every season is full of many layers of memories. Some memories are particularly poignant, and these hotspots impact our lives in powerful ways. Emma's most significant personal milestone is the anniversary of the end of her abusive relationship. It's an event that has haunted her ever since, rendering her particularly susceptible to depression at that time every year. The focus of the hotspot is Christmas Day—a day that most of us would like to be full of warmth and familial joy, but which for her brings on a feeling of dread and gloom. It may be worse some years than others, and over time the raw emotional devastation of that Christmas has healed somewhat, but each year Emma must acknowledge that she feels a sudden stab of emotion—an almost physical zing—when the memory returns.
Hotspots also imply a sense of expectation: something significant happened before at a certain time, and so we are programmed to associate that time with the feelings that incident inspired. This is what happens with Emma at the start of the school year: as a child she had a difficult time in school, both academically and socially, and she dreaded going back. Now, as an adult in college, she continues to expect a rocky start to the year, and this causes her feeling of anxious dread to return. Of course, it's not really that clear to her: it's only on a subconscious level that Emma experiences that sense of expectation, so when the dread comes she doesn't realize that it's just a programmed response. After all, her college life is very different from her earlier education; she has a great deal more freedom and is able to build a structure and a social calendar that suit her emotional needs. She has no immediate reason to expect that the start of school will bring on a new set of problems, so the dread is disconnected from the actual events of her life today.
TRIGGERS: MAKING HOTSPOTS BOIL OVER
A trigger is something that causes feelings from the past to emerge, often rather suddenly and unexpectedly. Triggers can be sensory data, such as smells or sounds; they can also be memories or other stimuli, such as the words in a book. They are external factors that influence our internal processes. While a hotspot is there, waiting, at a certain time of year or a particular event, it may not emerge unless a trigger sets it off, usually causing a sense of anxiety, depression, or pain.
As a sufferer of SAD, Emma can experience an early sunset as a trigger. Even as early as August or September, the first time she notices that the days are growing shorter, she may feel a depressive episode coming on. Pictures of winter, especially of snow, are another trigger. "Looking at winter pictures during the spring is horrible," she says. It gives her a physical jolt, as though she's been suddenly plunged back into the depths of winter. Her favorite childhood book,The Journey Home, can still boost her mood in winter, although she always skips the part when the characters visit Santa Claus.
Bringing It All Together: Homeostasis and Subjective Well-Being
Although we have just addressed the physical and emotional aspects of the emotional calendar as if they are separate, they are, of course, closely intertwined and much harder to untangle than it might seem. I like to think of homeostasis as something that balances not only our blood sugar and temperature but also our feelings of happiness and sadness, of anxiety and of peace. Physical and emotional factors together keep us stable.
Homeostasis refers specifically to ordinary changes that affect the body: temperature, food intake, shifts in sunlight. Recently, however, scientists have proposed a more holistic concept to understand physical and mental balance. The concept of "allostasis" refers to "stability through change."11 When we exercise, for example, we need more glucose—and so our "settings" change. Imagine how we maintain allostasis as we get older, or go through periods of stress!
The concept of "subjective well-being," or SWB, is another way of thinking about this physical and emotional conception of homeostasis. It refers to each person's well-being as a sum of all factors, emotional and physical. A group of Australian scientists studied the emotional range of 649 people for six years and found that everyone has a normal SWB, as we might expect. This means that there is a state of normalcy to which we return and a physical and emotional range within which we feel relatively all right.12 Maybe we're a little sad, a little sick, or maybe we're really excited, but we're not out of control. Scientists rank the average SWB at 75 on a scale of 1 to 100.13
There are many things that can influence our subjective well-being. Emotional upheavals, such as births, deaths, love, and violence, can throw us off. So can physical destabilizers, such as bad weather or excess sunshine. In fact, the emotional and environmental factors affecting us aren't always distinguishable. Scientists have found that stress and anxiety have a big impact on our body's physical homeostasis.14 And loss of physical stability can trigger an emotional response.
The good news is that there can be a positive consequence of getting thrown out of whack physically and emotionally. Developmental theorists from Jean Piaget to Sigmund Freud have argued that when homeostasis is lost, people have the opportunity to develop.15 They learn, grow, and change. I certainly learned something about myself in my end-of-summer experience, and Emma is one of the wisest young women I know, largely as the result of her struggles with her lack of stability. So although our tendency is to want to keep ourselves nicely stable at all times, it's useful to understand that times of physical or emotional challenge can lead to personal growth—as long as you have the right perspective and enough support!
Although the research into subjective well-being has been dominated by Western scientific perspectives, analysts in many parts of the world have considered the question of what constitutes well-being. In Taiwan, scientists asked 142 undergraduates to answer the essay question "What is happiness?" Interestingly, they found that "intense, hedonic emotions"—such as joy or elation—were not stressed in the answers. Instead, the students defined happiness more along the lines of "being ordinary" and "feeling comfortable with oneself."16
One writer uses the term "harmonious homeostasis" to describe this mental state: "Happiness can be defined as a state of harmony within the individual as well as between the individual and his surroundings.… The concept of harmonious homeostasis seems to capture the core implication of happiness being a dynamic process of achieving and maintaining a good fit from within to outward."17
Most of us do not expect our days to be filled with great gusts of emotion (good or bad), and would not want them to be; rather, we seek stability and normalcy. That's one of the reasons why, when those intense emotions do occur, we remember them so vividly. They are essentially abnormal states of being and take a special place on our emotional calendars.
The Importance of Awareness
So many different factors contribute to one's emotional calendar, there can really be norightway to proceed through the year, and there is no one solution or strategy that can help everyone recognize and overcome their physical destabilizers or deal with their individual emotional hotspots and triggers. To learn to proceed through your emotional calendar with more ease and grace, you just need to start by identifying the factors that affect you the most, and why.
When Emma and I first started working together, for example, she felt there wasn't much she could do about her "winter problem" beyond talking with me, finding a helpful medication, and slogging through until spring arrived. When you're down, it's very difficult to see a way to get up. Six years later, she knows that she will likely be wrestling with the dark seasons for the rest of her life, but she has made a lot of progress in becoming aware of what is happening to her and why.
Last January, for example, Emma came into my office with a scowl on her face.
"It's happening again, all right," she told me.
"What is?" I asked.
"The usual stuff. I don't want to get out of bed again."
"But you got here to see me today," I said.
"Because I had to," she replied.
"Not really. But you knew it was the best thing for you to do."
I offered Emma my support in a form that psychiatrists sometimes refer to with the acronym "PERL." It stands for four important aspects of support: partnership, empathy, respect, and legitimization. Let me take a moment to describe those four elements.
One of the most important things that a psychiatrist can offer a patient is partnership: expressing an active commitment to stick together through difficult times. Essentially, I say to Emma and all my patients, "No matter what, I'll be there for you. We'll stick together on this." Knowing they are not alone in their suffering and that they have an ally can be tremendously helpful in relieving some symptoms for many patients. The second aspect, empathy, involves using words to convey an appreciation of how someone is feeling. It can be very comforting to hear phrases such as "It's so hard. You feel awful." Such comments provide the person with an acknowledgment of their emotions and show that you have an understanding of how it feels. In addition to partnership and empathy, support involves respect. That means praising what a person is doing right—what is helping. As I said to Emma, "But you got here!" The intention is to actively point out and support the things that people can do to help themselves through difficult times. And, finally, legitimization means using a medical model to remind the sufferer that the problem is not his or her "fault." In the case of seasonal depression, it is a medical condition that causes Emma to feel fatigued and dispirited, not a personal weakness, not a character flaw or failing.
So just in that brief initial exchange I had offered Emma a lot of support. She knew I would stick with her, that I felt empathy for her, and respected her efforts in dealing with her problem. I could see her start to relax a little.
"It's just so hard," she said.
"I know."
Most of us react to the troublesome times on our emotional calendar as Emma does. When we come into a difficult time of year, we're not quite ourselves, so we have diminished capacity to figure out what's happening and then do something about it. There's a vicious cycle going on—our mood and behavior are not at their best and, because of that, we aren't quite able to figure out why, which intensifies the emotion still further. Pretty soon we're in a state of funk, totally out of sorts, or taking actions that just don't make sense. These emotional escalations can be troublesome because they negatively affect our work, create conflicts in our relationships, and hamper our ability to get on with our lives.
People can recognize recurring difficulties—they complain about the insomnia they experience in early spring, chronic shoulder pain that flares up in dry hot weather, a melancholy that they can't avoid as the New Year approaches—and yet so often they dismiss, ignore, or completely repress the connections between their personal calendar and these experiences.
Why do we permit ourselves to live, year after year, with disruptive patterns engraved in our emotional calendars? As individuals, we respond to emotional disruptions in the same way, over and over again. We allow ourselves to repeat these patterns because familiar habits, even negative ones, help us feel more in control, and any semblance of control is comforting.
In order to break out of these patterns, we need to exchange this illusory sense of control for what I call "adaptive control." The term comes from physics, where it refers to the numerous methods that allow a system to adapt to changes over time. Adaptive control is what allows an airplane to adjust for loss of mass caused by burning fuel without flying out of control. In psychology, it is the ability to make necessary changes to resolve problems in our lives while maintaining the sense of security we get from being in control. Adaptive control is the ability torecognize patterns, togain perspective, and to makepositive choicesthat allow us to feel more happy, balanced, and hopeful in our daily lives. I'll talk more about adaptive control and how it works in chapter 12.
Our Relationship with the Seasons Has Changed
A thousand years ago, our lives were inextricably intertwined with the seasons and weather, much more so than they are today. Every aspect of life was governed by the physical realities of the time of year. People virtually hibernated during the dark winter months, when food and light were scarce and snow and ice prevented most travel. During the summer heat, people anticipated that they would be operating at half speed. Even a hundred years ago, we accepted that many foods simply weren't available during three out of four seasons, and everybody knew what ailments or difficulties they were likely to suffer in any kind of weather. The spring rains, they knew, would inflame the joints of those with rheumatism; if the leaves had not fallen by St. Martin's Day (November 11), everyone hunkered down for a cold, harsh winter.18
Over the centuries, we have done our best to mitigate and control the effects of the seasons, their associated environmental conditions, and the threats they make to our physical homeostasis and emotional well-being. In the developed world today, however, our relationship with the seasons and seasonalities is different. At any time of the year, we can travel to any kind of weather we choose. We spend most of our days in temperature-controlled environments, and generally move from one to another—from the house to the car or train to the office and back again—with as little exposure to the elements as possible. We still pay a lot of attention to the weather reports, but we care about them mostly as they tell us how to prepare for those few moments of exposure, or how they will affect our vacation or recreational plans.
The seasons, and the weather patterns typical of each, have become almost inconsequential in our daily lives. Yes, a heavy snowfall might inconvenience us, and a forecast of a week of sunny weather might make us more excited for an upcoming vacation but, really, these are trivialities that have only a minimal effect on our daily routines. No matter the time of year, no matter the weather, most of us still go to work at the same time every day; we go food shopping, spend time with loved ones, go to our church or book club or gym. Even the holidays and events that are most important to us are worked into our schedules with as little interruption as possible. For most of us, life is quite consistent throughout the year, and the seasons are simply background—inexorable and endlessly fascinating but, in the end, almost irrelevant.
And yet.
There are certain phenomena that we, both individually and collectively, cannot ignore. After a few days of continuous rain, people begin to stare dolefully out the windows and sigh. When the sun finally comes out again, there is a general sense of relief and good cheer. When a serious hurricane or earthquake hits one city, the whole nation—and sometimes the whole world—tunes in to the news and closely follows reports of damage and losses. On a given day, most people will have at least one conversation about the weather, the season, or the time of year in general. These are behaviors and experiences that we all have in common and are part of a shared experience.
The ability to be aware of our own responses to the seasons largely depends on how in tune we are with the seasons themselves. This can be surprisingly difficult to gauge. We know what each season issupposedto be like—and, in fact, we might have very rigid ideas of what the weather should be, how we should feel, and how we should all behave in a given season. But so often the reality simply does not match up to our expectations, both in terms of the weather and in how we feel, and this discrepancy can throw us off far more than we realize.
When people live in the temperature-controlled, artificial environments that so many of us do, it becomes even more difficult to be aware of how we feel about a given season or type of weather, or why. We may realize that the onset of fall makes us anxious and uncomfortable but have no idea whether those feelings stem from some barely remembered past pain, or from physical destabilizers such as decreasing sunlight or the hormonal shifts within our bodies brought on by the changing season. On the other hand, people who live more deeply within the seasons—farmers, for example—might be too literal in their expectations of autumn, based entirely on the weather and the success of the harvest. They might not realize how deep their emotional connection to the season really is.
Moreover, the world around us is changing, and so is our place in it. Climate change is an increasing concern, and with every passing year our lives and livelihoods are being affected by it. The almost limitless access to the world we are given by cell phones, the Internet, Skype, and other technologies has changed the way that many people work and interact with friends and colleagues. For some people, there is no need to ever leave the house if they don't wish to. At the same time, travel is faster and more convenient now than it has ever been, and a great number of people the world over take advantage of this fact, both for work and for pleasure, throughout the year.
I have come to the conclusion that few of us have the relationship with the calendar that we think we do. Even when we feel that we have a handle on things, the world shifts a little bit and our experience changes. In order to achieve a real awareness of your emotional calendar, therefore, it's important to understand that—in addition to all the influences discussed in this chapter—the world has changed and is continually changing; more important, you must develop an honest and accurate perspective of how you personally are influenced by these changes.
Everyone's emotional calendar is incredibly dynamic—constantly changing as the result of physical conditions, cultural seasonalities, shifts in the state of the world, and, of course, new experiences and events that take place in our day-to-day lives. The place to start, though, in coming to terms with your emotional calendar, is in your past. To find out what you are affected by, consider what you've been through.


 
Copyright © 2011 by John R. Sharp, M.D