Note: Supplemental materials are not guaranteed with Rental or Used book purchases.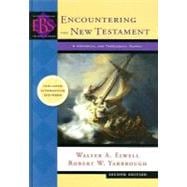 Questions About This Book?
Why should I rent this book?
Renting is easy, fast, and cheap! Renting from eCampus.com can save you hundreds of dollars compared to the cost of new or used books each semester. At the end of the semester, simply ship the book back to us with a free UPS shipping label! No need to worry about selling it back.
How do rental returns work?
Returning books is as easy as possible. As your rental due date approaches, we will email you several courtesy reminders. When you are ready to return, you can print a free UPS shipping label from our website at any time. Then, just return the book to your UPS driver or any staffed UPS location. You can even use the same box we shipped it in!
What version or edition is this?
This is the 2nd edition with a publication date of 3/1/2005.
What is included with this book?
The Used copy of this book is not guaranteed to include any supplemental materials. Typically, only the book itself is included.
The Rental copy of this book is not guaranteed to include any supplemental materials. You may receive a brand new copy, but typically, only the book itself.
Related Products
Summary
This highly readable survey is designed to make studying the New Testament less daunting and more rewarding. The second edition has been updated throughout, including the CD-ROM, which has been thoroughly revised to increase its value to students. Book jacket.
Author Biography
Walter A. Elwell (Ph.D., University of Edinburgh) is emeritus professor of biblical and theological studies at Wheaton College. He has edited numerous biblical reference works, including the Baker Theological Dictionary of the Bible and the Evangelical Dictionary of Theology. Robert W. Yarbrough (Ph.D., University of Aberdeen) is associate professor of New Testament at Trinity International University and coeditor of the Baker Exegetical Commentary on the New Testament series.
Table of Contents
Preface
11
(2)
To the Professor
13
(2)
To the Student
15
(2)
Abbreviations
17
(2)

| | |
| --- | --- |
| | Why Study the New Testament? |

19
(20)

| | |
| --- | --- |
| | The Bible: A High Stakes Book |

| | |
| --- | --- |
| | Why Study the New Testament? |

| | |
| --- | --- |
| | It Mediates God's Presence --- and with It, Truth |

| | |
| --- | --- |
| | It Is of Ultimate Personal Significance |

| | |
| --- | --- |
| | It Is Foundational to Cultural Literacy |

| | |
| --- | --- |
| | Why These Twenty-Seven Books? |

| | |
| --- | --- |
| | Old Testament Precedent for a Canon |

| | |
| --- | --- |
| | The Divine Authorship of the New Testament: Inspiration |

| | |
| --- | --- |
| | Recognition of the Canon in the Church |

| | |
| --- | --- |
| | The Integrity of the New Testament Text |

| | |
| --- | --- |
| | Why Study the New Testament? |

| | |
| --- | --- |
| | To Avoid the Tyranny of Preformed Personal Opinion |

| | |
| --- | --- |
| | To Avoid Misguided Reliance on the Holy Spirit |

| | |
| --- | --- |
| | To Enable Historical-Theological Interpretation |

| | |
| --- | --- |
| | PART 1 Encountering Jesus and the Gospels |

| | |
| --- | --- |
| | The Middle East in the Days of Jesus |

39
(30)

| | |
| --- | --- |
| | The History of Palestine from the Return to the Destruction of Jerusalem |

| | |
| --- | --- |
| | The Maccabean/Hasmonean Period (166--63 B.C.) |

| | |
| --- | --- |
| | The Domination of Rome (63 B.C.--A.D. 70) |

| | |
| --- | --- |
| | The Rule of Herod the Great (37--4 B.C.) |

| | |
| --- | --- |
| | The Rule of Herod's Descendants (4 B.C.--A.D. 66) |

| | |
| --- | --- |
| | Archelaus (4 B.C.--A.D. 6) |

| | |
| --- | --- |
| | Antipas (4 B.C.--A.D. 39) |

| | |
| --- | --- |
| | Herod Agrippa I and II (A.D. 37--66) |

| | |
| --- | --- |
| | The Jewish War and Destruction of Jerusalem (A.D. 66--70) |

| | |
| --- | --- |
| | Jewish Religion in Jesus' Day |

| | |
| --- | --- |
| | The Unifying Factors in Judaism |

| | |
| --- | --- |
| | Other Groups in Palestine |

| | |
| --- | --- |
| | The Literature of the Jews |

| | |
| --- | --- |
| | The Old Testament Apocrypha |

| | |
| --- | --- |
| | The Old Testament Pseudepigrapha |

| | |
| --- | --- |
| | The Gospel and the Four Gospels |

69
(8)

| | |
| --- | --- |
| | The Content of the Message |

| | |
| --- | --- |
| | The Growing Body of Material |

| | |
| --- | --- |
| | The Distinctive Gospel Form |

| | |
| --- | --- |
| | Why the Gospels Were Written |

| | |
| --- | --- |
| | The Trustworthiness of the Gospels |

| | |
| --- | --- |
| | The Gospel of Matthew: The Messiah Has Come! |

77
(10)

| | |
| --- | --- |
| | Purpose and Characteristics |

| | |
| --- | --- |
| | Jesus the Fulfillment of God's Intention |

| | |
| --- | --- |
| | Jesus the Savior of Israel and the World |

| | |
| --- | --- |
| | Jesus the Supreme Authority |

| | |
| --- | --- |
| | Jesus the Teacher, Preacher, and Healer |

| | |
| --- | --- |
| | The Followers of Jesus and the Church |

| | |
| --- | --- |
| | The Gospel of Mark: Son of God, Servant of All |

87
(10)

| | |
| --- | --- |
| | Purpose and Characteristics |

| | |
| --- | --- |
| | The Supernatural Nature of Jesus |

| | |
| --- | --- |
| | The Unfolding Mystery of Jesus' Divine Sonship |

| | |
| --- | --- |
| | The People's Confirming Reactions |

| | |
| --- | --- |
| | The Death and Resurrection of Jesus |

| | |
| --- | --- |
| | The Ministry of Jesus as Servant |

| | |
| --- | --- |
| | The Gospel of Luke: A Savior for All People |

97
(10)

| | |
| --- | --- |
| | Purpose and Characteristics |

| | |
| --- | --- |
| | Jesus as Savior of the World |

| | |
| --- | --- |
| | Events of Jesus' Early Life |

| | |
| --- | --- |
| | The Place of Women in Jesus' Ministry |

| | |
| --- | --- |
| | The Ministry of the Holy Spirit |

| | |
| --- | --- |
| | The Gospel of John: Eternal Life through His Name |

107
(10)

| | |
| --- | --- |
| | Date and Place of Writing |

| | |
| --- | --- |
| | Purpose and Characteristics |

| | |
| --- | --- |
| | In the Beginning Was the Word |

| | |
| --- | --- |
| | Jesus' Divine Qualities and Essence |

| | |
| --- | --- |
| | Jesus as Unique Divine Messenger |

| | |
| --- | --- |
| | Jesus' Fulfillment of Israel's and All Humanity's Hopes and Needs |

| | |
| --- | --- |
| | Man from Galilee: The Life of Jesus Christ |

117
(20)

| | |
| --- | --- |
| | The Gospels and the Life of Jesus |

| | |
| --- | --- |
| | Jesus' Birth and Youth (6 B.C.-A.D. 26) |

| | |
| --- | --- |
| | The Beginning of Jesus' Public Ministry (A.D. 26--27) |

| | |
| --- | --- |
| | The Galilean Ministry (A.D. 27--29) |

| | |
| --- | --- |
| | Jesus' Travels outside Galilee (A.D. 29) |

| | |
| --- | --- |
| | The Perean and Judean Ministry (A.D. 29--30) |

| | |
| --- | --- |
| | Jesus' Last Days on Earth and Crucifixion (April A.D. 30) |

| | |
| --- | --- |
| | The Resurrection and Ascension of Jesus (April--June A.D. 30) |

| | |
| --- | --- |
| | The True Meaning of Jesus of Nazareth |

| | |
| --- | --- |
| | Lord, Teach Us: The Teaching Ministry of Jesus Christ |

137
(16)

| | |
| --- | --- |
| | The Form of Jesus' Message |

| | |
| --- | --- |
| | God, the Kingdom of God, and Jesus' Relation to the Kingdom |

| | |
| --- | --- |
| | Jesus' Special Relation to God |

| | |
| --- | --- |
| | Jesus' Special Relation to Other Human Beings |

| | |
| --- | --- |
| | Human Life, Human Sinfulness, and God |

| | |
| --- | --- |
| | The End of the Age, the Second Coming, and the Life to Come |

| | |
| --- | --- |
| | Modern Approaches to the New Testament: Historical Criticism and Hermeneutics |

153
(16)

| | |
| --- | --- |
| | Two Ways of Reading the New Testament |

| | |
| --- | --- |
| | The Necessity of Criticism |

| | |
| --- | --- |
| | Roots of Historical Criticism |

| | |
| --- | --- |
| | Contribution and Limitations of Historical Criticism |

| | |
| --- | --- |
| | The Promise of Hermeneutics |

| | |
| --- | --- |
| | Invitation to Further Hermeneutical Study |

| | |
| --- | --- |
| | The Modern Study of the Gospels |

169
(12)

| | |
| --- | --- |
| | The Rise of Source Criticism |

| | |
| --- | --- |
| | The Rise of Form Criticism |

| | |
| --- | --- |
| | The Rise of Redaction Criticism |

| | |
| --- | --- |
| | The Modern Search for Jesus |

181
(12)

| | |
| --- | --- |
| | The Search for the Real Jesus |

| | |
| --- | --- |
| | A Brief History of the Search |

| | |
| --- | --- |
| | The Search for the Real Words of Jesus |

| | |
| --- | --- |
| | A Brief Look at the Search |

| | |
| --- | --- |
| | The Criteria Used to Find Jesus' Real Words |

| | |
| --- | --- |
| | A Positive Approach to the Problem |

| | |
| --- | --- |
| | PART 2 Encountering Acts and the Earliest Church |

| | |
| --- | --- |
| | The World and Identity of the Earliest Church |

193
(16)

| | |
| --- | --- |
| | Religions and Philosophies |

| | |
| --- | --- |
| | The Early Christians: New People in Christ |

| | |
| --- | --- |
| | How Early Christians Saw Themselves |

| | |
| --- | --- |
| | What Early Christians Believed |

| | |
| --- | --- |
| | The Decisive Fact of Jesus' Death and Resurrection |

| | |
| --- | --- |
| | Acts 1--7: The Earliest Days of the Church |

209
(14)

| | |
| --- | --- |
| | Characteristics and Importance |

| | |
| --- | --- |
| | Literary Features and Structure |

| | |
| --- | --- |
| | Outline of Acts 1--7 Initial Witness to Christ in and around Jerusalem (1:1--2:47) |

| | |
| --- | --- |
| | The First Christian Pentecost (1:12--2:47) |

| | |
| --- | --- |
| | Pointed Message, Dramatic Response |

| | |
| --- | --- |
| | Spreading the Message, Gathering Opposition (3:1--7:60) |

| | |
| --- | --- |
| | Acts 8--12: Salvation for Both Jew and Gentile |

223
(14)

| | |
| --- | --- |
| | Perspective of Acts 8--12 |

| | |
| --- | --- |
| | Minor Figures: Ten More Who Believed |

| | |
| --- | --- |
| | The Ethiopian Eunuch (8:26--40) |

| | |
| --- | --- |
| | Simon the Tanner (9:43; 10:6, 17, 32) |

| | |
| --- | --- |
| | James, Brother of John (12:2) |

| | |
| --- | --- |
| | Simon the Sorcerer (8:9--25) |

| | |
| --- | --- |
| | Herod Agrippa I (12:1--23) |

| | |
| --- | --- |
| | Peter (8:14--25; 9:32--43; 10:1--11:18; 12:3--18) |

| | |
| --- | --- |
| | Saul (8:1--3; 9:1--31; 11:25--30; 12:25) |

| | |
| --- | --- |
| | Acts 13--28: The Light of Christ to the Ends of the Earth |

237
(16)

| | |
| --- | --- |
| | First Missionary Journey (13:1--14:28) |

| | |
| --- | --- |
| | The Jerusalem Council (15:1--35) |

| | |
| --- | --- |
| | Second Missionary Journey (15:36--18:22) |

| | |
| --- | --- |
| | Third Missionary Journey (18:23--21:15) |

| | |
| --- | --- |
| | Arrest in Jerusalem and Imprisonment in Caesarea (21:15--26:32) |

| | |
| --- | --- |
| | Voyage to Rome (27:1--28:10) |

| | |
| --- | --- |
| | Ministry at Rome (28:11--31) |

| | |
| --- | --- |
| | PART 3 Encountering Paul and His Epistles |

| | |
| --- | --- |
| | All Things to All People: Life and Teachings of the Apostle Paul |

253
(20)

| | |
| --- | --- |
| | Brief Overview of the Life of Paul |

| | |
| --- | --- |
| | Missionary Journeys and Paul's Letters |

| | |
| --- | --- |
| | Which Letters Did Paul Write? |

| | |
| --- | --- |
| | Paul's Teaching about God |

| | |
| --- | --- |
| | Evil and the Human Dilemma |

| | |
| --- | --- |
| | Children of Abraham, Children of God: Paul's View of the People of God |

273
(14)

| | |
| --- | --- |
| | Gospels---Acts---Epistles |

| | |
| --- | --- |
| | The City of Rome and Christianity |

| | |
| --- | --- |
| | The Occasion and Purpose of Romans |

| | |
| --- | --- |
| | Prognosis I: Justified by Faith in Jesus Christ (3:21--8:17) |

| | |
| --- | --- |
| | Prognosis II: Redeemed by Grace (8:18--11:36) |

| | |
| --- | --- |
| | Prescription (12:1--15:13) |

| | |
| --- | --- |
| | Conclusion (15:14--16:27) |

| | |
| --- | --- |
| | Corinthians and Galatians: Apostolic Counsel for Confused Churches |

287
(20)

| | |
| --- | --- |
| | First and Second Corinthians |

| | |
| --- | --- |
| | Founding of Christianity in Corinth |

| | |
| --- | --- |
| | Letters to and from Corinth |

| | |
| --- | --- |
| | Author, Date, Place of Writing |

| | |
| --- | --- |
| | South Galatia or North Galatia? |

| | |
| --- | --- |
| | Ephesians, Philippians, Colossians, and Philemon: Letters from Prison |

307
(20)

| | |
| --- | --- |
| | Declarations and Exhortations |

| | |
| --- | --- |
| | Implications of Christ's Supremacy |

| | |
| --- | --- |
| | Literary and Historical Questions |

| | |
| --- | --- |
| | Thessalonians, Timothy, and Titus: A Legacy of Faithfulness |

327
(20)

| | |
| --- | --- |
| | First and Second Thessalonians |

| | |
| --- | --- |
| | Origin of 1 and 2 Thessalonians |

| | |
| --- | --- |
| | God-Focus at Thessalonica |

| | |
| --- | --- |
| | First Timothy, Second Timothy, Titus |

| | |
| --- | --- |
| | Fourth Missionary Journey and Authorship |

| | |
| --- | --- |
| | Occasion for Writing and Message |

| | |
| --- | --- |
| | Occasion for Writing and Message |

| | |
| --- | --- |
| | Occasion for Writing and Message |

| | |
| --- | --- |
| | The Wisdom of the Pastoral Epistles |

| | |
| --- | --- |
| | PART 4 Encountering the General Epistles and the Apocalypse |

| | |
| --- | --- |
| | Hebrews and James: Maintaining Full Commitment to Christ |

347
(14)

| | |
| --- | --- |
| | The General Epistles Hebrews: Sermonic Epistle |

| | |
| --- | --- |
| | The Mystery of Hebrews' Authorship |

| | |
| --- | --- |
| | Date, Recipients, Purpose, and Genre |

| | |
| --- | --- |
| | Down with the Old Testament? |

| | |
| --- | --- |
| | Author, Date, Recipients, and Purpose |

| | |
| --- | --- |
| | Peter, John, and Jude: A Call to Faith, Hope, and Love |

361
(14)

| | |
| --- | --- |
| | The Comfort and Encouragement of Christ |

| | |
| --- | --- |
| | Revelation: God Is in Control! |

375
(12)

| | |
| --- | --- |
| | Theories of Interpretation |

| | |
| --- | --- |
| | The Teachings of Revelation |

| | |
| --- | --- |
| | Epilogue: Matters to Ponder |

387
(8)

| | |
| --- | --- |
| | The New Testament Story: Over But Not Ended |

| | |
| --- | --- |
| | The Legacy of the Apostolic Age |

| | |
| --- | --- |
| | Basis for Reflection and Action |

Glossary
395
(12)
Answers to Review Questions
407
(2)
Notes
409
(12)
Scripture Index
421
(14)
Name Index
435
(4)
Subject Index
439