Note: Supplemental materials are not guaranteed with Rental or Used book purchases.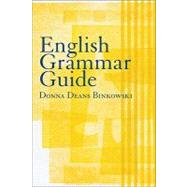 Summary
After taking a Spanish class, most students say they learned as much about English grammar as they did about Spanish grammar. With this in mind, the English Grammar Guide was conceived. It is a handy pocket book that explains the grammatical concepts students need to know in order to understand the Spanish grammar presentations in the text. An icon cross-references the necessary grammar points in the guide for each of the Spanish grammar concepts presented in the text.
Table of Contents
Definite and Indefinite Articles
Nouns
Singular and Plural
Adjectives
Subjects
Pronouns
Subject Pronouns
Yes-No Questions
Making a Sentence Negative
Question-word Questions
Verbs
Conjugation / Infinitive
Tense
Present Indicative
Subject-Verb Agreement
Idiomatic Expressions
Possessive Adjectives
Auxiliary and Main Verbs
Direct Objects
Direct Object Pronouns
Demonstrative Adjectives
Demonstrative Pronouns
Neuter
Subject / Object
Reflexive / Non-reflexive Actions
Reflexive Pronouns
Reciprocal Action
Comparing Things That Are Equal
Comparing Things That Are Not Equal
Superlatives
Present Progressive
Present Participle
Indirect Objects
Indirect Object Pronouns
Past Tense
Perfective / Imperfective Aspect
Prepositional Phrases
Affirmative and Negative
Definite and Indefinite
Indefinite and Negative Expressions
Imperfect (Aspect)
Ordinal Numbers
Impersonal Subjects
Passive Voice
Table of Contents provided by Publisher. All Rights Reserved.