Note: Supplemental materials are not guaranteed with Rental or Used book purchases.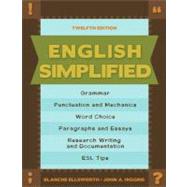 Customer Reviews
The best concise reference for English grammar
March 20, 2011
by





This textbook is a great reference guide; it has actually taught me everything I know about grammar. It's concise, easy to understand, yet absolutely complete. The book is also very well organized and it is easy to find what you are looking for. Each section is easy to understand with useful charts and examples. Everyone needs to have a copy of this book.

Flag Review
---
English Simplified

:
stars based on
1
user reviews.
Summary
English Simplified, at only 72 pages, is a concise, inexpensive grammar handbook that covers grammar usage, paragraphs, essays, and research and documentation. English Simplified has long been the choice of instructors searching for a brief, inexpensive, easy-to-use handbook. English Simplified, Twelfth Edition, continues to provide comprehensive coverage of grammar, punctuation, mechanics, spelling, word choice, and includes tips for ESL writers, easy to read tables that clarify verb tenses and forms, the latest updates on documentation style, and material on note taking, source evaluation, and avoiding plagiarism. A separate, inexpensive exercise book is also available.
English Simplified, 12/improvised you with comprehensive coverage of grammar, punctuation, mechanics, spelling and word choice. It also includes tips for ESL writers and easy to read tables that clarify verb tenses and forms. In order to give you the information to keep you at the top of your class it includes the latest updates on documentation style, material on note taking, source evaluation, and avoiding plagiarism. Will answer any questions a writer has about grammar, the writing process, or research. The writing process, critical thinking, argumentative writing, style, grammar, mechanics, usage, the research process, how to document sources. Anyone who wants a reliable writing reference book.
Table of Contents
Sentences and Grammar (Sections 101-130)
Sentences
Parts
subject
verb (predicate)
Sentence pattern
Classifying
by purpose
by structure (clauses)--simple, compound, complex, compound-complex
Parts of Speech: Survey
nouns
pronouns
Verbs
adjectives
adverbs
conjunctions
prepositions
interjections
A word as different parts of speech
A word group as a part of speech
Using Nouns
Kinds
singular, plural
common, proper
concrete, abstract
collective
count, noncount
Uses
subject
complement (direct, indirect object; subjective, objective complement)
object of preposition
appositive
direct address
Using Verbs
Identifying
Kinds
transitive
intransitive
linking
auxiliary
Principal parts
present, past, past participle
troublesome verbs
Tenses, forms
present
past
future
present perfect
past perfect
future perfect
conditional
Verbs vs. Verbals
infinitives
participles
gerunds
Verb errors
perfect and passive forms
tense shift
overused passive voice
mood shifts
confusion of similar verbs (see also 404)
Using Adjectives and Adverbs
Correct use
adverbs with action verbs; modifying adjectives, adverbs
adjectives after linking verbs
good vs. well, bad vs.badly
comparative, superlative; double comparative, superlative; illogical comparisons
Articles, determiners [ESL]
a vs.an
articles before nouns
limiting adjectives (determiners)
order of adjectives
Using Pronouns
Kinds
personal (including gender problem)
interrogative, relative
demonstrative
indefinite
reflexive, intensive
Case
subjective (nominative)
objective;C-subjective-objective problems
who, whom (interrogative)
who, whom (relative)
possessive
Faulty reference
ambiguous
vague
Phrases, Clauses
Phrases
prepositional
verbal (infinitive, participial, absolute, gerund)
Clauses
kinds (independent, dependent)
dependent kinds (adjective, adverb, noun)
in sentences (simple, compound, complex)
Agreement
Subject-verb
person
number
intervening words
compound subjects
subjects with not
indefinite pronouns
collective nouns
linking verbs
singulars in plural form
there and it
titles, words as words
money and measures
relative pronouns
Pronoun-antecedent
shifts to you
singular pronouns
and, or, nor
collective nouns
demonstratives as adjectives
one of the
Effective Sentences
Creating sentences
varying
coordinating
compounding
subordinating (adjective, adverb, noun clauses)
reduction
parallel structure
positioning main idea
"Big three" errors
fragments
comma splices, fused sentences
Gaining clarity
needless separation
misplaced or dangling modifiers (participles, gerunds, clauses, etc.)
incomplete or illogical comparisons
illogical shifts
mixed or confused construction (is when, is where, others)
Punctuation (Sections 201-227)
Comma [,]
Comma (to set off)
independent (main) clause
introductory clause, phrase
items in series
coordinate adjectives
parenthetical expressions
nonessential (nonrestrictive) clauses, phrases, appositives
absolute phrases
direct address
yes, no
mild interjections
direct quotations
such as, etc., contrasts
Comma
clarity
omitted, understood word
tag question
friendly letter
dates, addresses
No comma
between subject-verb, verb-object
between independent clauses
if not needed
Period [.]
Period
end of sentence
abbreviation, initial
outline
ellipsis, hesitation
nonsentence
No period after title
Question Mark [?]
Question mark
direct question
uncertainty
No question mark
indirect question
polite request
humor, irony
Exclamation Point [!]
Exclamation point: w. strong interjection
No exclamation point
mild interjection
beyond one
Semicolon [;]
joining clauses
conjunctive adverb
clauses, series with commas
Apostrophe [']
Apostrophe with possessive nouns
singular
plural
before gerund
fine points
apostrophes and clarity
Apostrophe
contractions, omissions
letters, symbols
No apostrophe
personal pronouns
plurals, verbs
inanimate objects
Italics (Underlining)
titles of long works
ships, etc.
art works
foreign words
words, etc. as such
emphasis
Quotation Marks [" "]
Double quotation marks
speaker's words
interrupted quotation
uninterrupted quotation
paragraphs
fragmentary quotation
omission (ellipsis)
insertion in quotation
dialogue
poetry
Double quotation marks
titles of short works
definitions
words in special sense
Single quotation marks: quotation inside quotation
Quotation marks with other marks
periods, commas
colons, semicolons
others
No quotation marks
title of paper
irony, etc.
Colon [:]
Colon (to introduce)
list
long quotation
formal quotation, question
independent clause
business letter
announcement
resolution
play dialogue
Colon (to separate)
title parts, etc.; bibliography parts
Dash [--]
break in thought
parenthetical element
appositive
quotation
Parentheses[( )]
Parentheses
incidental information
enclosing
accuracy
with other marks
No parentheses
deletions
editorial remarks
Brackets [[ ]]: A: editorial remarks
sic
stage directions
within parentheses
Hyphen[-]
compound words
compound adjective
numbers
clarification
ex-, self-, etc.
hesitation, etc.
word division
Slash (virgule) [/]
poetry
alternatives
per
fractions
Mechanics, With Spelling (Sections 301-314)
Capitalization
Capital
sentence beginning
poetry
nonsentence
after colon
outline
title
letter greeting, close
I, O
Proper noun capital
person, group, etc.
place
organization, brand
day, month, etc.
sacred name
historical event, etc.
school, etc.
flag, award
planet, etc.
ship, etc.
initial, etc.
personification
title
No capital
compass points
seasons
family
school subject
common noun
words from proper nouns
after semicolon
interrupted quotation
fragmentary quotation
compound word
emphasis
book part
Word division (syllabication)
by pronunciation
compound word
one-syllable word
single letter
Numbers
In words
one or two words
compound adjective
fraction
beginning sentence
In figures
three or more words
special uses
groups in same passage
Money
Abbreviations
Abbreviation
title before name
title after name
with numeral
Latin phrase
organization
No abbreviation
state, day, etc.
name
street, company, etc.
and
school subject
book part
Spelling
Improvement techniques
visualizing
practicing
similar words
related words
memory devices
Basic rules
ie-ei
final e
final y
doubling
letting alone
Plurals
extra syllable (-es)
y ending (-es)
f, fe ending (-es)
o ending (-es)
is ending (-es)
compound word
foreign plural
letter, symbol
Nonstandard, alternative spelling
nonstandard
preferred
One hundred problem words
Word Choice (Sections 401-405)
Conciseness, clarity, originality
conciseness
specificity
connotation
originality
Standard, appropriate English
formal vs. informal
limited use words
expressions to avoid
Nondiscriminatory terms
nonsexist
other
Similar words often confused
Paragraphs and Papers (Sections 501-510)
Manuscript Form
paper, typeface
spacing
title, paging
Justifying, word dividing
corrections
Paragraphs
Form, length [ESL]
Content
topic sentence
development
coherence (incl. transitions)
unity, emphasis
Netiquette Guidelines
Essays
Before writing
topic
plan (prewriting, etc.)
thesis
approach
outline
Writing, revising
first draft
revising, editing, proofreading
sample student essay
Research Papers
Planning, researching
topic
thesis (see 505C)
locating sources (print, electronic, field)
working bibliography
evaluating sources (objectivity, etc.)
note taking (paraphrase, etc.)
pulling it all together
Citing sources
within paper (MLA, APA)
plagiarism [ESL]
Works cited/references list
MLA
APA
Setting up pages
text (MLA, APA)
works cited/references list (MLA, APA)
Index (by section number)
Correction Chart
Table of Contents provided by Publisher. All Rights Reserved.