Note: Supplemental materials are not guaranteed with Rental or Used book purchases.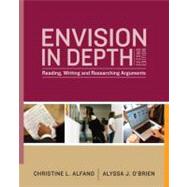 Questions About This Book?
Why should I rent this book?
Renting is easy, fast, and cheap! Renting from eCampus.com can save you hundreds of dollars compared to the cost of new or used books each semester. At the end of the semester, simply ship the book back to us with a free UPS shipping label! No need to worry about selling it back.
How do rental returns work?
Returning books is as easy as possible. As your rental due date approaches, we will email you several courtesy reminders. When you are ready to return, you can print a free UPS shipping label from our website at any time. Then, just return the book to your UPS driver or any staffed UPS location. You can even use the same box we shipped it in!
What version or edition is this?
This is the 2nd edition with a publication date of 10/28/2010.
What is included with this book?
The Used copy of this book is not guaranteed to include any supplemental materials. Typically, only the book itself is included.
The Rental copy of this book is not guaranteed to include any supplemental materials. You may receive a brand new copy, but typically, only the book itself.
Summary
Envision in Depth: Reading, Writing, and Researching Arguments 2/e,is a combined rhetoric and reader intended for composition courses focusing on argumentation and research-based writing. Taking contemporary culture as its central theme and context, Envision in Depthis concerned with the fundamentals of analyzing and writing powerful, effective arguments. #xA0;Students using Envision in Depthwill learn how to analyze and compose arguments, design and conduct research projects, and produce persuasive visual and oral presentations in response to over 100 contemporary arguments in a wide range of verbal and visual genres.
Author Biography
Christine Alfano has been a lecturer in the Program in Writing and Rhetoric since 1998. She holds a BA from Brown University and PhD from Stanford and specializes in digital rhetoric. In her recent PWR courses, "The Rhetoric of Gaming," "Networked Rhetoric," "Technologies of iDentity" and "Cultural Interfaces," Christine challenges students to explore how writing in different technological modes (from traditional Microsoft Word documents, to blogs, threaded discussions, social network profiles, video blogs and wikis) transforms the modern practice of communication and how we represent ourselves online and off. In addition, Christine is the technology specialist for the Cross-Cultural Rhetoric Project, a project that allows Stanford PWR students to engage in intercultural collaboration with students from other universities around the world using video conferencing and other modes of communication technologies.
Dr. Alyssa J. O'Brien is a Lecturer in the Program and Writing and Rhetoric at Stanford University, where she directs the Cross-Cultural Rhetoric initiative and publishes scholarship and textbooks on visual rhetoric, writing pedagogy, and global learning. She has been an invited speaker in Asia and Europe on subjects such as global learning, communication for leadership, visual rhetoric, and "mapping a change in writing." In 2006, Alyssa won the Phi Beta Kappa Outstanding Teaching Award, and what she enjoys most is helping people discover their voices in writing of all kinds. Her current first- and second-year writing courses focus on visual rhetoric, cross-cultural rhetoric, globalization, and communication for leadership. Before coming to Stanford in 2001, she taught composition, creative writing, literature, and business writing at Cornell University, the Eastman School of Music, and the University of Rochester.
Table of Contents
I. ANALYSIS AND ARGUMENT
1. Analyzing Texts
Understanding Texts Rhetorically
Understanding Rhetoric
Understanding Visual Rhetoric
Strategies for Analyzing Texts Rhetorically
Analyzing a Comic Strip
Analyzing Editorial Cartoons
Reading: Doug Marlette, "I Was a Tool of Satan"
Writing a Rhetorical Analysis
Practicing Rhetorical Analysis
Developing a Thesis Statement
Analyzing a Student's Writing Sample
Student Writing: Cyana Chilton, Drugs to Death in a Political Cartoon: An Oversimpliication?
Referring to Images in Your Writing
The Writer's Process: Turning to Texts of Your Choice
Prewriting Using the Envision Website
Prewriting Checklist
Writing Projects
2. Understanding Strategies of Persuasion
Analyzing Ads as Arguments
Reading: Seth Stevenson, "You and Your Shadow: The iPod ads are mesmerizing, but does your iPod think it's better than you?"
Understanding the Rhetorical Appeals
Appeals to Reason: Logos
Logical Fallacies
Appeals to Emotion: Pathos
Exaggerated Uses of Pathos
Appeals to Character and Authority: Ethos
Misuses of Ethos
Considering Context: Kairos
The Writer's Process: Using Strategies of Persuasion in Your Own Writing
Prewriting Using the Envision Website
Prewriting Checklist
Writing Projects
3. Composing Arguments
Understanding the Canons of Rhetoric
Invention in Argument
Arrangement in Argument
Style in Argument
Constructing Persona
Choosing a Rhetorical Stance
Titles, Introductions, and Conclusions
Crafting a Position Paper
Student Writing: Angela Rastegar, Academic Position Paper
Writing Multiple Sides of an Argument
Writing a Synthesis Paper
Reading : Nora Ephron, "The Boston Photographs"
The Writer's Process: Constructing Your Own Argument
Prewriting Using the Envision Website
Prewriting Checklist
Writing Projects
II. RESEARCH ARGUMENTS
4. Planning and Proposing Research Arguments
Asking Research Questions
Generating Research Questions
Bringing Your Topic into Focus
Brainstorming Topics Visually
Narrowing Your Topic
Planning Your Research through Writing
Freewriting about Your Research Topic
Student Writing: Bries Deerrose, Research Freewrite
Drafting the Research Hypothesis
Drafting a Research Proposal
Student Writing: Susan Zhang, "Little Photoshop of Horrors," Tommy Tsai, Working Hypothesis, Final Reflection Letter
Best Research Practices
The Writer's Process: Planning Your Own Research Project
Prewriting Using the Envision Website
Prewriting Checklist
Writing Projects
5. Finding and Evaluating Research Sources
Visualizing Research
Developing Search Terms
Narrowing Your Search
Primary and Secondary Sources
Finding Primary Sources
Searching for Secondary Sources
Keeping a Research Log
Evaluating Your Sources
Evaluating Websites
Evaluating Library and Database Sources
Student Writing: Sean Bruich, Field Research Inquiry Letter
Evaluating Field Research and Statistics
Evaluating Field Research Sources
Creating a Dialogue with Your Sources
Student Writing: Amanda Johnson, Dialogue of Sources
Writing an Annotated Bibliography
The Writer's Process: Finding, Evaluating, and Recording Your Own Sources
Prewriting with the Envision Website
Prewriting Checklist
Writing Projects
6. Organizing and Writing Research Arguments
Organizing Your Draft in Visual Form
Learning Outline Strategies
Outlines with Subheads and Transitions
Student Writing: Dexian Cai, Outline
Spotlight on Your Argument
Integrating Research Sources
Choosing Summary and Paraphrase
Using Direct Quotations
Integrating, Not Inserting, Quotations
Documentation during Integration
Drafting Your Research Argument
Keeping Your Passion
Collaboration through Peer Review
Student Writring: Sunthar Premakumar, Bollywood Sing-Along (draft)
Revising Your Draft
Troubleshooting
Student Writing: Sunthar Premakumar, Bollywood Sing-Along (revised excerpt)
The Writer's Process: Drafting and Revising Your Own Research Argument
Prewriting with the Envision Website
Prewriting Checklist
Writing Projects
7. Avoiding Plagiarism and Documenting Sources
Rhetorical Imitation and Intellectual Property: Understanding Plagiarism
Avoiding Unintentional Plagiarism
Citing Sources for Downloaded Images and Multimedia
Understanding Documentation Style
In-text Citations: Documentation as Cross-Referencing
Using Notes for Documentation
MLA-Style Works Cited Lists
Documentation for Print and Online Sources
Documentation for Visual, Audio, and Multimedia Sources
Student Paper in MLA Style: Tanner Gardner, Show Me the Money: The Globalization of the NBA
The Writer's Process: Reviewing Your Own Writing
Prewriting with the Envision Website
Writing Projects
III. DESIGN AND DELIVERY
8. Designing Arguments
Understanding Document Design and Decorum
Understanding Academic Writing Conventions
Integrating Images in Academic Writing
Design of Academic Papers
Student Writing: Allison Woo, "Slaying the Dragon" (excerpt)
Tools of Design for Academic Audiences
Composing an Abstract
Shaping Your Bio
Combining Visual and Verbal Design Elements
Student Writing: Ashley Mullen, Newsletter
Designing Arguments for Public Audiences
Student Writing: Chris Couvelier and Gene Ma, Newsletter and Website
Formatting Writing for Audiences
Reading: What's Wrong with the Body Shop?
Designing Visual Arguments
Crafting an Op-Ad
Student Writing: Carrie Tsosie, "Alternative Energy for Whom?"
Producing a Photo Essay
Student Writing: Ye Yuan, "Looking through the Lens"
Composing a Website
Student Writing: Sarah Douglas, Website
Making a Multimedia Montage
Student Writing: Yang Shi, Photo Montage
The Writer's Process: Designing Your Own Arguments
Prewriting with the Envision Website
Prewriting Checklist
Writing Projects
9. Delivering Presentations
Understanding the Branches of Oratory
Audience, Purpose, and Persona
Transforming Research into a Presentation
Selection
Organization
Student Writing: Tommy Tsai, Presentation Outline
Translation
Transformation into Action
Student Writing: Susan Zhang, Presentation
Considering Strategies of Design
Using Visuals Rhetorically
Writing for Poster Sessions
Student Writing: Tanja Haj-Hassan, Carlos Ortiz, and Jonathan Hwang, Research Posters
Writing for PowerPoint or Slide-based Presentations
Student Writing: Natalie Farrell, Slides
Possibilities for PowerPoint
Student Writing: Tracy Hadnott, Sarah Trube, Morgan Springer, Kavi Vyas, Presentations
Choosing Methods of Delivery
Embodied Rhetoric
Practicing Your Presentation
Anticipating Problems and the Question-and-Answer Session
Documenting Your Presentation
The Writer's Process: Creating Your Own Presentation
Prewriting with the Envision Website
Prewriting Checklist
Writing Projects
IV. READINGS
10. FUELING OURSELVES
You Are What You Eat
Kate Murphy, "First Camera, Then Fork"
Facebook: Documenting What We Eat (photographs)
Jeffrey Kluger, "How America's Children Packed on the Pound"
Michelle Obama, Remarks Prepared for the Let's Move Launch, 2/9/2010
United States Department of Agriculture Food Pyramids
Michael Pollan, "When a Crop Becomes King"
Corn Refiners Association ad campaign: "Changing the Conversation about High Fructose Corn Syrup"
John Cloud, "Eating Better then Organic"
Peter Menzel and Faith d'Aluisio, photographs from Hungry Planet
"Can Biotech Food Cure World Hunger?" A Room for Debate from the New York Times
Greening Culture
Al Gore, images from An Inconvenient Truth
Bjorn Lomborg, "Inconvenient Truths for Al Gore"
Elizabeth Kolbert, "Can American Go Green?"
American Public Transportation Association ad campaign: "Go Green. Go Public"
Toyota Prius ad campaign
Terrachoice Environmental Marketing, "The Seven Sins of Greenwashing"
Alex Steffen, "On Earth Day"
British Petroleum ad campaign: "Beyond Petroleum"
Geoffrey Johnson, "Marking Earth Day Inc."
Jared Diamond, "Will Big Business Save the Earth?"
Al Gore, Nobel Peace Prize Lecture, 12/10/2007
Mark Jacobson and Mark A. DeIucchi, "A Path to Sustainable Energy by 2030"
11. CULTURE 2.0
Social Lives and Social Media
Pew Research Center, Summary of Findings: Social Media and Young Adults
danah boyd, "Social Network Site Taste Test: MySpace or Facebook?
Clive Thompson, "I'm So Digitally Close to You"
"MySpace Outage Leaves Millions Friendless" from The Onion
Steven Johnson, "How Twitter Will Change the Way We Live"
Art Silverblatt, "Twitter as Newspeak"
Randall Munroe, "XKCD Seismic Waves" (cartoon)
Evgeny Morozov, "From slactivism to activism" (blog post)
Mir Hossein Mousavi, Twitter messages from Iran, June 2009
Virtual Worlds and Gaming Life
Mark Stephen Meadows, from I, Avatar
Robbie Cooper, from Alter Ego: Avatars and Their Creators (photographs and text)
Ads from Game Informer
Sheri Graner Ray, "But What If the Player Is Female?"
Zoe Flower, "Getting the Girl: The Myths, Misconceptions, and Misdemeanors of Females in Games"
Gerard Jones, "Shooters" from Killing Monsters
Daniel Terdiman, "Playing Games with a Conscience"
Screenshots from Ayiti: The Cost of Life, Homeland Guatanamos, and Energyville
Who Owns Popular Culture?
Keith Aoki, James Boyle, and Jennifer Jenkins, from Bound by Law (graphic novel)
Michael Eisner, Address before Members of the United States Congress
Bret Dawson, "The Privatization of Our Culture"
Movie poster: Revelations
Lawrence Lessig, "Remixed Media" from Remix: Making Art and Commerce Thrive in the Hybrid Economy
Laura Miller, "Plagiarism: The Next Generation"
DJ Danger Mouse, The Grey Album (album cover) and Pride and Prejudice and Zombies (book cover)
Bill Werde, "Hijacking Harry Potter, Quidditch Broom and All"
12. MARKED BODIES
Imagining the Ideal Body
Susie Orbach, "Fat Is an Advertising Issue"
John Riviello, "What If Barbie Was an Actual Person?" (images)
Mim Udovitch, "A Secret Society of the Starving"
National Eating Disorders Association 2004 Get Real ad campaign
Susan McClelland, "Distorted Images: Western Cultures Are Exporting Their Dangerous Obsession with Thinness"
Charles Atlas ad
Harrison G. Pope, Jr., Robert Olivardia, Amanda Gruber, and John Borowieki, "Evolving Ideals of Male Body Image as Seen through Action Toys"
Kim Franke-Folstad, "G.I. Joe's Biceps Are Not a Big Deal"
Fashion Statements
Pamela Abbott and Francesca Sapsford, "Clothing the Young Female Body"
"Dress for Success" (images)
Rob Dobi, "Emo for Girls," "Emo for Boys" (images and text)
Ruth La Ferla, "Wearing Their Beliefs on Their Chests"
"Mary Is My Homegirl" T-shirt
Paul Mitchell, "Faith and Fashion: The Power of T-shirt Evangelism
Marjan Satrapi, "The Veil" from Persepolis: The Story of a Childhood (graphic novel)
Shirin Neshat, "Women of Allah: Rebellious Silence" (photograph)
bell hooks, "Straightening Our Hair"
Chris Rainer, "Tattoos, Piercings, and Body Markings" (photographs and text)
Josie Appleton, "The Body Piercing Project"
13. SPORTS AND MEDIA
Engineering a Better Athlete
Bigger, Stronger, Faster (movie posters and text)
Steroids and Baseball (cartoons)
Steven Shapin, "Clean Up Hitters: The Steroid Wars and the Nature of What's Natural"
Mike Sokolove, "Drug in Sport: The Shape to Come"
Margaret Munro, "Dressing for Success at the Olympics: Is It 'Doping on a Hanger' or Is It Just a Swimsuit?"
Speedo LZR Racer ad
Kieron Murphy, "Engineering a Better Olympic Athlete"
Andrew Tilin, "Ready, Set, Mutate!"
Playing Against Stereotypes
Carlos Serrao, "Anything You Can Do" (photograph)
Thad Mumford, "The New Minstrel Show: Black Vaudeville with Statistics"
Todd Boyd, "Doin' Me" from Young, Black, Rich, and Famous
Ellis Cashmore, "Tiger Woods and the New Racial Order"
Dave Zirin, "Say It Ain't So, Big Leagues"
Sports Illustrated covers: Anna Kournikova and Serena Williams
The Media Education Foundation, "Playing Unfair" (transcript)
Shannon Ryan, "Banking on Beauty"
WNBA "Expect Great" ad campaign (image and transcript)
14. REPRESENTING REALITY
Snapshots of the Ordinary
Lenore Skenazy, "Don't Smile for the Camera"
Michael Williams, Richard Cahan, and Nicholas Osborn, "Who We Were: A Snapshot History of America"
Patrick Cox, "America 24/7: A Family Photograph Album" (text and photographs)
Philippe Kahn, "Photography Changes the Way We Communicate":
David Pogue, "Photo Sharing Even the Folks Can Handle"
Michael Strangelove, "There Is No Shame in Watching YouTube"
Images of Crisis
Daniel Okrent, "The Public Editor: No Picture Tells the Truth—the Best Do Better than That"
Bruce Jackson, "Letters to the Public Editor: Some Words about Those Pictures"
James Nachtwey, "Haiti: Out of the Ruins" (photo essay)
Charles Porter, "Tragedy in Oklahoma"
Joe Strupp, "The Photo Felt Around the World"
Mark Glaser, "Did London Bombings Turn Citizen Journalists into Citizen Paparazzi?" (text and photographs)
"Citizen Journalist Sets the World a Twitter after Denver Plane Crash"
"War, Live" (interview transcript)
David Leeson, "Photographs and Stories" (text and photographs)
Newshour Extra with Jim Lehrer, "Pros and Cons of Embedded Journalism"
15. CROSSING CULTURES
Borderlands
Alex Webb, "Life on the Border" (photographs)
Hilary Hylton, "Calls to Shut U.S.-Mexico Border Grow in Flu Scare"
Teresa Hayter, "The New Common Sense"
Cynthia Gorney, "Mexico's Other Border" (text and photographs)
Ted Robbins, "'America's Toughest Sheriff' Takes on Immigration" (interview transcript)
James Nachtwey, "Caught Crossing" (photo essay)
Michel Martin, "With Immigration, Racism Knows No Borders"
Thomas L. Friedman, "America's Real Dream Team"
Stephen Steinlight, "Thomas L. Friedman: For of Open-Borders and 'Comprehensive Immigration Reform'?"
Lexington, "The Hub Nation"
Ezra Klein, "Nativism Doesn't Appear To Be on Much of a Rise" (blog post)
Frank James, "Phoenix (Los) Suns Wade into Immigration Fight" (blog post)
McDonaldization
Mark Rice-Oxley, "In 2000 Years, Will the World Remember Disney or Plato?"
Qui Jianghong, "KFC and McDonald's: A Model of Blended Culture"
Joseph Davicsin and Jerome Sklarsky, "The Daily Targum: Two Opinions on McDonaldization"
Interview with George Ritzer
Paul Feine, "McBastards: McDonald's and Globalization"
Randy James, "A Brief History of McDonald's Abroad"
Stephanie Clifford, "Burnishing a Brand by Selecting an 'Idol'"