Note: Supplemental materials are not guaranteed with Rental or Used book purchases.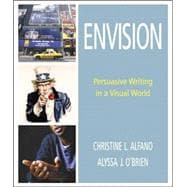 Questions About This Book?
What version or edition is this?
This is the 2nd edition with a publication date of 1/1/2008.
What is included with this book?
The New copy of this book will include any supplemental materials advertised. Please check the title of the book to determine if it should include any CDs, lab manuals, study guides, etc.
Summary
Concise, flexible, practical, and innovative: Envision is the first brief argument rhetoric designed for students learning to write in today's visual world. Flexible three-part organization. Instructors who want to focus on argument and rhetorical analysis can emphasize Part 1. Those who want more intensive work in research and source-based writing will focus on Part 2. For innovative courses that include visual design, oral presentation, and multimedia writing projects, Part 3 offers the most fully developed textbook coverage available in a brief rhetoric.
Table of Contents
Preface
ix

| | |
| --- | --- |
| | Part I Exploration: Analysis and Argument |

| | |
| --- | --- |
| | Introducing Visual Rhetoric |

4
(24)

| | |
| --- | --- |
| | Understanding Visual Rhetoric |

5
(1)

| | |
| --- | --- |
| | Thinking about the Visual |

5
(2)
7
(1)

| | |
| --- | --- |
| | Writing about and with Visual Rhetoric |

8
(1)

| | |
| --- | --- |
| | Analyzing Images Rhetorically |

9
(6)

| | |
| --- | --- |
| | Analyzing a Cartoon Frame |

10
(2)

| | |
| --- | --- |
| | Analyzing Sequential Images |

12
(3)

| | |
| --- | --- |
| | Visual Rhetoric as Types of Persuasion |

15
(5)

| | |
| --- | --- |
| | Visual Rhetoric as Political Argument |

15
(2)

| | |
| --- | --- |
| | Comparing Black and White to Color Images |

17
(2)

| | |
| --- | --- |
| | Images as Social Commentary |

19
(1)

| | |
| --- | --- |
| | The Visual-Verbal Connection |

20
(2)

| | |
| --- | --- |
| | Writing an Analysis of Visual Rhetoric |

22
(2)

| | |
| --- | --- |
| | The Elements of Rhetorical Analysis |

24
(1)

| | |
| --- | --- |
| | Practicing the Art of Rhetoric |

24
(4)
26
(1)
26
(2)

| | |
| --- | --- |
| | Understanding the Strategies of Persuasion |

28
(28)

| | |
| --- | --- |
| | Examining Rhetorical Strategies |

29
(2)

| | |
| --- | --- |
| | Thinking Critically about Argumentation |

31
(2)

| | |
| --- | --- |
| | Understanding the Rhetorical Appeals of Logos, Pathos, and Ethos |

33
(17)
34
(3)
37
(1)
38
(3)

| | |
| --- | --- |
| | Exaggerated Uses of Pathos |

41
(2)

| | |
| --- | --- |
| | Appeals to Character and Authority |

43
(3)
46
(1)
47
(1)

| | |
| --- | --- |
| | Exaggerated Ethos Through Parody |

48
(2)

| | |
| --- | --- |
| | Considering the Context of Time and Place |

50
(1)

| | |
| --- | --- |
| | Putting Persuasion into Practice |

51
(5)
54
(1)
54
(2)

| | |
| --- | --- |
| | Analyzing Perspectives in Argument |

56
(38)

| | |
| --- | --- |
| | Perspective and Point of View |

57
(5)

| | |
| --- | --- |
| | The Argument of the Image |

59
(2)

| | |
| --- | --- |
| | The Parallel Between Photography and Writing |

61
(1)

| | |
| --- | --- |
| | Developing an Argumentative Thesis |

62
(5)

| | |
| --- | --- |
| | The Importance of Thesis Statements |

63
(3)

| | |
| --- | --- |
| | Peer Reviewing Your Thesis |

66
(1)

| | |
| --- | --- |
| | Your Angle on the Argument |

67
(5)
67
(1)

| | |
| --- | --- |
| | Choosing a Rhetorical Stance |

68
(1)

| | |
| --- | --- |
| | Working with Position and Persona |

69
(1)

| | |
| --- | --- |
| | Student Writing: Position Papers, Angela Ragestar |

70
(2)

| | |
| --- | --- |
| | Exploring Multiple Sides of an Argument |

72
(3)

| | |
| --- | --- |
| | Writing Diverse Perspectives |

74
(1)

| | |
| --- | --- |
| | Student Writing: Multiple Sides Project (excerpt), Aisha Ali |

74
(1)

| | |
| --- | --- |
| | Understanding the Canons of Rhetoric |

75
(3)

| | |
| --- | --- |
| | Working with Arrangement in Argument |

76
(1)

| | |
| --- | --- |
| | Working with Style in Argument |

77
(1)

| | |
| --- | --- |
| | Perspectives and Possibilities |

77
(1)

| | |
| --- | --- |
| | Representing Multiple Sides in Your Argument |

78
(1)

| | |
| --- | --- |
| | Reading: Nora Ephron, ``The Boston Photographs'' |

79
(7)

| | |
| --- | --- |
| | The Ethics of Visual Representation |

86
(2)

| | |
| --- | --- |
| | Photo Ethics in the Digital Age |

87
(1)

| | |
| --- | --- |
| | Constructing Your Own Argument |

88
(6)
90
(1)
91
(3)

| | |
| --- | --- |
| | Part II Inquiry: Research Arguments |

| | |
| --- | --- |
| | Planning and Proposing Research Arguments |

94
(29)

| | |
| --- | --- |
| | Asking Research Questions |

95
(3)

| | |
| --- | --- |
| | Constructing a Research Log |

97
(1)
98
(2)
100
(3)

| | |
| --- | --- |
| | Bringing Your Topic into Focus |

103
(6)
103
(2)
105
(1)
106
(3)

| | |
| --- | --- |
| | Developing a Research Plan |

109
(4)
109
(1)
110
(1)

| | |
| --- | --- |
| | Student Writing: Research Freewrite, Bries Deerrose |

110
(2)
112
(1)

| | |
| --- | --- |
| | Student Writing: Research Abstract, Bries Deerrose |

113
(1)

| | |
| --- | --- |
| | Drafting a Research Proposal |

113
(2)

| | |
| --- | --- |
| | Shaping Your Research Hypothesis |

115
(3)
116
(1)

| | |
| --- | --- |
| | Student Writing: Research Proposal (excerpt), Tommy Tsai |

117
(1)

| | |
| --- | --- |
| | Student Writing: Reflection Letter (excerpt), Tommy Tsai |

118
(1)

| | |
| --- | --- |
| | Asserting the Significance of Your Project |

118
(1)

| | |
| --- | --- |
| | Constructing Your Persona as a Researcher |

119
(1)

| | |
| --- | --- |
| | Planning Your Research Project |

119
(4)
121
(1)
121
(2)

| | |
| --- | --- |
| | Finding and Evaluating Research Sources |

123
(37)
126
(1)

| | |
| --- | --- |
| | Understanding Primary and Secondary Sources |

127
(2)
129
(2)
131
(8)
131
(5)

| | |
| --- | --- |
| | Evaluating Scholarly Sources |

136
(3)

| | |
| --- | --- |
| | Locating Sources for Your Research Argument |

139
(9)
139
(4)

| | |
| --- | --- |
| | Searching for Secondary Sources |

143
(5)

| | |
| --- | --- |
| | Thinking about Field Research |

148
(4)

| | |
| --- | --- |
| | Student Writing: Field Research Inquiry Letter, Sean Bruich |

150
(1)

| | |
| --- | --- |
| | Evaluating Fieldwork and Statistics |

151
(1)

| | |
| --- | --- |
| | Creating a Dialogue with Your Sources |

152
(3)

| | |
| --- | --- |
| | Student Writing: Dialogue of Sources (excerpt), Amanda Johnson |

154
(1)

| | |
| --- | --- |
| | Note-Taking as a Prelude to Drafting |

155
(2)

| | |
| --- | --- |
| | Student Writing: Visual Annotated Bibliography (excerpt), Carly Geehr |

156
(1)

| | |
| --- | --- |
| | Implementing Your Research Skills |

157
(3)
158
(1)
159
(1)

| | |
| --- | --- |
| | Organizing and Writing Research Arguments |

160
(38)

| | |
| --- | --- |
| | Sketching Your Draft in Visual Form |

162
(4)
162
(1)
163
(1)
164
(1)

| | |
| --- | --- |
| | Storyboards as Visual Maps |

164
(2)

| | |
| --- | --- |
| | Moving from Visual Maps to Outline Strategies |

166
(6)

| | |
| --- | --- |
| | Crafting Detailed Outlines |

168
(1)

| | |
| --- | --- |
| | Experimenting with Order in Outlines |

168
(1)

| | |
| --- | --- |
| | Student Writing: Research Paper Outline, Lee-Ming Zen |

169
(2)

| | |
| --- | --- |
| | Thematic Rather than Chronological Arrangement |

171
(1)
172
(2)

| | |
| --- | --- |
| | Working with Subheads and Transitions |

173
(1)
174
(2)

| | |
| --- | --- |
| | Spotlight on Your Argument |

176
(1)
177
(4)

| | |
| --- | --- |
| | Integrating, Not Inserting Quotations |

179
(2)

| | |
| --- | --- |
| | Documention During Integration |

181
(1)

| | |
| --- | --- |
| | Effective Arrangement of Visual Evidence |

181
(5)

| | |
| --- | --- |
| | Placing Images in a Paper |

183
(2)

| | |
| --- | --- |
| | Citing Sources of Visual Images |

185
(1)

| | |
| --- | --- |
| | Graphs, Charts, and Statistical Data |

185
(1)

| | |
| --- | --- |
| | Drafting Your Research Argument |

186
(1)
186
(1)

| | |
| --- | --- |
| | Making the Most of Collaboration |

187
(2)
189
(3)

| | |
| --- | --- |
| | Revision as a Continual Process |

192
(1)
192
(6)
194
(1)
195
(3)

| | |
| --- | --- |
| | Part III Innovation: Presentations and Visual Arguments |

198
(34)

| | |
| --- | --- |
| | Possibilities for Presentations |

199
(2)

| | |
| --- | --- |
| | Presentations with Embodied Rhetoric |

200
(1)

| | |
| --- | --- |
| | Using Visual Rhetoric in Presentations |

201
(1)

| | |
| --- | --- |
| | Attention to Purpose, Audience, Possibilities |

202
(3)

| | |
| --- | --- |
| | Transforming Your Research Argument into a Presentation |

205
(3)
206
(1)
206
(1)
206
(1)

| | |
| --- | --- |
| | The Transformation in Action |

207
(1)

| | |
| --- | --- |
| | Considering Strategies of Design |

208
(2)

| | |
| --- | --- |
| | Ways of Writing for Diverse Presentations |

210
(8)

| | |
| --- | --- |
| | Writing for Oral Presentations |

210
(1)

| | |
| --- | --- |
| | Writing for Poster Sessions |

211
(1)

| | |
| --- | --- |
| | Writing for PowerPoint or Slide-Based Presentations |

212
(3)

| | |
| --- | --- |
| | Possibilities for PowerPoint |

215
(3)

| | |
| --- | --- |
| | Choosing Methods of Delivery |

218
(5)
220
(3)

| | |
| --- | --- |
| | Practicing Your Presentation |

223
(3)

| | |
| --- | --- |
| | Anticipating Problems and the Question-and-Answer Session |

225
(1)

| | |
| --- | --- |
| | Documenting Your Presentation |

226
(1)

| | |
| --- | --- |
| | Creating Your Own Presentation |

227
(5)
230
(1)
230
(2)

| | |
| --- | --- |
| | Designing Visual Arguments and Websites |

232
(40)

| | |
| --- | --- |
| | Approaching the Visual Argument |

233
(3)

| | |
| --- | --- |
| | Decorum in Contemporary Arguments |

236
(1)

| | |
| --- | --- |
| | Crafting the Op-Ad as a Public Argument |

237
(7)

| | |
| --- | --- |
| | Parody in Visual Arguments |

239
(1)
240
(1)
241
(1)

| | |
| --- | --- |
| | Visual Juxtaposition in Op-Ads |

242
(1)

| | |
| --- | --- |
| | Student Writing: Op-Ad, Carrie Tsosie |

243
(1)

| | |
| --- | --- |
| | Producing the Photo Essay as a Persuasive Document |

244
(7)

| | |
| --- | --- |
| | Student Writing: Electronic Photo Essay, Ye Yuan |

249
(2)

| | |
| --- | --- |
| | Composing Websites as a Rhetorical Act |

251
(12)

| | |
| --- | --- |
| | Three Principles of Web Design |

253
(2)

| | |
| --- | --- |
| | Layout and Organization of Websites |

255
(4)
259
(4)

| | |
| --- | --- |
| | Making Visual Collages, Montages, and Murals |

263
(6)

| | |
| --- | --- |
| | Student Writing: Photomontage, Yang Shi |

264
(1)

| | |
| --- | --- |
| | Montages with Voice-Over or Music |

265
(1)

| | |
| --- | --- |
| | Murals and Tactile Visual Arguments |

266
(1)

| | |
| --- | --- |
| | Student Writing: Mural, Lauren Dunagan |

267
(2)

| | |
| --- | --- |
| | Creating Your Visual Argument |

269
(3)
270
(1)
270
(2)

| | |
| --- | --- |
| | Writing for Public and Professional Communities |

272
(29)

| | |
| --- | --- |
| | Anticipating Diverse Audiences |

273
(2)

| | |
| --- | --- |
| | Using Visual Rhetoric in Community Writing |

275
(4)

| | |
| --- | --- |
| | Designing Projects for Service-Learning Courses |

275
(2)

| | |
| --- | --- |
| | Student Writing: Community Newsletter/ Website, Gene Ma and Chris Couvelier |

277
(1)

| | |
| --- | --- |
| | Producing Work for Community Organizations |

277
(2)

| | |
| --- | --- |
| | Attending to Time, Purpose, and Subject |

279
(2)

| | |
| --- | --- |
| | Working with Branches of Oratory |

279
(2)

| | |
| --- | --- |
| | Public Discourses and Changes in ``Writing'' |

281
(5)

| | |
| --- | --- |
| | Monuments and Community Conflicts |

282
(2)

| | |
| --- | --- |
| | Multimedia Expression of National Mourning |

284
(2)

| | |
| --- | --- |
| | Design as a Collaborative Process |

286
(4)

| | |
| --- | --- |
| | Producing Public Visual Rhetoric as a Team |

288
(2)

| | |
| --- | --- |
| | Visual Rhetoric for Local Communities |

290
(2)

| | |
| --- | --- |
| | Visual Rhetoric for the Professional Sphere |

292
(3)
295
(1)

| | |
| --- | --- |
| | Forging Your Own Public Writing |

296
(5)
299
(1)
299
(2)
Works Cited
301
(4)
Credits
305
(2)
Index
307