Note: Supplemental materials are not guaranteed with Rental or Used book purchases.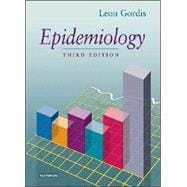 Epidemiology
ISBN13:
9780721603261
by
Gordis
Related Products
Summary
This popular book applies the author's many years of clinical and teaching experience to make the principles and methods of epidemiology easy to understand and enjoyable to read about. A clear, concise writing style and just the right dose of humor explain the role of epidemiology in measuring disease in a community, estimating risks, and influencing public policy and ethical concerns. Line diagrams, cartoons, and review questions with answers reinforce the text. Emphasizes both the underlying concepts as well as the practical uses of epidemiology in public health and in clinical practice. Organizes information in three logical sections: The Epidemiologic Approach to Disease and Intervention · Using Epidemiology to Identify the Cause of Disease, and · Applying Epidemiology to Evaluation and Policy. Systemizes learning and review with study questions in each section and an answer key and index. Illustrates textual information with line diagrams and cartoons. Offers up-to-date information on genetic contributions to disease. Integrates discussion of simultaneous and sequential testing. Provides additional material relating to randomized clinical trials. Incorporates updated and expanded discussions on epidemiology and policy. Adds an all-new subsection on policy decisions in the face of equivocal data and uncertainty. Offers updated clinical examples, including mammography.
Author Biography
Leon Gordis, MD, MPH, DrPH: Professor of Epidemiology, Johns Hopkins Bloomberg School of Public Health; Professor of Pediatrics, Johns Hopkins School of Medicine, Baltimore, Maryland
Table of Contents
The Epidemiologic Approach to Disease and Intervention
p. 1
Introduction
p. 3
The Dynamics of Disease Transmission
p. 15
Measuring the Occurrence of Disease: I. Morbidity
p. 32
Measuring the Occurrence of Disease: II. Mortality
p. 48
Assessing the Validity and Reliability of Diagnostic and Screening Tests
p. 71
The Natural History of Disease: Ways of Expressing Prognosis
p. 95
Assessing the Efficacy of Preventive and Therapeutic Measures: Randomized Trials
p. 115
Randomized Trials: Some Further Issues
p. 130
Using Epidemiology to Identify the Cause of Disease
p. 147
Cohort Studies
p. 149
Case-Control and Cross-Sectional Studies
p. 159
Estimating Risk: Is There an Association?
p. 177
More on Risk: Estimating the Potential for Prevention
p. 191
A Pause for Review: Comparing Cohort and Case-Control Studies
p. 199
From Association to Causation: Deriving Inferences from Epidemiologic Studies
p. 203
More on Causal Inferences: Bias, Confounding, and Interaction
p. 224
Identifying the Roles of Genetic and Environmental Factors in Disease Causation
p. 240
Applying Epidemiology to Evaluation and Policy
p. 263
Using Epidemiology to Evaluate Health Services
p. 265
The Epidemiologic Approach to the Evaluation of Screening Programs
p. 281
Epidemiology and Public Policy
p. 301
Ethical and Professional Issues in Epidemiology
p. 314
Answers to Review Questions
p. 325
Index
p. 327
Table of Contents provided by Rittenhouse. All Rights Reserved.