Note: Supplemental materials are not guaranteed with Rental or Used book purchases.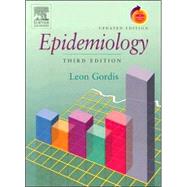 Epidemiology, Updated Edition; With STUDENT CONSULT Access
ISBN13:
9781416025306
by
Gordis
ELSEVIER SAUNDERS PUBLISHING
Summary
This popular book applies the author's many years of clinical and teaching experience to make the principles and methods of epidemiology easy to understand and enjoyable to read about. A clear, concise writing style and just the right dose of humor explain the role of epidemiology in measuring disease in a community, estimating risks, and influencing public policy and ethical concerns. Line diagrams, cartoons, and review questions with answers reinforce the text. The smart way to study! Elsevier titles with STUDENT CONSULT will help you master difficult concepts and study more efficiently in print and online! Perform rapid searches. Integrate bonus content from other disciplines. Download text to your handheld device. And a lot more. Each STUDENT CONSULT title comes with full text online, a unique image library, case studies, USMLE style questions, and online note-taking to enhance your learning experience. Your purchase of this book entitles you to access www.studentconsult.com at no extra charge. This innovative web site offers you... Access to the complete text and illustrations of this book. Integration links to bonus content in other STUDENT CONSULT titles. Content clipping for your handheld. An interactive community center with a wealth of additional resources. The more STUDENT CONSULT titles you buy, the more resources you can access online! Look for the STUDENT CONSULT logo on your favorite Elsevier textbooks!
Table of Contents
The Epidemiologic Approach to Disease and Intervention
Introduction
The Dynamics of Disease Transmission
Measuring the Occurrence of Disease
Assessing the Validity and Reliability of Diagnostic and Screening Tests
The Natural History of Disease: Ways of Expressing Prognosis
Assessing the Efficacy of Preventive and Therapeutic Measures: Randomized Trials
Randomized Trials: Some Further Issues
Using Epidemiology to Identify the Cause of Disease
Cohort Studies
Case-Control and Cross-Sectional Studies
Estimating Risk: Is There an Association?
More on Risk: Estimating the Potential for Prevention
A Pause for Review: Comparing Cohort and Case-Control Studies
From Association to Causation: Deriving Inferences from Epidemiologic Studies
More on Causal Inferences: Bias, Confounding, and Interaction
Identifying the Roles of Genetic and Environmental Factors in Disease Causation
Applying Epidemiology to Evaluation and Policy
Using Epidemiology to Evaluate Health Services
The Epidemiologic Approach to Evaluation of Screening Programs
Epidemiology and Public Policy
Ethical and Professional Issues in Epidemiology
Answers to Review Questions
Index
Table of Contents provided by Publisher. All Rights Reserved.