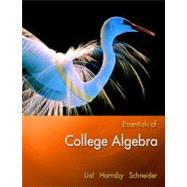 Questions About This Book?
What version or edition is this?
This is the 1st edition with a publication date of 1/1/2007.
What is included with this book?
The Used copy of this book is not guaranteed to include any supplemental materials. Typically, only the book itself is included.
Related Products
Summary
Focused on helping students develop both the conceptual understanding and the analytical skills necessary to experiencesuccess in mathematics, the authors present each mathematical topic in this text using a carefully developed learning system to actively engage students in the learning process. The book addresses the diverse needs of today's students through an open design, current figures and graphs, helpful features, careful explanations of topics, and a comprehensive package of supplements and study aids.
Table of Contents
Preface
vii
Supplements Guide
xi

| | |
| --- | --- |
| | R Review of Basic Concepts |

1
(532)

| | |
| --- | --- |
| | Real Numbers and Their Properties |

2
(14)

| | |
| --- | --- |
| | Sets of Numbers and the Number Line |

| | |
| --- | --- |
| | Properties of Real Numbers |

16
(8)

| | |
| --- | --- |
| | Properties of Absolute Value |

24
(13)
37
(9)

| | |
| --- | --- |
| | Factoring Out the Greatest Common Factor |

| | |
| --- | --- |
| | Factoring by Substitution |

46
(9)

| | |
| --- | --- |
| | Lowest Terms of a Rational Expression |

| | |
| --- | --- |
| | Multiplication and Division |

55
(10)

| | |
| --- | --- |
| | Negative Exponents and the Quotient Rule |

| | |
| --- | --- |
| | Complex Fractions Revisited |

65
(20)

| | |
| --- | --- |
| | Rationalizing Denominators |

76
(3)
79
(4)
83
(1)
84
(1)

| | |
| --- | --- |
| | Equations and Inequalities |

85
(96)
86
(6)

| | |
| --- | --- |
| | Basic Terminology of Equations |

| | |
| --- | --- |
| | Identities, Conditional Equations, and Contradictions |

| | |
| --- | --- |
| | Solving for a Specified Variable (Literal Equations) |

| | |
| --- | --- |
| | Applications and Modeling with Linear Equations |

92
(15)

| | |
| --- | --- |
| | Modeling with Linear Equations |

107
(8)

| | |
| --- | --- |
| | Basic Concepts of Complex Numbers |

| | |
| --- | --- |
| | Operations on Complex Numbers |

115
(10)

| | |
| --- | --- |
| | Solving a Quadratic Equation |

| | |
| --- | --- |
| | Solving for a Specified Variable |

| | |
| --- | --- |
| | Applications and Modeling with Quadratic Equations |

125
(11)

| | |
| --- | --- |
| | Using the Pythagorean Theorem |

| | |
| --- | --- |
| | Height of a Propelled Object |

| | |
| --- | --- |
| | Modeling with Quadratic Equations |

136
(10)

| | |
| --- | --- |
| | Equations Quadratic in Form |

| | |
| --- | --- |
| | Summary Exercises on Solving Equations |

146
(1)
146
(14)

| | |
| --- | --- |
| | Absolute Value Equations and Inequalities |

160
(21)

| | |
| --- | --- |
| | Absolute Value Inequalities |

| | |
| --- | --- |
| | Special Cases Absolute Value Models for Distance and Tolerance |

167
(4)
171
(7)
178
(2)
180
(1)
181
(112)
182
(15)

| | |
| --- | --- |
| | The Rectangular Coordinate System |

197
(17)

| | |
| --- | --- |
| | Determining Functions from Graphs or Equations |

| | |
| --- | --- |
| | Increasing, Decreasing, and Constant Functions |

214
(13)

| | |
| --- | --- |
| | Graphing Linear Functions |

| | |
| --- | --- |
| | Standard Form Ax + By = C |

| | |
| --- | --- |
| | Equations of Lines; Curve Fitting |

227
(15)

| | |
| --- | --- |
| | Vertical and Horizontal Lines |

| | |
| --- | --- |
| | Parallel and Perpendicular Lines |

| | |
| --- | --- |
| | Solving Linear Equations in One Variable by Graphing |

| | |
| --- | --- |
| | Summary Exercises on Graphs, Functions, and Equations |

241
(1)

| | |
| --- | --- |
| | Graphs of Basic Functions |

242
(11)

| | |
| --- | --- |
| | The Identity, Squaring, and Cubing Functions |

| | |
| --- | --- |
| | The Square Root and Cube Root Functions |

| | |
| --- | --- |
| | The Absolute Value Function |

| | |
| --- | --- |
| | Piecewise-Defined Functions |

253
(15)

| | |
| --- | --- |
| | Function Operations and Composition |

268
(25)

| | |
| --- | --- |
| | Arithmetic Operations on Functions |

281
(4)
285
(5)
290
(2)
292
(1)

| | |
| --- | --- |
| | Polynomial and Rational Functions |

293
(96)

| | |
| --- | --- |
| | Quadratic Functions and Models |

294
(19)

| | |
| --- | --- |
| | Quadratic Models and Curve Fitting |

313
(7)

| | |
| --- | --- |
| | Evaluating Polynomial Functions Using the Remainder Theorem |

| | |
| --- | --- |
| | Zeros of Polynomial Functions |

320
(11)

| | |
| --- | --- |
| | Finding Zeros of a Polynomial Function |

| | |
| --- | --- |
| | Polynomial Functions: Graphs, Applications, and Models |

331
(19)

| | |
| --- | --- |
| | Graphs of General Polynomial Functions |

| | |
| --- | --- |
| | Turning Points and End Behavior |

| | |
| --- | --- |
| | Intermediate Value and Boundedness Theorems |

| | |
| --- | --- |
| | Polynomial Models and Curve Fitting |

| | |
| --- | --- |
| | Summary Exercises on Polynomial Functions, Zeros, and Graphs |

349
(1)

| | |
| --- | --- |
| | Rational Functions: Graphs, Applications, and Models |

350
(18)

| | |
| --- | --- |
| | The Reciprocal Function f(x) = 1/x |

| | |
| --- | --- |
| | Steps for Graphing Rational Functions |

368
(21)

| | |
| --- | --- |
| | Combined and Joint Variation |

377
(4)
381
(5)
386
(2)
388
(1)

| | |
| --- | --- |
| | Exponential and Logarithmic Functions |

389
(84)
390
(12)

| | |
| --- | --- |
| | An Application of Inverse Functions to Cryptography |

402
(16)

| | |
| --- | --- |
| | The Number e and Continuous Compounding |

| | |
| --- | --- |
| | Exponential Models and Curve Fitting |

418
(14)

| | |
| --- | --- |
| | Summary Exercises on Inverse, Exponential, and Logarithmic Functions |

431
(1)

| | |
| --- | --- |
| | Evaluating Logarithms and the Change-of-Base Theorem |

432
(11)

| | |
| --- | --- |
| | Applications and Modeling with Common Logarithms |

| | |
| --- | --- |
| | Applications and Modeling with Natural Logarithms |

| | |
| --- | --- |
| | Logarithms to Other Bases |

| | |
| --- | --- |
| | Exponential and Logarithmic Equations |

443
(9)

| | |
| --- | --- |
| | Applications and Modeling |

| | |
| --- | --- |
| | Applications and Models of Exponential Growth and Decay |

452
(21)

| | |
| --- | --- |
| | The Exponential Growth or Decay Function |

464
(3)
467
(4)
471
(1)
472
(1)
473
(60)

| | |
| --- | --- |
| | Systems of Linear Equations |

474
(18)

| | |
| --- | --- |
| | Applying Systems of Equations |

| | |
| --- | --- |
| | Solving Linear Systems with Three Unknowns (Variables) |

| | |
| --- | --- |
| | Using Systems of Equations to Model Data |

| | |
| --- | --- |
| | Summary Exercises on Systems of Equations |

491
(1)
492
(11)

| | |
| --- | --- |
| | Series and Summation Notation |

| | |
| --- | --- |
| | Arithmetic Sequences and Series |

503
(9)

| | |
| --- | --- |
| | Geometric Sequences and Series |

512
(21)

| | |
| --- | --- |
| | Infinite Geometric Series |

| | |
| --- | --- |
| | Summary Exercises on Sequences and Series |

523
(2)
525
(3)
528
(3)
531
(1)
532
(1)
Appendix Sets
533
(6)
Glossary
539
Solutions to Selected Exercises
1
(1)
Answers to Selected Exercises
1
(1)
Index of Applications
1
(4)
Index
5