Note: Supplemental materials are not guaranteed with Rental or Used book purchases.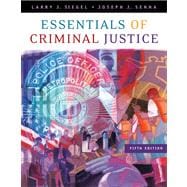 Questions About This Book?
What version or edition is this?
This is the 5th edition with a publication date of 1/3/2006.
What is included with this book?
The New copy of this book will include any supplemental materials advertised. Please check the title of the book to determine if it should include any CDs, lab manuals, study guides, etc.
The Used copy of this book is not guaranteed to include any supplemental materials. Typically, only the book itself is included.
Summary
Master the ins and outs of the criminal justice system with ESSENTIALS OF CRIMINAL JUSTICE! With coverage of topics such as criminal justice in the media, diversity issues in the justice system, and a comparison between the U.S. crime rate and international crime, this criminal justice text helps you better understand the basics of the criminal justice system. Class preparation is made easy with a book-specific website featuring concept builders, crossword puzzles, flashcards, internet exercises, tutorial quizzes, and much more! A full-size poster included with the text lets you to trace the flow of individuals through the criminal justice system to help you master the material.
Table of Contents
Preface
xii

| | |
| --- | --- |
| | Part 1 THE NATURE OF CRIME, LAW, AND CRIMINAL JUSTICE |

1
(120)

| | |
| --- | --- |
| | Crime and Criminal Justice |

2
(28)

| | |
| --- | --- |
| | Is Crime a Recent Development? |

4
(2)

| | |
| --- | --- |
| | Crime at the Turn of the Twentieth Century |

5
(1)

| | |
| --- | --- |
| | Developing the Criminal Justice System |

6
(1)

| | |
| --- | --- |
| | The Modern Era of Justice |

6
(1)

| | |
| --- | --- |
| | Federal Involvement in Criminal Justice |

6
(1)

| | |
| --- | --- |
| | The Criminal Justice System Today |

7
(2)

| | |
| --- | --- |
| | Agencies of the Criminal Justice System |

7
(2)

| | |
| --- | --- |
| | The Formal Criminal Justice Process |

9
(3)

| | |
| --- | --- |
| | The Criminal Justice Assembly Line |

12
(1)

| | |
| --- | --- |
| | The Informal Criminal Justice System |

12
(4)

| | |
| --- | --- |
| | The ``Wedding Cake'' Model of Justice |

14
(2)
16
(8)

| | |
| --- | --- |
| | Crime Control Perspective |

16
(1)

| | |
| --- | --- |
| | Rehabilitation Perspective |

17
(1)
18
(1)

| | |
| --- | --- |
| | Nonintervention Perspective |

19
(1)

| | |
| --- | --- |
| | Policy, Programs, and Issues in Criminal Justice: Should Drugs Be Legalized? |

20
(2)
22
(1)

| | |
| --- | --- |
| | Restorative Justice Perspective |

22
(2)

| | |
| --- | --- |
| | Perspectives in Perspective |

24
(1)

| | |
| --- | --- |
| | Ethics in Criminal Justice |

24
(6)

| | |
| --- | --- |
| | Ethics and Law Enforcement |

25
(1)

| | |
| --- | --- |
| | Ethics and the Court Process |

26
(1)
27
(1)
28
(1)
29
(1)
29
(1)

| | |
| --- | --- |
| | The Nature of Crime and Victimization |

30
(36)
32
(2)
32
(1)
33
(1)
33
(1)
34
(6)
34
(1)

| | |
| --- | --- |
| | Official Crime Data: The Uniform Crime Report (UCR) |

35
(1)
36
(1)

| | |
| --- | --- |
| | Victim Surveys: The National Crime Victimization Survey (NCVS) |

37
(1)
38
(1)
39
(1)

| | |
| --- | --- |
| | Compatibility of Crime Data Sources |

40
(1)
40
(6)
42
(1)
43
(1)

| | |
| --- | --- |
| | Policy, Programs, and Issues in Criminal Justice: Factors That Have an Impact on Crime Rates |

44
(2)
46
(1)
46
(8)
46
(1)

| | |
| --- | --- |
| | Race, Culture, and Gender in Criminal Justice: International Crime Trends |

47
(1)
48
(1)
48
(1)
49
(1)
50
(1)

| | |
| --- | --- |
| | Career Patterns: The Chronic Offender |

51
(1)
52
(2)

| | |
| --- | --- |
| | Causes of Crime and Victimization |

54
(12)

| | |
| --- | --- |
| | Choice Theory: Because They Want To |

54
(1)

| | |
| --- | --- |
| | Sociobiological Theory: It's in Their Blood |

55
(2)

| | |
| --- | --- |
| | Psychological Theory: It's in Their Heads |

57
(1)

| | |
| --- | --- |
| | Social Structure Theory: Because They're Poor |

58
(2)

| | |
| --- | --- |
| | Social Process Theory: Socialized to Crime |

60
(2)

| | |
| --- | --- |
| | Conflict Theory: It's a ``Dog-Eat-Dog'' World |

62
(1)

| | |
| --- | --- |
| | Developmental Theory: Life Is a Bumpy Road |

63
(1)
63
(2)
65
(1)
65
(1)
65
(1)

| | |
| --- | --- |
| | Criminal Law: Substance and Procedure |

66
(26)

| | |
| --- | --- |
| | The Historical Development of the Criminal Law |

68
(4)

| | |
| --- | --- |
| | Common Law and the Principle of Stare Decisis |

70
(2)

| | |
| --- | --- |
| | Sources of the Criminal Law |

72
(4)
72
(1)

| | |
| --- | --- |
| | Crimes and Classifications |

73
(1)

| | |
| --- | --- |
| | Policy, Programs, and Issues in Criminal Justice: Ex Post Facto Laws |

74
(2)

| | |
| --- | --- |
| | The Legal Definition of a Crime |

76
(2)
77
(1)
78
(1)

| | |
| --- | --- |
| | The Relationship of Mens Rea and Actus Reus |

78
(1)
78
(1)
78
(5)
80
(2)
82
(1)

| | |
| --- | --- |
| | Reforming the Criminal Law |

83
(3)
84
(2)
86
(1)

| | |
| --- | --- |
| | Constitutional Criminal Procedure |

86
(1)
87
(5)

| | |
| --- | --- |
| | The Meaning of Due Process |

88
(2)
90
(1)
90
(1)
91
(1)

| | |
| --- | --- |
| | Criminal Justice in the New Millennium: Terrorism, Homeland Security, and Cybercrime |

92
(29)

| | |
| --- | --- |
| | Contemporary Challenges of the Criminal Justice System |

94
(1)
94
(4)
95
(1)

| | |
| --- | --- |
| | The Contemporary Terrorist |

96
(2)

| | |
| --- | --- |
| | Homeland Security: The Criminal Justice Response to Terrorism |

98
(8)

| | |
| --- | --- |
| | The Law Enforcement Response to Terrorism |

99
(1)

| | |
| --- | --- |
| | Race, Culture, and Gender in Criminal Justice: Criminal Groups/Terrorist Groups: One and the Same? |

100
(1)
101
(2)

| | |
| --- | --- |
| | Department of Homeland Security (DHS) |

103
(1)

| | |
| --- | --- |
| | Organization and Mission of the DHS |

103
(1)

| | |
| --- | --- |
| | State Law Enforcement Efforts to Combat Terrorism |

104
(1)
105
(1)
106
(2)
106
(1)

| | |
| --- | --- |
| | Policy, Programs, and Issues in Criminal Justice: Operation Atlas |

107
(1)

| | |
| --- | --- |
| | Communications Assistance for Law Enforcement Act (CALEA) |

108
(1)
108
(13)
109
(2)

| | |
| --- | --- |
| | The Extent of Computer Crime |

111
(1)
112
(1)
113
(2)
115
(1)
116
(2)
118
(1)
118
(1)
119
(1)
119
(2)

| | |
| --- | --- |
| | Part 2 THE POLICE AND LAW ENFORCEMENT |

121
(96)

| | |
| --- | --- |
| | Police in Society: History and Organization |

122
(26)
125
(5)

| | |
| --- | --- |
| | Private Police and Thief Takers |

126
(1)
127
(1)

| | |
| --- | --- |
| | Law Enforcement in Colonial America |

127
(1)
128
(2)
130
(1)

| | |
| --- | --- |
| | The Emergence of Professionalism |

130
(1)

| | |
| --- | --- |
| | Contemporary Policing: 1960--2006 |

130
(3)
131
(1)
131
(1)
131
(1)
132
(1)

| | |
| --- | --- |
| | Policing and Law Enforcement Today |

133
(6)

| | |
| --- | --- |
| | Federal Law Enforcement Agencies |

133
(3)

| | |
| --- | --- |
| | State Law Enforcement Agencies |

136
(1)

| | |
| --- | --- |
| | County Law Enforcement Agencies |

137
(1)

| | |
| --- | --- |
| | Metropolitan Law Enforcement Agencies |

138
(1)

| | |
| --- | --- |
| | Technology and Law Enforcement |

139
(9)
141
(1)
141
(1)

| | |
| --- | --- |
| | Automated Fingerprint Identification Systems |

141
(1)

| | |
| --- | --- |
| | Criminal Justice and Technology: Crime Mapping |

142
(2)
144
(1)
145
(1)
145
(1)
146
(1)
146
(1)
147
(1)

| | |
| --- | --- |
| | The Police: Role and Function |

148
(28)
150
(1)
151
(2)
153
(5)
153
(1)
154
(2)

| | |
| --- | --- |
| | Policy, Programs, and Issues in Criminal Justice: The Indianapolis Gun Control Program |

156
(2)

| | |
| --- | --- |
| | The Investigation Function |

158
(5)

| | |
| --- | --- |
| | How Do Detectives Detect? |

159
(2)
161
(1)

| | |
| --- | --- |
| | Evaluating Investigations |

161
(1)
162
(1)
163
(3)

| | |
| --- | --- |
| | Implementing Community Policing |

164
(2)
166
(4)

| | |
| --- | --- |
| | Problem-Oriented Policing |

166
(2)

| | |
| --- | --- |
| | The Challenges of Community Policing |

168
(1)
169
(1)
170
(6)

| | |
| --- | --- |
| | Policy, Programs, and Issues in Criminal Justice: Civilian Review Boards |

172
(2)
174
(1)
174
(1)
175
(1)

| | |
| --- | --- |
| | Issues in Policing: Professional, Social, and Legal |

176
(41)
179
(4)
179
(1)
180
(1)
181
(1)

| | |
| --- | --- |
| | Educational Characteristics |

182
(1)
183
(4)
184
(1)
185
(1)
185
(2)
187
(3)
187
(1)
188
(1)
188
(1)
189
(1)
190
(1)
190
(17)
190
(1)

| | |
| --- | --- |
| | Race, Culture, and Gender in Criminal Justice: Racial Profiling |

191
(3)
194
(2)
196
(4)
200
(2)

| | |
| --- | --- |
| | Criminal Justice and Technology: Less-Than-Lethal Weapons |

202
(4)

| | |
| --- | --- |
| | Controlling Police Behavior |

206
(1)

| | |
| --- | --- |
| | Police and the Rule of Law |

207
(10)

| | |
| --- | --- |
| | The Police and the Courts |

208
(1)
208
(3)
211
(1)
212
(3)
215
(1)
215
(1)
216
(1)

| | |
| --- | --- |
| | Part 3 COURTS AND ADJUDICATION |

217
(108)

| | |
| --- | --- |
| | Courts, Prosecution, and the Defense |

218
(32)
220
(4)

| | |
| --- | --- |
| | Courts of Limited Jurisdiction |

220
(1)

| | |
| --- | --- |
| | Courts of General Jurisdiction |

221
(1)

| | |
| --- | --- |
| | Policy, Programs, and Issues in Criminal Justice: Specialized Courts: Drugs and Mental Health |

222
(1)
222
(2)
224
(5)
224
(2)
226
(1)
227
(2)

| | |
| --- | --- |
| | Federal and State Court Caseloads |

229
(2)
231
(2)

| | |
| --- | --- |
| | The Judge and the Justice System |

232
(1)
232
(1)
233
(3)
234
(2)
236
(4)

| | |
| --- | --- |
| | Factors Influencing Prosecutorial Discretion |

237
(1)

| | |
| --- | --- |
| | The Role of Prosecutorial Discretion |

238
(1)
239
(1)
240
(1)

| | |
| --- | --- |
| | The Role of the Criminal Defense Attorney |

240
(1)
240
(5)

| | |
| --- | --- |
| | Legal Services for the Indigent |

241
(1)
242
(1)

| | |
| --- | --- |
| | The Competence of Defense Attorneys |

243
(1)

| | |
| --- | --- |
| | Ethical Issues in Criminal Defense and Prosecution |

244
(1)
245
(5)

| | |
| --- | --- |
| | Using Technology in Court Management |

245
(1)

| | |
| --- | --- |
| | Policy, Programs, and Issues in Criminal Justice: Ethical Issues in Defense: Should Defense Lawyers Tell the Truth? |

246
(2)
248
(1)
249
(1)
249
(1)
250
(24)
252
(8)
253
(1)
254
(1)
254
(1)
255
(1)

| | |
| --- | --- |
| | Policy, Programs, and Issues in Criminal Justice: Kentucky's Statewide Pretrial Services Agency |

256
(1)
257
(1)
258
(2)
260
(1)
261
(1)
261
(1)
262
(3)

| | |
| --- | --- |
| | The Indictment Process---The Grand Jury |

262
(1)

| | |
| --- | --- |
| | The Indictment Process---The Preliminary Hearing |

263
(1)
263
(1)
264
(1)
265
(6)

| | |
| --- | --- |
| | Legal Issues in Plea Bargaining |

266
(1)

| | |
| --- | --- |
| | Plea Bargaining Decision Making |

267
(1)

| | |
| --- | --- |
| | The Role of the Defense Counsel |

268
(1)
269
(1)
269
(1)
269
(1)
270
(1)
270
(1)
271
(3)
272
(1)
273
(1)
273
(1)
274
(18)

| | |
| --- | --- |
| | Civil Rights During Trial |

276
(6)

| | |
| --- | --- |
| | The Right to Be Competent at Trial |

276
(1)

| | |
| --- | --- |
| | The Right to Confront Witnesses |

277
(1)

| | |
| --- | --- |
| | The Right to a Jury Trial |

278
(1)

| | |
| --- | --- |
| | The Right to a Twelve-Person Jury |

278
(1)

| | |
| --- | --- |
| | The Right to a Unanimous Jury Verdict |

278
(1)

| | |
| --- | --- |
| | The Right to Counsel at Trial |

279
(1)

| | |
| --- | --- |
| | The Right to Self-Representation |

279
(1)

| | |
| --- | --- |
| | The Right to a Speedy Trial |

279
(1)

| | |
| --- | --- |
| | The Right to a Public Trial |

280
(1)

| | |
| --- | --- |
| | The Right to Be Convicted by Proof Beyond a Reasonable Doubt |

281
(1)
282
(10)
283
(3)
286
(1)
286
(1)

| | |
| --- | --- |
| | Presentation of Evidence at a Criminal Trial |

287
(1)

| | |
| --- | --- |
| | Motion for a Directed Verdict |

287
(1)

| | |
| --- | --- |
| | Presentation of the Defense Attorney's Evidence |

288
(1)
288
(1)
288
(1)
289
(1)
289
(1)
290
(1)
291
(1)
291
(1)
291
(1)

| | |
| --- | --- |
| | Punishment and Sentencing |

292
(33)

| | |
| --- | --- |
| | The History of Punishment |

294
(3)

| | |
| --- | --- |
| | From Exile to Fines, Torture to Forfeiture |

294
(1)

| | |
| --- | --- |
| | Public Work and Transportation to the Colonies |

295
(1)
296
(1)

| | |
| --- | --- |
| | The Goals of Modern Sentencing |

297
(3)
297
(1)
298
(1)
298
(1)
299
(1)
299
(1)
299
(1)
300
(1)

| | |
| --- | --- |
| | Concurrent vs. Consecutive Sentences |

300
(1)
300
(1)
301
(4)
301
(1)
302
(2)
304
(1)
304
(1)
305
(1)
305
(4)

| | |
| --- | --- |
| | What Factors Affect Sentencing? |

306
(3)
309
(16)

| | |
| --- | --- |
| | Arguments for the Death Penalty |

309
(1)

| | |
| --- | --- |
| | Race, Culture, and Gender in Criminal Justice: Race and Sentencing |

310
(3)

| | |
| --- | --- |
| | Race, Culture, and Gender in Criminal Justice: The Death Penalty Abroad |

313
(1)

| | |
| --- | --- |
| | Arguments Against the Death Penalty |

314
(5)

| | |
| --- | --- |
| | Legal Issues in Capital Punishment |

319
(1)

| | |
| --- | --- |
| | Does the Death Penalty Deter Murder? |

320
(2)
322
(1)
323
(1)
323
(2)

| | |
| --- | --- |
| | Part 4 CORRECTIONS AND ALTERNATIVE SANCTIONS |

325
(92)

| | |
| --- | --- |
| | Community Sentences: Probation, Intermediate Sanctions, and Restorative Justice |

326
(32)
328
(12)

| | |
| --- | --- |
| | The History of Community Sentencing |

329
(1)
330
(1)
331
(1)
332
(1)
332
(1)

| | |
| --- | --- |
| | Administration of Probation Services |

333
(1)

| | |
| --- | --- |
| | Duties of Probation Officers |

334
(2)

| | |
| --- | --- |
| | Legal Rights of Probationers |

336
(2)

| | |
| --- | --- |
| | How Successful Is Probation |

338
(1)

| | |
| --- | --- |
| | How Successful Is Felony Probation? |

338
(1)

| | |
| --- | --- |
| | Who Fails on Probation and Why? |

338
(1)
339
(1)
340
(10)

| | |
| --- | --- |
| | Advantages of Intermediate Sanctions |

340
(1)
341
(3)
344
(1)
344
(1)

| | |
| --- | --- |
| | Shock Probation and Split Sentencing |

345
(1)

| | |
| --- | --- |
| | Intensive Probation Supervision |

346
(1)
346
(1)
347
(2)

| | |
| --- | --- |
| | Residential Community Corrections |

349
(1)
350
(8)

| | |
| --- | --- |
| | The Concept of Restoration |

351
(1)
352
(1)
352
(1)

| | |
| --- | --- |
| | Race, Culture, and Gender in Criminal Justice: Conferencing in Australia |

353
(1)

| | |
| --- | --- |
| | The Challenge of Restorative Justice |

353
(1)

| | |
| --- | --- |
| | Race, Culture, and Gender in Criminal Justice: Restorative Cautioning in England |

354
(1)
355
(1)
356
(1)
357
(1)

| | |
| --- | --- |
| | Corrections: History, Institutions, and Populations |

358
(28)

| | |
| --- | --- |
| | The History of Correctional Institutions |

360
(8)
362
(2)

| | |
| --- | --- |
| | Pennsylvania vs. New York: Isolate vs. Congregate |

364
(1)

| | |
| --- | --- |
| | Prisons at the Turn of the Twentieth Century |

364
(3)

| | |
| --- | --- |
| | Contemporary Correctional Trends |

367
(1)
368
(3)
368
(1)
369
(1)
370
(1)
371
(4)
371
(2)

| | |
| --- | --- |
| | Criminal Justice and Technology: Technocorrections: Contemporary Correctional Technology |

373
(2)

| | |
| --- | --- |
| | Alternative Correctional Institutions |

375
(5)
375
(1)

| | |
| --- | --- |
| | Policy, Programs, and Issues in Criminal Justice: Ultra-Maximum-Security Prisons |

376
(1)

| | |
| --- | --- |
| | Shock Incarceration in Boot Camps |

376
(2)

| | |
| --- | --- |
| | Community Correctional Facilities |

378
(1)
379
(1)
380
(6)
381
(1)

| | |
| --- | --- |
| | Explaining Prison Population Trends |

382
(1)

| | |
| --- | --- |
| | Policy, Programs, and Issues in Criminal Justice: The Problem of Elderly Inmates |

383
(1)
383
(1)
384
(1)
385
(1)
385
(1)

| | |
| --- | --- |
| | Prison Life: Living in and Leaving Prison |

386
(31)
388
(4)
389
(1)
390
(1)
391
(1)
392
(3)
392
(1)
392
(1)

| | |
| --- | --- |
| | Adapting to the Female Institution |

393
(1)
394
(1)

| | |
| --- | --- |
| | Correctional Treatment Methods |

395
(5)

| | |
| --- | --- |
| | Individual and Group Treatment |

395
(1)

| | |
| --- | --- |
| | Policy, Programs, and Issues in Criminal Justice: Therapeutic Communities |

396
(1)

| | |
| --- | --- |
| | Educational and Vocational Programs |

397
(3)
400
(1)
400
(2)

| | |
| --- | --- |
| | Female Correctional Officers |

401
(1)
402
(2)
403
(1)
404
(4)
406
(2)
408
(9)
408
(1)
409
(1)

| | |
| --- | --- |
| | The Parolee in the Community |

410
(1)

| | |
| --- | --- |
| | The Effectiveness of Parole |

411
(1)

| | |
| --- | --- |
| | Why Do People Fail on Parole? |

411
(1)

| | |
| --- | --- |
| | Race, Culture, and Gender in Criminal Justice: Monitoring High-Risk Offenders in New Zealand |

412
(2)

| | |
| --- | --- |
| | Policy, Programs, and Issues in Criminal Justice: The Problems of Reentry |

414
(1)
415
(1)
416
(1)
416
(1)
417
(31)

| | |
| --- | --- |
| | The Juvenile Justice System |

418
(30)

| | |
| --- | --- |
| | The History of Juvenile Justice |

420
(2)

| | |
| --- | --- |
| | Care of Children in Early America |

421
(1)

| | |
| --- | --- |
| | The Child-Saving Movement |

421
(1)

| | |
| --- | --- |
| | The Refuge Movement Spreads |

421
(1)

| | |
| --- | --- |
| | Establishment of the Juvenile Court |

422
(2)

| | |
| --- | --- |
| | The Development of Juvenile Justice |

422
(2)
424
(2)

| | |
| --- | --- |
| | Police Processing of the Juvenile Offender |

426
(3)
427
(2)
429
(1)

| | |
| --- | --- |
| | The Juvenile Court Process |

429
(8)
429
(1)
430
(2)
432
(1)
432
(1)
433
(2)
435
(1)

| | |
| --- | --- |
| | Disposition and Treatment |

436
(1)

| | |
| --- | --- |
| | Juvenile Sentencing Reform |

437
(1)

| | |
| --- | --- |
| | The Juvenile Correctional Process |

437
(11)
437
(1)
438
(2)
440
(1)
440
(1)
441
(1)

| | |
| --- | --- |
| | Policy, Programs, and Issues in Criminal Justice: The Fast Track Project |

442
(2)

| | |
| --- | --- |
| | Policy, Programs, and Issues in Criminal Justice: Should the Juvenile Justice System Be Maintained? Abolished? |

444
(1)
445
(1)
446
(1)
446
(1)
447
(1)
Glossary
448
(9)
Notes
457
(26)
Case Index
483
(2)
Name Index
485
(8)
Subject Index
493
(12)
Photo Credits
505