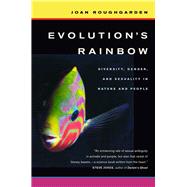 Evolution's Rainbow : Diversity, Gender, and Sexuality in Nature and People
by
Roughgarden, Joan
Summary
"Thought-provoking...profound....Combines the combustible power of a keen intellect with powerful conviction and ethical courage." -American Scientist
Author Biography
Joan Roughgarden is Professor of Biological Sciences at Stanford University. She is the author of several books, including Evolution and Christian Faith: Reflections of an Evolutionary Biologist and The Genial Gene: Deconstructing Darwinian Selfishness (UC Press).
Table of Contents
Preface to the 2009 Edition
p. ix
Introduction: Diversity Denied
p. 1
Animal Rainbows
Sex and Diversity
p. 13
Sex versus Gender
p. 22
Sex within Bodies
p. 30
Sex Roles
p. 43
Two-Gender Families
p. 49
Multiple-Gender Families
p. 75
Female Choice
p. 106
Same-Sex Sexuality
p. 127
The Theory of Evolution
p. 159
Human Rainbows
An Embryonic Narrative
p. 185
Sex Determination
p. 196
Sex Differences
p. 207
Gender Identity
p. 238
Sexual Orientation
p. 245
Psychological Perspectives
p. 262
Disease versus Diversity
p. 280
Genetic Engineering versus Diversity
p. 306
Cultural Rainbows
Two-Spirits, Mahu, and Hijras
p. 329
Transgender in Historical Europe and the Middle East
p. 352
Sexual Relations in Antiquity
p. 367
Tomboi, Vestidas, and Guevedoche
p. 377
Trans Politics in the United States
p. 387
Appendix: Policy Recommendations
p. 401
Notes
p. 409
Index
p. 461
Table of Contents provided by Ingram. All Rights Reserved.